Splinterlands dip, opportunity and Chaos Legion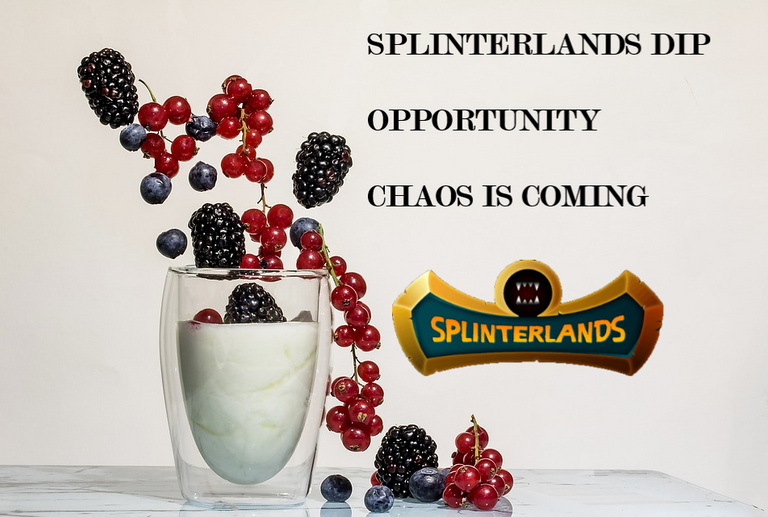 I woke up this morning to check the value of my assets like I always do because it is therapeutic and I also like to make strategies based on it. I looked into my Splinterlands portfolio and I noticed that the value of virtually everything was taking a beating.
It's not exactly what I was hoping for this morning but dips are as normal as pumps in this game. Naturally, we all want it to pump but dips are healthy, especially after a long period of consolidating at high prices.
Right now, looking at the price of assets, all I see are multiple opportunities to invest in the game. A lot of people have complained to me about the fact that the value of assets in the game is somewhat high.
My response is that it doesn't really matter how much you buy them now because you're still going to be an early bird. The game has a lot of room to grow and grabbing opportunities is the best route to take.
So with that in mind, perhaps if you've been looking to participate in the Splinterlands movement, then you should really consider this period.
Virtually every asset associated with the game has experienced a drop in dollar valuation since I checked yesterday morning. I haven't really looked at the reason behind the dip, so I can't say for sure if it will dip again or pump back up but it's better not to miss out than wonder.
There will be chaos
The build-up to the release of the Chaos legion cards has been going quite nicely. The presale period is still in effect, so it's safe to say we can't open monsters yet.
In that period, the Splinterlands team has been going about the marketing campaigns quite nicely. Their efforts have been really impressive, so most times dips as this happen, I generally don't even bother.
I'm very excited about opening my chaos packs, even though opening them will fuck up my SPS airdrops for a while. If I get like three gold foil legendaries, everything will be forgiven.
Milking the drop
The value of SPS tokens was among the most affected by the Splinterlands dip. However, this means that it's a good time to get into the SPS groove.
If you're feeling rich and want instant profit, then you could just buy SPS tokens and stake them directly. Alternatively, you could just hold the SPS tokens and time the market.
With that said though, I think the fastest way to earn more profit from this dip is to accumulate DEC tokens. First of all, you still receive SPS airdrop, and then you can also time the market to sell either token when the market moves in your favour.
The best part about buying DEC is that you don't really have to stake any token. So that means you're generally going to be ready to pounce on the market, in the event of a quality pump in your favour.
The other factor that affects SPS airdrop is your NFTs and I recommend that approach if you're a regular player of the game. You could actually make a lot of money from just playing every day.
The only problem with buying NFTs is that compared to the other assets, there's low liquidity in the market. So, while selling your assets in the event of a pump is possible, it takes a much longer time than DEC and SPS tokens.
So if you're looking at taking advantage of the dip, you might want to look at how you can combine all the approaches there to your favour. Always remember that it's crypto, so there are the usual associated risks, always do your own research and may the odds be in our favour as we navigate through this perilous market.
Contact & Support

Posted Using LeoFinance Beta
---
---