Splinterlands partners with Zipmex: Marketing, listing and opportunity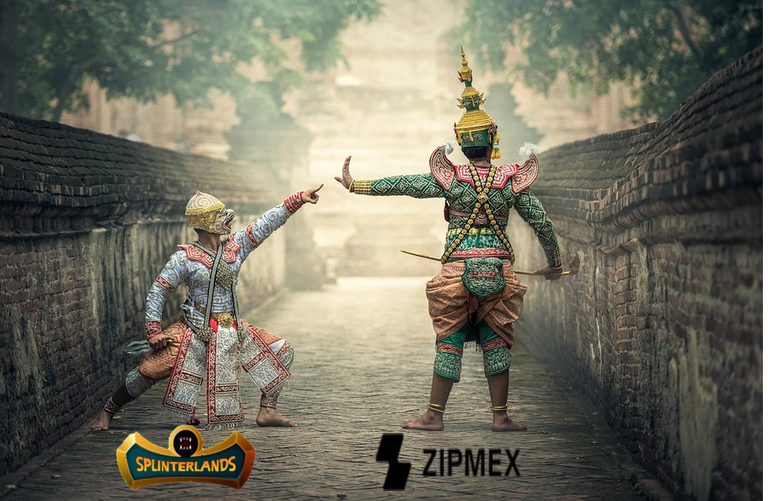 One thing I like about Splinterlands and something that gives me hope for the future is the fact that the project is constantly being developed. In what is another big move for the Hive-based game, there's been a partnership with Zipmex.
Zipmex is one of southeast Asia's premier crypto trading platforms. It offers a variety of crypto assets and users can trade at pretty much zero percent fee.
Zipmex also has a number of staking pools. Splinterlands assets will be traded in them, with an SPS/ZMT pool expected to be included.
If you're in South East Asia, then you might as well look them up to see if they're useful to you. If you also play Splinterlands, that's an added bonus for you.
About the partnership
The partnership between Splinterlands and Zipmex offers an array of benefits for both parties. Splinterlands, of course, gets listed and introduced to a wider audience.
It has already been determined that an SPS/ZMT pool will be created. This will open up an opportunity to increase the distribution of SPS tokens to a wider audience.
Other than the Laucnhpool, there's also the fact that SPS tokens will be getting listed on the exchange. This move boosts the distribution of the token but also offers opportunities for people in the region to participate.
Bringing P2E to life
A sweet part of this arrangement is the fact that Splinterlands looks to be taking steps to get a physical presence. The publication further highlighted how the game intends to be part of some arcades.
In fact, on the 20th of January, Splinterlands' physical presence will be topped off by advertisements on billboards. I believe this is the biggest marketing step that any project on Hive has taken.
In case you're not aware of it, Thailand is one of the evolving cryptocurrency markets in Asia. Unlike many other countries in the region that have a somewhat negative stance on crypto, the market is booming there.
Acoording to a report that was published on Cointelegraph some months ago, the turnover at seven locally licensed crypto exchanges surged to 221 billion baht ($6.6 billion) in November 2021. That is pretty incredible, with all things considered.
On top of that, the plans to bring Play to earn to life will also take place in the tenth largest shopping mall in the world. I only recently heard about the place and when I did some digging, I found some interesting stuff.
The Siam Paragon is a shopping mall found in Bangkok. It is one of the biggest shopping malls in the country and the world at large. A publication by Thethaiger described the 16-year-old shopping mall as the very best in Thailand and one of the best in the world.
The mall is further described as the premium destination that pulls in millions of people every year and rakes in Billions of dollars worth of sales every year. It offers a variety of facilities for people.
So what this basically means is that Splinterlands is going to be on show at one of the premium places in the world. How cool would it be to go to a shopping mall and just enjoy a game of SPlinterlands while eating a doughnut or something?
Well, from the 15-16th of January, Splinterlands will be available for people to play at Arcade booths in the mall. If you're in the area, you could head on over there. I'd love to see some pictures and hear about your experience.
Pushing boundaries
Splinterlands is constantly proving that there's no limit that the project can't get to. As long as we have a solid team and this ever-growing and strong community behind us, the sky is really our starting point.
Splinterlands also has the potential to onboard quite a number of people to Hive blockchain. This is one of the lowkey benefits that hive will enjoy, particularly as more exchanges start to list SPS tokens.
In a recent publication, the Splinterlands team also talked about more exchanges listing SPS tokens. This will inevitably translate to more growth and more success of the project.
For now, though, we celebrate another positive move in the evolution of the game. Splinterlands move to take advantage of the growing interest in crypto, NFTs, and similar products in Thailand should pay dividends in the long run.
Contact & Support

Posted Using LeoFinance Beta
---
---