This is why I don't hold any Bitcoin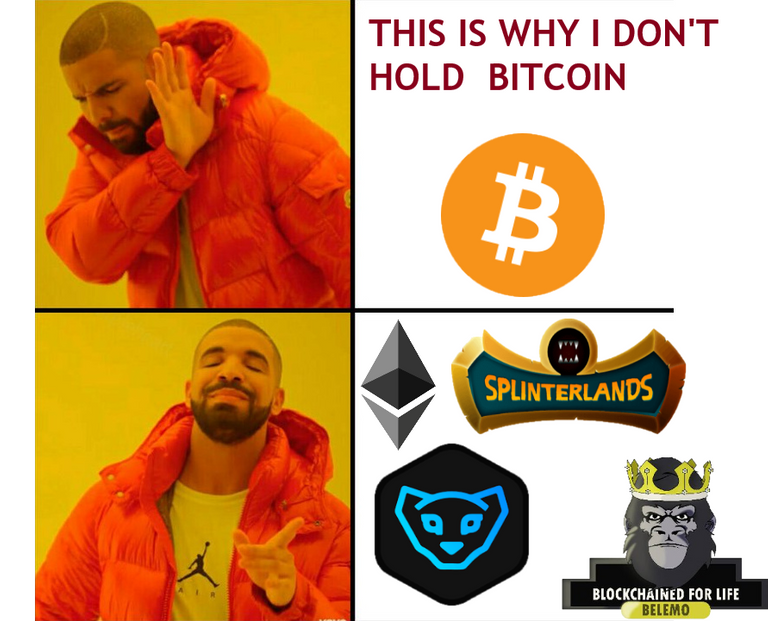 It probably seems like a dumb move and I know many people will advise against it but I don't hold Bitcoin. Throughout my journey in crypto, I've never had to hold Bitcoin, and not unless something dramatic comes up, I doubt I'll hold Bitcoin any time soon.
Don't get me wrong, it's not like I'm anti-Bitcoin because I have nothing against the asset. However, I've never had a need for the asset beyond being a bridge between two different assets that don't have a trading pair.
Without a doubt, Bitcoin is hard money. It's got everything going for it, it's the new gold standard and far better than sliced bread but frankly speaking, it's useless to me right now.
I've thought about it many times and considered pulling the trigger on numerous occasions but I'm always stopped by the fact that I don't need it.
It's not like I'm blind
I know Bitcoin has a bright future and despite crossing the trillion-dollar mark, it's still in its early stages but I honestly don't care that much.
I guess I care a little since Bitcoin's price movements often affect the entire market but beyond that, I don't have any use for it right now.
I've read many articles where people talk about Bitcoin like it's the inevitable home zone if every crypto investors and I feel like they're not seeing the bigger picture.
Bitcoin maxis are always around the corner and never miss an opportunity to remind you that(insert name of coin) is a shitcoin.
Personally, I've grown a thick skin, and nowadays, I just see them as bullies.
Yup, Bitcoin maxis simply try to bully you into buying a "better asset" than you currently have or shill. I don't know if that tough love approach actually works but I think it's regressive and stupid.
Ignoring all the innovation
Honestly, it's quite ridiculous that anybody will be a Bitcoin maxi right now. How can someone look around and see all the innovation going on and still be a Bitcoin maxi?
No disrespect to Bitcoin but it's an archaic blockchain that only holds the most ground because it's the first.
In terms of use-case, you can hardly do anything. Rich people make payments with it, and then you can use it as collateral for loans, as well as lease it out for profit but that's about it.
If it were only Bitcoin, we'd have almost zero crypto innovations, and we'd all still be depending on Web2 platforms. We won't have smart contracts on Ethereum, we won't have Splinterlands and all the innovation would not exist.
I give respect
My parents raised me to always acknowledge age and that's one thing I always do with Bitcoin. I respect the OGs and would never talk down on something that's bigger than me.
At the same time, regardless of how big something is, if I don't need it then it's not important to me at least. That's how Bitcoin is to me and no matter how many people tell me how stupid I am for not holding Bitcoin, it won't change anything.
In the general scheme of things, I'm not even a billionaire that can buy thousands of Bitcoin. My entire net worth is a fraction of a Bitcoin but that doesn't even matter.
I don't hold Bitcoin because I don't need to. I only hold assets I need to hold and that is necessitated by the demands of my portfolio.
If I start holding assets simply because everybody's doing it or because somebody told me I'm stupid for not doing it, then I'd be lost. So, until there's a reason to hold Bitcoin, regardless of the price of the asset, I will add it but until then, no Bitcoin for me.
Contact & Support
Discord: belemo#9593
Twitter: https://twitter.com/belemo__
Telegram: uncleskipper
Email: belemok@yahoo.com
ETH and BSC wallet: 0xC75E34E3ee9a343041B3322E1bD97b4940Ed721d
Bitcoin Address: bc1q635vre2jj9zhde9cyvflyz4h9c0p57gg3s3yre

Posted Using LeoFinance Beta
---
---