UST, Algo stables and pHBD arbitrage opportunity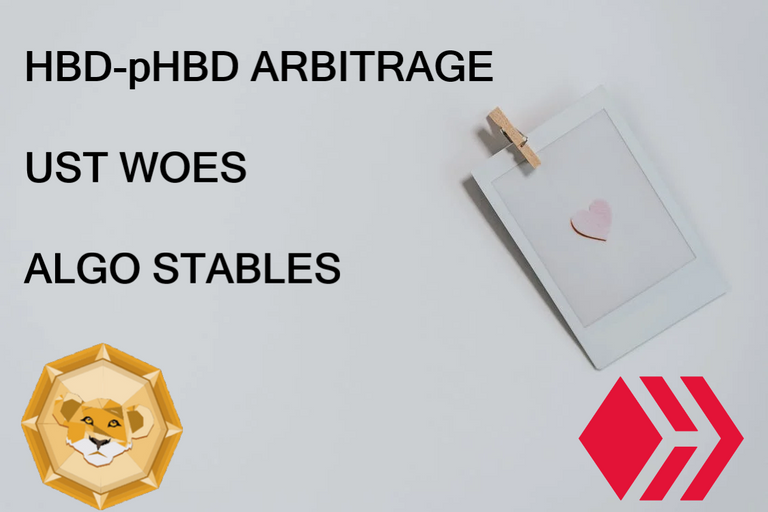 Algo coins have been in the crosshairs for a while now. UST in particular has felt it the hardest because it deviated from the peg. The outrage on Twitter has been insane and it is just a testament to the situation in the crypto industry.
In HBD, we have an opportunity to create an earning opportunity in a stable coin but as we've learned, in conditions of extreme volatility, we'll need the algo to work much faster than it is.
On top of the algo, there's a serious lack of trust and patience in the industry. So people are quick to jump ship or panic, but that's something we don't experience on hive because HBD is still under the radar.
Imagine if HBD was already worth a billion dollar market cap and its peg fell to 70 cents like Terra UST fell yesterday The outrage would transcend the community.
For now, though, we have the opportunity to build in the shadows, away from all the noise, until we have an algo that properly stabilises HBD. This will be made a lot easier for the Hive community thanks to how steady Hive coin has been, despite the cataclysmic orientation of the market.
Generally, though, I'm kind of surprised that people reacted to the Luna situation in the way they did. Posting UST memes and all that is fun but damn, people actually panic selling their stable coins as well?
In any case, my biggest disappointment in everything is that I'm poor and so, I can't afford to invest in these opportunities. At the time of writing, I'm already bag holding my own 20% APR paying stable coin on hive, and haven't seen any reason to take it out....until now.
pHBD is looking tempting
Remember that @leofinance created a Polygon network wrapped version of Hive's stable coin? Well, in the midst of volatility in the price of Hive that momentarily led to native HBD dropping to as low as 90 cents, pHBD has held firm to the peg.
Remember that you can farm Polycub token on Polycub through a stable coin farm that comprises a pHBD-USDC pair. Well, thanks to this pair, there's also a massive arbitrage opportunity for anybody looking to make some quick profit. Here's how you go about it;
First you wrap HBD into pHBD through this link https://wleo.io/hbd/
Wrapping HBD works in pretty much the same way as wrapping Hive to Polygon, so just follow the steps here.
After you've added the HBD contract to your Polygon wallet, you will also need to add it to the Sushiswap terminal
Swap for USDC, buy pHive, take it back to Hive, and swap for more native HBD.
Note that since there's a 0.25 fee for wrapping HBD, you should be wrapping upwards of 25 HBD to ensure you make a profit.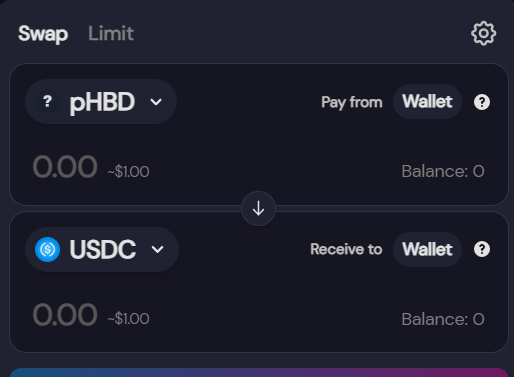 Now you have pHBD in your Polygon wallet and each pHBD is worth $1. Assuming you actually carried out this transaction right now, you'll be making 2 cents on every HBD you wrap in Polygon.
Also, note that this procedure has to be carried out swiftly. It is time-dependent, so you have to act swiftly to catch the opportunity when the peg is out of place on Hive or vice versa on Polycub.
In summary
In the midst of the chaos, there are still opportunities to squeeze out some profit. In my over four years of crypto living, I've noticed that panicking never solves problems, it only creates them.
The HBD-pHBD dynamics have created an opportunity for the Hive community to squeeze out a profit in these red times. So, stay frosty and be observant.
At the same time, HBD is also looking pretty solid and poised to be one of the leading stable coins in the land. Despite the volatility in the market, Hive and HBD were pretty steady.
In any case, HBD is still under the radar, so this gives us the opportunity to learn from the shortcomings of UST, and other stable coin projects that are in the spotlight and ahead of HBD in market cap.

Posted Using LeoFinance Beta
---
---