[ENG/ITA] Mining Network: guide for newbies / Mining Network: guida per neofiti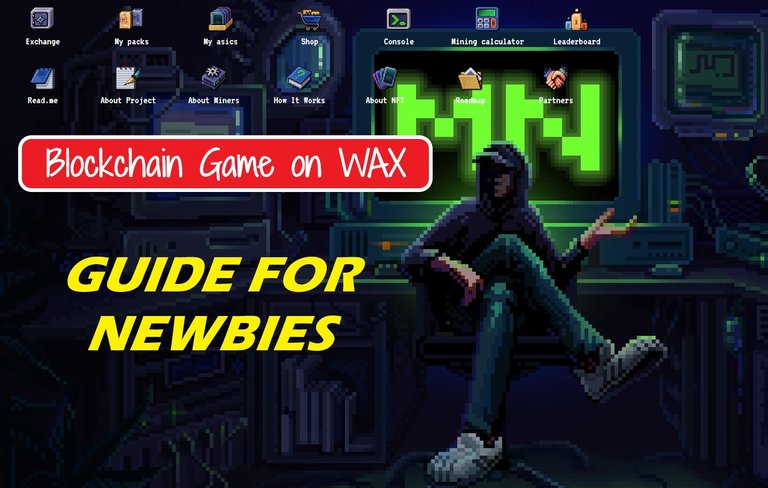 Hello everyone Hivers,
I have been passionate about undemanding blockchain games for some time and today I would like to talk to you about Mining Network, a real mining simulator that I have just discovered and that will allow you to earn simply by purchasing hardware NFTs that will mine SHARES for you.
Each hardware has its own hashrate and can be updated. The cheapest one I bought at the moment allows me to earn 0.1463 SHARES / sec, 8.778 SHARES / min, 526.68 SHARES / hour, 12,640.32 SHARES/day (if my calculations are not wrong :) ).
---
SHARES is the game currency needed to update the hardware and increase your hashrate and can also be exchanged in the Exchange section for BTK, a currency instead necessary to buy packs in which there are new hardware that will make us increase our mining power.
---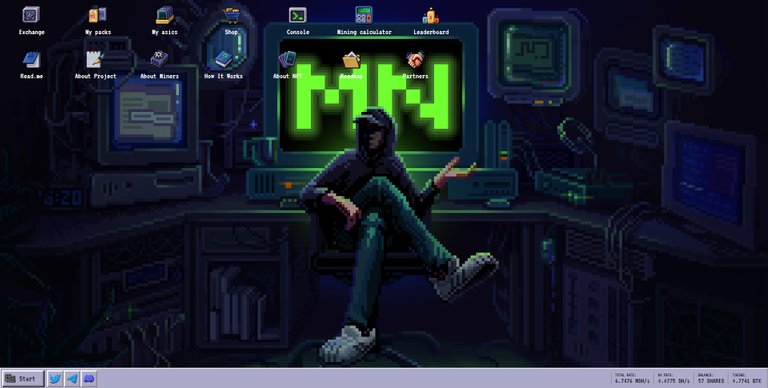 But let's go now to see the various sections
EXCHANGE: in this section you can buy or sell SHARES in exchange for BTK at the exchange rate of 1000 SH = 0.0004 BTK
MY PACKS: here we will find the packs purchased in the Shop section
MY ASICS: main section of the game; here will be all our hardware that we will have to stake in order for it to produce SHARES. From this section, entering every single hardware in our possession, it will also be possible to level up our NFT.
SHOP: in this section it will be possible to buy packs to find new hardware
CONSOLE: is a very nice DOS simulator where you can type some commands to navigate through the game in DOS mode
MINING CALCULATOR: is a hashrate calculator and is used to calculate a computing power of an NFT that we want to buy from the market
PARTNERS: partner section where we find the market in which to buy our first NFT (NFTHive) quite easily
The other sections are currently purely informative, so I leave you to discover them.

How does it work
Once we have purchased our first NFT ASIC, it will produce SHARES with a power of tot SH / s. The SHARES earned can be used to improve our ASIC and consequently our hashrate, or they can be exchanged in exchange for Bitcakes (BTK) that can be used to buy the packs. The BTKs in turn can be exchanged in WAX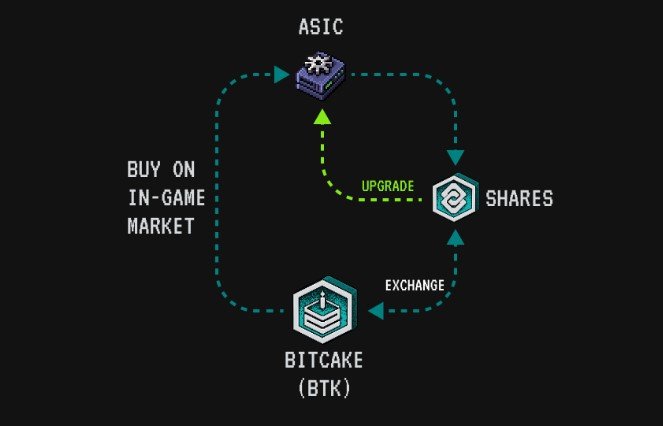 To redeem our SHARES, just go to the My asics section, select our ASIC and click on REWARD.
To improve our ASICs instead, we just need to go to the My asics section, select our ASIC and click on UPGRADE or MULTIGRADE.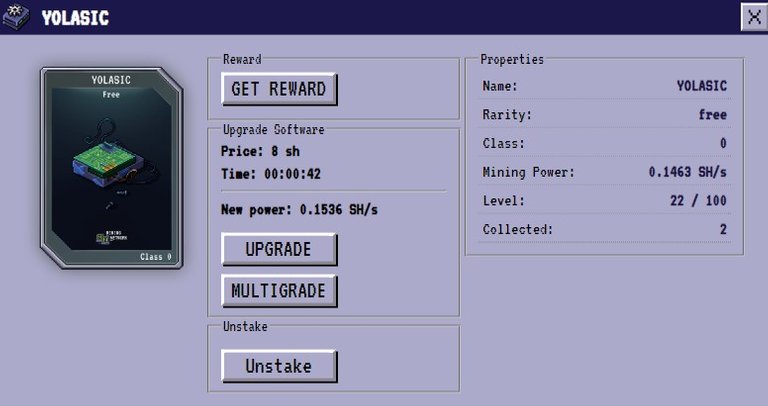 The nice thing is that there are no time limitations, we can enter several times a day, once a day, once a week, when we want to redeem SHARES, exchange them, buy packs and improve our ASICs. As I told you before, a very undemanding game.

How to buy our first ASIC
To buy our first ASIC and start earning our first SHARES, just go to NFTHive, or open the Partners section of the game, go to Collections and in the Play To Earn Games section, the Mining Network collection should come out among the first results (or you can simply click on this link).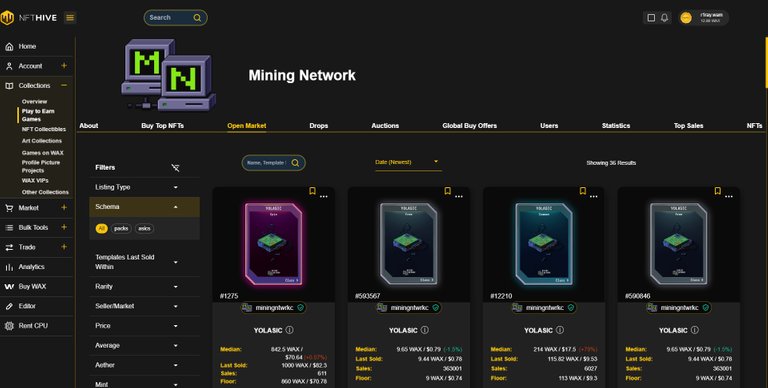 Then go to the Open Market tab and in the center you can sort all the NFTs for sale by various attributes. I bought the least expensive one to start testing, but once you have identified the one that interests you most, you can select it, copy the Template ID and the Owner and enter them in the Mining Calculator to see how many SH/s it generates that ASIC.

Earnings
I started playing this game this morning and just launched an update to my only ASIC (paid 8.9 WAX) which will allow me to earn 2.3601 SH/s in a few hours, that is 203,912.64 SH/day.
If I only had to accumulate SHARES to exchange them for BTK, I would earn 0.0764 BTK per day.
To date 8.9 WAX is about 1.53 BTK, so in just over 20 days I would recover my investment.

Conclusions
The idea of the mining simulator is certainly nice and exciting.
The return on investment is also quite short in perspective.
It seems to me a simple, undemanding game with good prospects.
Even the initial investment to start playing is relatively low if you don't want to start immediately with a very high hashrate.
In the end a game that I recommend to try.

If you are not yet registered on the Mining Network, you can do so via this link: https://miningnetwork.io/?ref=r1ray.wam
---
This is not intended to be financial advice, but only a small guide for those who decide to become part of this game.
---
All images are screenshots from the Mining Network game and NFTHive.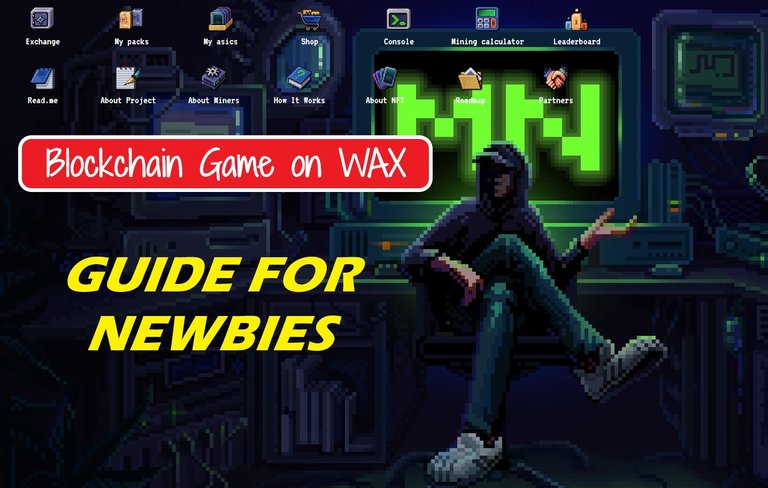 Buongiorno a tutti Hivers,
è da qualche tempo che mi sono appassionato a giochi blockchain poco impegnativi ed oggi vorrei parlarvi di Mining Network, un vero e proprio simulatore di mining che ho appena scoperto e che vi permetterà di guadagnare semplicemente acquistando NFT di hardware che mineranno SHARES per voi.
Ogni hardware ha il proprio hashrate e può essere aggiornato. Quello più economico che ho acquistato io al momento mi permette di guadagnare 0.1463 SHARES/sec, 8.778 SHARES/min, 526.68 SHARES/ora, 12,640.32 SHARES/giorno (se i miei calcoli non sono errati :) ).
---
SHARES è la moneta di gioco necessaria per aggiornare gli hardware e aumentare il proprio hashrate e si possono anche scambiare nella sezione Exchange per BTK, moneta necessaria invece per acquistare pack in cui si trovano nuovi hardware che ci faranno aumentare la nostra potenza di mining.
---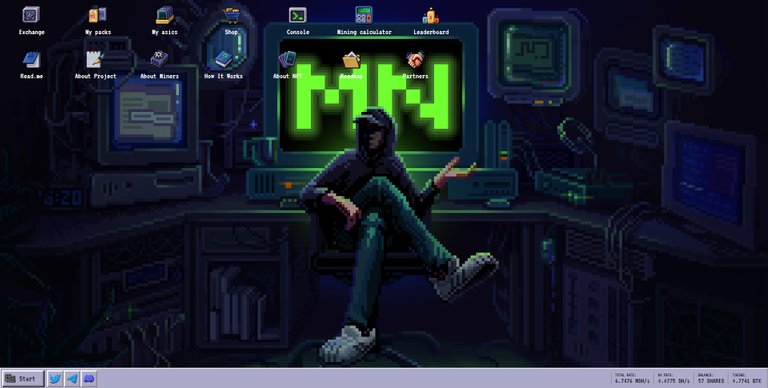 Ma andiamo ora a vedere le varie sezioni
EXCHANGE: in questa sezione potete acquistare o vendere SHARES in cambio di BTK al tasso di cambio di 1000 SH = 0.0004 BTK
MY PACKS: qui troveremo i pack acquistati nella sezione Shop
MY ASICS: sezione principale del gioco; qui ci saranno tutti i nostri hardware che dovremo mettere in stake per fargli produrre SHARES. Da questa sezione, entrando in ogni singolo hardware in nostro possesso, sarà possibile anche aumentare di livello il nostro NFT.
SHOP: in questa sezione sarà possibile acquistare pack per trovare nuovi hardware
CONSOLE: è un simulatore di DOS molto carino in cui è possibile digitare alcuni comandi per navigare attraverso il gioco in modalità DOS
MINING CALCULATOR: è un calcolatore di hashrate e serve per calcolare una potenza di calcolo di un NFT che vogliamo acquistare dal market
PARTNERS: sezione partner in cui troviamo abbastanza facilmente il market in cui acquistare il nostro primo NFT (NFTHive)
Le altre sezioni sono al momento puramente informative, quindi lascio a voi la scoperta delle stesse.

Come funziona
Una volta acquistato il nostro primo NFT ASIC, questo produrrà SHARES con una potenza di tot SH/s. Gli SHARES guadagnati si potranno utilizzare per migliorare il nostro ASIC e di conseguenza il nostro hashrate, oppure si potranno scambiare in cambio di Bitcake (BTK) che si potranno utilizzare per acquistare i pack. I BTK a loro volta si possono scambiare in WAX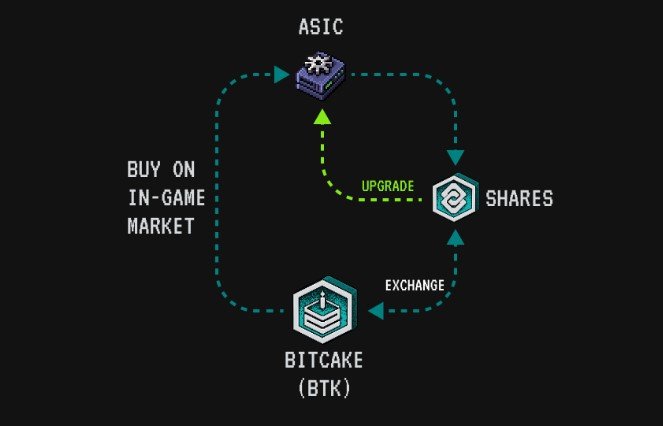 Per riscattare i nostri SHARES, ci basterà andare nella sezione My asics, selezionare il nostro ASIC e cliccare su REWARD.
Per migliorare i nostri ASICs invece, ci basterà andare sempre nella sezione My asics, selezionare il nostro ASIC e cliccare su UPGRADE o su MULTIGRADE.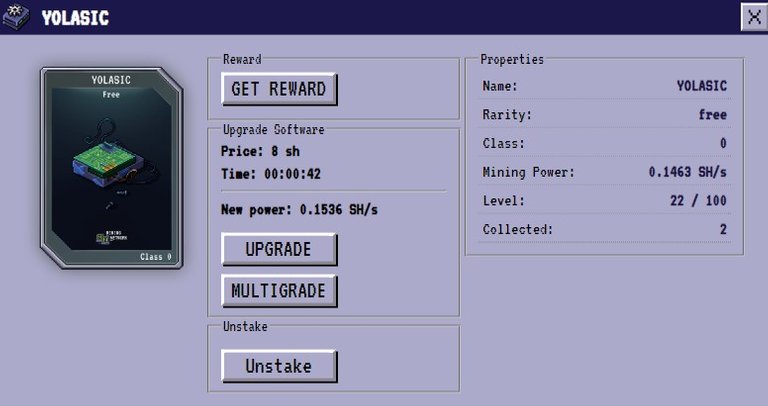 La cosa bella è che non ci sono limitazioni di tempo, possiamo entrare più volte al giorno, una volta al giorno, una volta alla settimana, quando vogliamo per riscattare SHARES, scambiarli, acquistare pack e migliorare i nostri ASIC. Come vi dicevo prima, un gioco molto poco impegnativo.

Come acquistare il nostro primo ASIC
Per acquistare il nostro primo ASIC e cominciare a guadagnare i nostri primi SHARES, vi basterà andare su NFTHive, oppure aprire la sezione Partners del gioco, andare su Collections e nella sezione Play To Earn Games dovrebbe uscirvi tra i primi risultati la collezione Mining Network (oppure potete semplicemente cliccare su questo link).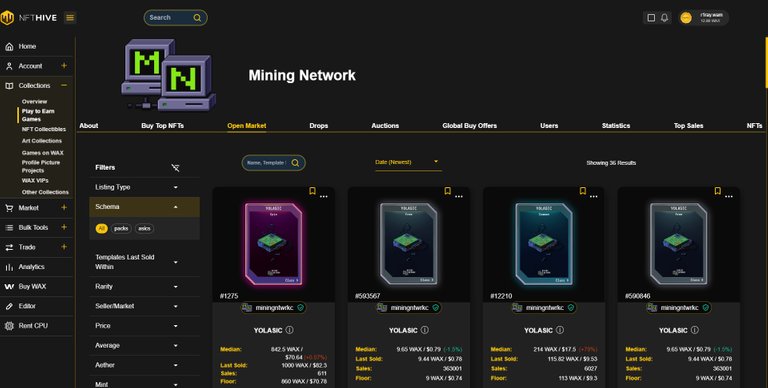 Poi andate nel tab Open Market e al centro potete ordinare tutti gli NFT in vendita in base a vari attributi. Io ho acquistato il meno costoso per iniziare a provare, ma voi, una volta individuato quello che più vi interessa, potete selezionarlo, copiare il Template ID e l'Owner ed inserirli nel Mining Calculator per vedere quanti SH/s genera quell'ASIC.

Guadagni
Ho iniziato questa mattina a giocare a questo gioco e ho lanciato da poco un aggiornamento del mio unico ASIC (pagato 8.9 WAX) che mi permetterà tra qualche ora di guadagnare 2.3601 SH/s, cioè 203,912.64 SH/giorno.
Se dovessi soltanto accumulare SHARES per cambiarli in BTK, guadagnerei 0.0764 BTK al giorno.
Ad oggi 8.9 WAX sono circa 1.53 BTK, quindi in poco più di 20 giorni recupererei il mio investimento.

Conclusioni
L'idea del simulatore di mining è sicuramente carina ed appassionante.
Anche il ritorno dell'investimento è abbastanza corto in prospettiva.
Mi sembra un gioco semplice, poco impegnativo e con buone prospettive.
Anche l'investimento iniziale per cominciare a giocare è relativamente basso se non si vuole partire fin da subito con un hashrate molto alto.
Alla fine un gioco che consiglio di provare.

Se non sei ancora iscritto su Mining Network, puoi farlo tramite questo link: https://miningnetwork.io/?ref=r1ray.wam
---
Questo non vuole essere un consiglio finanziario, ma soltanto una piccola guida per chi decide di entrare a far parte di questo gioco.
---
Tutte le immagini sono screenshot del gioco Mining Network e di NFTHive.
---
---