My investment plan for 2022

My investment plan is related to the way I staking. Currently I involved in two Hive activities. One is Hivepud and the other is lpud. I need at least 10 Hive and 150 LEO per month so I am buying the tokens that give out Hive and LEO.
I owned slightly more than 2500 LBI and that give me 13 LEO per week so I will get around 50 LEO per month. For the rest of LEO I will get from my post or I need to buy from the market. I will keep buying LBI until I reached top 10 in richlist. That is still far away from where I standing.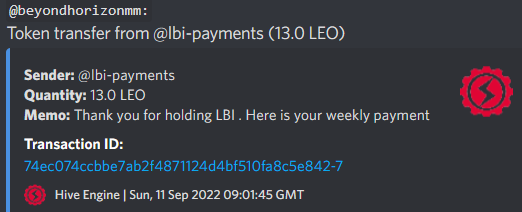 My another plan is to buy the tokens that given out Hive as dividend. Previously I bought Utopis but it crashed just after I bought some. After that I stopped buying token that will give me Hive. Yesterday I bought 25 BXT and staked it. When I checked in beeswap I realize that this token is the token I need.
After calculation I knew that I will need at least 200 BXT to stake then I will get 0.33 Hive per day. It sums up and it will become 10 Hive per month. So I do not need to worry and do not need to exchange my HBD into Hive.
As for the calculation:
0.33/0.042 x 25 = 196
My next objective is to keep adding HBD into Savings. Now I added 150 HBD into Savings. Eventually it will reach 1000 HBD threshold. After buying this tokens I do not need to bother exchanging HBD into Hive.
I also owned 120 BRO and it gives me 0.384 Hive per week. Instead of giving a lots of Hive it gives me upvote on my post. This is also needed for me. But I planned to make sure my Hive income fist and then I will buy a few more BRO. Maybe after some time later.
Thanks for reading my post.
Posted Using LeoFinance Beta
---
---