Not need to be lucky but need to be lucky
Today is this 15-Nov so I decided to power up 150 Leo as usual. Then I delegated to @india.leo. This is the fifth month I powered up Leo. I missed one month because of not enough Leo to power up.

This month is different from pervious month. In previous I did not need to buy Leo. But for this month I need to buy 50 Leo because Lbi-tokens stop paying dividends. So I did not acquire required amount Leo. This leads to the situation that I need to buy Leo. So I need to prepare for it to participate in next month.
There is also one change in @leogrowth side. This is the start of Campaign Slay The Dragon. If you power up a minimum of 2000 Leo you will get 4000 LP delegation for 25 days. If you power up a minimum of 5000 Leo you will get 10000 Leo delegation for 25 days. You will get the double amount of Leo you powerup for a short time if you don't think 25 days is long time. They will also give Dragon Slayer nft and this is only one time thing. If you miss this chance it will never come back.

This made the Leo price high a bit but I am not sure it is just temporary or for long term. Will Leo price recover for long term? I do not know.
Oh. I almost forget my main topic. This is the sixth month of Lpud so there is a bad luck prize for lpud participants. You have to be unlucky for three consecutive months and then have to be lucky to win this Bad Luck Przie.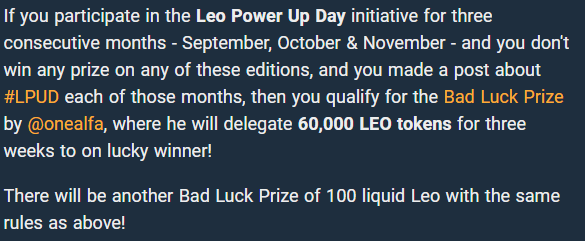 Thanks for reading my post.
Posted Using LeoFinance Beta
---
---