An application that I will build...
As human beings, we all do face so many problems in our day-to-day life. We solve many issues but many issues are still waiting for the solutions. Whenever we do see the solution to any particular problem we realize how is he this is, if it is that much easy then why don't you have done something like that earlier? There are so many issues that are still waiting to get solved around us. We do see so mnay problems around us but due to the lack of funds and resources, we are unable to do anything about them.
There are so many applications that I was to make in the first place but I would like to prioritize this application the most and I am sure that this application is gonna help a lot.
---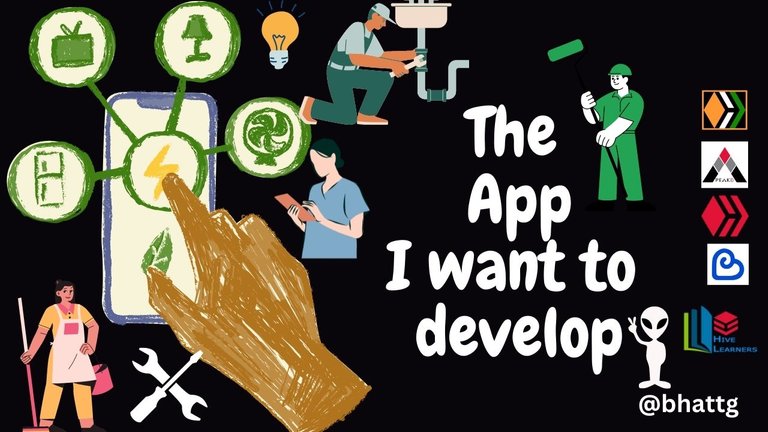 ---
Made Via Canva
I am sure we find it hard to look for plumbers, electricians, painters, and mnay other professionals too when we need them the most we do miss placing their number or cards that they have given to us earlier. I am sure that you have done this too if you are lucky enough to find the number you will find out that person is busy. That is gonna make you unhappy and you have to wait for that p[articaluat person to be free, even though you are paying money for your wokr still you do have to wait for them(sometimes this is kind of hard).
What will happen if you have an application that is gonna solve your all problems in a few minutes and you will get a surety of the technician you need at that moment? It is gonna take some time and that is obvious. It is not magic but if you will get an appointment then you will get the desired technician you need. Noy only technician you can get is a cleaner, gardener, a nurse, and many more facilities are gonna be available there (aha hold your horses not gonna give you all the things don't try to be naughty 😜).
So the plan is gonna be simple you can get all the types of helpers for your house, from a plumber to a nurse. There will be a great list for that. So the steps of the app will be simple:
Get registered (while the registration process you can fill in all the required details, and you can even get a job from there ).
You can hire someone or you can get hired through the app (based on your skills) All the things will be verified before you will get any jobs
You can hire someone as per your work requirement or you take the premium service to get more features.
you have to set the date and number of people you need for that work, you can even call to get an idea about what items do you need.
You can get suggestions through the app for the price is gonna low as compared to hiring.
If you have selected the premium feature then you can get more benefits and discounts.
Is this gonna take some to make this app work smoothly we do have to contract contractors to get more skilled people in each field.
The plan is not gonna be easy to implement but the starting days are tough for sure. How we are gonna earn money? form the premium membership, there are a few loopholes too but still, it is gonna be a good idea in my opinion. we can get rid of the loophole as time will pass. what do you think?
So, over all I am gonna an application that is gonna make help users with all the things regarding their house. what do you think?
see you in the next post, till then keep learning and keep exploring...
---
If you are not playing the splinterlands and Golem Overlord games then feel free to join my referral 😁
My splinterlands referral
My Golem Overlord referral
few posts from my past that might be helpful for you.

10 daily comments ✅
Ecency Boost ✅
Help others ✅
wish me luck 😅
Thanks a lot for staying till the end 😃🙏, let me know what you think.
Never forget one thing you should be grateful for because what you have someone has a dream of that. So learn to be grateful. Be Thankful.🙏😀
Thanks a lot for being here, let me know what you think.


Thanks & Regards
@bhattg
-----Together we will make this a better place-----
---
---