Ghanchakkar 📺🍿
Namaskar / Hello to all hive users, who will reach this post. I hope you are doing great and having fun in your life and enjoying it with your loved ones.
Here I am again with a new old (2013) Hindi movie review 😅This is available on Netflix. Although the rating on IMDB is 5.9/10 it is a well-entertained movie for sure you should watch it. You can watch the trailer maybe you will get some interest
So, let's begin
The movies start with a normal husband and wife (but the wife is modern you will know when you will see the movie). They are at the dining table having their dinner just like a normal typical Indian family. (imagine that with no parents and no children😄. )
The main lead of the movie is Sanju did get a call from an unknown person for some work it was not clear on the phone what it was about. They asked Sanju to meet at the railway station if he is interested (with a red shirt 🙂). Sanju was at the station people approached him one was named pandit and the other one was Idris. Sanju asked where we have to go.
They said let's go on the train.
Sanju, pandit, and Idris are on the train. Sanju asked again where to go. The train started, pandit said this is our meeting place 🤫. They are convincing Sanju to break the locker of the bank, they have a piece of news there is around 30 crore INR in the bac. Sanju used to be an expert- master safe cracker. He had done that in the past, that is why they are here for sure. (did anyone call you and say let's rob a bank that will be a bit strange right 😅)They do know who is Sanju.
---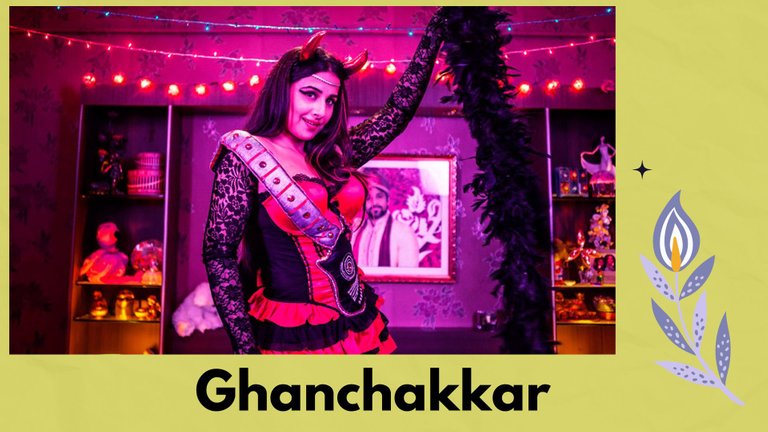 ---
Image Source edit via canva 😅
The robbery went well as they have planned, they decided that Sanju will keep the money for three months and he doesn't have to invest single money from that. All of them agreed for that. Sanju was the only one who are settled and no one will suspect him. All the money was in a big suitcase.
After three months.
Sanju was in the garden, her wife gave him the phone (actually though😏 )
Pandit called Sanju.
Sanju: Hello.
Pandit: Hey it's me pandit
Sanju: kon pandit (Pandit who ?)
pandit called agin
Pandit: It's pandit, meet me at xx place with the money
Sanju: kon pandit, kon se paise (Pandit who ? and what money/ )
pandit and Idris were confused they did try to call again but the reply was the same. The thing was Sanju did lose his past memory he does remember things sometimes and sometimes not. He has no memory of the robbery and many other things too.
But Pandit and Idris thought he is playing with them so they decided to visit him. Sanju and Neetu were having s*x, and all of the sudden both of them were there with a gun in their hand. both of them don't even recognize them, Neetu has never seen them but Sanju has robbed a bank with them still he did lose his money.
Pandit and Idris have kidnapped his wife, Sanju did get a phone call from them that you have one week to remember where the money is after that things will be complicated for you and your wife too.
Sanju was trying to remember the suitcase but he did remember a single thing. The next day Pandit, Idris, and Neetu arrived there house. They decide to stay there for 1 week. They said we don't trust you that is why we are staying here too.
Now they are 4 from 2 in a day, 😅 Neetu is modern and she loves to wear stylish clothes at the house too, but Sanju doesn't like that but Neetu doesn't listen to him at all.
Sanju tried his best to find where he hides the money even though his own wife doesn't have any clue where it is. He started suspecting his friend Uttam and after his own wife too. Sanju was really frustrating day by day and tried his best to find where he hide the money. But in the end, he has only empty hands.
He suspected that her wife and his friend Uttam are in a relationship and are trying to take all the money with them. Sanju went home and he did notice that there is no one inside the house he started believing that his wife is the one who did that to him.
Saju gets a call from pandit and he asked him to meet him on the train, but he did enter the wrong Berth. He doesn't even remember who are they and her wife too. They all started fighting he convinced them that his wife took the money and she is planning to fly away from there.
In the end, pandit's and Idris's Boss entered the train and killed both of them and shot Neetu too(but by that time Sanju lost his memory and he doesn't even remember who is she ) The Boss tried to gather information from Sanju but Sanju really lost his memory. Sanju did try to fight with the boss with a fork but that didn't work. The Boss shot him in the shoulder leaving Sanju and Neetu behind. Boss searched Sanju and found a purse, a phone, and a banana.
the Boss; Really you are planning to kill me with a Banaba and a Fork 😂😂
Boss: you know what I love about bananas, we don't wash them.
Saju : Same for the orange too 😅
(and he left )
Sanju's phone rang after that, the Boss kicked the phone toward him and left away.
Sanju picked up the call, it was his mother but he don't even remember his mother too.
mother: Hello son how are you? are you sleeping?
Sanju: Who are you?
mother: I am your mother, don't cut the phone. There is something important I have to talk about. you told me all the time you will call but you never replied back. 🙂
When you are going to going to pick up this suitcase?
Sanju: suitcase?
mother: yes suitcase, you left this 3 months ago and you haven't come here since then. You are coming or I will sell it 😏
(the boss has heard about the suitcase he ran on the train and slipped on the banana and the fork was inside his neck 😮)
Sanju: Suitcase ? which suitcase?
Neetu grabbed his phone, she did understand all the things very clearly what about you did you get that or not? 😁
Thanks a lot for staying till the end 😃🙏, let me know what you think.
Never forget one thing you should be grateful for because what you have someone has a dream of that. So learn to be grateful. Be Thankful. 🙏😀
Thanks a lot for being here, let me know what you think.

If you are new to the splinterlands game then feel free to join my referral 😁
My splinterlands referral
few posts from my past that might be helpful for you.
Best ways to earn money in the hive while you sleep 💰
What To Do With Your Hive Power [HP] / Hive. 🧠
Where To Delegate Your Hive Power [HP]
Where to delegate your hive power (Part-2)
Tokens to Buy on Hive- Engine
How to earn LEO tokens without posting 🤩
Do you want to save some hive ? 🤨
Passive income tokens 💰
Best why to Invest 💰🏦
The SIP Investment 💰💹
The best use of your Hive-engine/Tribe tokens you can 💰🚀
How to convert HBD to HIVE 3 ways to do that
How To convert HIVE to Real Money (USD/INR) Part -1
How To convert HIVE to Real Money (USD/INR) Part -2
Why new users should use Ecency application 🧐
few important tips for new users
Are you Using Brave Browser ?
The scammer and the downvotes 🔽🔻
The HBD interest and hive power








Thanks & Regards
@bhattg
-----Together we will make this a better place-----
---
---