Shift towards Stock market 💰📈💹🔺
Namaskar / Hello to all hive users, who will reach this post. I hope you are doing great and having fun in your life and enjoying it with your loved ones.
Everyone wants to earn, money and there are sure there are a lot
of opportunities to do that for sure. Crypto and the stock market are the best and easiest ways to do that for sure. we do have to spend some time learning the basics for sure and the rest we do learn as time pass. I am sure you do know what you I am talking about for sure 😄.
We all do learn from mistakes, some do learn from others' mistakes and some don't. ☺️ Not all are the same most of us do learn from our own mistakes and those are the lessons for a lifetime.
After the covid pandemic thing started people started to invest in online platforms. That would be the best option for that. The most popular are crypto and the Stock market for sure. There are sure many other ways to do that but I do think these are the most used ways to earn money.
---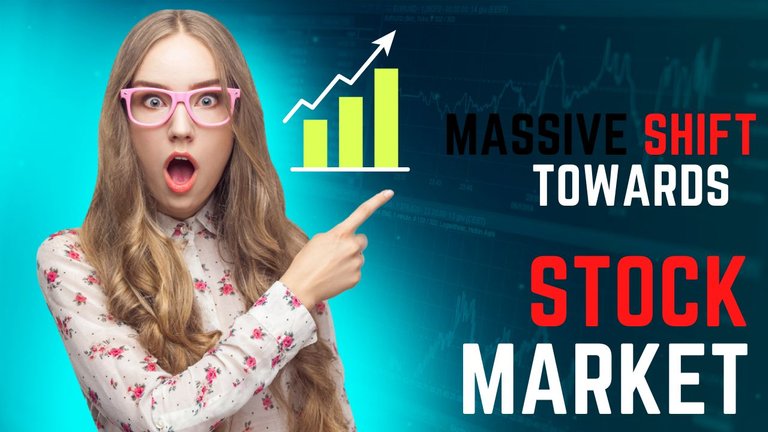 ---
There was a massive increase in crypto and stock accounts for sure but in my country, the rates did increase by a massive number from the year 2020. There are around 10 crores Demat accounts that were opened after 2020 and that is really a great achievement for sure what do you think?
6 croere accounts are opned after march 2022.
After the crypto regulation bill has passed many peoples shifted from crypto to the stock market. That is really a good thing for sure (for the government to be honest). I am sure none of us want to pay 30% +18 % tax (in the profit )in there each withdrawal that would be insane for sure, what do you think?
I do think that tax is the reason why people are shifting the Demat account for trading stocks for sure. The Tax on stocks is not that much as compared to the crypto tax. Sure the earing the really good crypto for sure.
But still, no one wants to pay that much amount in tax for sure, will you?
I do hope the tax will be reduced so it would be easier to earn from the crypto market too.
Thanks a lot for staying till the end 😃🙏, let me know what you think.
Never forget one thing you should be grateful for because what you have someone has a dream of that. So learn to be grateful. Be Thankful. 🙏😀
Thanks a lot for being here, let me know what you think.
All the images are made via canva.

If you are new to the splinterlands game then feel free to join my referral 😁
My splinterlands referral
few posts from my past that might be helpful for you.
Best ways to earn money in the hive while you sleep 💰
What To Do With Your Hive Power [HP] / Hive. 🧠
Where To Delegate Your Hive Power [HP]
Where to delegate your hive power (Part-2)
Tokens to Buy on Hive- Engine
How to earn LEO tokens without posting 🤩
Do you want to save some hive ? 🤨
Passive income tokens 💰
Best why to Invest 💰🏦
The SIP Investment 💰💹
The best use of your Hive-engine/Tribe tokens you can 💰🚀
How to convert HBD to HIVE 3 ways to do that
How To convert HIVE to Real Money (USD/INR) Part -1
How To convert HIVE to Real Money (USD/INR) Part -2
Why new users should use Ecency application 🧐
few important tips for new users
Are you Using Brave Browser ?
The scammer and the downvotes 🔽🔻
The HBD interest and hive power








Thanks & Regards
@bhattg
-----Together we will make this a better place-----
---
---