My best celebration ever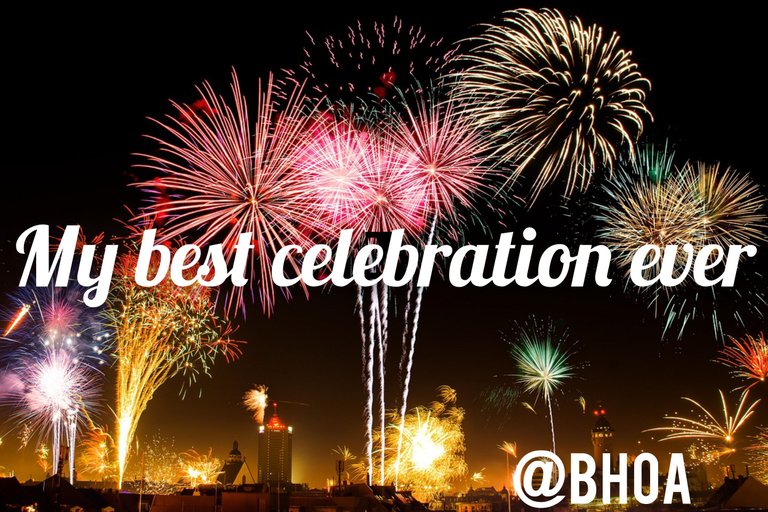 The more you celebrate your life, the more there is in life to celebrate
Oprah Winfrey
Celebrations have been a core part of my existence right from when I was born.
First I was born to a mother who waited for 12 years and finally gave birth to me.
This was the start of the celebration in my life.
Since my birth, celebrations have been a constant for every achievement for my mother.
I kind of learned it passively and I celebrate most of my achievements.
But which celebration was my best?
Answering this question is kind of difficult as I have had a lot of celebrations in my life.
The beautiful thing about them is that they are all unique in their different ways.
Was it the celebration of my academic achievements?
Or
Passing every one of my professional exams?
Or
Hitting my first million naira?
Or
Getting into medical school?
Well since I have to choose one, then I will choose the one that crowns it all.
My induction ceremony
I graduated from secondary school in 2010 as the best science student in my school.
I passed my West African Examination Council(WAEC) exam and wanted to study engineering.
I applied for one of the top schools for engineering in Nigeria and was rejected because I failed unbelievably in their entrance exam.
This meant I was to wait for an extra year before reapplying.
I gave up on the dream of being an engineer immediately and decided to change my course of action to medicine.
I applied the next year for medicine to the first and best institution in Nigeria.
I got rejected. I was totally sad.
My mother met one of her friends who happens to be among the top guys in the Medical school.
After talking to him, he said my grades in my WAEC were too average.
He advised me to write another one.
I re-registered and wrote another one.
My result got ceased by the council; meaning I was left with my average result.
I applied the next year for medicine in another school but got rejected again.
3 years gone!!!!
My mother was sad. She had only one child who could not get into school and all my stepbrothers were done with the university.
I honestly felt sad for her.
I gave up on schooling.
My mother kept on finding ways for me to get into school.
Finally, she spoke to one of my cousins who said I could do a pre-degree program in a university.
My mother wanted me to do a pre-degree in Medicine. I made enquiries but the school lost their licensing power that year.
I did a predegree in Human Anatomy. I came out among the top 3 in the department.
My mother was so happy!!! She danced, cried and did a whole lot of things.
I was admitted into human anatomy at the university.
I started my year 1 and the school got back their licensing power.
Of course, my mother heard about it and asked if I wanted to try?
I was tired of the process of trying and getting rejected.
So I decided to try for the last time with minimal effort.
I wrote the first step of the exam JAMB. I passed it comfortably.
I told my mom what I scored and she was hopeful.
Two months later was scheduled for the school's exam for medicine applicant.
I registered and didn't care about the out come. I played games the most during that period, partied the most and did a whole lot of things.
The exam day came, I woke up, took a bath and went to the exam hall.
It was a stressful event as over 3000 people were applying and they were going to take only 110 student.
I entered the exam hall and logged in my details into the computer.
I saw that most of the exam questions were mathematics questions. This made life easier as I loved mathematics so much.
I answered most of them and the result was out instantly.
I got 284/400.
I was shocked!!
I xalled my mom and this time the celebration was not just dancing and crying.
She went to the church to give a testimony.
I mean I had not gotten admitted to study medicine, I only had a good score.
2 weeks later my me came out in the merit list and the joy in my heart was unbelievable.
My mom sent me some money.
I took all my guys out, we went to take ice cream, cracked jokes.
We went on to pleasure park in port Harcourt, played some paint ball and ended up in my room with a bottle of vodka.
This is not the end of the story tho.
But let me end here for now.
---
---