My Wax NFT Journey: Flipping My Way to the Top with NFTs! 💰💰💰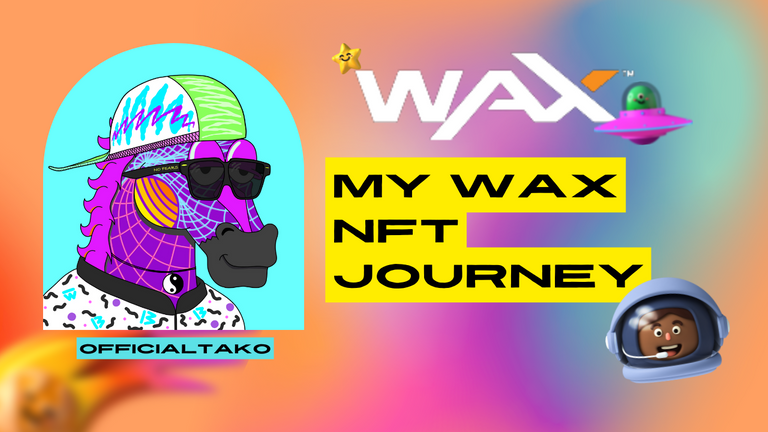 ---
---
This Weeks Story: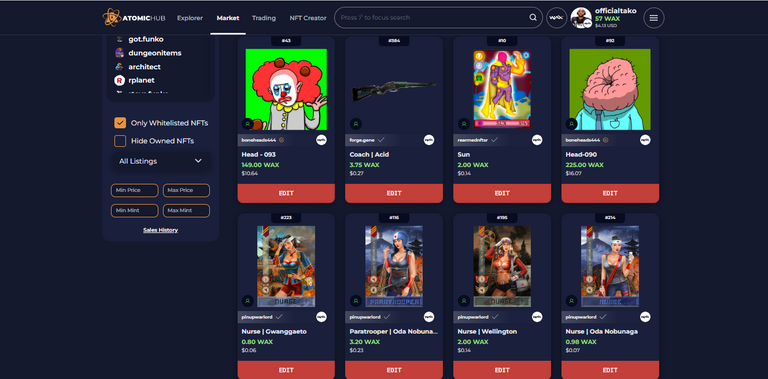 I'm finally getting to the point in the journey where I'm making some flips! I'm still not in degen mode, but I'm starting to see how one might enjoy the selling process.
It's kind of interesting to see what sells and at what price. I have different things like the last sold price, the lowest listed prices, and a suggested price that I look at to help me price NFT's that I'm selling on the market.
They also tell you the price that you purchased the NFT at, if it was an NFT you had purchased, which helps you to see what price you'll need to sell at to turn a profit.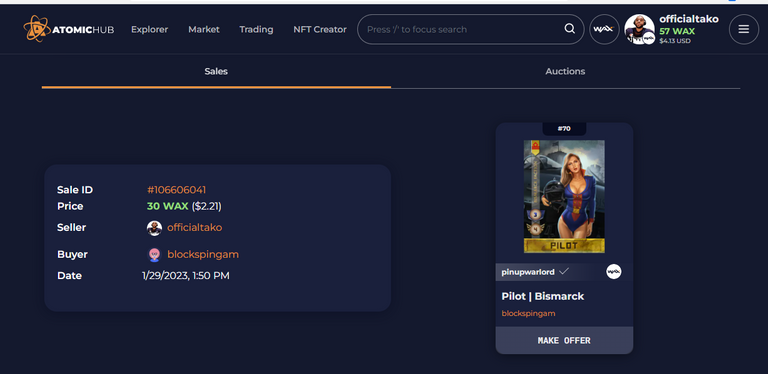 I'm still a little shocked when the items that I place on the marketplace sale. I'll definitely need to purchase more NFTs to work with but outside of making my own NFTs, I'm definitely gonna try to flip my way to the top as well buying and selling off the market.
Sometimes it's a waiting game, sometimes it's relisting at different prices, I haven't gotten to sell a bundle of NFTs but I'm probably gonna be trying that out with a listing soon. all sorts of little strategies to help grow your account little by little that I'm becoming aware of on the marketplace side of things, which is nice!
GROWTH!!!
---
My Latest Wax NFT Pickups!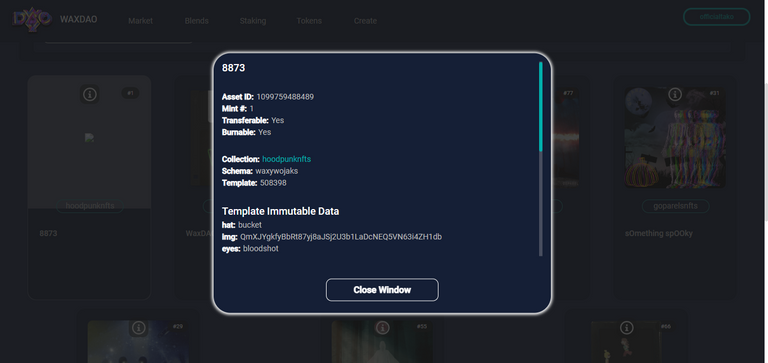 Picked me up a Wojak from @mikedcrypto and immediately staked it. I'm gonna need more Wojaks in the future for farms but defiantly a great project for creatives on Wax.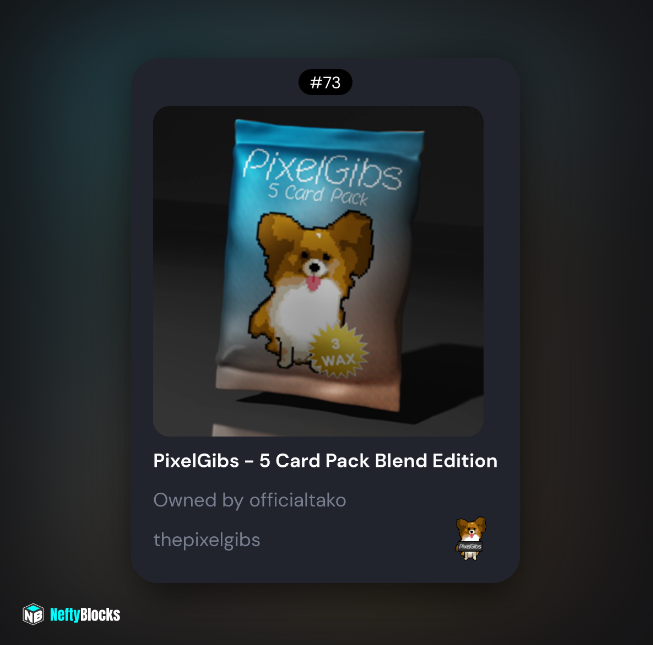 I got this PixelGibs pack from my friend Cosmic Alien. She just a lot of fun and super creative. I love hanging out in her streams on twitch. She puts me on to a lot of cool projects. Shoutout to the Alien:
https://twitter.com/Alieninavan1/status/1619580440154894340?s=20&t=d4V0BJ3mcNVelg19oFr1Rg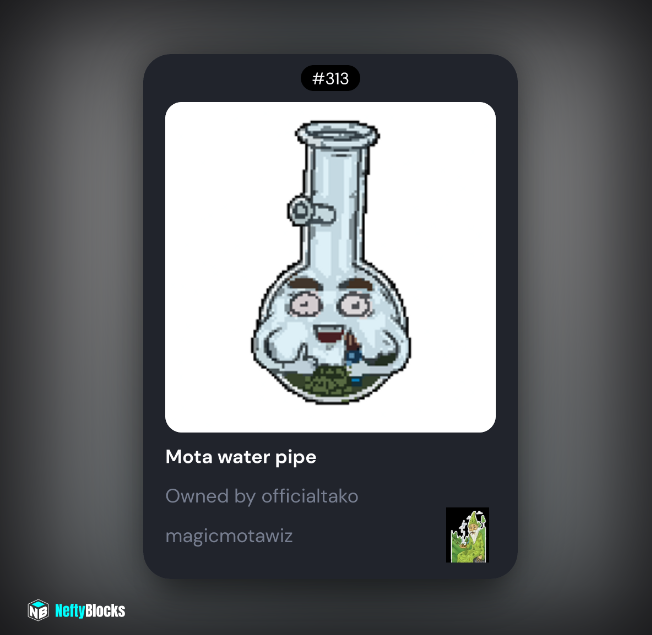 Last but not least, I got a couple of Mota water pipes from @danishcrypto so I can mine some tokens in the telegram. I just thought plugging NFTs into Telegram and chat mining with things like the LEEF token was one of the coolest things I had seen on wax. But check out danish and all he has set up on telegram. It's pretty impressive for sure.
---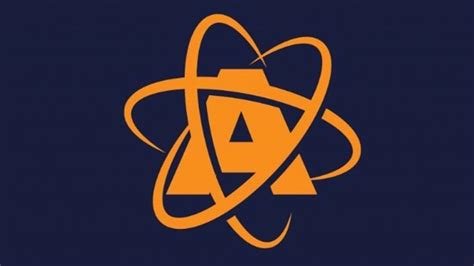 ---
https://www.twitch.tv/coinrunner7
---

🛑 STOP MISSING OUT! 🛑
🐝🐝🐝
https://token.art/tako/WAX-NFT-SHOWCASE
https://miningnetwork.io/?ref=officialtako
---
Support Tako Using the Bitcoin Lightning Network
⚡⚡⚡
Get Paid Bitcoin to Listen to Podcasts!
The Fountain podcast app is the only app that rewards both listeners and podcasters for the value they bring to the platform.


Use the link or referral code below to support the show and set started earning Bitcoin NOW!
Link: https://fountain.fm/refer/CoinRunner7-ceb06f47c5
Referral Code: @CoinRunner7-ceb06f47c5
Tutorial: How to redeem referral codes in the fountain app!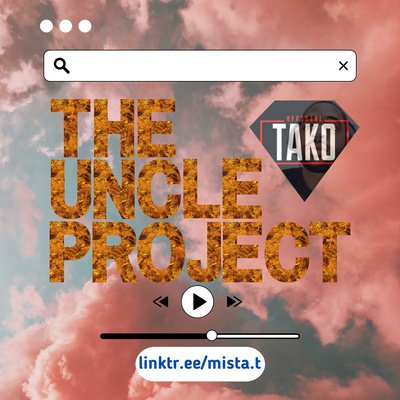 ⚡⚡⚡
My Blog's Magical Lightning Address
Any Lightning BTC sent to this address will be converted to Hive and sent to @bigtakosensei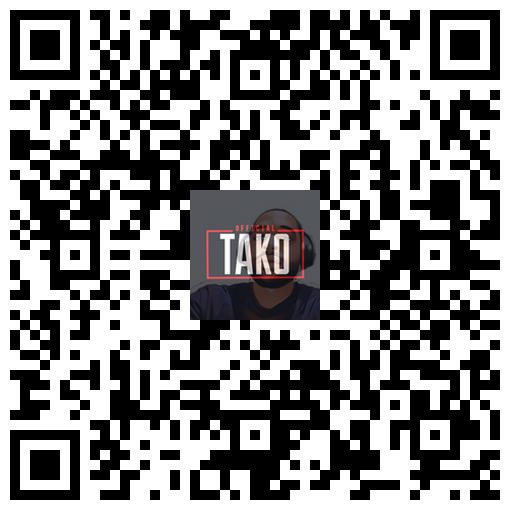 Support the blog using Lightning BTC by scanning the QR code above or at the lightning address: bigtakosensei@v4v.app
Thank You!

---
---
---