🍉 [MELN] Weekly EXODE Wrap-Up #28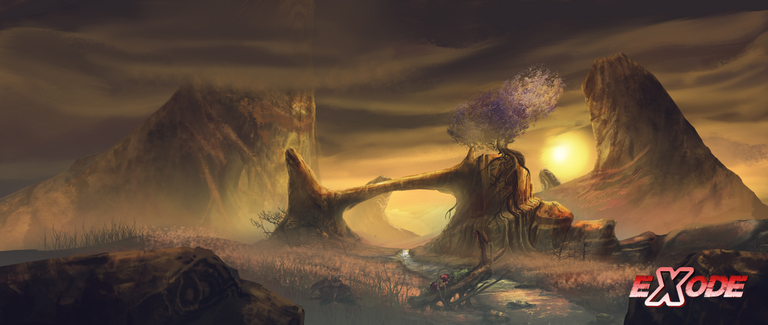 Hello, Pilots!
It seems like the main art people want to see are related to the different wildlife and planets. I definitely agree! Will be sure to share it with all of you if I manage to get my hands on any.
A lot of new things have been added this week, including combat reports!
If you'd like an in-depth first hand experience of a battle, check out @proto26's latest 🍉 [MELN] Report.
📰News:

Many more people have been granted tester access, if you're interested, be sure to say so in the Discord!

The first iteration of combat reports have been added. Characters cannot yet use the guns they brought with them, but they also cannot die. This phase of combat is mainly to test things out and see how it works. In the above screenshot, you can see that my character 'Admin Adam' was almost beaten to death by a group of aliens, but because of the "Leave 1 HP" rule of testing right now, he lives to die another day.

There have been a few updates to the Game Inspector:
characters under 50% health now display their health in red
● new feature: Wounded can't go. Characters under 50% health will soon automatically cancel any action they are part of.
● new feature: Health recovery. Character recover 1 to 6 health every day (when actions delivery is refreshed)
● new feature: Missions Log. Characters now display a quick summary of their wounds and number of combat actions.
● INTEL: now displays a "Select Resource" selector.
● INTEL: new feature with the Intel Revelation Map which displays, for a given resource (vegetation/ore/mineral) which information has been revealed.
● The debriefing room can be used again.
● "Investigate Resource" actions can now be executed
● "Investigate Wildlife" actions can now be executed again
● There are some chances for combat, you will receive a combat summary in that case

A bunch of miscellaneous bugfixes that prevent issues some people reported in the Discord server.

As Away Teams (AW) step 1 reaches it's end this week, @elindos has decided to issue some "Compensation Tickets" to testers due to some actions disappearing from the queue and costing a day. These tickets will allow you to immediately complete an action, and 5 will be issued to all testers:
"● We know you may have a specific situation! So we have come with an idea about how to use our compensation tickets, which are aimed for that. but we prefer to handle this globally, so that we can keep our momentum. We have plenty of gameplay to implement the coming week!
● We have deployed 5 compensation tickets to all captains participating to Step 1, and +2 more to testers who participated in close tests and had other actions used.
● Compensation now work as follows:
● they are displayed in Game Inspector.
● when you claim an action, it will see if you have waited for enough time.
● If you do, an action is claimed without using a compensation ticket. If you don't, it will use a compensation ticket, and allow you to claim that action. The message about it should be clear enough. (see below!)
● This means that for now, it allows for an almost immediate resolution for investigation reports (since you can then head to the debriefing room to execute it) but not for other actions which will have to wait a little for the next delivery; but are almost immediate as you can pile all of them up before it happens.
● Before using all your compensation tickets, we advise to wait for our addition of the "MEDICAL" action during the next week, or have more information available in other actions and gameplay." -@elindos

You can now cancel actions from the Game Inspector.
🎁Giveaway:
To celebrate all of the good news this week, you have a chance of winning:
1x Syndicate Geisha (No wiki link since it is so new)
This is the newest card added to the Syndicate contracts, we have yet to get a feel for her utility. She seems like she will be very powerful on the Colony. She has Charisma, Conversation, Diplomacy, Intimidation, Stealth, and Romantic Ties. Essentially the perfect diplomat, I could see her fitting well into an Elected Leader or Cruise Ship Captain deck. She has Geisha Implants, no idea what these do at the moment, but she can make 'Pink Lotus' each week. No idea what this is either. Will have to come back to her once Colonization is released.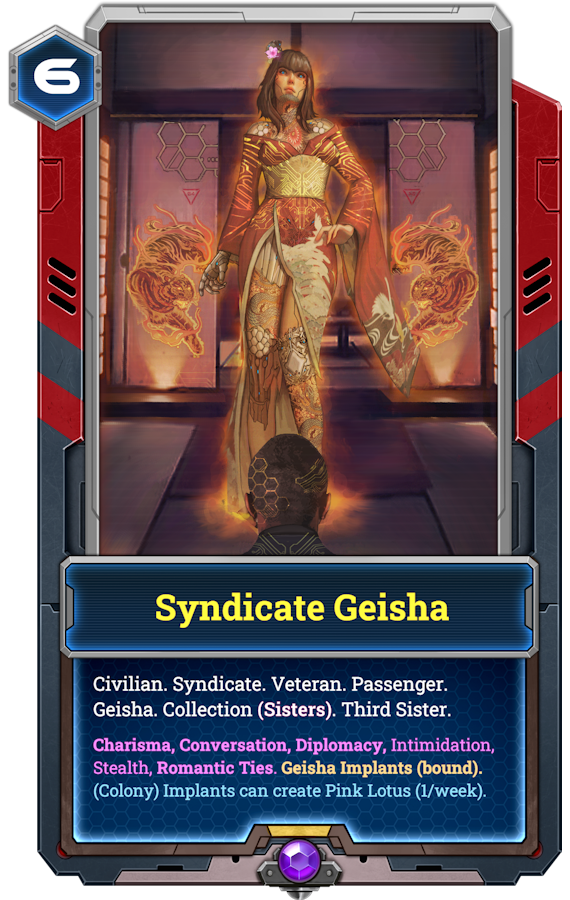 🎉Previous Winner: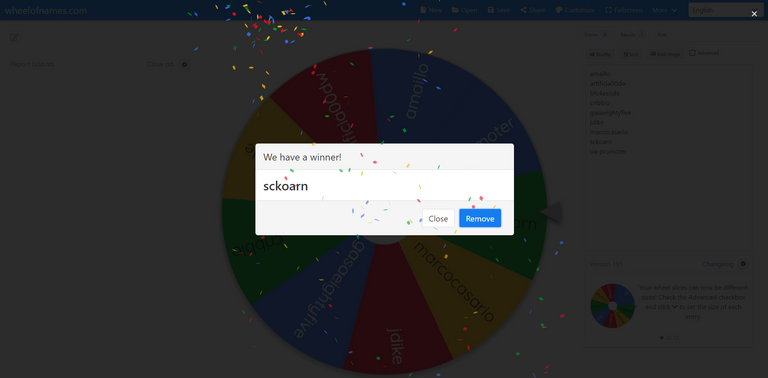 Congratulations @sckoarn, you have been sent Rekatron SD # 9f44eeb82af87ec4528c17277d5aa97f
➡️How To Enter:
Upvote this post
Reblog this post
Comment what you would like to see from the next step of Away Teams
The winner will be chosen by random on Monday, March 21.
As usual, I will be tipping comments with #hivepizza!
EXODE is a real-time strategy space colonization game here on the Hive Blockchain. If you still have not bought your starter pack and signed up, use this Referral Code(c956af8) and you'll also receive 2 free Alpha Booster Packs with 5 NFT cards each and a free Epic Alpha Character. For more information and links, check out the developer's page, @elindos and/or this post.
---
---