🍉 [MELN] Weekly EXODE Wrap-Up #29
Hello, Pilots!
Tons of new information this week. @elindos has been doing great work, most of the news section is quoted from him this week.
📰News:

EXODE attended DYGYCON 8 and we got a lot more people hopping into the Discord server because of it!

A warning has been added to prevent the accidental use of compensation tickets, good news as many people accidentally used some!

Assigning: you should be able to assign missions and see them being a little different, and also see "IN MISSION" for characters committed to the new missions (not the old ones).
Gathering: checking that Food Gatherers, Materials Gatherers, Energy Gatherers provide the number of end mission results. It will have a confirmation message.
Wounded don't act: checking that they don't do that when they are wounded, there will be a confirmation message about it.
Research bonus (main researcher): the colony Researcher now applies bonus rolls slightly differently. You have 1-2 revelation rolls but proficiency is tested for +1 roll, and then proficiency -60 is tested for +1 roll, then proficiency -120.
Research bonus (support): checking that Research Gatherers can activate more revelation rolls (this is best seen on something you have never investigated). Proficiency is tested for +1 roll and proficiency - 60 is tested for +1 roll, then proficiency -120. It will have a confirmation message.
Guards protect: checking that aliens seem to engage Guards more
Guards defend themselves better:checking that aliens seem to be able to wound Guards, but possibly less. Guards receive a defensive bonus of 60% of proficiency which reduces enemy melee score for the same level. For instance, if you have 80 proficiency in Guard, you will reduce enemy attack score against you by 48% of its value, rounded down. This results in less hits.
Scouts vs ambush:the best Scout should also use his/her proficiency to reduce ambush chances; a good scout should not see the "enemy ambush" succeed that often (except if the wildlife has a very high secretive level, which is an information you sometimes don't have, but even so)
Medic heal: a Medic support role should heal wounds received in combat. There should be a confirmation message about it.
Fix about wounded characters: this version also has the latest fix about wrong characters being wounded.
Hunters hit better: hunters receive chances to have a bonus action every round (according to proficiency %) and have damage increased by proficiency % as well.
Characters are busy in missions: when assigned to a mission, characters are now committed to it. They will appear "in mission" and can't receive another important assignment meanwhile.
We have time! Or not? : when launching a new investigation you will now see a timer. A mission cannot be completed before the timer is out.
Guide reduces timer: A mission is made of 200 time units and the guide reduces it by as much as his proficiency. If you have 30 proficiency, he'll reduce it to 170 time units, if he has 60 proficiency, he'll reduce it to 140 time units, and so on. The total duration itself depends on "how long is a time unit", which has a random factor.
There will be other optional additions: such as mission timer, reduced by Guide; or another better UI to create missions.
There will also be conditions to test this comfortably.
And other additions not worth mentioning here as you may not see them to the front.

Updated to Vulkrum 1.35.
Scientists were sending false positives of discoveries on some biofragments which have actually no relevance.
The report was indicating fragment revelation (thanks to an enthusiast scientist!) but the game inspector then failed to match this information.
This was related to wildlife and vegetation and should now be fixed.
Now, when scientists "hit" a part that is not relevant, they won't tell you they find a biofragment. This will be interpreted as a miss, as should be.
Later with Leveling:
There will be a Perk allowing for a missed biofragment exploitation to switch to another more profitable (like an 'instinct' or scientific knowledge and experience telling the scientist which fragment should be the most interesting part). For now, this part is not rerolled and interpreted as "a scientific miss", but with one such Perk these misses will have chances to be rerolled.
However, please note that in 1.4 there are ways to have more revelation attempts, as detailed above.
You should use that to increase your chances!

1.4 mission version received a number of additions.
This will be displayed once the version is pushed live this weekend:
It now includes a "mission timer" and switches all characters sent into mission (from 1.4) to being "busy" in this mission until completion.
This is the "time to complete a mission".
The time to complete a mission is reduced if you pick a "Guide" as support role.
1.4 game inspector also received "live timers" to make sure you know when an investigation mission is ready; these will update display every second.
These additions and some of yesterday additions took some time today and as a result, internal testing is going to continue tomorrow, and tester accesses will be sent during the day. You will then be able to test the new version!
After that we'll work on releasing our "explanatory" video about all game mechanics and gameplay involved in an Investigation, as planned.

This update does not fix team values, guns, wildlife combat balance.
But it has some other fixes, such as these ones:
Improved padding & presentation around mission effects.
Fixed two missing translations which could cause "null" to appear at mission end.
Fixed a too alarming "was too wounded" message at mission end, whereas the crew was only "wounded a bit".
Fixed improper "missed" lines on step "analysis details".
Old missions should be executed normally.
Because of this update, new missions have a "timer" associated to them.

The roles have been better explained:
Time to complete a mission:
Investigation missions will require a minimal time before you can claim them in Debriefing Room.
The travel time is a base made of "200" of travel time units, reduced by the Guide score.
Guide:
If you pick this as support role, the time to travel will be reduced by your Guide (proficiency) %. For instance, with a 50% proficiency in the Guide role, you'll have 150 travel time units instead of the initial "200". There will be diminishing returns above 100 proficiency.
Food Gatherer:
if you pick this as support role, you will have (proficiency) % chances to gain 1-6 Food once mission ends (-2 if on ore or minerals mission)
Materials Gatherer:
if you pick this as support role, you will have (proficiency) % chances to gain 1-6 Materials once mission ends (-2 if on wildlife or minerals)
Energy Gatherer:
if you pick this as support role, you will have (proficiency) % chances to gain 1-2 Energy once mission ends
Research Gatherer:
if you pick this as support role, you will have (proficiency) % chances to gain +1 information revealed (more exactly, +1 roll to reveal something) once mission ends. (updated: there are a little more chances to have 1-2 revelations)
Medic:
Best medic performs medical treatment of combat wounds. For every newly acquired wound, makes a (proficiency %) test to give back 1 health for light wounds, and 2 health for any more serious injury. If > 100 Proficiency, a second test at -100 is made for the same result.
Scout:
scout proficiencies will reduce ambush chances by their % (including the base scout one) and will have other effects to be revealed later, such as reducing "chances to fail the mission" (as you must detect the objective)
Hunter:
every round, your Hunter will have (proficiency) % to receive +1 action and to succeed all Combat Decision rolls this round. (will do more damage)
Guard:
guards receive a bonus of (proficiency)% x4 to their Threat (instead of the default increase) making them attract more wildlife at the beginning of a mission. For instance a 50% proficiency guard will gave 200% Threat. They will also receive a higher cover & defensive bonus to make them more resilient.
Leader:
Role handicap is applied since 1.33 which means that any "acting Leader" or "acting anything" (someone who does not have a role but is put to act as if he/she had it) will receive "the multirole handicap". For that reason, picking a proper leader role could be beneficial to your team. this will be more true in next updates.
Comms:
No effect for now. In Away Team Steps 2 this allows you to receive information before the mission completes and an estimate of their difficulty. It is possible we'll allow the "RETREAT" order and some interactivity only if you have a Comms officer, but this is being studied.
Observer:
No effect for now. Later, every information in the report is subject to more or less details depending on the "reporter".

A bunch of assorted bugfixes for the Away Teams and Game Inspector.

The new GNN episode is being created!
🎁Giveaway:
This week, you have a chance of winning:
1x Syndicate Chip
This card is a common that is essential if you want to use any of the other Syndicate cards. It is one of the most expensive common cards currently in the game because of this fact. If you equip a character with this card, you now have the ability to bring Syndicate crew/equipment/ships/etc. which you cannot otherwise. Absolutely required if you decide you want to play Syndicate. The Elite version also grants a Shooting skill bonus, so I put them in all of my crew just for that.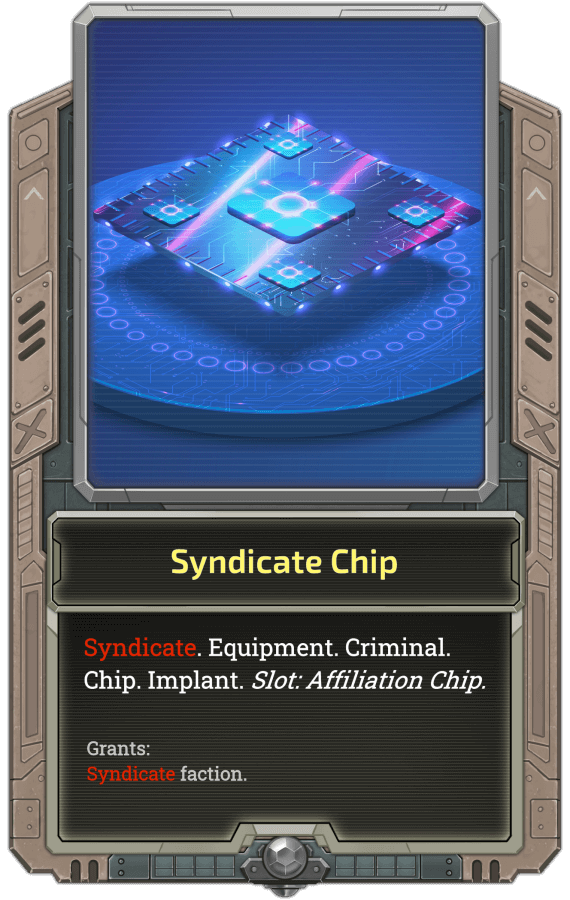 🎉Previous Winner: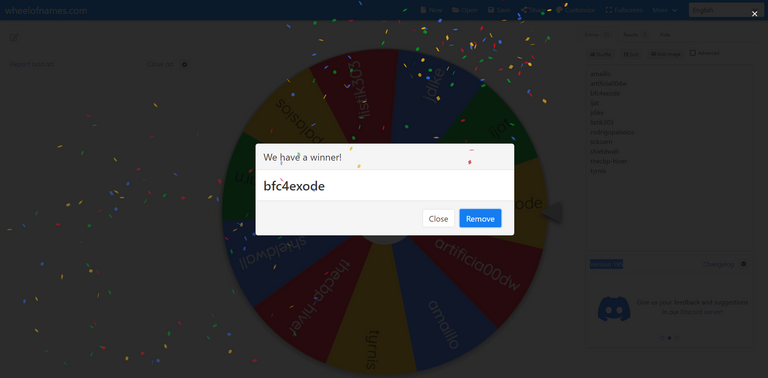 Congratulations @bfc4exode, you have been sent Syndicate Geisha # d5e532a93a5b1c5cd8d7e4f964bf5402
➡️How To Enter:
Upvote this post
Reblog this post
Comment what you would like to see out of the crafting system.
The winner will be chosen by random on Monday, March 28.
As usual, I will be tipping comments with #hivepizza!
EXODE is a real-time strategy space colonization game here on the Hive Blockchain. If you still have not bought your starter pack and signed up, use this Referral Code(c956af8) and you'll also receive 2 free Alpha Booster Packs with 5 NFT cards each and a free Epic Alpha Character. For more information and links, check out the developer's page, @elindos and/or this post.
---
---