🍉 [MELN] Weekly EXODE Wrap-Up #31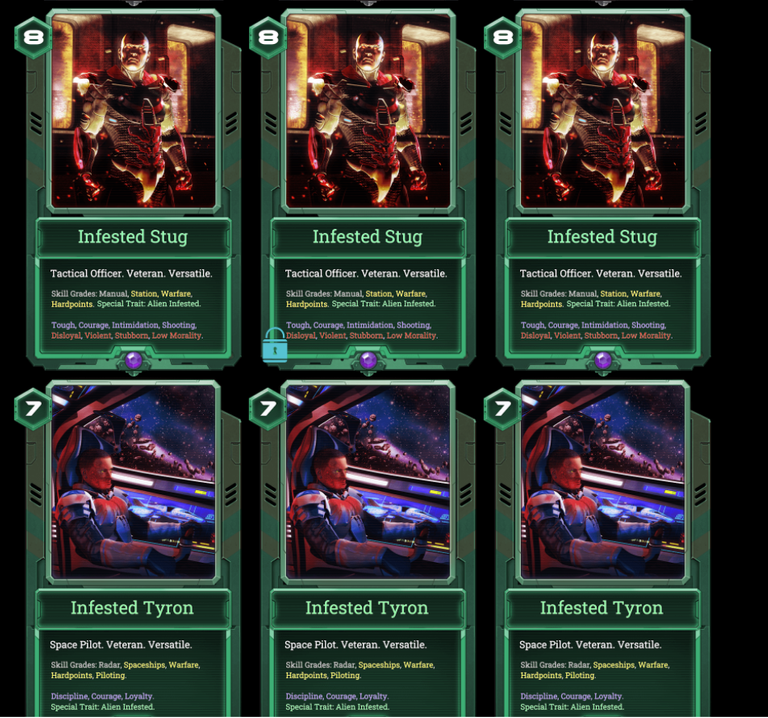 Hello, Pilots!
There are some great updates this week, with more coming very soon.
Sign up for the Colonization Challenge ASAP!
There is a special prize to celebrate the Colonization Challenge release.
📰News:

REGISTRATION FOR THE COLONIZATION CHALLENGE IS NOW OPEN! Do not forget to sign up! Anyone who successfully evacuated and landed on a planet is able to participate.

There is a new Alpha Sequence that will be released later this week, where you get to land. It will be very cool to finally see where our colonies ended up! After Landing, the next sequence will be "Planet Landscape"

There was an April Fools event where some cards were slightly changed, Stug and Tyron being the most obvious as you can see at the top of the post. They have since been reverted, but a real version of these cards (even as a promo with the same stats) could be a fun addition to the game.

What to expect next week:
"You'll see more about doctrines, research, construction actually, before we get back to AW Teams step 2.
This means we are merging a lot more features than just away teams, it's our full colonization loop we are doing here, at last!
Landing will allow you to pick your final sector, then all your Away Teams work will be transferred to your planet.
You'll then access your planetary landscape.
Then, we'll progressively add research and away team features.
This means you'll get your final Colony site and will discover what there is to know about how to set your "colony decisions" (eating, using energy, etc) and daily life." - @elindos

Speaking of promo cards, there is a brand new one being worked on to be gifted to active testers during the Colonization Challenge. Just another reason to sign up now! There will also be more rewards during the challenge, such as Free XP and account-bound Alpha Card Packs.
🎁Giveaway:
To celebrate the release of the Colonization Challenge, we are giving away:
1x The Kumicho
This card is the leader of the Syndicate Faction, and has many powerful abilities because of it. She has the 'Veteran' keyword which means that only one copy of her can be in the deck. The term "Synergies" mean that any cards with that specific keyword (in this case 'Syndicate' and 'Narcophile') gains +1 quality. Since most Syndicate cards come with Narcophile or can have that added through Narco-Warfare, you can essentially give your entire crew +2 quality, which results in an overall increase in every stat. Quality is denoted by the number in the blue hexagon in the upper left of cards, as you can see the Kumicho has a quality of 10. She also has great skill in Warfare, Administration, Leadership, and Awareness. She has the downsides of being Slow and having a Secret Agenda, which we will have to wait and see for what that entails. She has "Bound Items" which mean that she comes with something, in this case "Kumicho Implants", unfortunately since we don't get to see bound items in the equipment screen yet, I do not know what Kumicho Implants will do, but assume it's some sort of weaponry and/or armor.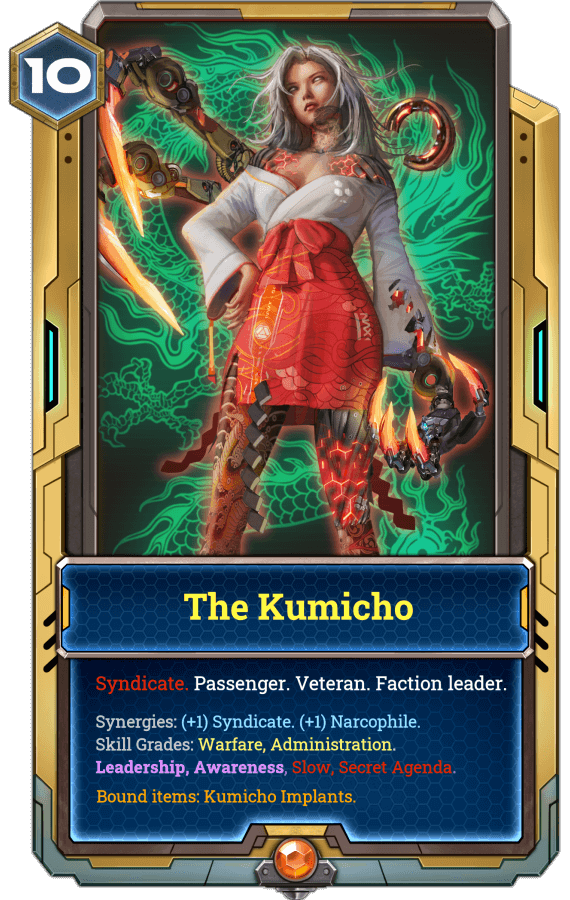 🎉Previous Winner: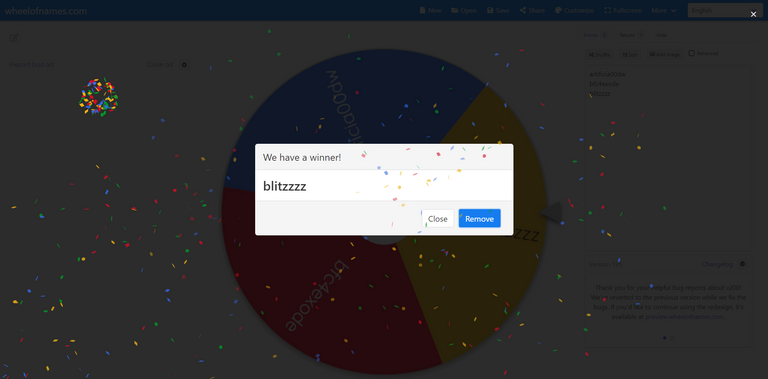 Congratulations @blitzzzz, you have been sent Friendly Eyes XY-6 # 05951c3d65b5b5cbcf667c5b8aa5f8f8
➡️How To Enter:
Upvote this post
Reblog this post
Comment what you are the most excited for about the Colonization Challenge!
The winner will be chosen by random on Monday, April 11.
As usual, I will be tipping comments with #hivepizza!
EXODE is a real-time strategy space colonization game here on the Hive Blockchain. If you still have not bought your starter pack and signed up, use this Referral Code(c956af8) and you'll also receive 2 free Alpha Booster Packs with 5 NFT cards each and a free Epic Alpha Character. For more information and links, check out the developer's page, @elindos and this post by @proto26.
---
---