🍉 [MELN] Weekly EXODE Wrap-Up #33

Hello, Pilots!
We have gotten a bunch of new information this week, and I am very excited for it!
****EDIT****
@elindos released a blog post a few minutes after I finished writing this, go read it for even more information!
****END EDIT****
📰News: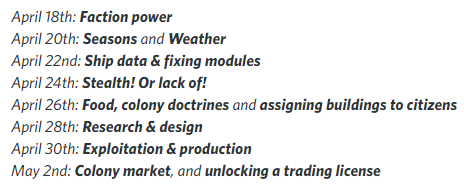 A new roadmap has been released which you can read above.

The art team has been working on planet atmosphere with new art, audio, and visual FX. No ETA on this as it seems like a lot of work and EXODE values quality over speed.

The most interesting part of this week's news is the "Faction Power" "which is related to the rarity and volume of cards you have of all released cards of a faction." - @elindos
Faction Power will be useable as consumable boosts in your games, and for several conditions on evacuation fleets, likely related to "mission staking".
The three ingredients to your Faction Power are:
""Diversification", meaning how many of the different cards you have (not including Elite Epics and Elite Legendaries but including Elite Rares).
"Pure power", in terms of "volume and rarity", giving a different weight to common, rare, epic and legendary cards, and an additional weight (x50) for elites.
"Faction reputation", which is something all players have at 0 at the moment and will be accumulated later thanks to in-game tasks, quests, campaigns and rewards (including Legacy Rewards)." - @elindos
I'm not so sure how I feel about the Diversification factor including Elite Rares, because there are not very many and they are super expensive, but otherwise I think this will be a cool system.

Faction Power "...won't be "a tradable currency", but nothing actually opposes that. We consider faction power to be an "influence" of sorts over a faction, so in time we may implement leasing options and once we have put enough utility layers to it, we may even deploy tokens for it in time." - @elindos
I love the idea of Faction Power being influence tradeable in the form of tokens. I don't think I've seen an idea like this in a crypto game before and am very interested in how it could work.

New GNN episodes will be made talking about Factions, Ships & their modules, and on planetary life.
🎁Giveaway:
This week, you have a chance of winning:
This card is one of the most versatile in the entire game. While not as good of a fighter as Ayumi, she has some key differences that make her better in different roles. First off she is listed as "Civilian, Military, Noble, Specialist" which means you can bring her in any of those decks without requiring a Syndicate chip. She also has Warfare, Cover, Orders, Leadership, Charisma, and Speed. Essentially turning her into a leader who can fight. Where she really shines is her bound items. She also has a Syndicate Blade, like Ayumi, but she has K-Armor as well, which is amazing. Armor is one of the most expensive and most important things in this game, and being able to bring someone who already has a weapon and armor is one of the most cost-effective things you can do. I would recommend getting this card ASAP before people realize how powerful (and budget) she is.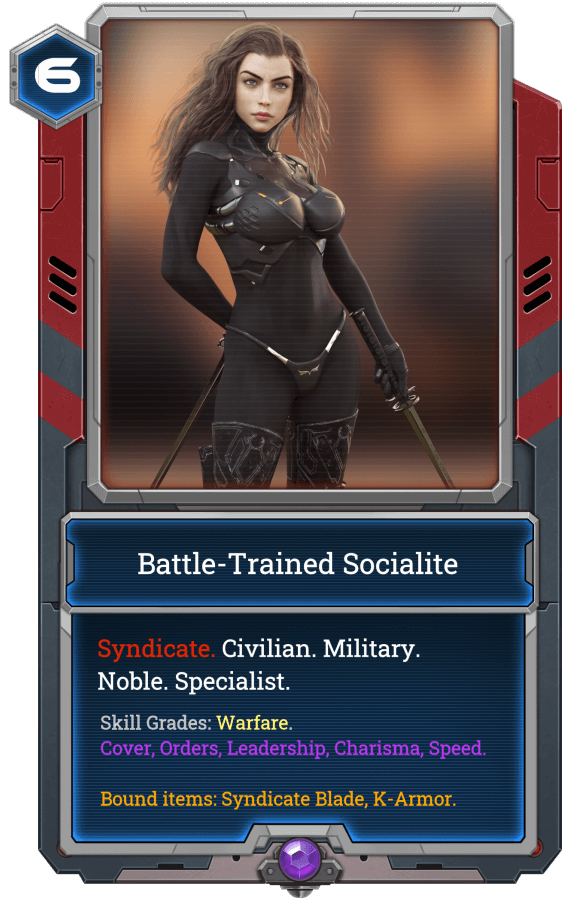 🎉Previous Winner: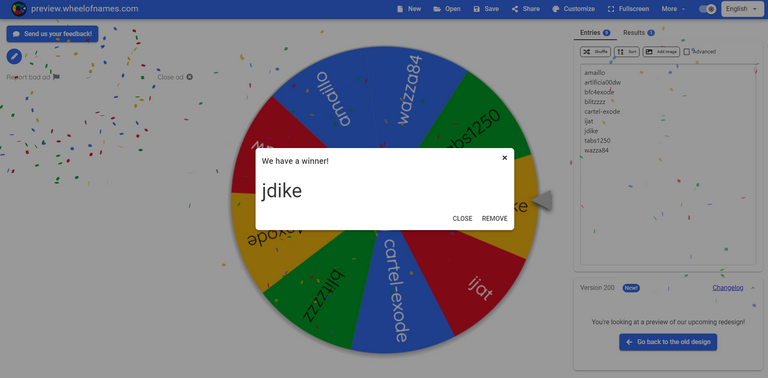 Congratulations @jdike, you have been sent Black Lotus # fdb0438ce59d07c6747e285c88a08b9f
➡️How To Enter:
Upvote this post
Reblog this post
Comment which faction you are going to focus on and why!
The winner will be chosen by random on Monday, April 25.
As usual, I will be tipping comments with #hivepizza!
EXODE is a real-time strategy space colonization game here on the Hive Blockchain. If you still have not bought your starter pack and signed up, use this Referral Code(c956af8) and you'll also receive 2 free Alpha Booster Packs with 5 NFT cards each and a free Epic Alpha Character. For more information and links, check out the developer's page, @elindos and this post by @proto26.
---
---