Congress Banning Investing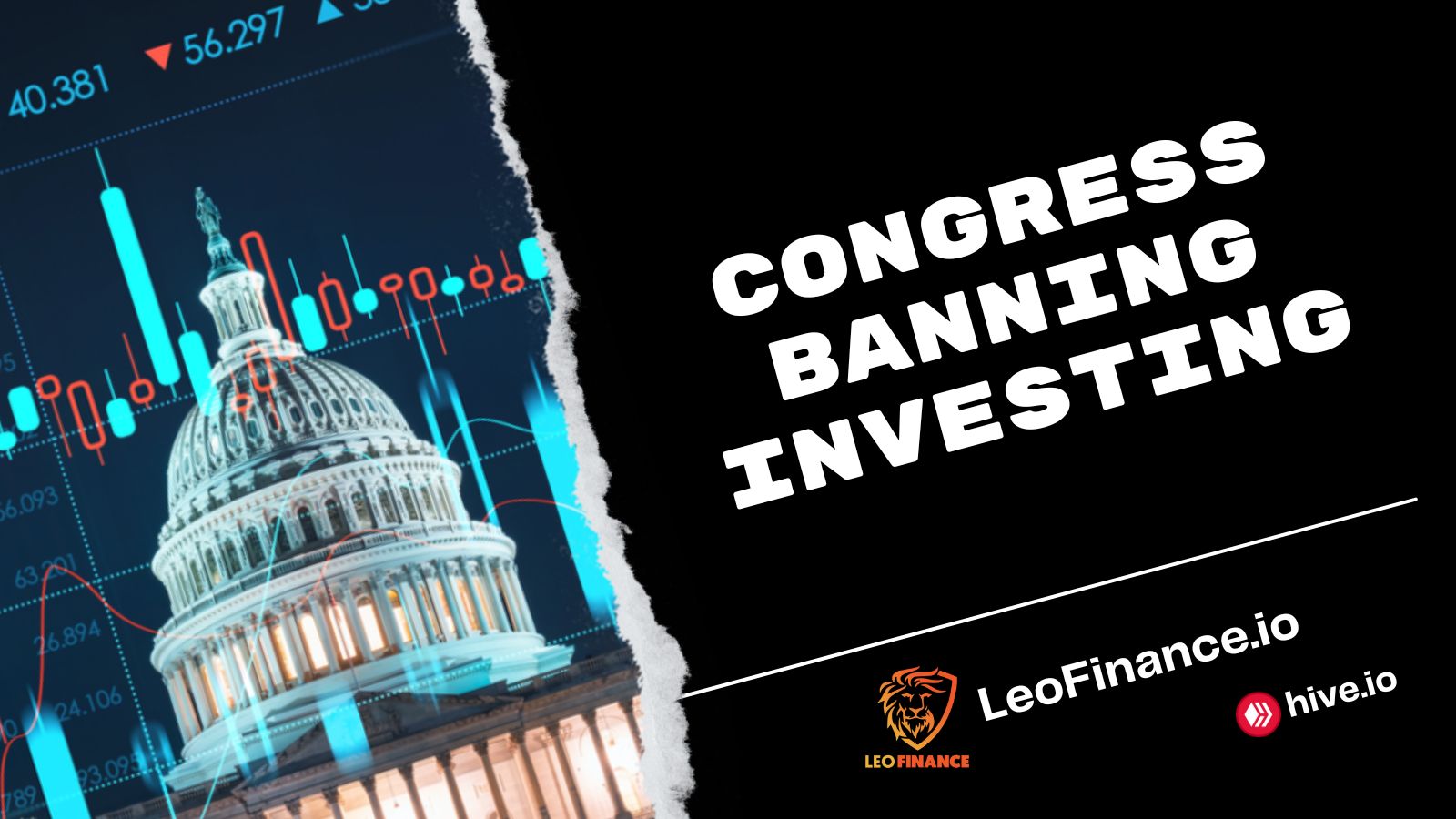 Congress Banning Investing
The endless bad news for the stock market continues
STOCK act of 2012
If you want to read the full details of this it's Public Law 112-105; which was approved on April 4th 2012.
It's a provision of law that is suppose to prevent insider trading from members of congress. It reads that at any time they or a broker they are with or spouse buys or sells a stock they must publicly disclose it.
The Red Flags
It's clear if you follow the money you see a really odd trend with memers of congress in terms of when they trade and how they trade. In fact many if not all of these people are making money hand over fist as they are the ones passing laws that will shape businesses to either allow a business to sell more goods in areas or restrict them. In theory that means they have the inside knowledge others don't including the power to sway the stock prices because they are the ones making the rules that affect business.
In 2020 just before the covid pandemic the DOJ initiated a probe into the stock transactions on March 30th 2020 in which no charges were pressed. Let's be honest if you had inside information or the ability to pass laws you would be trading those stocks. Many of these people are beating the market averages by huge amounts.
Images pulled from this point on are from a research paper done located at MarketSentiment Substack

As you can see they out beat the market by huge amounts ALWAYS! This graph above shows the track record over the last year. The % you seen in green is how much better these people are doing compared to the market average.
Another huge red flag by these people their reporting of their stock trades. Many wait to the very last day to report and some even delay longer taking a penalty fee before disclosing their trades. Why on earth would you constantly take a penalty for not reporting your stocks unless you were up to something shady?
Without making this post a book there's plenty of other findings that show many of these people sat in on meetings of the stocks they traded or had inside information about warnings that would be issues or issues with airliners etc and sold just before that news was released to the public. Again these things really make you question the timing. Let's be honest they are inside trading.
I know Nancy Pelosi is a hot target so let's take a look at her numbers.
A whopping 36.7% return
16.1 million dollars invested across only 19 trades.
That's a heck of a small amount of trades and well timed trades for huge profits don't you think?
Let me be clear however there are many others doing the same thing in terms of just crushing it in the stock market and destroying market averages. and yes both republican and democrats are in this mix and I won't be involving party affiliation because we all know how quick everyone is to judge one side to the other for some stupid reason.
What Needs To Happen
Anyone passing laws or sitting in on these types of meetings before the general public is in the know needs to be prevented from trading in stocks and any kind of investment. They make plenty of money already off the back of tax payers and doubling dipping into insider trading which clearly is happening but hard to prove needs to stock. This also includes spouses because they are just as much in the known. Now it begs the question of how far that reach should go? There's nothing stopping them from telling another family member to invest here or there and could make the issue worse.
One thing for sure though there needs to be some serious accountability and there needs to be a total redo of all of these shady elected officials.
Higher penalty for not reporting the trade in a timely fashion. Currently they only get hit with a $200 fine for reporting late. When your trades making $100,000+ this is nothing! Instead implement a % fee any profits made from the trade get hit with a 5%+ fee you know that stupid high fee we plebs get hit with for not filing your taxes correctly because the system is confusing AF!
Should congress people be required to announce they are buying a stock before they actully invest? It could be a way to prevent insider trading as everyone would have a equal play. However they could also start to be played by announcing and then backing off causing a whole host of new issues.
What's really gross about all of this is the sheer lack of putting this law on the table. In particular I'm going to pick on Nancy again as she is the one that's suppose to bring it forward. Instead it's been delayed YET AGAIN! To put this into perspective this has been kicked down the road for months if not years. I think it's high time people start standing up to these few giants and make them realize they work for us and not the other way around.
What are you thoughts on congress and trading stocks?
Posted Using LeoFinance Beta
---
---