How Hive Is Still On The Bleeding Edge Of Web3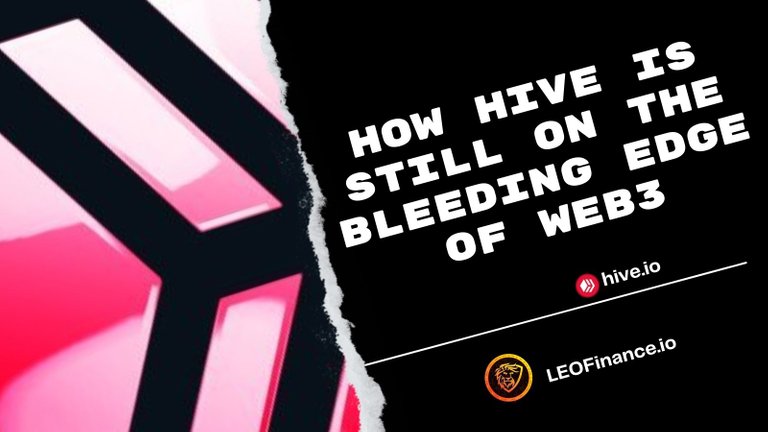 How Hive Is Still On The Bleeding Edge Of Web3
The hive blockchain has been around for a while. Not nearly as long as bitcoin but far longer than many of these other so called web3 social media blockchains which continue to fail and let us down.
Hive was way ahead of its time as the first blockchain to ever use POB (Proof Of Brain) minting of the token. The idea of it all is based on content (which at the time was only article writing) that others would vote on that content they deemed worth of their vote which will earn that person a percent of the set rewards for that day.
This was a great start and in a way took on sites like medium that paid rewards based on articles written and how many claps it got. Hive instead was on the blockchain and done so in a way that was decentralized and rewarded cryptocurrency called Hive
The Evolution Of Hive
What was once simply article writing and rewarding people for their blog posts and articles has now shaped into something more. From powerful games like Splinterlands, to new layer two tokens for blogging front ends like Proof Of Brain, Into video like 3speak and now threads from LeoFinance a Twitter Alternative
This evolution on hive actully happened fast in the span of about three years and there are plans of expanding all of this into new levels and bring wealth into the ecosystem through smart ways from traditionally web2 methods but applying web3 to them.
Gone are the days of only earning Hive tokens for writing articles or running a node. It can now be earned in a variety of other methods which I'll go over below.
Ways To Earn On Hive
Articles - The tradition way of earning hive tokens are through writing high quality articles. As others reading in the community can then upvote your articles which earns them curation rewards for doing so (more on that below) These votes help to determine quality articles that often get ranked in google for SEO. Quality articles can generate massive amounts of traffic however the one thing that most of these front ends lake right now is turning that traffic into revenue for the people behind it or just for hive in general.
Curation - Curation rewards happen by voting on others content (currently mainly within a 24 hour period after it's been published) as others vote on it you'll earn a curation reward for finding quality writings after 7 days which is the payout window.
Threads - The newest addition to earning and a new level of engagement on the hive blockchain is LeoThreads is a twitter alternative with some unique features and much more to come. Now you can earn curation and rewards for hive and the layer two token called LEO by creating threads aka tweets. Currently support are text, link and images with I hope video support in the near future.
Games - The gaming space has been increasing on hive as of late. One of the biggest on the platform currently is Splinterlands a NFT card collecting and battle game which is also about to expand in a massive way with the introduction of land and resource mining.
There's also a host of other games such as
RisingStar
DCrop
Video - The most well known name in the video space is 3speak which is working hard towards a decentralized way to serve up videos. Now you can get rewarded much in the same as articles for videos you create.
Streaming - Streaming is taxing on a service and major large companies are finding this out such as Amazon, Youtube etc and many have stopped promoting it so heavily. However hive offers up a solution as well in the form of a platform called VIMM.tv If anything though I think 3speak is setting itself up to do a decentralized streaming service, shorts and I hope some ad revenue as it continues to grow. It could give platforms like Theta some good competition and even the likes of Kick and Twitch.
The Next Evolution
I believe that with the changes LeoFinance is making and will be making over the next few months will start to paint the picture of what is possible in terms of a web3 application taking on some proven successes of the web2 platforms. The biggest of which I'm expecting will be ad revenue that once others start seeing what is possible with ads and revenue coming from outside of the chain what a positive impact that has for the overall tokens value, helping to cover server costs and so forth.
If that was expanded into video ads for 3speak and vimm along with subscriptions, internal ad systems and more I could see hive itself along with applications built on it moving towards all new highs.
We are kind of already seeing this take hold with the price of the LEO token as of late. Currently this price change is nothing more than more active users and more people using the new twitter like front end. It hasn't even kicked in things such as perks for staking and holding LEO tokens and it hasn't even started the ad revenue system yet.
This injection of new money into the system is not only going to support the price of the LEO token but it's also going to touch everything else LEO touches such as CUB, Polycub and Hive itself.
*This article is not financial advice and is for entertainment purposes only.
Benefits Of Hive Blockchain
The last part I want to go over is about the core fundamentals of the hive blockchain which make it so unique compared to any other blockchain currently out there. While many have tried and failed hive continues to thrive and show growth. I mean it still blows my mind that more people don't use the hive blockchain.
Most people will understand better how hive works if I compare it to the wax blockchain. With the wax blockchain you need to "stake" or "burn" WAX tokens in order to have Ram, CPU and Network. All three of these things give you resources on their network to do. The more you do the more of each you'll need. Hive is much like this however in a much more simplified manner. You stake hive and earn resource credits to use the network. That's it no dividing it up cross ram, cpu and network you just stake a single token and gain resources on the network.
Once staked these hive tokens allow you to use the blockchain for transactions mainly they are votes, comments and blog posts. While applications such as games, videos and streaming they all hold their own resources and for the most part do not require the content creator to have those resources or play to have those resources to play and interact on their application.
This is where hive starts to become more of a resource thing for applications and less of a thing for the end user however it's still a good idea to hold some yourself.
With hive you'll also be earning twice on the tokens you hold that you power up aka stake. There's a normal emissions of inflation that's around 2.5% - 3% APR that requires no work from you at all.
There's also what is known as a curation reward which is only earned if you actively vote on others content video, stream, article and thread. This should net you around 7%-11% APR but depends on a number of factors.
At the moment you replenish 20% of your vote value over a 24 hour period of time. This allows you to do 10 100% votes or divided that up however you like. One of the great places to view your stats including how much voting power you have is HiveStats.io
Now that you have a feel for how hive works, the future of hive it's time to take part! Get your account and lock in your wallet address (which is a username such as mine @bitcoinflood ) at LEOFinance.io
Once you're in and part of the Hive blockchain there are countless communities to join and interact with. One of the easiest ways is to interact with communities on threads which is LeoFinance direct front end now. Also tagging your longer form articles and threads with the hash tag for the community will help in connecting you with like people are are interested in what you write about and also connect you with others that you would most likely enjoy as well.
I believe development will continue to scale on hive and keep it on the new edge of things. I'll be soon venturing into this myself with some minor dev work for projects but it wont be anything crazy like some of the other platforms are currently doing. The current projects also have huge growth possibilities still and really are only the ground floor for a lot of it.
---
---