How Silicon Valley Bank Failure Affects Us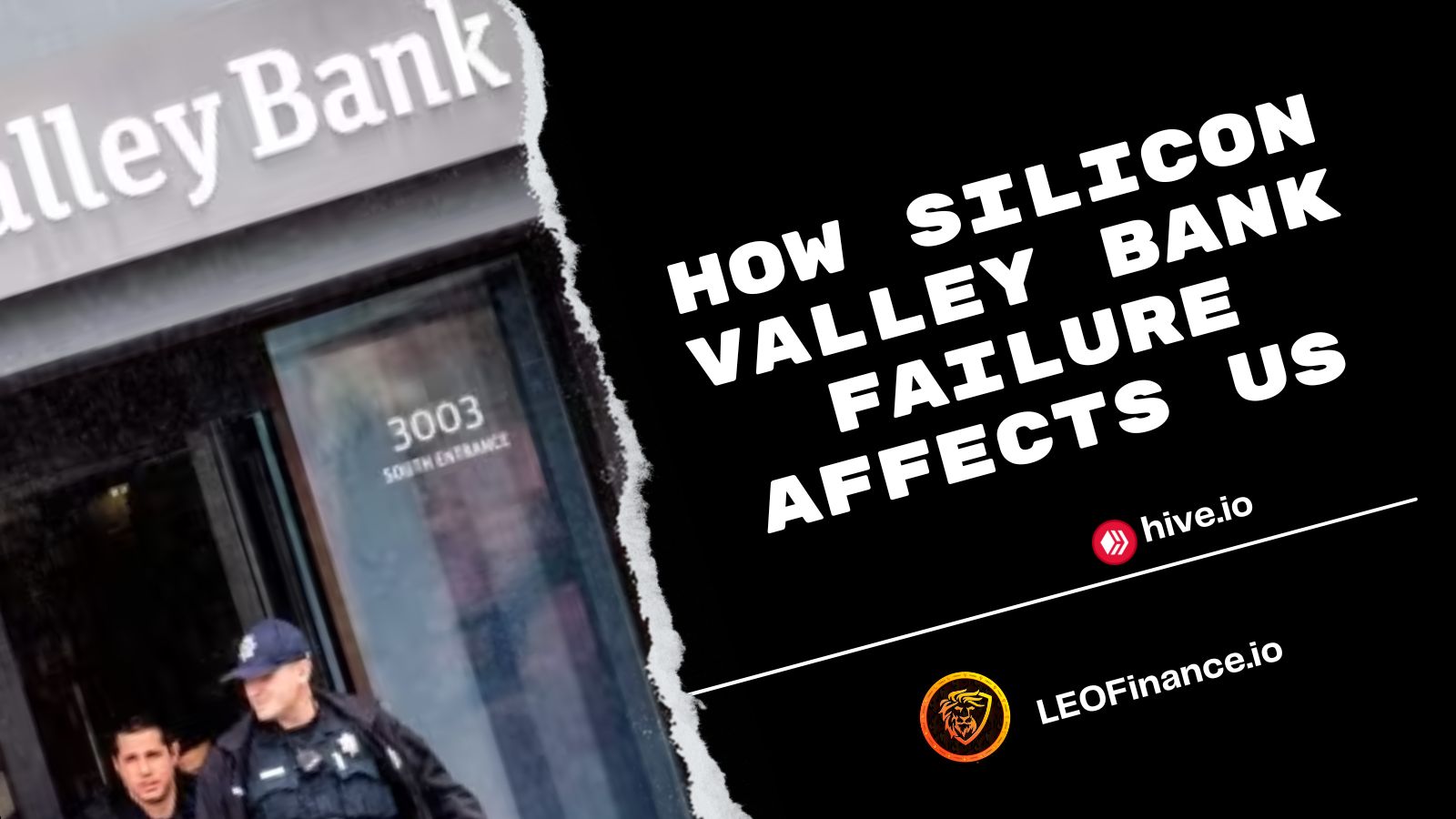 How Silicon Valley Bank Failure Affects Us
If you didn't know the 16th largest bank in the USA just went under. Named Silicon Valley bank which is a subsidiary of SVB Financial group.
It really does feel like we are repeating 2008 all over again. SBV was just about to pay out huge bonuses just before the FDIC stepped in the seized the assets. Yep, and you though crypto was corrupt we can clearly see all business and primarily in Fiat are the most corrupt and as damaging as this is I firmly enjoy it because it shows that everything isn't cryptos fault and instead there are much larger things in play that are at fault.
If the SEC can't even regulate Fiat banks do you really think they can ever regulate crypto...
Fiat and Silicon Valley Bank
Found in 1982 this bank was a major start up that loaned money out primarily to VCs. This was the boon of the digital age with computers, movies and other major startups all flocking to cali for that big dream.
That all went very well for the bank but what doesn't when you are in a crazy high bull run and money is just being thrown at you. It's easy to run a business at that point.
I'm going to bring it up again because for some reason people still don't understand this and feel like their money is forever safe in a bank. Banks run on "Fractional Reserve Banking" where they keep 10% of the funds liquid at all times and the other 90% is invested into short term, long term and other loans in which are paid back by people and companies.
The more we look into all of this the more it looks like exactly what crypto has been trying to do but the SEC continues to attack. It's a flawed system. We see it act faster in crypto every 5 years or less compared to the fiat system which is slower and feels like every 10+ years.
However these investments can become bad investments such as the case with SVB who took 91.3 billion dollars and invested into bonds which should be stable and secure. The issue however those were locked in around 2000 and 2001 where bonds only paid out just a bit over 1% now remember at this time there was nearly zero to be made in interest on your savings etc. This money was placed into bonds for 3-4 years which means it's got about 6 more months before it matures and can be cashed out.
This bank made a "bet" that the fed interest rates would remain low and not increase as fast as they did. Now at nearly 5% you can see how this company is now losing a lot of money to inflation in fact we all are you just don't see it unless you look back at the cost of things a year or two ago compared to today and you'll be dumbfounded. For example my house is worth 70% more than what I bought it for and is still going up. Sounds great but if I were to sell it and try and buy another house I really made no movement up because of inflation. Dollar wise I have more but it still buys me roughly the same house.
What happened here was a classic case of a bank taking too much of customers funds and dumping it all into one asset that greatly under performed. It created no liquidity for them and at the same time customers started to withdraw funds at a much higher level to the point it dried up. So wouldn't the easy fix to this be make banks keep more money on hand than 10% YES! but that never seems to go through because banks aka the government want to keep money being loaned out as money sitting around does nothing. This is why I feel we need to educate people on finances in school and not all this other garbage you'll never use. Each person responsible for their own investments and choices would have much lower of a drastic affect on everything then billion dollar banks making the choices for people. Then if they fail guess who pays for it, the customers again in the form of taxes. Starting to see how F'ed up this system is and why personally I'm tired of it.
FDIC
I think it's also important to go over FDIC insurance that's issued on many bank accounts including this one. People have a sense of security when their funds are FDIC insurance and feel if the bank ever goes under (as this one has) that the FDIC will pay out the funds to customers right away.
In most cases that is true within a few days you should be able to get your money back from the FDIC insurance. That's a good thing and it was created for the reason of trusting banks again and largely it has worked. What some people fail to realize however is it only covers so much of your deposit at each bank in most cases $250,000 which let's be honest for a average person retiring you'd need 4 banks at least to be completely FDIC insured when you retire.
The issue with SVB is only 2.7% of that money falls into FDIC insurance and 97.3% is NOT FDIC insured. Yeah... let me repeat that again.
97.3% of the money in SVB is NOT FDIC insured because it's over $250,000
Now most likely the bank has these funds to cover it however it goes into a number of years of bonds maturing, investments and loans maturing and other assets being sold off so your chances of getting that money back in full are pretty low and could take 5+ years to happen.
VCs and Other Companies
Most likely the VC sector is going to get hammered once again thus proving crypto is not the issue and in fact might have been a better solution compared to what is happening right now. Since this bank was primarily focused on startups and VCs it's very real that other companies are going to be in some serious hot water right now seeing their fiat assets literally evaporate over night.
This also applies to other banks that invested with silicon valley bank. That's because they fall under the same thing for FDIC insurance. A 10 million dollar investment from one bank to another could now have instantly turned into $250,000 and you can see what a shock that's going to have on banks, start ups, VCs and everything in general. Come Monday I have a feeling we are going to start seeing what a disaster this is for companies and other banks and could end up repeating yet another bank bailout which I personally will be rioting against.
While we most likely won't get to that point at the current moment it all depends on how much exposure and if other banks can cover those loses while things get figured out for this bank. The chances are low however they are still there. This is where the betting game steps in. Everyone is panic selling right now which means if things end up not being that bad in a few days or a week you could lock in some seriously discounted stocks but you better DYOR do your own research and figure out how much exposure they have and other capital on hand to weather the storm.
Posted Using LeoFinance Beta
---
---