LEO and YOU Thrive During Bear Markets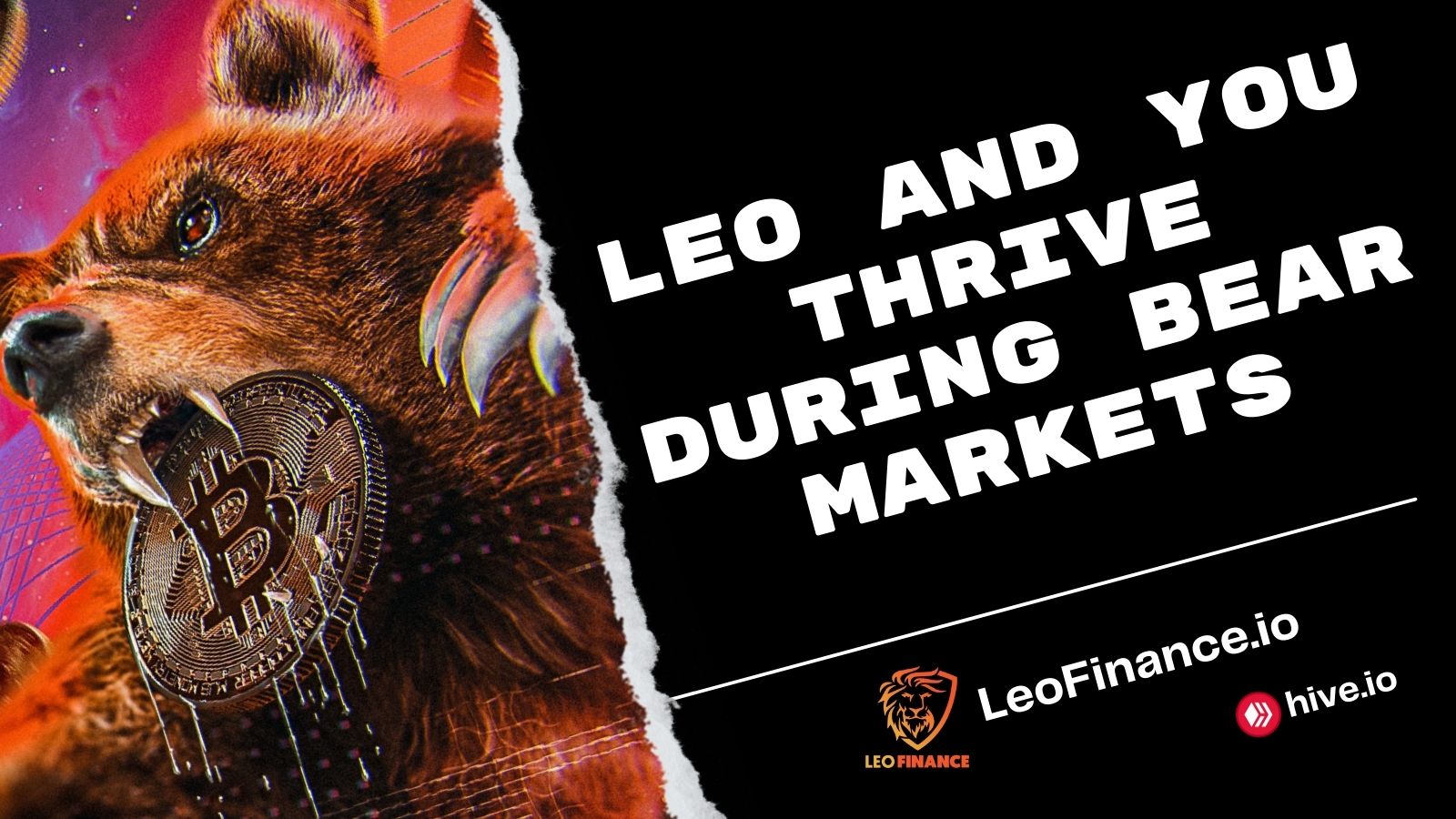 LEO and YOU Thrive During Bear Markets
While many look at the bear market and markets turning south as a bad thing with comments such as "I lost it all" "I just lost half my investment" the thing is you didn't LOSE it until you sell it. You still have the same amount of stock or crypto. It still holds value and it holds potential value.
Potential Value
What is potential value?
It's the value it generates over time such as dividends, staking rewards, curation rewards and so forth. Investing in a house has potential to be worth more later or rented out for monthly income. All of this potential income from your main capital is critical to utilize as much as possible.
How Does It Apply To LEO?
The Leo token unlike many other layer 2 tokens on the hive blockchain comes with serious potential. It has more than one use case such as DeFi in CubDeFi PolyCub, ad rev share coming soon, curation rewards, potential air drops in the future including project blank and more! That's a huge amount of pent up value that LEO has going for it right now during this junk of a market that most likely will be with us till 2023.
How Does This Apply To The Bear Market?
During a bear market any liquid capital you have can most likely be used to buy some seriously great deals. For example Hive which once was over $1 steadily now trades for just $0.35 on average. LEO which held it's ground at about $0.15 now trades for just $0.05, bitcoin now at 20k which mooned to 70k at one point. This also applies to stocks as many of those are retesting levels I saw back when we first entered lock downs.
The Market Conditions
From what I'm seeing both Crypto and Stock are returning to their levels they were at just when lock downs for Covid kicked in. It was propped up by stimmy checks, fake news and some how people saying the supply lines and markets where doing good lol. Well the funny thing is it takes about a year or two for those things you do today to show up in markets. We are now feeling them today and most likely will for the next nearly year. This leads me to believe we will come into summer 2023 with a soft style rally as the market starts to recover from the effects of lockdowns, stimmy checks and all of that junk.
The Opportunity
It might not feel like it but right now is your opportunity to shine! There are more ways than ever before to stock up on more crypto in the bear market than ever before. You can either trade in fiat for crypto or get to work by being an active community member here on LeoFinance.io and Hive. You can also stack up on crypto through play2earn games during the bear market. There are only a few of these games that will survive and one of them I feel very confident about is Splinterlands and you can even use faucets if you want. A tried and true one I still use to this day is Freebitco.in currently earning me 110 satoshi per claim because I always have an active bonus on! Combine that with interest payments and some referral rewards this faucet has paid me out some serious bitcoin over the years I have been using it.
Are you going to take this time to build stacks of crypto even faster and larger? Or are you like most and will let this opportunity slip you by?
Posted Using LeoFinance Beta
---
---