Major Liquidity Crisis On All Levels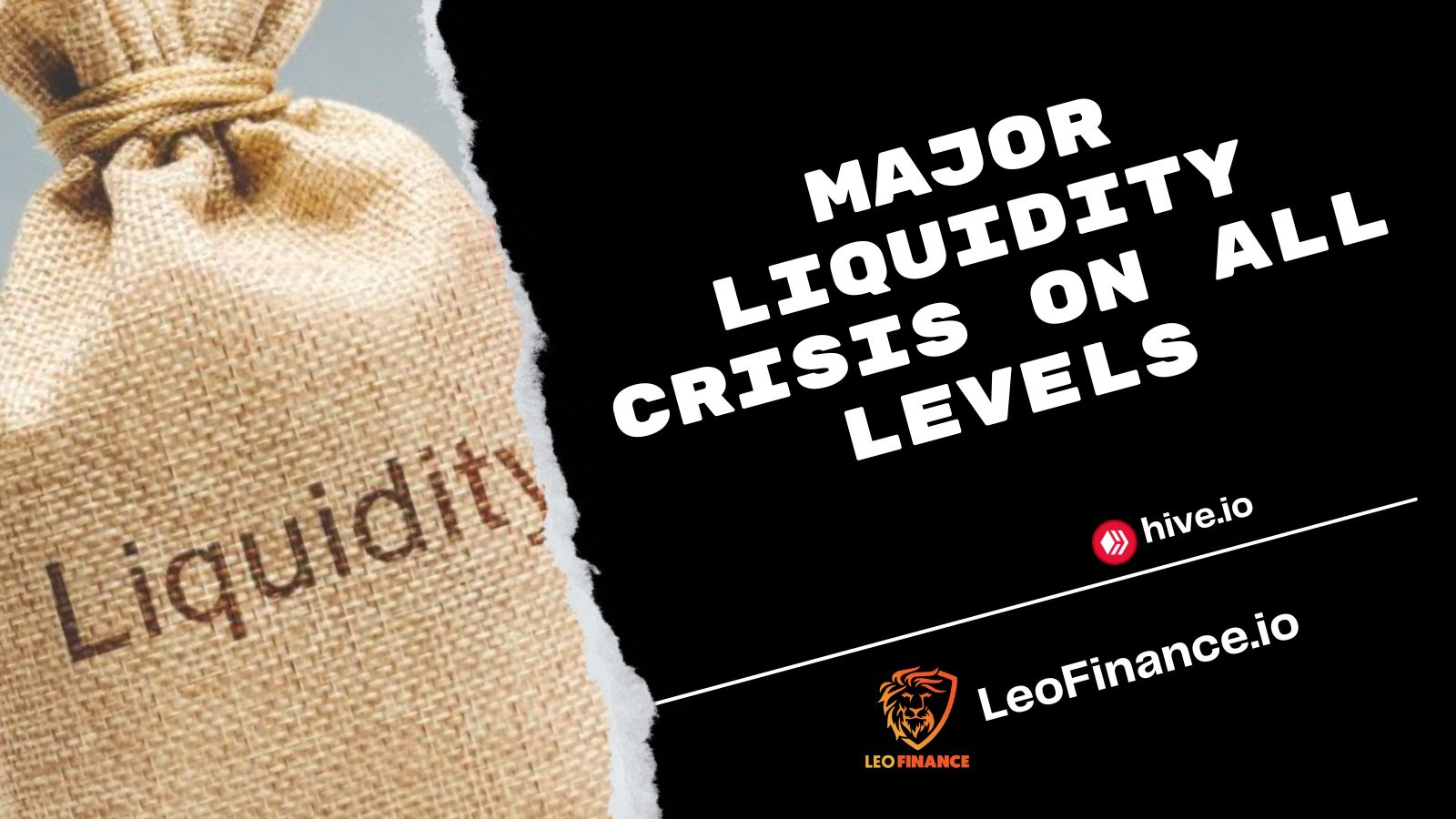 Major Liquidity Crisis On All Levels
What started a few months ago with liquidity issues in the crypto world has now spread to traditional banks and governments. It's becoming a major world wide event in which might very well step us into a long recession of 2+ years. To be fair we have already been in a recession for the last 6 or so months which would put us at summer 2023 into summer 2024 before we could start to see things turn around.
Now of course much of that will rely on other things such as the state of a current world war, trade wars, the fed interest rate and so on but so far not much of that seems to be going towards a positive light any time soon yet.
What Is Liquidity
In simply terms liquidity refers to how easy it is to turn a asset into cash without losing a lot of value. Liquidity in other areas can mean different things as well. For instance businesses have liquid and illiquid assets. A illiquid asset simply means it can take a long time to turn that asset into cash for example real estate, collectables, vehicles and so forth. With little to no liquidity the gear of industry quickly come grinding to a halt and one one gear breaks many others follow suit and that point in time is quickly coming with potential catastrophic consequences.
Bank/World Liquidity
The bond market has taken off with interest rates as high as near 5% from the rapid fed rate increase many have poured money into this including other countries. This has caused a huge crunch on the liquid cash around. This low liquidity is causing values to be extremely volatile lately and it's starting to effect more then just the bond market.
What we are seeing now are banks running out of liquid assets when they are trying to loan more out and earn off of those high fed rates. This is exactly the issue that got them into trouble back in 2008 when so many bad loans where created. However with new rules and regulations in place this should hopefully prevent banks from issuing the loans they shouldn't be and prevent a total blow out of the sector. Of course things will be slower but the foundation should remain strong and not back fire and cause another bailout because of all the loans issues that shouldn't be.
The big thing to watch here is more debt is now out then ever before with a very low liquidity causing a major crunch on everything that the moment. Just like with everything in economics however the true weight of it won't be felt for about another 6 months as any fed actions or actions in loans are delayed effects and you don't feel them over night.
Crypto Liquidity
Crypto has also run into these same issues. Liquidity is a major issue and while others are trying to help that the liquidity they provide is quickly eaten up. For example right here on hive a huge portion dollar value wise of what I earn from the chain is locked up and only a small amount of liquid HBD is paid out and boy do I mean small. This has personally moved me towards hyper stacking hive right now and not providing much liquidity because the liquidity I myself have on had is extremely low.
From blogging and curating alone I earn about $25 a day on a good day. Of that about $5 or less of that is paid out in liquid form as HBD which offers a high 20% APR right now which either causes me to lock up that small amount of HBD earned or for me personally buying more hive with it and locking that up as powered up hive. I suspect this is the same for most people right now.
Posted Using LeoFinance Beta
---
---