PancakeSwap Bets Big On GameFi
I got started myself with PancakeSwap back during the last bull market. At the time I didn't know anything about DeFi and really struggled setting it up. But with the release of CubDeFi I quickly learned and started to expand into other defi platforms. Once of the ones I heavily got involved with and still am is PancakeSwap.
Pancake aka (CAKE token) has had a wild ride.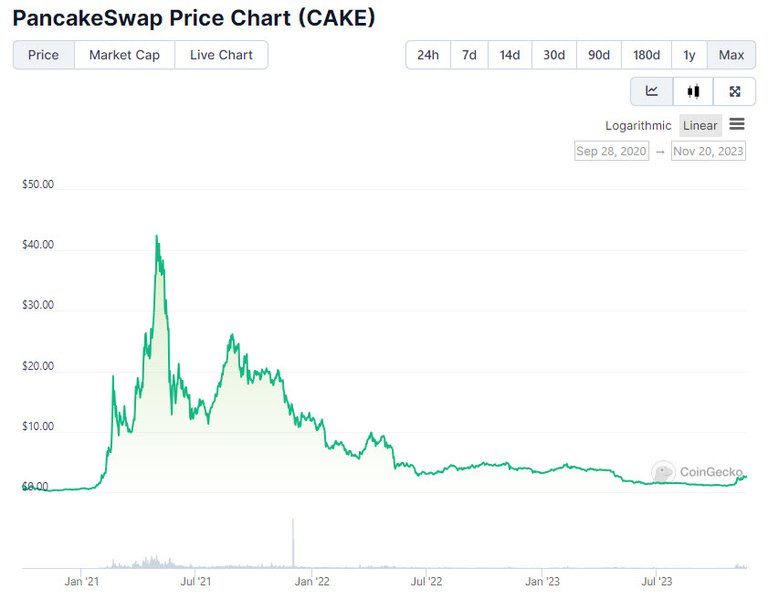 With a price point that hovered around $20 on average the amount of money being made on that DeFi platform was HUGE. The bear market however took its toll on the token as well as many other defi projects. But there seems to be recovery now for those who took action in reducing emissions and understanding the supply issues. While Cake was a little on the slow side on this front it has recently been expanding operations and offering up a lot of new features that are starting to spark some price recovery.
GameFi
The gaming sector was a hot item back in the last bull run. However many games where very under developed or were launch projects with no real game in sight. However now two - three years later those that have survived or launched in the bear market are showing some serious value in their game design and tokenomics.
That's one of the beautiful things about the bear market and why it has to be part of the market cycle. Those projects doing well in the bear you know are well setup and primed for the bull market while the shady platforms cut and run or get their token prices destroyed.
PancakeSwap has just recently doubled down on the gaming space in particular GameFi with their gaming marketplace. It currently features games like Pancake Protectors and Pancake Mayor. Their full blog on this topic can be found at Introducing PancakeSwap Gaming Marketplace
It's actully funny that while making this post the site for the games is currently offline so just take note of that if you run into issues trying to get to the games page. I'm sure they are working on it.
Pancake Opperations
Pancake was once the BSC Binance Smart Chain go to platform for defi. But with all of the drama they have greatly expanded their operations to now include, Ethereum, Aptos, Polygon zkEVM, zkSync Era, Arbitrum One, Linea, Base and opBNB. Showing that this platform is very capable to expand and adapt to changes happening in the ecosystem and so they should as they were once the leading defi platform during the bull run.
In the next bull run it does seem like Pancake swap has positioned itself well but in recent months I think it's really shown it's willingness to develop and expand. It felt stagnate for a long while but as compaction started to show up and new ways of doing things such as that with thorchain and others pancake swap released they need to get their act together.
It's going to be interesting to see how the gaming space and gamefi shape up this coming bull market. In fact I know Splinterlands used to use pancake swap and might end up doing so again. It's a direction I hope the game will go and get further away from these lame centralized exchanges that no one cares about.
Posted Using InLeo Alpha
---
---