Powering Up During The Bear Market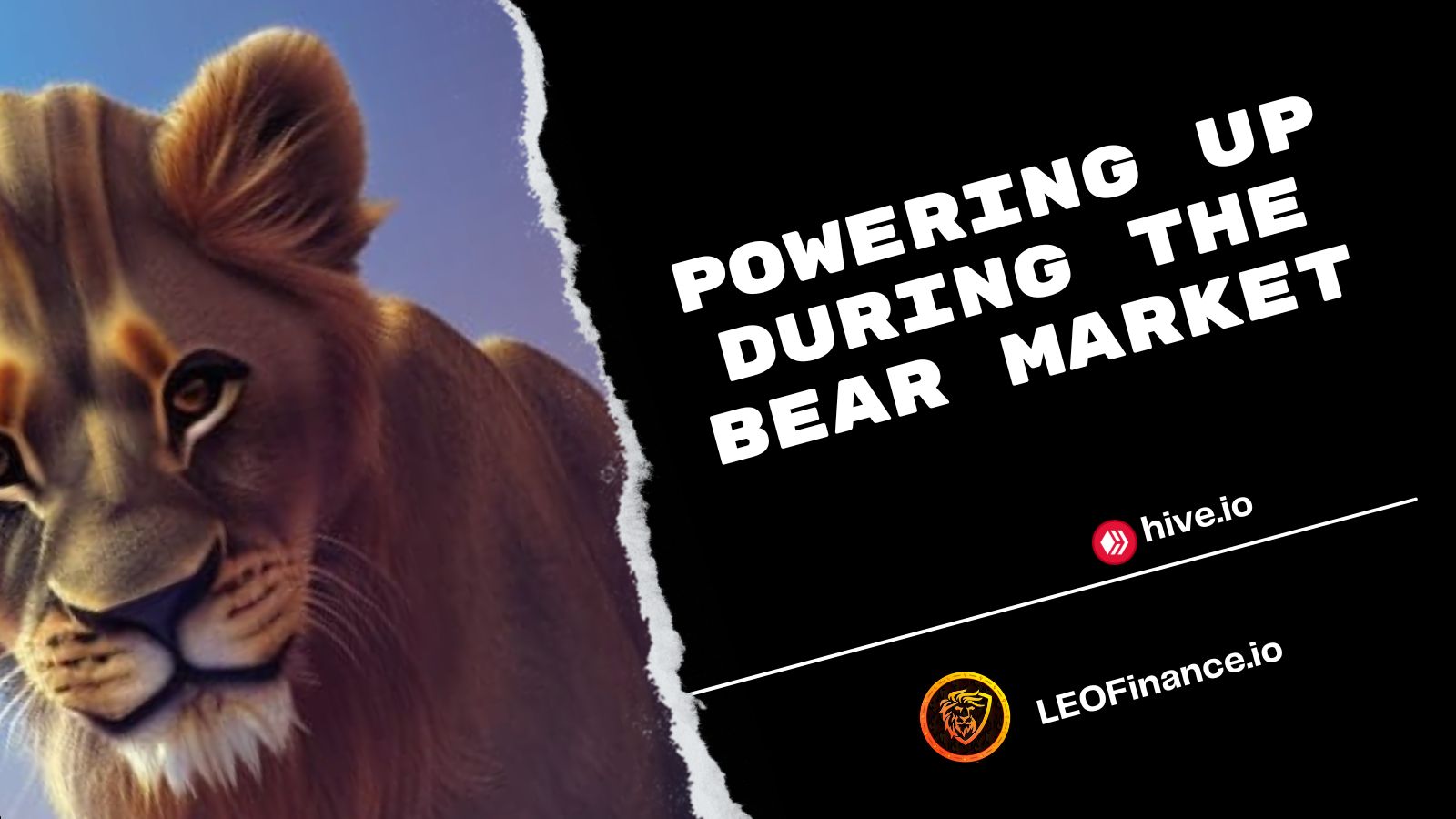 Powering Up During The Bear Market
Make no mistake about it we are still in the bear market. In fact stocks are most likely going to feel the brunt of it this year over crypto. Crypto might become a safe haven over the stock market as we are in for higher fed rates and a world wide economy that is simply just a mess right now.
For me these are times to grow and build the asset class not only that but I also want to build enough assets to start creating and building larger projects for hive than what I'm currently doing with general onboarding though lead captures. Right now I average about 5-10 fresh leads each week which go through a 7 day training period about how to use hive but in particular LEO. Trust me trying to explain to someone how hive works and then making them wait a week for their first payout is a rough onboarding experience so this walk through helps them see how it all works and to see them active and engaged. It's something I will be expanding greatly if there's ever any type of "affiliate" aspect to it to make it worth the time commitment to the project.
There wasn't too much new on the hive blockchain last week again so no report on that and instead I'm going to focus on goals this week.
Goals
Hive
Goal: 100,000 Current: 90,148.489 Daily Needed: 33.50 Increased Hive Powered Up In A Week: 301.559 or 43.07 daily. The Ultimate goal would be 100 hive a day which would be roughly $40 daily.
Overall we are moving faster in the direction of hitting that 100k but even after that 100k I honestly want a lot more. I ultimately want to be up to some of these higher accounts of 500k+ which are earning some seriously passive hive and income. But I don't want to really use the hive income to extract I'd rather use it to support other projects though delegation but also to ramp up my own curation and support on hive.
Instead project funding will mainly come from HBD maybe and outside stacking of other crypto tokens. There's a number of them which are stacking up to some rather decent amounts of stack income right now which could be used to start building hive blockchain games etc. At first I want to start super simple and get a feel for everything.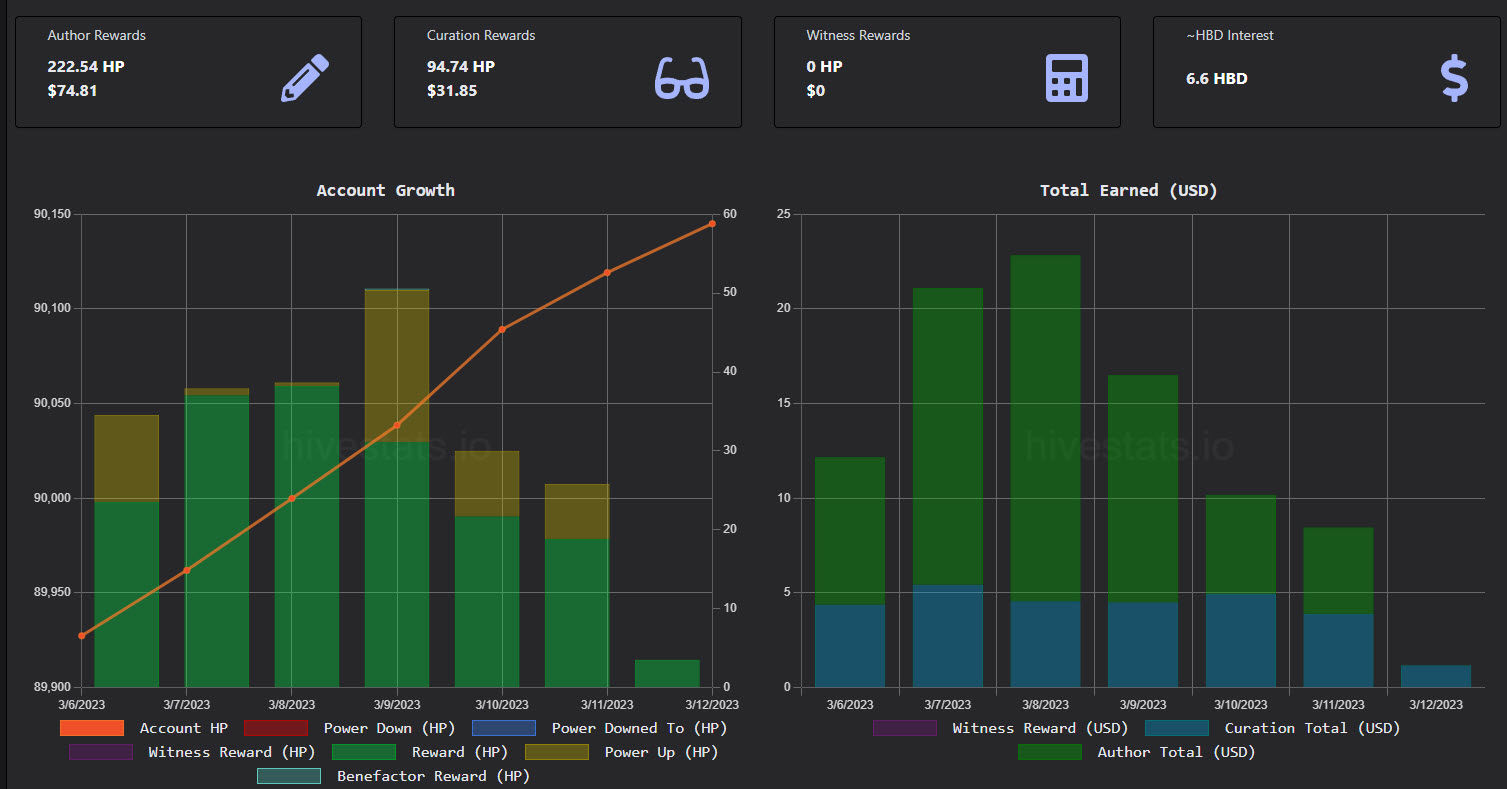 Overall there was a pretty heavy slow down on author rewards but that's the name of the game with hive. You're never entitled to earnings but you keep showing up each day and contributing as much as possible to help it grow.
LEO
Goal: 150,000 Current: 78,811.878 Increase of 723.85 or a little over 100 LEO a day.
Sure 100 LEO a day sounds like a great amount but in terms of dollar value it's roughly $5 worth. Currently I'm simply stacking LEO at a decently aggressive rate to be prepared to come out of Alpha for threads and then hopefully one day soon the ad buy back. I'll be honest though the slow pace of development and roll out in terms of things people actully want is starting to frustrate me a little with LEO as of late. It feels like the constant same old story that once we start getting movement the real core features that would actully hold people around and build everything faster get neglected and pushed off. I'm going to give it one more month but if LEO doesn't start to up their game and really deliver on these promises I might be changing focus areas more towards hive.
CTP
Last week I said I was going to start tracking CTP and that's mainly because I've been earning and stacking it at a rather high rate.
Current hold is: 27,201.733 We will check back on this next week and see how fast we are growing.
SPS
Splinterland I love it what can I say. The asset values and passive income generation on Splinterlands is crazy powerful and I believe only about to increase come Q2 into Q3 that's why Splinterlands and SPS is a primary focus for me. While it's nothing compared to some of the whales I feel like I hold a decent share and value in there. I believe I'm pretty prepped for land however it's going to depend on how fast I can now stack DEC-B in order to pay for those juicy land upgrades at the start. That's a primary focus of 1.4 to 2 million DEC-B I want within the next 3 months and to fully max out chaos which I'm pretty close to doing. From there it will be a stacking game of SPS/DEC in order to get ready for land further but also for the next pack launch. Overall this game is aggressive but I seriously love it and see huge potential value in the next bull run.
Posted Using LeoFinance Beta
---
---