The Big Issues With Cardano and Polkadot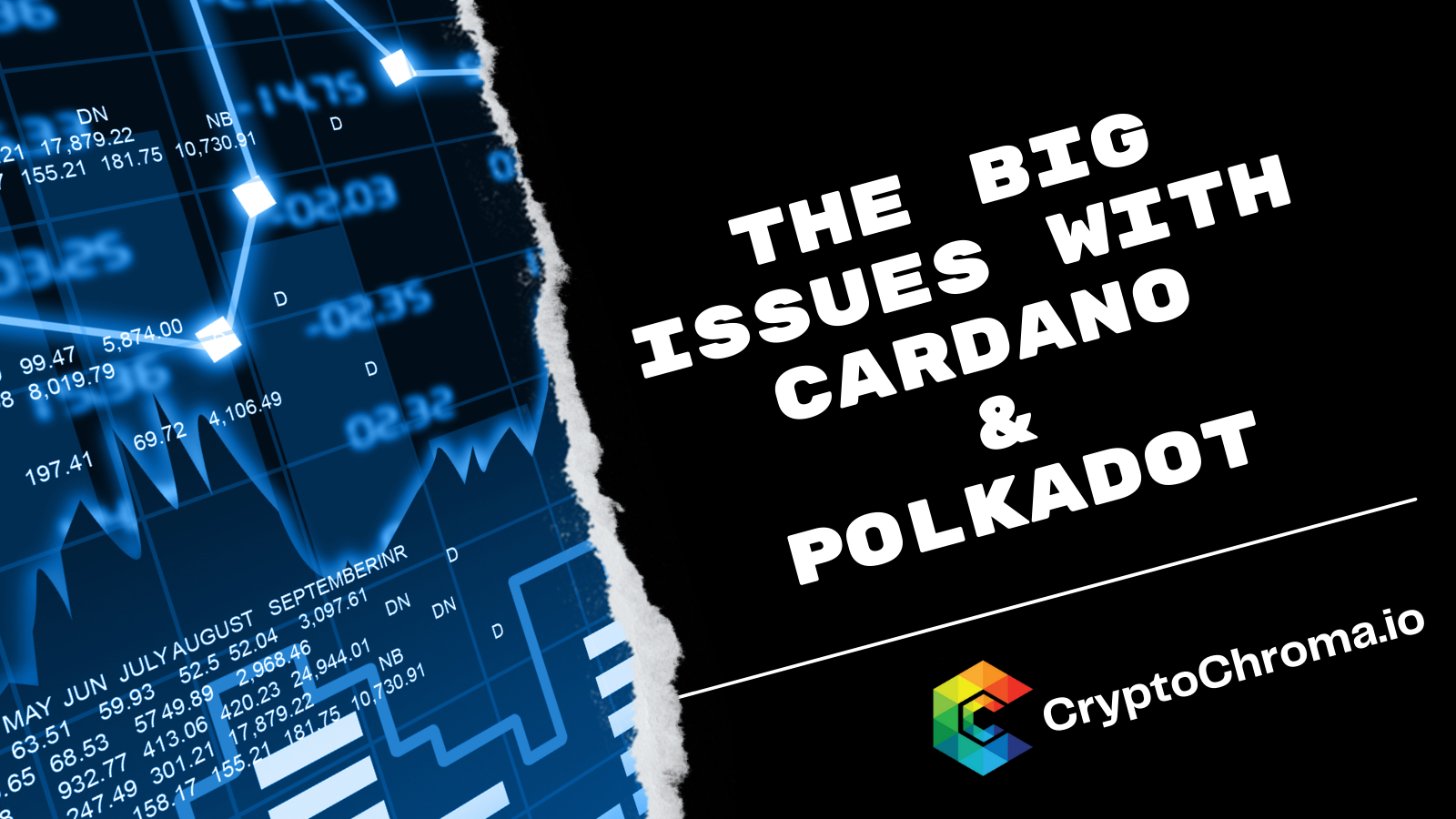 The Big Issues With Cardano and Polkadot
For a long time there was always talks of the Ethereum "killer" where another blockchain said they could do it better than Ethereum. Heck we hear that with Bitcoin all the time but guess what. Both Ethereum and Bitcoin remain the largest market caps of any of these cryptos include those so called Ethereum "killers"
I believe we are starting to finally shift away from that which is a good thing. This shift is now the understanding that blockchains need to work with each other and blend and meld together. No single blockchain (at least not yet and most likely not for a long time) can do everything amazing. Instead most are very good at one or a few things and greatly lack in another.
For example Ethereum
Massive market cap makes sense to launch layer 2 tokens and build applications on top of it for value
NFT king in terms of volume
Huge amount of developers and a blockchain that is being updated (not quickly but currently fast enough to keep it in the running)
It highly lacks on fees where fees can quickly boot to $20+ per transaction which we have seen in the past.
Other blockchains look to offset this for example Polygon which has worked closely with Ethereum offers up faster transactions and much lower fees. It does this by smart contracts and pooling transactions together and only hitting the Ethereum blockchain once in a while instead of for every transaction.
The Issues With Cardano and Polkadot
The issues with these two platforms is they set out to overtake Ethereum and while they did make a good run of it there are a few core fundamentals that are tagnating the projects.
The first being them wanting to replace Ethereum and that being a big part of their marketing push. The other is the sheer lack of applications and/or applications which have become popular.
Cardano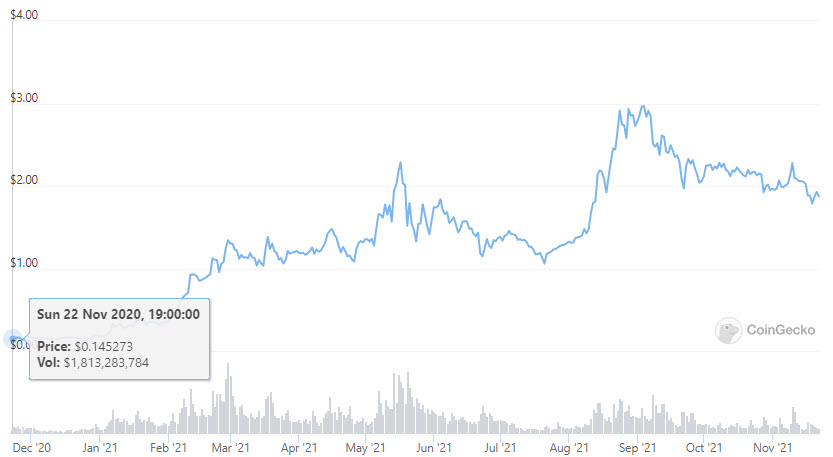 As we can see Cardano has gone a long way from the start of the year. However what crypto hasn't pumped this year you'd be hard pressed to find some. The important factor here is transaction volume which is shown by the grey bars at the bottom. We can see this has slumped a pretty big deal since Cardano announced all its grand plans.
Polkadot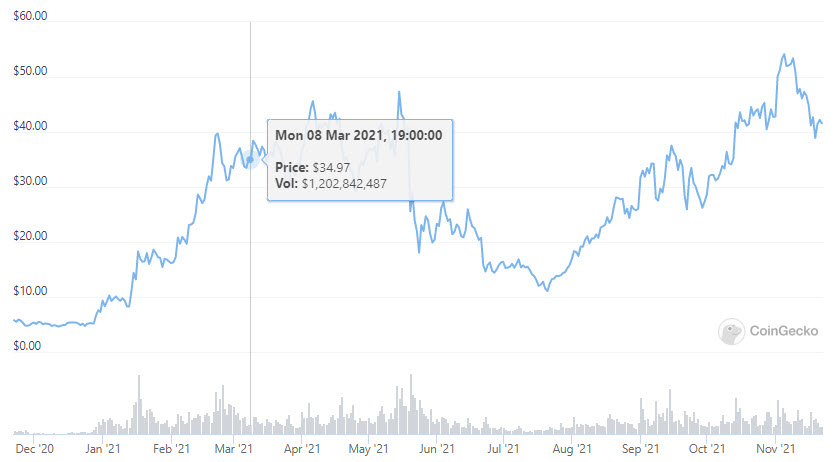 With Polkadot we see the same thing. Prices higher but volume much lower from where it was. This is a direct result of the lack of applications that use these two platforms.
Compare it to Ethereum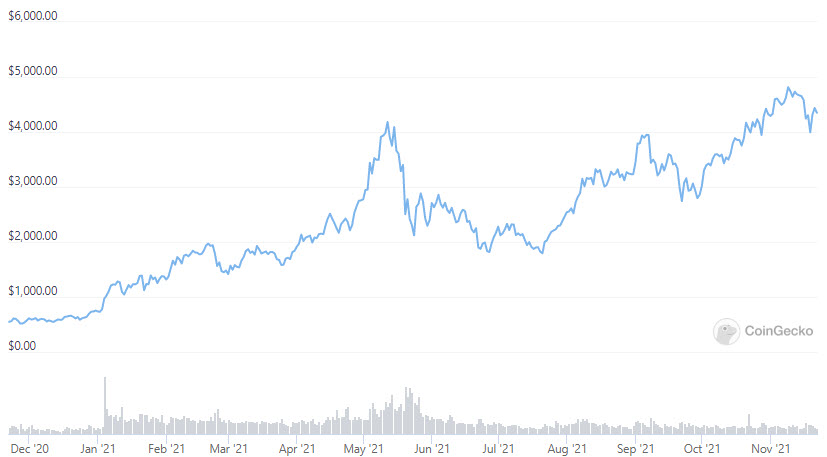 With Ethereum we see a steady trajectory upwards in price but not only that we see a steady level of volume. This is even with other layer 2 tokens now taking a great deal of transaction pressure off of Ethereum itself and when you combine in that factor you see a steady increase in price along with a steady increase in usage volume unlike the other alternatives.
This doesn't mean that Caradno or Polkadot wont grow in both price and use cases. What it does mean however is they have a LONG way to go to become an "Ethereum Killer" which to be honest I myself and I think many others are tired of hearing and would rather blockchains complement each other.
What are you thoughts on Ethereum, Cardano and Polkadot? Let me know in the comments.
Posted Using LeoFinance Beta
---
---