The Weekly Hive and Goals Report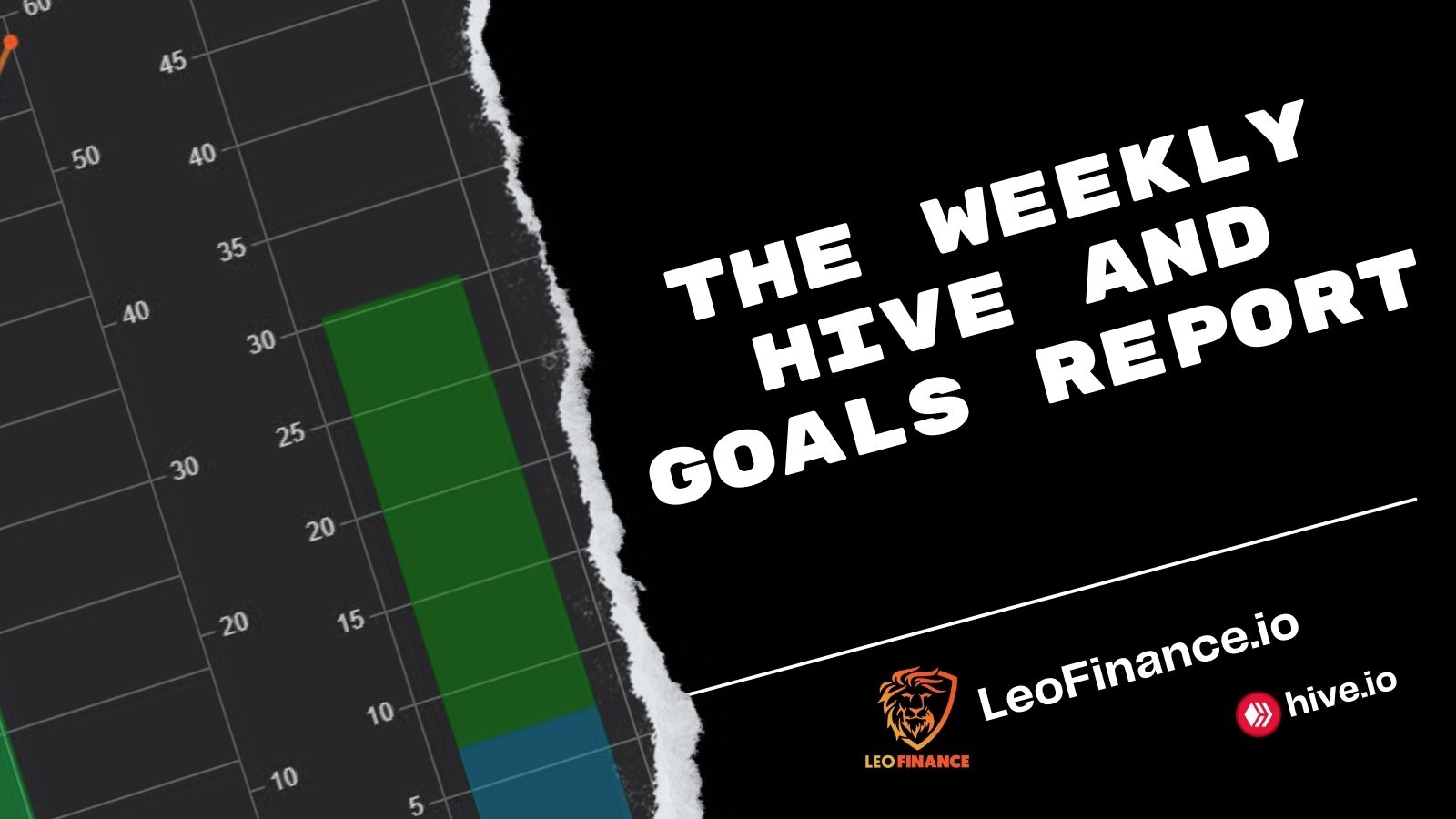 The Weekly Hive and Goals Report
It's been a crazy busy week for hive this week as they kicked off Hive Fest. While I haven't watched any of the footage yet myself it seems like things are going well and we are seeing a good amount of updates from the developers.
It also looks like good fun times and I even saw a post by someone buying a train ticket there with HBD now that's pretty dope.
What's New At Hive
The big updates from last week are mainly from #splinterlands this time around. With the release of GEM packs presale which sold out in under something like 2 minutes to the increase in Licenses and Chaos pack sales things really heating up around the Splinterlands world. What's killing me though is you had three huge sale packages going on at once and vouchers and SPS are still valued at such a low amount. Don't get me wrong the prices did jump about 100% for vouchers and 50% for SPS but it's still a far cry from where it really should be. In any case I'm still stacking towards my 1 million SPS goal.
Besides that Hivefest would be the other big one so I recommend going and watching some of that footage to see everything going on with hive and what's to come.
The Goals
Days left in the year 104
Hive
| Goal: 100,000 | Current: 80,061.309 | Needed: 191.71/daily |
| --- | --- | --- |
Not sure what it is but this week I dropped from about 50 Hive a day all the way down to 35 hive a day. I contribute most of it towards a hard downtrend in votes on my posts. Who knows lately but that just means a harder push needs to be made in other areas if the posting is no longer going to pay off at all.
While I could sell off my SPS and vouchers and pump the heck out of my hive stacks I think I'll be focusing instead on selling off vouchers during peak times and then stacking SPS when/if it falls again.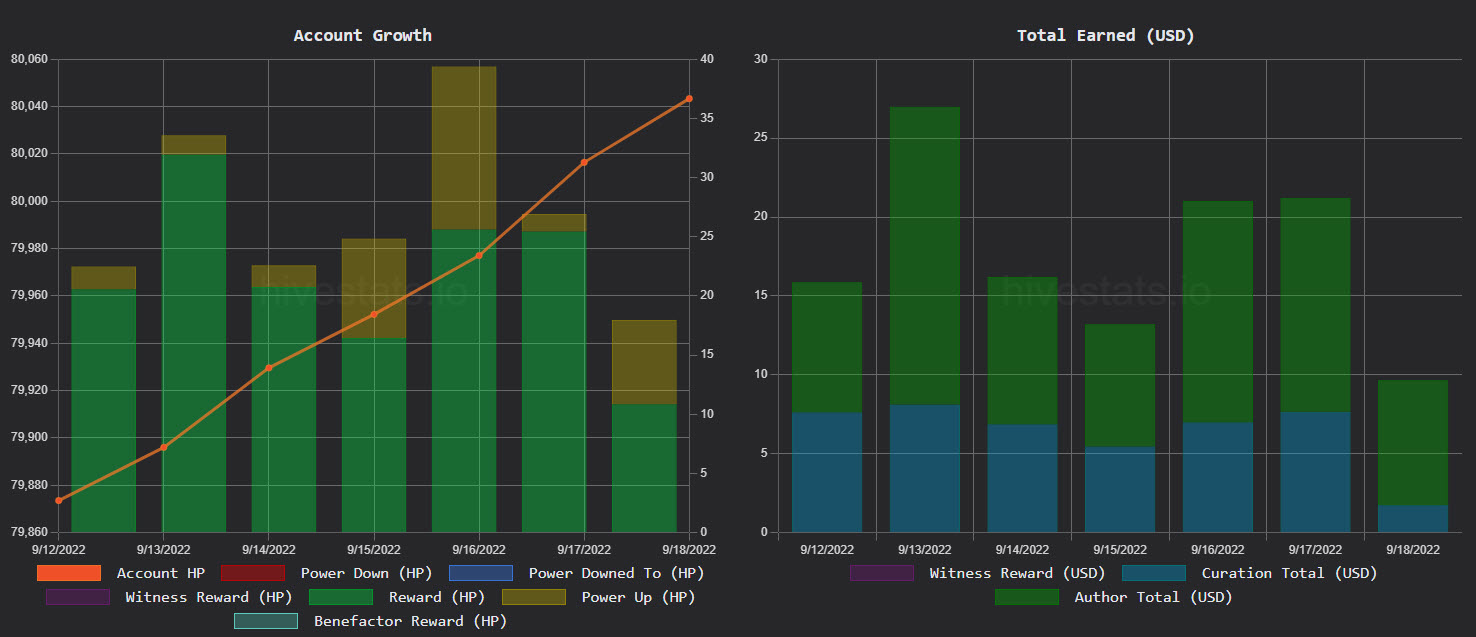 As you can see a good portion of that stacks hive also came from power ups every day. Daily income is about $15 or less this time around which makes it to the point where I'm starting to get iffy on investing 2-3 hours daily to a quality post and curation $5 a hour just isn't going to cut it and I'd be better off spending that time elsewhere. I'll give it another go this week but if earnings are that low again I most likely will be cutting back a hour and a half of daily time invested. *This isn't me complaining this is just a realization of time to money you only have so much time in a day.
LEO
| Goal: 75,000 | Current: 70,722.317 | Needed: 41.13/daily |
| --- | --- | --- |
At this rate we should hit the goal by mid October putting us two and a half months ahead of the goal I set out for this year. That's a big plus out of all of this. However the rich list when looking at it has a select few people just hammering LEO of over 200k+ LEO powered up. That's huge and I kind of suspect a lot of it might be coming from DeFi platform investments and then buying LEO from it. I'll need to start shifting focus a bit there I think towards DeFi passive income into LEO tokens soon and really start building it faster. Overall though I'm happy with LEO and all it continues to do.
While development seems to have slowed on rollouts from Threads as I'm still waiting for a updated noti system and new profile pages that was said to be out like 2-3 weeks ago I get it that things take time. I just dislike the constant talking about something and then waiting months if not a year later for it. It's a little discouraging not only to me but many other people. My hopes are that development can either pick up at a more steady rate or better communication is rolled out about time frames because these things are FAR off and honest I feel like it's stifling growth.
Good old Splinterlands had one of the biggest weeks in a long time. I didn't get my hands on any Rift watcher packs as I just can't bring myself to sell off ANY SPS right now. I was suspecting vouchers to be worth a little more than what they are right now. I was thinking more around the $2 range but it's far from that. It honestly feels like there are way too many vouchers in the system right now for how many are being used. At just $0.60 or maybe a little more it's killing a growth aspect I wanted to use for building SPS and also hive faster. My hopes are that Q3 and rolling into Q4 produce better results with more demand on vouchers.
That being said we are also close to some first time air drops for SPS holders so I might sell off a stack of vouchers anyways and just buy in on the SPS instead of waiting and hoping.
That being said however I did pick up a few rift watcher packs off wax. The prices on there are relatively the same as the open market of hive and at $4 a pop about I'm expecting these things to go $30+ once sold out which shouldn't take all that long.
All in all still good progress. Token value wise we are still moving nicely but $ value wise for some reason seems to have slowed. That will be my primary focus this week to get that figured out and start pulling in a higher $ value. While I'm not selling anything I still want to be $300+ daily across all staking, blogging, play2earn etc. no matter the market conditions. We got a bit of a ways to go in this bear market.
Posted Using LeoFinance Beta
---
---