Twitter, Parler or Web 3?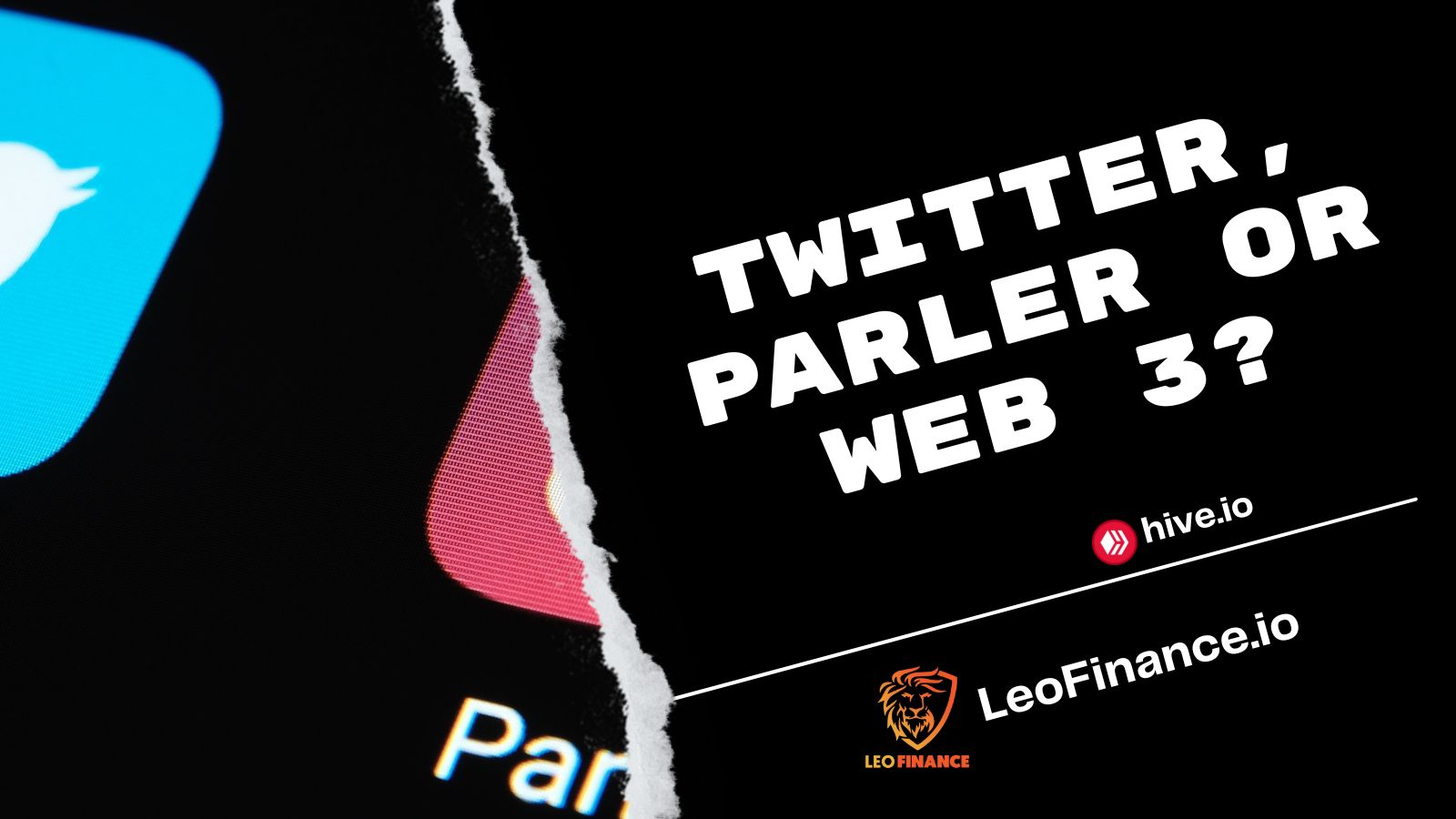 Twitter, Parler or Web 3?
If you haven't heard already Elon Musk is now buying Twitter for 44 billion dollars and just this morning none other than Kanye West is annoying he's buying Parler after being kicked from Twitter and Instagram. The main focus of all of these buy ups is rich people saying they are tired of being blocked on their free speech.
Let's be clear, Facebook, Twitter, Instagram and other platforms have in fact been proven to flag people on opinions, not push their content as much because they don't agree with their views and so forth which to me is a major ethical issue but I don't see it being illegal as such.
Granted that's why I don't consume content on these platforms and instead only push my content to them in hope of attracting more for more decentralized options such as Hive and LeoFinance. Now sure maybe these platforms might get a new mix up but the thing is they are simply changing hands with one main authority figure that might push the other way instead.
Web 3 Is Already Here It's Just Not Adopted
The thing with Web3 is there are actully many platforms which are taking a step in the right direction and allowing people to have more flexibility over what they see and don't see instead of the company. I feel it's totally in the right of someone on a social media platform to block or mute someone. Hell I do it in my life every day when I remove people with negative energy from my life. I simply don't have time for that junk nor do I want to see it online. What I do like is people with other views who are able to communicate it without being aggressive and shoving it down your throat and fighting with others about it which is 90% of the internet (aka people in the world) today. It's down right disturbing and the internet brings out the worst and not the best in many people.
I firmly believe there will never be a fully decentralized platform where it's just open and anything goes. Something like that would be over run with killings, porn, illegal activities and a bunch of other negative things. That's where any so called "Free speech or Decentralized platform goes" Instead power should be given to the users to do what they want while a platform simply suggests new content if the user wants to browse around. How much nicer would it be if a platform was used to actully communicate with friends, groups, family etc who have distance between them but can share content between each other and then expand that to others who have like interests and questions. Now that is a powerful platform and at one time that was what the internet was and it was AMAZING.
Progression or Returning To Our Roots?
Web 3 really is just a fall back to the more decentralized way of the early days of the internet in the 90's when you think about it. It was the wild west but at that time you pretty much only had websites and a bit later forums. Reddit itself is pretty much a big fat forum and that's it so trying to reproduce these platforms really isn't a lot of work. What's a lot of work is getting people on to these new platforms and it's clear crypto incentives are not going to cut it. It needs to be geared as a place to come and support/reward your content creators while also having the ability to gain your stake and value and be more in control of what you see and how you interact with it. That's what's going to separate the old web2 to the web3 solutions we are seeing with Hive, Leo Threads and others. I FIRMLY Believe That Content Creators That Believe and Have Stake In The Crypto Asset (which would be much like owning shares of a company) are going to provide that path to real web3 adoption on new platforms and start making headlines.
In a way one could even look at Bitcoin as a way to returning back to our roots. A restoration of low fees, more freedom to do with your money what you want and at least some form on anonymity away from banks that continue to just become more powerful and treat customers like crap. A shift is happening, the platforms are simply starting to be built now. Once built a major vision of shift needs to take place to move people from old web2 to new web3 applications. That will take time and lots of critical marketing as well as crazy great development that offers fun, interactive and rewarding experiences for it's users it can't find on traditional web2.
Posted Using LeoFinance Beta
---
---