Understanding that Dollar Value is not Real Value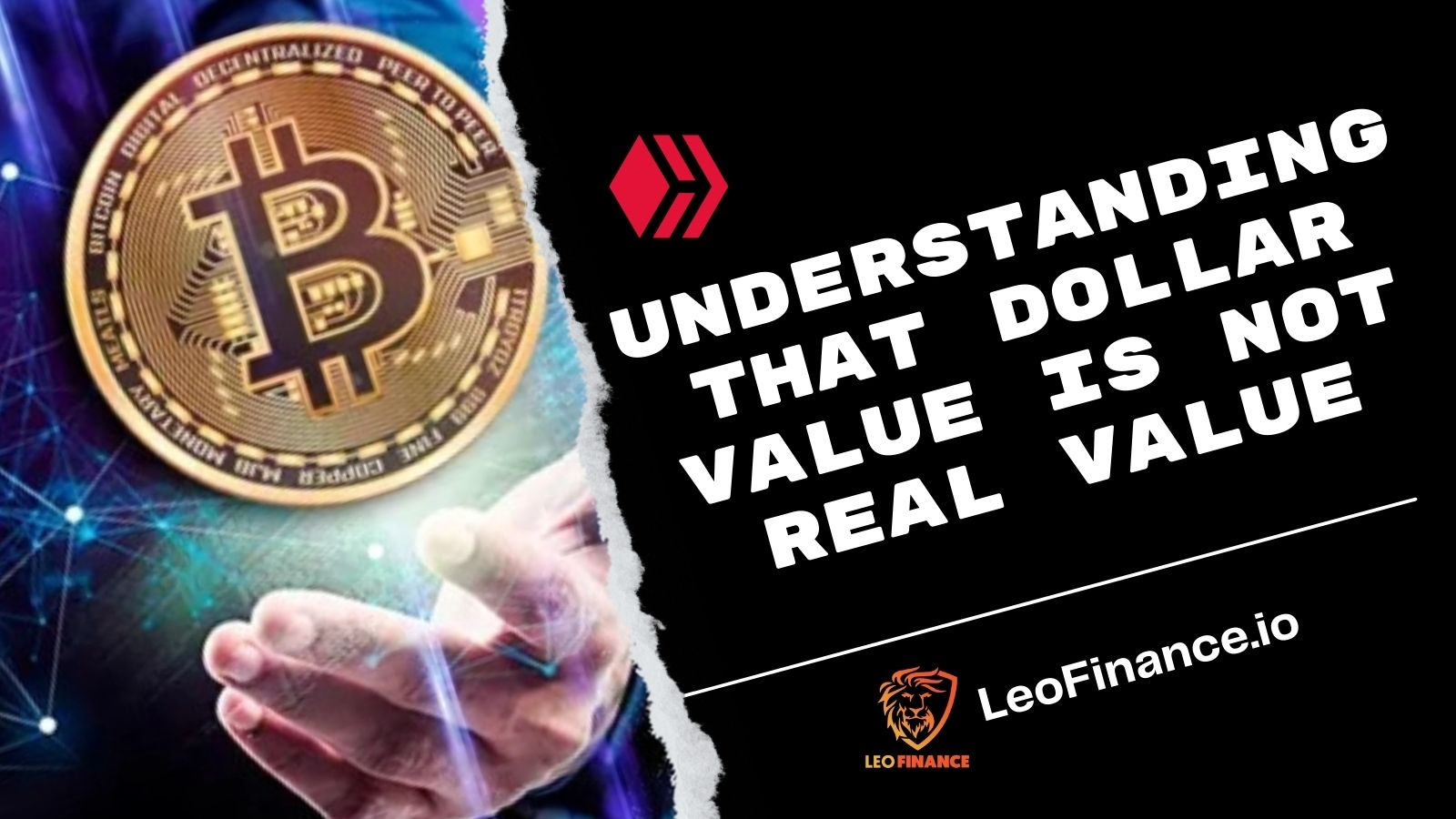 Understanding that Dollar Value is not Real Value
In 2010 Bitcoin really had no value besides someone willing to trade 10,000 for two pizzas. This is what I want you to keep in mind as we go through this article. The other thing I want you to keep in mind is that nothing really has any value to it until the point of sale. What one person is willing to exchange for something of yours and both parties agree upon it.
Since then Bitcoin has mainly been looked at in USD value and how much one Bitcoin is worth in dollar value. This is a currency let me remind you that was built to replace fiat currency thus it should have a value all of its own. In a way it kind of does as the dawn of altcoins such as litecoin and Ethereum started to be looked at not in dollar fiat value but instead how much bitcoin I could trade it for. However that core asset bitcoin was still looked at in USD value and to this day it still is.
It's become the center of attention and what everyone looks at when it comes to cryptocurrency. How much can I trade x,y and z crypto for Fiat value. It's something we need to start getting away from.
Why?
I personally believe it alters peoples perception of crypto and it's real value. We see this more then ever right now as markets come crashing down it's also dragging the so called "value" of cryptocurrency. But is it really?
Now I can take FIAT dollars and exchange it into more crypto then ever before. I can sell NFTs, earn more here on hive and Leo in TOKEN value then ever before. As markets crash your chances and ability to accumulate more of that cryptocurrency increases compared to when things are white hot and rallying. It's something so many people fall for, a majority of people fall for. When the markets turn red hot and everyone is in a buying frenzy for some reason a bulk of people go out and buy it expecting huge wealth in terms of dollar value to be generated. What they are often stuck with is a loss in dollar value and they get a bad vision of cryptocurrency because they feel they lost money.
In a way they have but what they gained was a asset, a digital asset that does have real value and that value continues to growth with more and more use cases. When markets are down like this the last thing I want to be doing is stocking up on stablecoins. Instead I want to be stocking up on LEO, HIVE, Ethereum, Bitcoin and so forth because those values I believe will go up again and when they do and things get white hot again you can bet ya that's the time I'll move into into a stable like HBD and earn 20% on it. I thus changed my crypto tokens into a huge wealth of a dollar USD pegged value.
Again this stable coin mentality that has come to be though is again even more so connecting us to value as being FIAT value and it's very hard to get away from that. But what if the USD fails, inflation soars and wars continue to break out. Will you want FIAT or would you rather have a cryptocurrency like Hive, Leo, Bitcoin etc which is accepted world wide by nearly everyone and use cases are only growing?
This is where you need to toggle off that cryptocurrency is valued in USD only. Cryptocurrency value comes from what person A is willing to exchange for something you have such as a crypto. Those use cases are growing greatly as crypto was branched out to being able to be used to buy tickets, cars, be your own banker with defi, play games, buy in game assets and the list continues to go on as more companies and front ends are now allowing it.
Take a moment to step back and realize the crypto you have actully holds value outside of USD and that you can still put it to work and build assets that truly matter as crypto continues to expand.
Posted Using LeoFinance Beta
---
---