What's New At Hive and Goals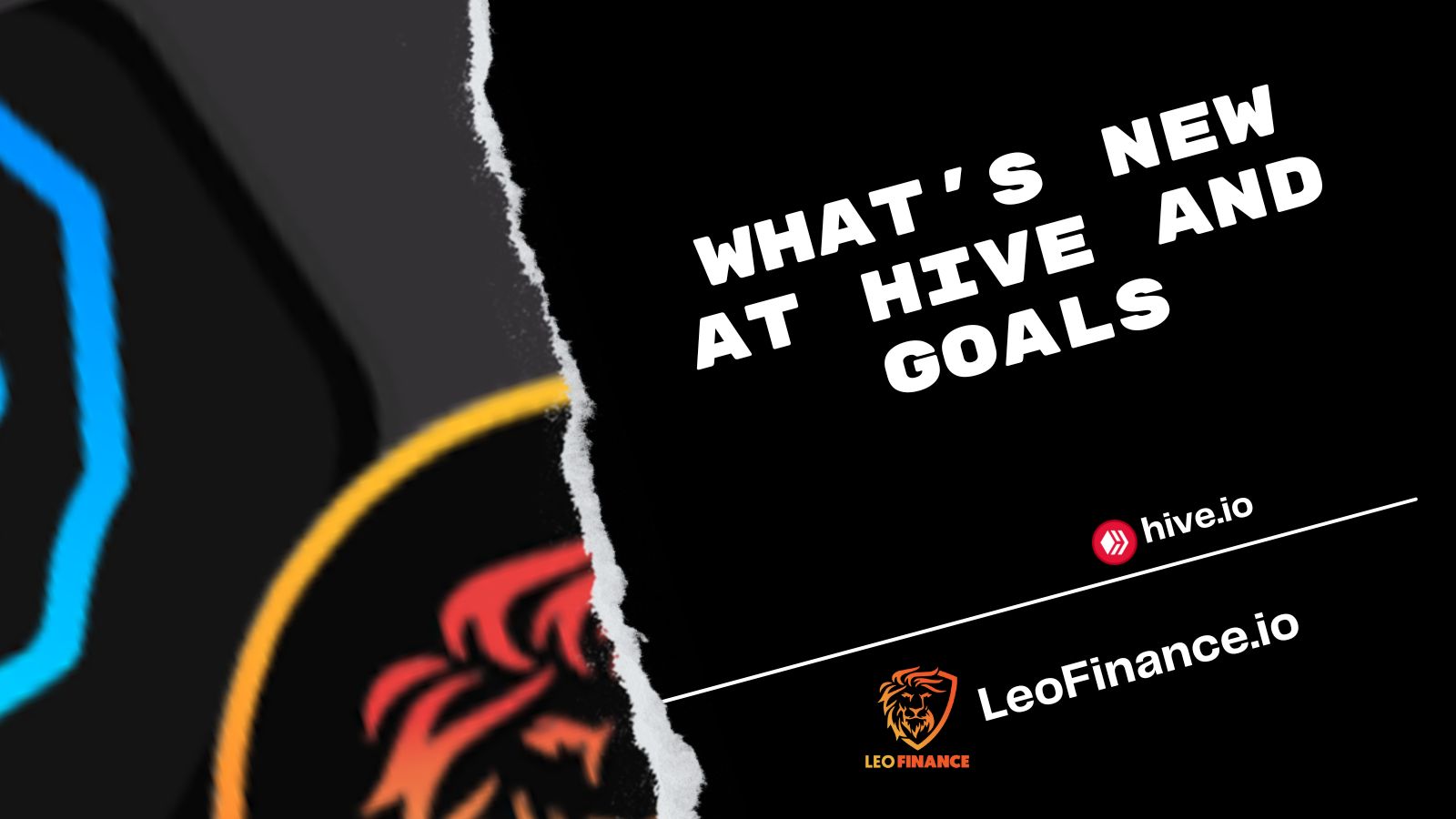 What's New At Hive and Goals
Each week I do a recap of what's new and happening at hive along with its layer two tokens. Why I try and capture all of it there's some things that might slip through the cracks being that many money projects are now being build on Hive compared to before and it takes a good bit to try and keep up with it all.
The second part of this article are my own personal goals which helps keep me on target to reach those goals. In a way it holds me accountable to move in certain directions and stay away from the flashy stuff. It's also a way for me to show others what's possible with continued work, investment and just putting in the effort.
What's New At Hive
Mainly the biggest thing was the airdrop for SPS (SplinterShard) Hodlers for Splinterlands these new GLX tokens are part of the Genesis League games and the first seems to be what is called Genesis League Goals which will use the GLS token along with a few others. The GLX tokens are governance tokens for all games created on that platform it seems. It's going to be interesting to see how this turns out, how much demand it gets etc.
LeoThreads
LeoThreads continues to get updated. Although the pace of what was said to be released in a week does seem to be taking 2+ weeks at the moment. However that's pretty common with development. What's important is we continue to see at least some action in the space and progress. Even if it's small incremental process it's better than no process or updates IMO.
Goals
Days Left In The Year: 62
Hive
| Goal: 100,000 | Current: 81,721.335 | Needed: 287.82/daily |
| --- | --- | --- |
Overall we had a pretty good week at hive. In total we hit 62.92 Hive a day in part to buying hive with some left over funds and converting nearly all HBD into Hive as prices remain on the low side of things. Hive is always a funny beast. Whenever other markets are pumping for some reason Hive always lags behind and while other markets are selling off for some reason Hive pumps. It's a crazy little world.
The market cap of hive now sits at 212 million. That market cap seriously needs to double or triple and hold itself if hives really going to gain traction and I believe it can.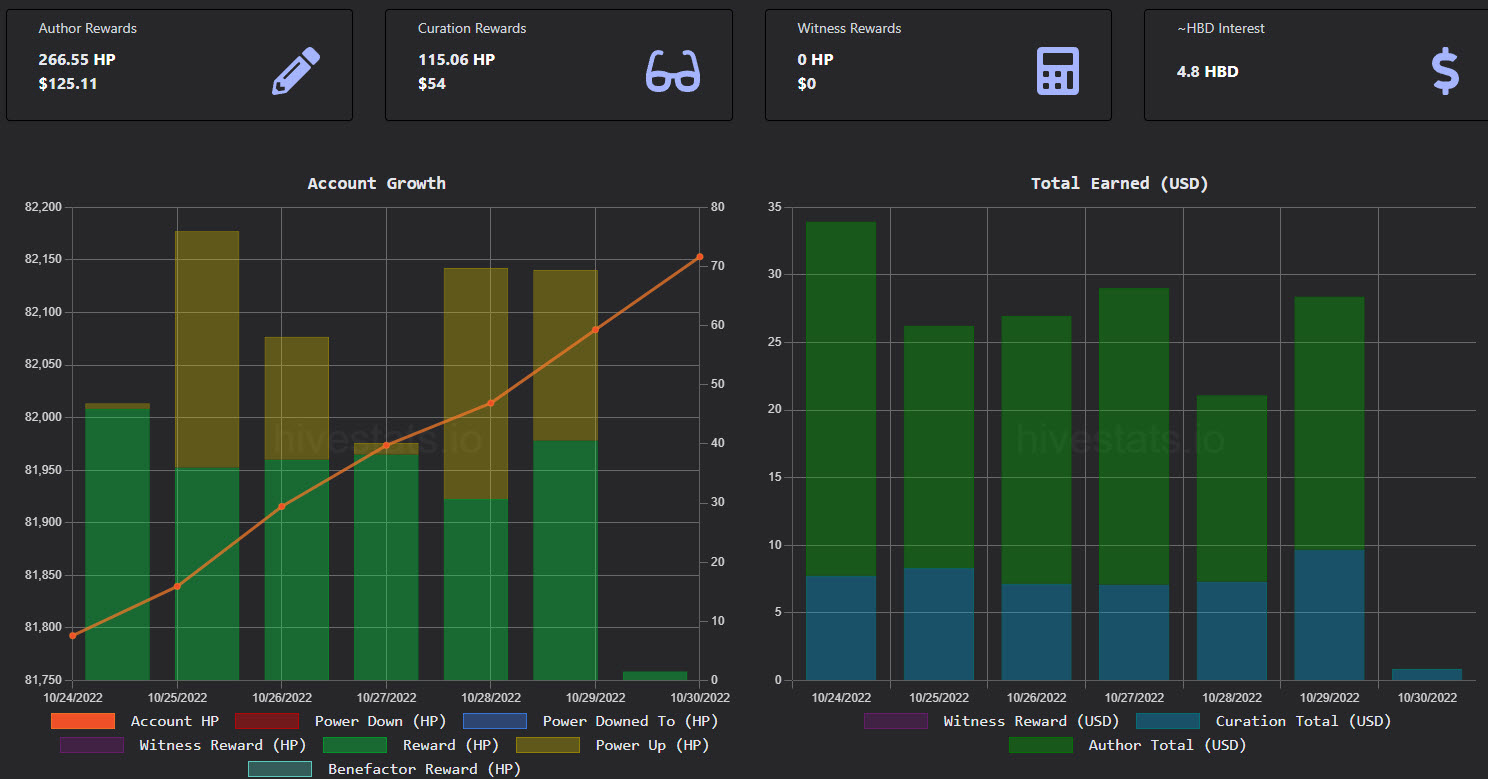 *Stats pulled from Hivestats.io
As you can see I pretty much bought and powered up just as much as was made from posts. My thoughts are at these prices I have a better shot at that 100k goal but in reality I pretty much want to continue to stack hive as much and as fast as possible.
That means I'll be kicking up posts to about two a day, pushing the content more to socials and other platforms and converting some of those other cryptos back into hive as long as it remains under my $0.70 buying target.
LEO
| Goal: 75,000 | Current: 75,120 | Needed: 0/daily |
| --- | --- | --- |
Goal Reached! A full 62 days before the end of the year which is a massive milestone for me. Now that the goal has been reached I'm going to continue to just constant stack this token as fast as possible. With prices at $0.06 it makes not sense to sell any off and with possible dividend type earnings from ads coming late this year stacking as much of it now to reap those rewards seems like the solid play here. That puts us at 87.47 LEO earned per day last week which is ok and totals in around $5.24 per day. I know that sounds low but even if LEO returned back to it's $0.20 mark or higher it would start to justify the time put in. I'll keep this one on the list as it's one of the platforms I hit heavily. My hopes are also that these defi platforms start turning around here soon. CUB and PolyCub price wise have been in the dumps for a very long time but what's starting to turn that around finally is hive.
As stated above GLX started to drop to SPS stake holders. It also seems like Guilds will be getting SPS soon perhaps another 2-3 weeks before we start seeing that. With that being said I'm still trying to max build my Chaos deck which I thought would be easy but as new cards release I constantly find myself trying to build those. Riftwater cards also look pretty dang legit but I can't bring myself to spend SPS on them so I end up buying them off of secondary markets from other passive income streams for now. That push to 1 million SPS continues but I'm also building out other streams of income with Splinterlands. From gaming to liquidity pools and rentals it's all shaping up to a decent stack of passive income.
CTP/OneUp/Pizza/NEO
These are other tokens I stack but I rarely mention. To be honest their market caps are far too low and development at times can be shaky in terms of what's going on with it all. Out of all of these I would send a secondary focus for staking is CTP and Pizza while NEO is more of a fun stack and OneUp I wish they would do something with but management there hasn't been the best to put it short. There's massive potential in gaming and one up but it needs a strong leader.
Posted Using LeoFinance Beta
---
---