A Truth or a Tall Tale. You be The Judge.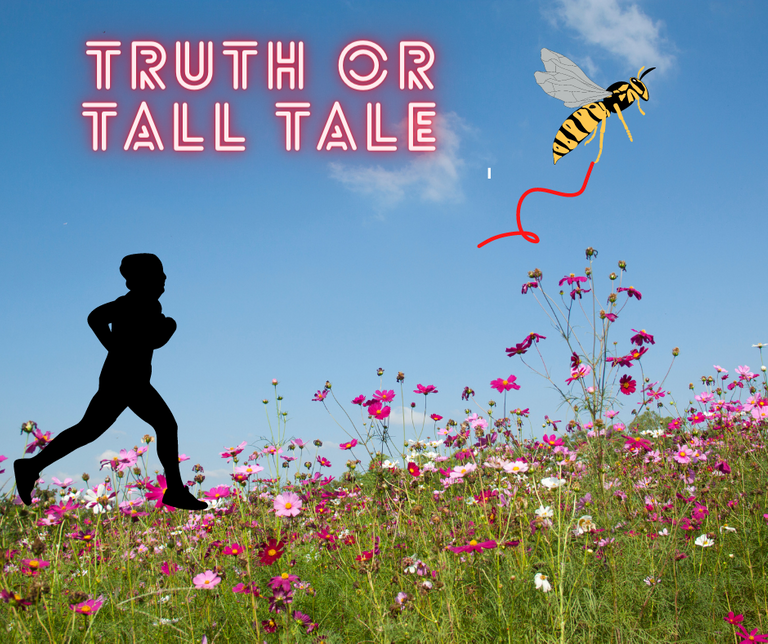 I was known to be a bit gullible but over the years I have turned full circle and I am now more skeptical to counteract the guillibleness.
A bee hive formed outside the busy Centre where I work. It is our land and a busy spot so it up to us to deal with the buzzy bees. Bee's are a big thing in the news at the moment as they are depleting in numbers so I rang the local beekeeping association for advice rather than grabbing my trusty flamethrower. Apparently beehives are in demand so the beekeepers association called the closest beekeeper to our location and he arrived shortly in the bee mobile. One of my favourite Simpsons moments is when Homer stockpiled sugar in his back garden. This attracted bees and the neighbouring beekeepers were calling Homer a genius for stealing their bees. It all comes to a head when the rain comes and dissolves the sugar.
Source
"Very clever Simpson. Luring our bees to your sugar pile and then selling them back to us at an inflated price." is probably one of my all time favourite lines.
Anyway back to real life. I wanted the bees gone as the Hive was down low and I was afraid some little kid would go near it and we would have a major problem then. What made it worse was a lady got knocked over close by and while I was helping her with first aid, I had one eye on the bees. Imagine that accident report.
Lady got hit by car and while lying on the ground was attacked by a swarm of bees.
Imagine completing the post accident risk assessment there.
Anyway after the crisis of the old lady was averted the beekeeper arrived in his Nissan Bee mobile Micra, the car of the beekeeper. He was an elderly man who explained to me the whole mechanics of a beehive and what he was going to do. He was going to first spray some water on them. This would stop them flying. Then he would try and find the queen bee. The queen bee was the answer to everything. Once he located her. He would put her in a box and all the other bees would follow her in like the perverted animals that they are. The sexier the queen , the faster they would go in. (I made that last one up.)
Then he would take the new box away and transfer them into another more permanent wooden Hive. Job done. He would have more bees in his bee hive farm and I would be rid of a potential serious incident.
The queen is larger than her minions so once he found her he marked her with a little bit of white dye so she was easy to find again. It was all done in a few minutes. He popped the queen in the new box, along went the rest of the bees and there was only around 10 or 20 remaining.
He told me about the various jobs that bees had. Some guarded the Hive and he pointed those out to me. Some went off and got pollen. It was all well organised. Also he pointed out that bees hate wasps with a passion and any wasp that would wander near the Hive got the hiding off the bodyguards and didn't live to tell the tale. Wasps get bees agitated and this is when they can sting.
The beekeeper told me that there was once a wasp nest near his Hive and all the bees used to be stressed off their beetits so he had to find this nest pretty fast to calm his swarm down. He looked and looked for the wasp nest but he could not find it.
The next bit is the part I found unbelievable even for me. I shall paraphrase him below.
"I had to find the wasp nest, so the only way to do it was follow a wasp which as you know is very hard to do. So I caught one and took it home. They have one leg that is larger than their others so the trick is to tie a piece of red string for sewing around it's leg. I left it go and it flew off at speed. I could see the red string dangling as I raced through the field after it. Then suddenly the red string disappeared up a tree a few fields over from where the beehives were. It was the wasp nest up in a tree."
While he was telling me this I was imagining how he tied a piece of string on the little wasps leg. What tools did he use to do it?? How did he follow a wasp through a field?? So many questions. But the guy seemed genuine. He was professional at getting rid of the Hive so I decided to just not ask any questions. I won't tell you how he disposed of the nest either. Bees are protected. The aul' evil wasps are not but who cares about them.
I was out at dinner for Fathers Day yesterday and I decided to tell the whole string around the wasps leg story to my family and I was called a Fucking Fool for believing him by my sister. Everyone laughed and belittled me. However the main man himself believed me. He told me some lad in a pub told him about the string on a leg method to locate a nest. Whether it was just a strategy to take some of the heat off me is any ones guess but the don spoke up and that was the end of blanchy getting lambasted for his bee story.
So my Hivians. If anyone was to know about Bee's its you guys. Do you believe the string on the leg story?
---
---