Last Man Standing Competition 2 weeks To Go. Get Your Entry In. Don't Miss Out
Last Sunday I launched the Last Man Standing Competition for the Premiership this year, A link to the post is here
A summary of the rules is here.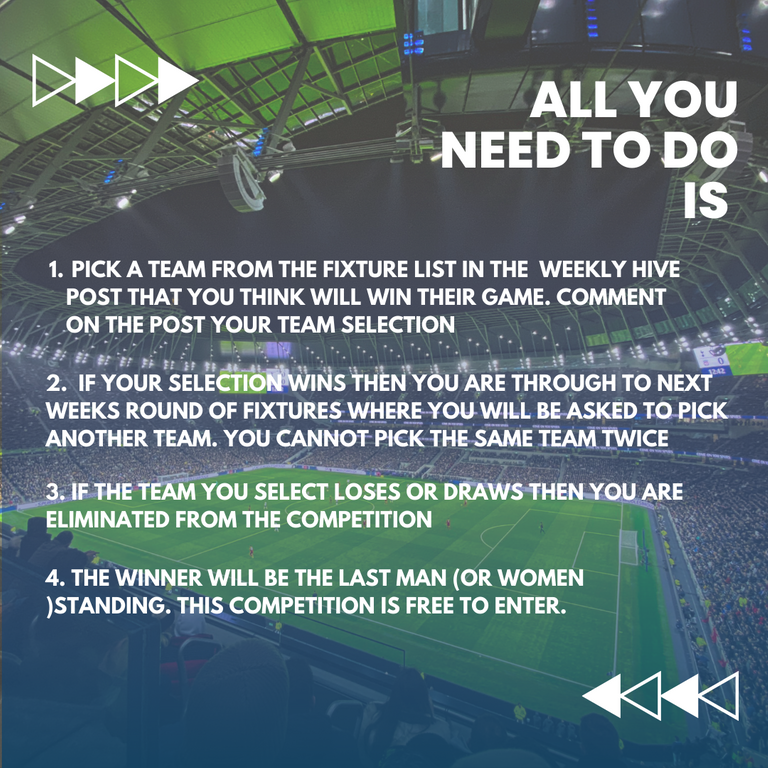 The fixture list for week 1 is below. All I want is one team. This competition is free to enter so why not throw your hat in the ring. Contrary to popular belief, you do not need to know much about football to win this comp.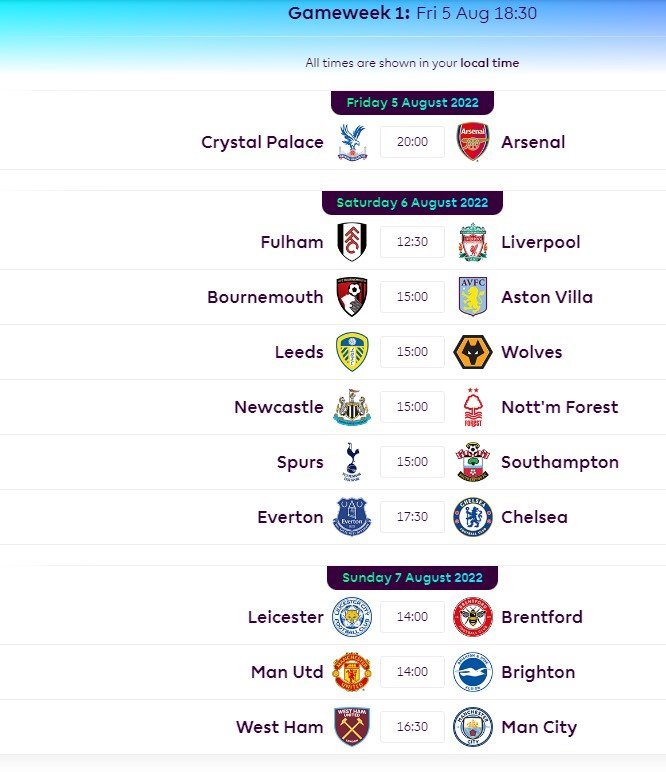 Source
So the entries so far are in. I am amazed that I got 24 entries already so I hope to keep the entries piling in so please tell your friends on Discord about this free to enter competition.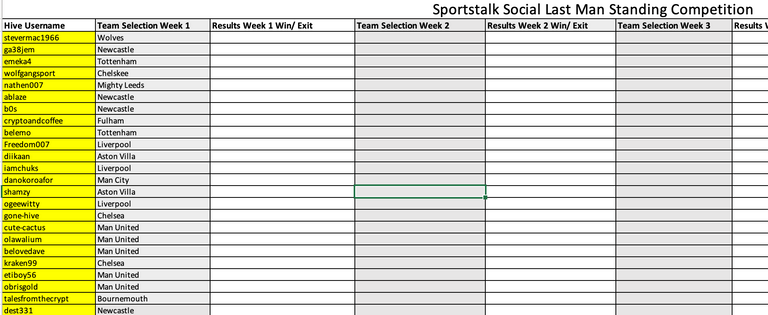 So as you can see there is a nice mix of teams in the mix. Many went with their own teams that they support first. Take @belemo for example , he picked Tottenham. :-D. @olawalium has went with Man United. So of the contestants have gone with Liverpool , Man City the first week.
RULE NUMBER ONE IN LAST MAN STANDING CLUB IS YOU CANNOT PICK THE SAME TEAM TWICE!!!
So when you pick a team you cannot pick the, again. And this is where the strategy comes in and hits you like a hammer in week 4 or 5 if you have been picking the strong teams. If someone has been winning with the weaker teams then week 4 and 5 are a walk in the park.
So these contestants will find it hard in week 4 or 5 (if they get through) because they have picked the strong teams first.
Seasonal campaigners and all round Last Man Standing Sharks have looked at the week 1 buy back option and have gone for the weaker teams.
@talefrmthecrypt and @cryptoandcoffee the sly dogs have picked Fulham and Bournemouth. They risk one shiny Hive in the process of the buyback in week 1 but they receive a HBI share back so they don't really lose in the end. I expect @cryptoandcoffee 's last man standing partner @erikah to pop in a team soon. Will it be Fulham I wonder??
Anyway thanks to all the entrants so far. We have enough now to make it a bit of a laugh. Those of you who picked Man United. You all support this team and I am worried it may be a case of lambs to the slaughter here. Who knows. I may be wrong. 5 people have picked the mighty red devils to win their first game of the season. Was this with Ronaldo or without Ronaldo it is hard to be in the minds of these fans.
I have not added myself to the mix yet. I will go with Spurs. Why the hell not. I will keep the 2 trump cards for later in the tournament. Surely I can't win my own competition?? Can I?? I cannot send SBI to myself so if I do win, the 2nd place person receives the prize.
The Prize
The prize will be below
1st Prize 30 HBI
2nd Prize 10 HBI
So if you want to enter just comment with your team selection from the list of fixtures and you are in. Every week I will tag the winners to select another team for the following week. It's that easy. I want this to be a fun contest, it normally lasts between 7 to 10 weeks so it doesn't take any time whatsoever. If it is a success I will do another one post world cup.
Anyway tag your friends. Get your entry in and lets get up to 50 people in the comp before next week.
---
---