Midweek Report : Splinterlands Player Spends 24 hours Without Food Or Water To Win a Loot Chest.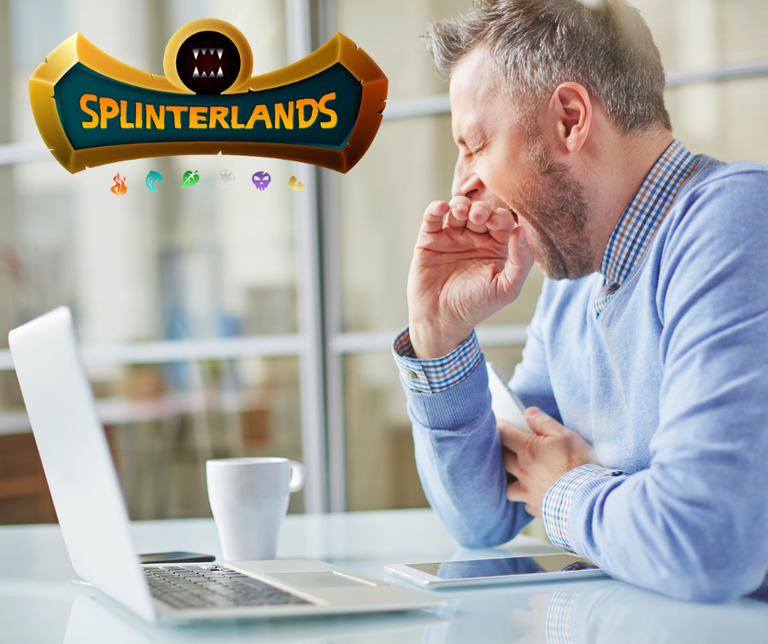 Source
Splinterland's player Wayne Campbell celebrated his 1 chest win last night by ordering himself a massive 18 inch pizza. He hadn't eaten in the past 24 hours as he was busy playing the new update of the new rank battles on Splinterlands.
The new update is designed to help those who invest in and play the game benefit the most which is music to everyones ears.
The new focus group had selected the Fire Splinter and his challenge was to get 18,000 Focus Points in order to get one chest.
"At first I sat down and looked at the new method and I was like, yeah dude gimme some of that."
"But then I found out I was getting between 800-1000 focus points every time I won a battle so it dawned on me that this was going to take alot longer than the quests used to take."
"On top of that the new update attracted some of the older elite players back to the game who were battling their way back up the ranks."
"I was coming up against Waka waka , the Llama and Yodin for the first time and the bastard Waka poisoned all my monsters.
"As well as this I came against the Fire's main adversary alot which is the pesky water splinter and I would aways get hockeyed."
"I was on winstreaks of 2 or 3 when these happened so it met instant death and my streak had to start again which mean lower FP points."
"I have to admit it."
"I pulled an all nighter."
Wayne who called in sick from work this morning because he still didn't get to 18,000 FP points told his job he had the diarrhoea or "the runs" as they say in Ireland which covers all bases.
"They never ask questions when I tell them that," laughed Wayne.
"They can't wait to get off the phone."
"To tell your line manager that your poo is runny really does embarrass them but not me, I like it."
Wayne found today a bit easier as all the Splinterland sharks are long gone to diamond and champions to where they belong at that stage although there were a few stragglers with some rare epics if that makes sense."
"At least I can grab some food today," said Wayne delighted with himself.
"Yesterday I just kept battling and battling and ended up falling short of the toilet. I just left the number ones flow freely but the number two was the problem. I will clean it up in the afternoon."
"It collates with the cover story with work anyway."
"I was gonna ask Grainne my girlfriend who is a nurse if she could pull a few strings in the hospital and hook me up to a colostomy bag for the next season but the adult nappies are less intrusive."
"You need a good run (no pun intended) of the day without any interruptions."
"Any interruptions and you will not get the loot chest in the time.
"On by the way."
"You guys have just arrived in the nick of time," said Wayne to our reporter.
"The chest for all my hard work has arrived."
"Gather around everybody, let's see the fruits of my labour."
"This is what makes it all worth while!!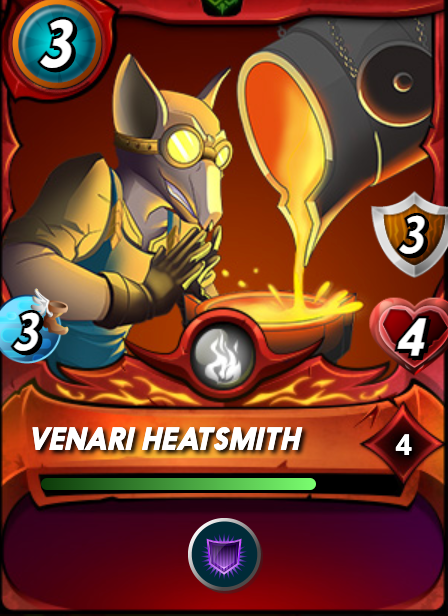 "Disappointed!!!!"
Source
After Wayne calmed down our reporters went back into the room.
"I know I lost around 200 euro in income from work but the good news is I gained a card.
"Yes I am aware it costs less than 2 cent but it's all about future value in crypto and NFT's"
"This little Venari Heatsmith is a nice solid card and will only grow in value." "It can't go much lower really."
"So we start again."
"Another 18000 FP to open a loot chest"
"It's the name of the game"
"If you are not in you can't win."
"SPLINTERLANDS FOREVER!!!"
---
---