Virtue Signaling Is Becoming Tiring At The World Cup and It Is Only Day 2.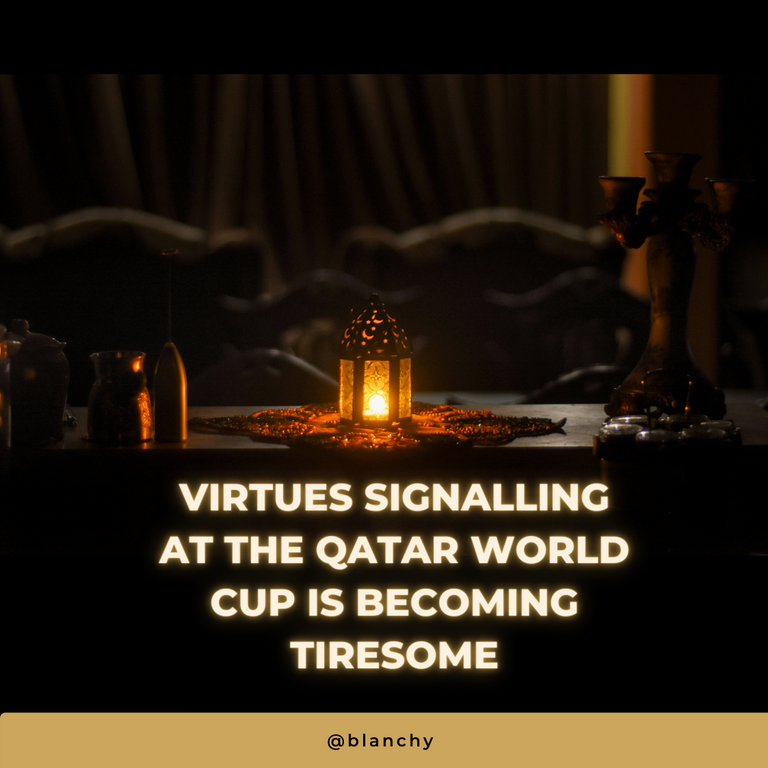 We all know the background to the Qatar world cup bid by now. Many FIFA executives were allegedly bribed for their vote which led to arrest of 8 FIFA executives back in 2015. The U.S.A bid for the 2022 and did not succeed even though it was commonly thought that America had the best bid by a country mile. So much so that even Great Britain had succumbed to the fact that the USA may get it. So the end of the day is the Qatar got it. Since then there has been outrage over Qatar and human rights and how many migrant workers died building the new stadiums.
I get that the world view of Qatar is not great. They look down on their women as second class citizens. This is their culture and no matter how much we try, it will not change anytime soon. It was not so long ago where countries in Europe looked on the women as second class citizens as well. Definitely in Ireland anyway. It is only since the 70s and 80s that this has changed. I totally agree it should change by the way but they are some way off.
The death of migrant workers is another issue. I have never before heard of such a kerfuffle around migrant workers. I wonder how many of them died building America and how many died when they rebuilt Germany after the war. Accidents happen on building sites and the death toll is not that many considering they build all shiny new stadiums.
I sat down yesterday to watch the opening ceremony. I was really looking forward to what Qatar would pull off actually and I quite like some Arabic music. I looked for it on the UK channels and nothing. They did not show the ceremony. I checked around the Irish channels and they had it but they were talking over it around civil rights. I came here for the football and the festival that is starting. Not some guy getting paid by the way to commentate tell me that we should all be ashamed of ourselves. This is coming from a guy who is being paid to commentate in Qatar. The guy was in Qatar. Well Mr Commentator, do not go there if you are going to be preaching.
Also what did not sit well with me was that everyone is going on about human rights and we look back at the countries that held the World Cup previously. Did America not hold it back in 1994 after they blitzed Iraq from 1990 to 1991 and killed innocent children just because they did not like the man in power. But yet there was nothing said about it.
Russia holding the last world cup. Again not much said about it. Yet Qatar is getting all the grief. Bringing geopolitics into a Sporting event should not happen. FIFA president Gianni Infantino made a speech yesterday and said that Europe should be apologizing for their terrible human rights issues over the years as well and there was outrage from the Western media. I quite liked his speech. I thought he had a point. The West shouldn't be throwing stones in glasshouses. Weren't the Nazi's European?
The English press are moaning because Kane et al are not allowed to where the pro LGBT community band around their arm. There is also a ban on alcohol at the stadiums and they are slagging off David Beckham and Gary Neville for taking Qatar's silver. If they offered it to me I would take it as well.
Hugo Loris came out and said he has to respect the country they are in as they have to respect French laws when they are in his country. Again Hugo has a point and was lambasted over it.
And all I wanted to do is enjoy a bit of football and the opening ceremony. It looks to be a great world cup by the way with all the shit aside. And the venues are absolutely incredible. The migrant workers who chose to go there should be proud. I hope this is the best world cup ever. I really do as Qatar might benefit, the West may become more open to hold another event in the Middle East and everyone can benefit. I know I will be solely enjoying the football.
---
---