Weekend Hotspot : The Anglo Irish bar Frankfurt Am Main.
Unfortunately my favourite weekend hotspot is around is around 1,333km from my house and it is a pub called the Anglo Irish bar located in an area of Frankfurt called Sachsenhausen just south of the river Maine. Just get a taxi to Frankeinsteiner Platz which is easy to remember and you can't miss it.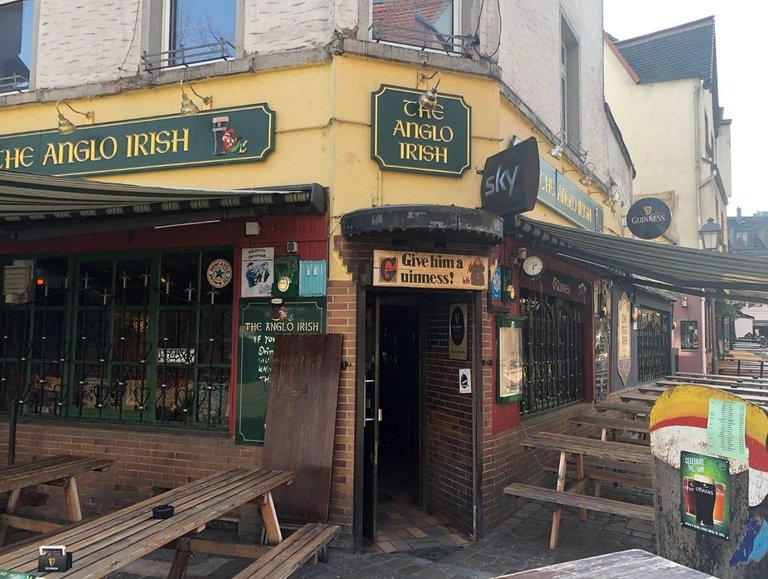 Source
I lived in Frankfurt for around 3 years and when I moved there, I set about exploring the city. Rumour had it there was a kind of a bar street south of the river and myself and a friend of mine set off trying to find it one night. We did not really like the spots outside the main station which has a couple of famous Irish pubs. They were beside the red light district and everything was a bit too edgy around there. So we set off with a stick and handkerchief to find this promised land. After a couple of hours of exploring we stumbled across an Irish bar called O Dywers. It was there that we got talking to the barman who was Irish and he told us we had found bar street. We were a bit disappointed because the pub was empty and there wasn't much going on. We brought the barman a pint and asked him if there were any more bars around that were a bit lively. The barman then preceded to give the best review of a pub I have every heard that was located around the corner. It was to his detriment that he was losing 2 potentially good customer but he didn't seem to mind one bit. The bar he told us about was called the Anglo Irish.
So myself and Darren ran out the door and around the corner and the Anglo Irish awaited us. It was Winter so the door was closed. When we walked in a cloud of smoke filled our lungs but once the air cleared a little we could see the pub was packed with lots of strange and wonderful people who were very merry indeed. We immediately sat up on one of the barrels and watched some German football. The barman who was a Cork man came down and delivered us 2 free drinks and 2 free shots called Hutchens. He told us if we ever wanted a hutchen just make the shape of a triangle over your head and he would get them for us. Hutchens were horrible shots and one would get drunk with a mere sniff of the dark poison which would soon become my best enemy. We thought this was great fun indeed and it was the beginning of a beautiful relationship.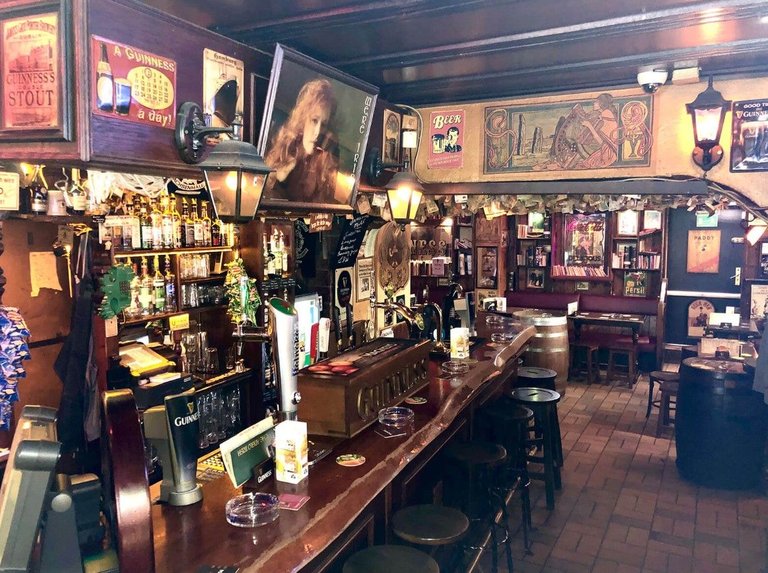 Source
I love dingy bars that have some personality and this was the dingiest bar I have ever been too. Tick
I would head to the Anglo from around Wednesday through to Sunday. On Sunday we would be there from around 2pm to 1am. Saturdays from around 8pm to 6am. You could meet anybody in the place. Business people, models, lawyers, hooligans, junkies, people on the run, famous people. Many a traveler that would find the Anglo Irish would always go back. Sometimes the barman would send a lonely traveler our way to have a chat and a bit of craic. I made friends with so many people in that pub. So much so that I would go to the pub on my own which was a first for me. There you would meet so many great people. I met Joe Biden's head of security there once and I am still friends with him. Joe visited Ireland as vice president a few years ago and I met with him for dinner while Joe was in bed. The secret service whisked me into a Mullingar hotel where I met my buddy. His wife was absolutely off the wall stone mad but they were a great couple.
The great thing about the anglo was the playlist. The barman ,lets just call him John, used to protect it with his life and would never change it for anyone. One night there were some American bikers at the bar and the John came down to me. He knew I was into music and asked me if the biker dudes were familiar looking. I said I would have a look later and I was chatting to a friend of mine who visited me. I never actually got up to see if I knew the guy and went on about my business. The next day John rang me and said that the bikers manager was in and gave him a couple of tickets to the gig they were playing that night. He loved his playlist and had a great night in the bar. John told me it was Slash that was at the bar the night before. But he had his haircut up with Velvet Revolver and obviously no top hat on and John did not recognize him.
I had such a great 3 years there that I would now love to go back. Just for a weekend during the football season and sit at the barrel and just have a chat to the lad next to me. Peace and solitude.
That sounds like heaven to me. I must get back there soon by the way to meet all the pubs characters that I hear are still around. Have any of you ever been there?
---
---