HIVE Power Up Day December 1st 2022 : My 12th POWERUP! ⚡🔋 "An ENTIRE YEAR's worth of HPUD Achieved!" 🥳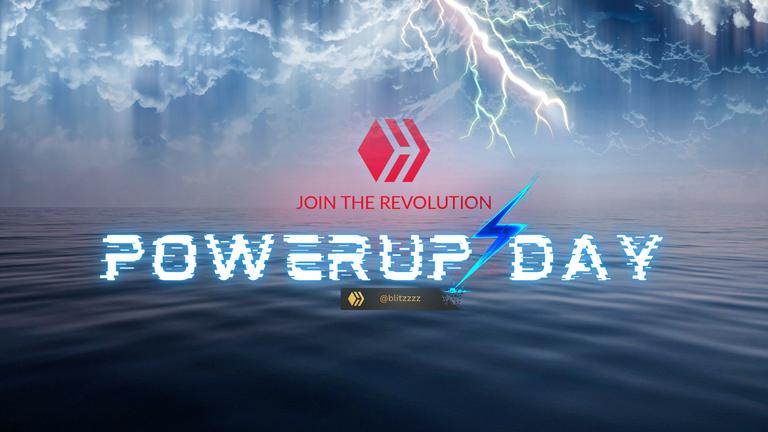 HELLO December 2022!
It's the 1st day of the month and that means it's HIVE Power Up Day again! 🎉🚀
Another month in this year has gone by in a flash! I've only joined HIVE for about 12 months and I'm still learning so many new things everyday! I first heard of Hive Power Up Day 11 months ago and all its other acronyms (PUD, PUM, PUH 😂 what a mouthful) and I'm into my 12th month of participation in HPUD now!
---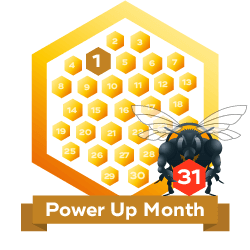 I've attained yet another PUM badge for the month! 📅🥳 (at least 1 post everyday!)
Unfortunately, this is the FIRST month this year that I've not managed to keep up with my 1 post a day routine. The end of year pileup of work and overseas trips that I've had to make this month has made it just about impossible to do so 😭. I will endeavor to continue with it again from this month onwards (hopefully).

Ever since I started with the HPUM initiative in 2022, I've managed to faithfully make one blog post everyday and have somehow missed ONLY the Hive Power Up Month award for March (might have forgot to set some posts to 100% Hive Power 😱😭💔) and now November (due to too much work/travle commitments 😅). I've managed to make it successfully for all the following months since then! 🥳💯

---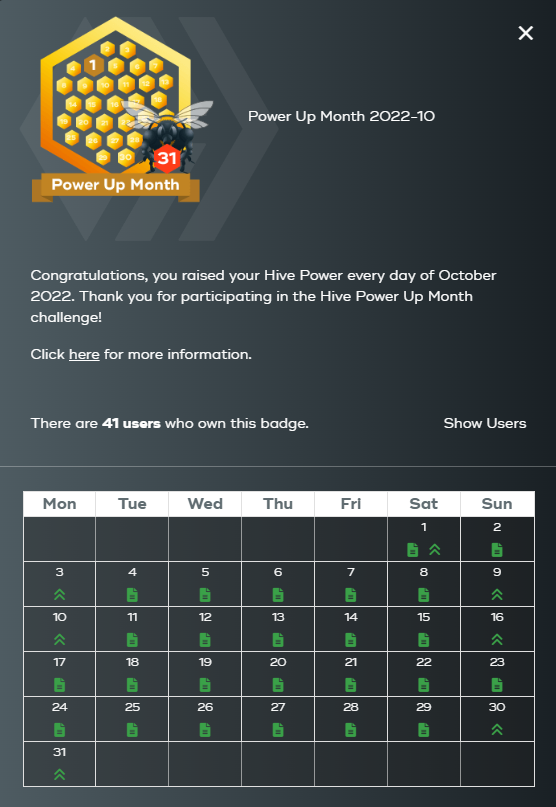 Another successful month of making at least ONE post a day with 100% to HIVE powered up (or adding 1 HIVE powered up if I'm a klutz and forget to set the post payout from it's default 50/50 😵). 🥳🥳🥳
This makes it 10 out of 12 months since I discovered and started on my quest of HPUM-ing this year 😜. I still intend to continue on with this really good habit anyway 👍🏻👍🏻👍🏻 so lets hope I make it again for the month of December. 😁
Blogging regularly and having the HPUM to incentivize me has other tangible benefits too! I've seen my Hive Power grow quite a fair bit. This seems like a good practice which I intend to continue keeping up with!
---

🏁How it All Started🏁

---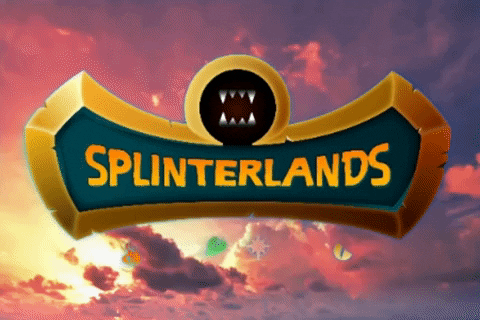 I came onto the Hive blockchain trying to set up an account for SPLINTERLANDS. Prior to this, I had just about ZERO knowledge and experience with any Blockchain. It was pretty confusing to me as a complete novice - much different from how the usual process of setting up an account to play any game goes. 😵
---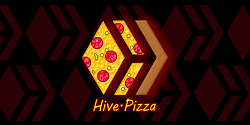 This led to me googling around, and of course, I stumbled onto all the Hive blogs with their guides. One thing lead to another and I somehow stumbled upon the guys from 🍕Hive.Pizza🍕 who were extremely helpful in answering all my queries and guiding me along. Shoutout to all PIZZA members. JOIN THEIR DISCORD if you need any help!
---

⚡️HIVE POWER UP DAY⚡️

---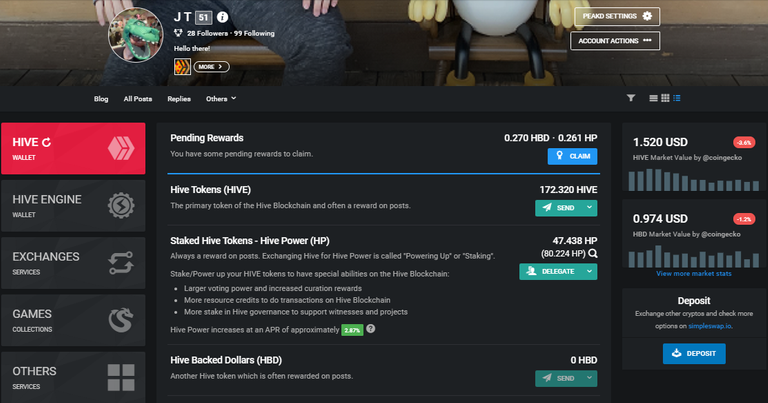 In my VERY FIRST month before before I ever heard about Hive Power Up Day/Month, I was at just 47HP 😭 (Before Jan 1st 2022).
---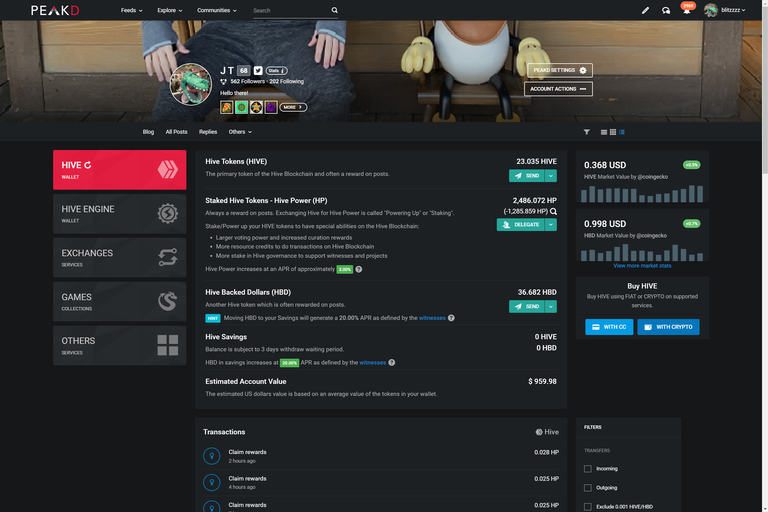 This month, before I've even powered up anything at all, I'm already at 2486HP! 🎉🎉🎉
That's how much the past few months of consistent blogging on HIVE with 100% allocated to Hive Power improved my HIVE account!
---
And NOW... AND its POWERUP time! ⚡️💪 (1st December 2022)
Once again, I only have enough HIVE set aside for a 10HP powerup, but I'm sure with my continued efforts to blog with 100% powered up to HIVE, I will be able to grow my Hive Power even more! 🤑
---

---
💰💰💰💸💸💸🤑🤑🤑📈📈📈
I am not using up all my HIVE once again this time round as I have just put in a significant amount of funds into some projects I've been following pretty closely on HIVE.
💰💰💰💸💸💸🤑🤑🤑📈📈📈
---

---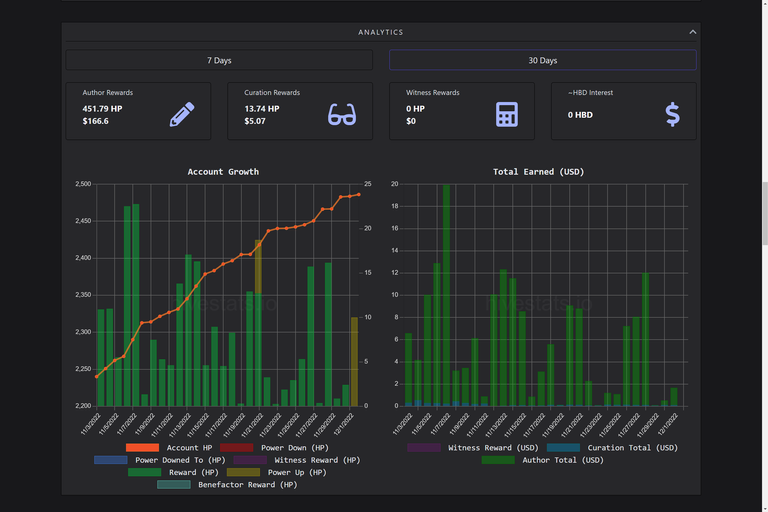 Using https://hivestats.io/ , I was able to pull out a chart showing my daily account growth for the past month too. Great to see that orange graph head upwards continually 📈😄! If only my stocks portfolio and the price of HIVE looked like that too 😂🤑.
---
As you can see, blogging on HIVE is the main reason for this growth, with the majority of my author rewards being channeled into my Hive Power AND with no power downs at all. (All thanks to my attempt to chase for the Hive Power Up Month badge 😜) The growing Hive Power accumulated also has the other effect of increasing my Curation Rewards. 🤑🤑🤑
Therefore, to anyone who is doubtful about the benefits of regular blogging and remaining invested in HIVE, I implore you to take a look at my stats and draw your own conclusions. 😊📈👍🏻
---

📈💎🙌My Long-Term Plan📈💎🙌

---
Now clearly, I wouldn't just spend such an amount on just being able to write and reply in a community. HIVE as a token also has significant value and growth potential. This is the price chart for HIVE since it's inception. As all the HIVE regulars know, HIVE reached its ALL TIME HIGH earlier on in November 2021 at about $3.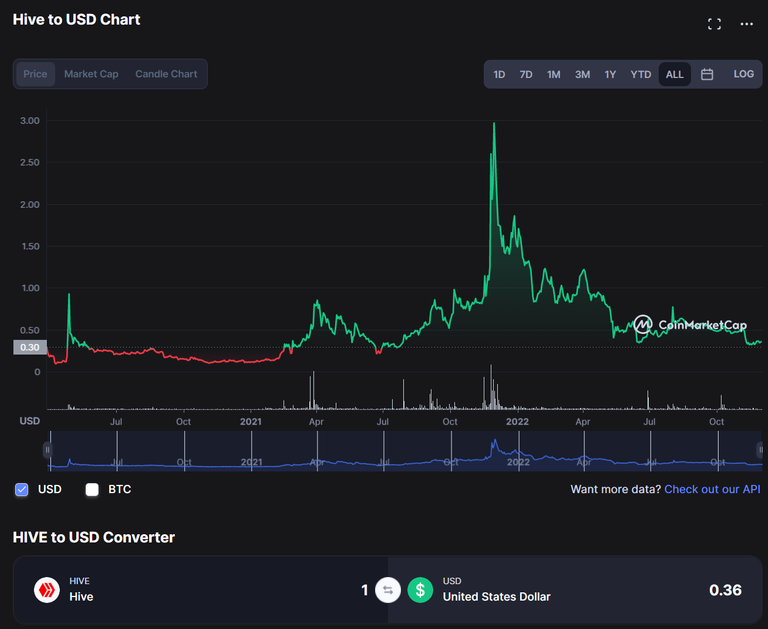 ---
I think the past month of November showed that this terrible year for crypto was not over yet. Of all the companies to fail, it was surprisingly FTX which imploded. Just like the spectacular fall of Terra/Luna, FTX went bankrupt in the space of a few days when it's FTT token crashed to basically zero.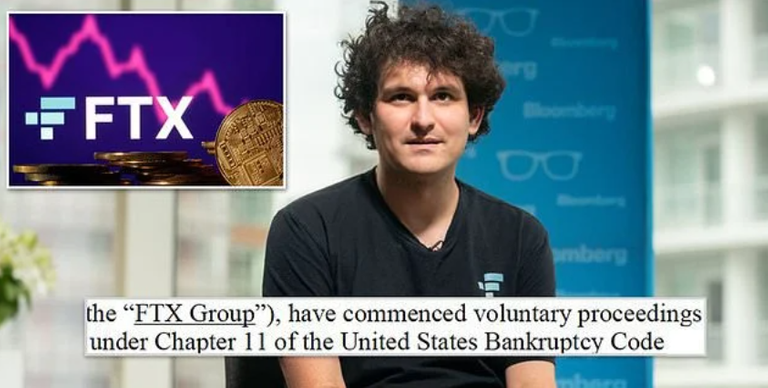 It's definitely not over yet though. The fall of FTX has set about reverberations in the entire industry with huge names like Genesis and BlockFi bascially going bankrupt too as a result. I don't think anyone can really predict with absolutely certainty if this is the bottom yet, or if the worst is over.
I believe this is a good time to DCA and accumulate some crypto (or any other asset actually) while everything is at such low prices. It could get worse before it gets better (and it probably would too) but as they say, time in the market - not time the market. 😉
Hopefully it'll pay off one day.
(Obviously, these are just my own opinions too, so please don't take this as some financial advice. I'm definitely NOT any financial expert/advisor 😅.)
---

💎🙌🎉🥳🎊WAGMI💎🙌🎉🥳🎊

---
I can see the potential in HIVE and am bullish on its future prospects. As they say, diamond hands and HODL 💎🙌, I too intend to just hold onto my HIVE tokens and since I've no intention of cashing out anytime soon, what better way than to participate in HPUD and locking it all in.
Keeping my HIVE powered up as Hive Power also earns about 3% interest and gives me increased returns on my curation. From what I've seen, curation APR ranges anywhere from 4-12% depending on how efficient I am at curating. This sounds low especially in the crypto world, but it is still far superior to any bank interest rates. 💰💰💰
I hope to continue to powerup monthly in this community event whilst also growing my Hive stake. It would be most interesting indeed to chart my monthly progress this way too.
Before I sign off, I would like to thank @thebeardflex @hivetrending and the rest of the guys at the PIZZA DISCORD (join this great community, plenty of events and airdrops and friendly people willing to help!), @traciyork for helping me with lots of questions earlier on about Hive PUD/PUM and also for delegating a big chunk of HP to help in my early blogging days (and also another member of PIZZA!), @namelessnameless , @relf87 & @koodies for all helping me in one way or another in learning about crypto in general. 🎉🥳🎊
I'll see you all again during the next Power Up Day next month with another update! Till then, See you and WAGMI! 💎🙌🏻🦍💪🏻
---
---
---