🍕PIZZA🍕 FireHive Chat 🎙️🔥🪑 Join us as we talk about the latest HIVE developments, trends and news 🗣️🎙️💬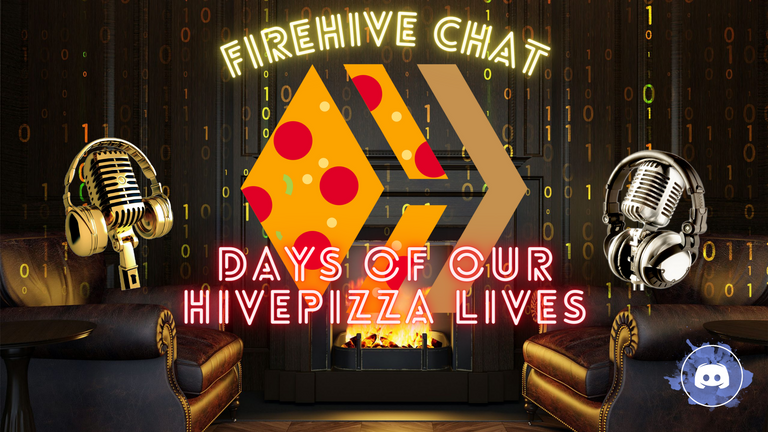 We've got a new event over here at PIZZA this week and it's not one that has ever been conducted before. I present to your our very own PIZZA FireHive Chat. A collaborative community discussion about Hive's latest developments, trends and news! 🗣️🎙️💬
Hosted by @hivetrending, this is a HIVE focused fireside chat where anyone can chime in with their thoughts and views, and even bring up topics from any HIVE developments we might have missed. It does evoke a sense of a classic radio discussion with phone in callers too in my opinion 😄.
Let me give a quick review as to the topics we talked about.
---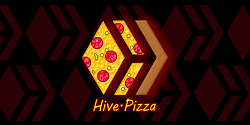 CLICK THIS LINK TO JOIN PIZZA DISCORD!!!
Never fear! Catch up on what you've missed with my brief (and hopefully entertaining) updates on the ins and outs of the PIZZA DISCORD🎉🥳🎊
As a BIG FAN of 🍕PIZZA🍕, I always suggest joining PIZZA DISCORD if you need a quick pickmeup. 👍 It's a friendly and helpful community with regular EVENTS, AIRDROPS of various crypto tokens, discussions of several GAMES on HIVE (Splinterlands, Rising Star, HashKings, Exode, WOO, BangDefense...), MUSIC, ART, and even bits of FINANCE ... well I think you get the idea 😄


🎙️🔥🪑PIZZA FireHive Chat🎙️🔥🪑

This inaugural event is mainly hosted by @hivetrending, our resident PIZZA robot-in-disguise coder extraordinaire and also a Hive developer. 👨🏻‍💻👨🏻‍💻👨🏻‍💻
2 drumbeaters today in the form of @cryptoniusrex and @huzzah notifying everyone about the event.
I can't really go into detail about the topics discussed as there were quite a few. However, I will put up some links if possible, to said topics 😁. Future episodes will probably be recorded so that everyone who wants to listen in at a later time can do so easily.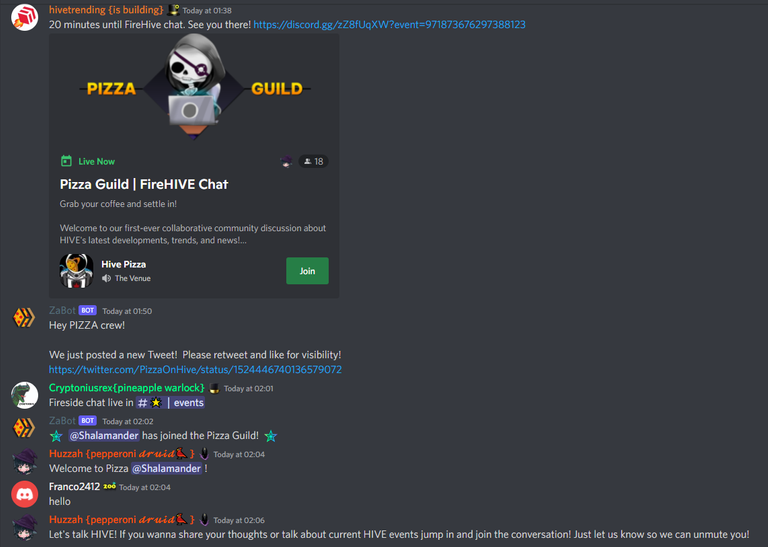 ---
First order of the day pertains to Hive Fest 2022 and whether it should be held virtually or in real life this year.
Here's the LINK to a poll on HIVE asking for user feedback too.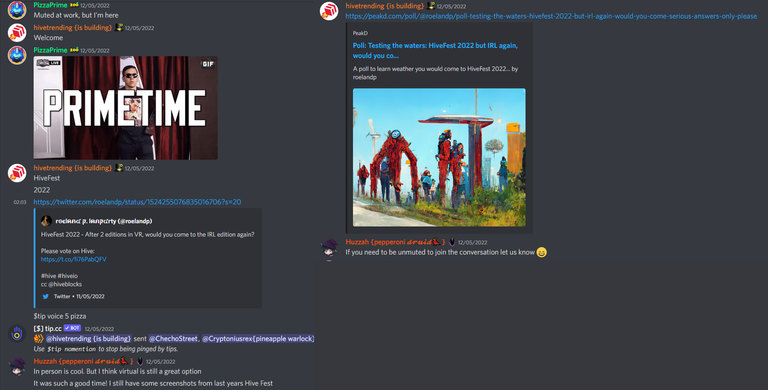 ---
Next up was a discussion on Hash Kings. We even had Liuke @hashkings himself joining in to give us some insights into the game and it's development itself.
Here's a LINK to the recent updates on Hash Kings.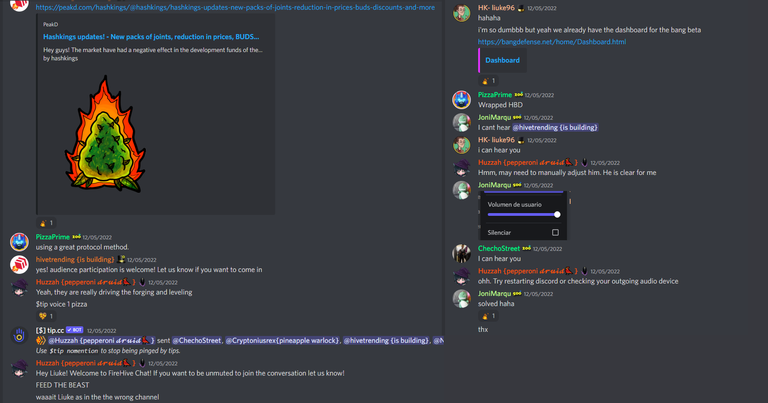 ---
There was a discussion on @leofinance's bridging efforts. I'm sure those who're more finance inclined have heard a lot about polycub and pHBD and Kingdoms Defi and the like. Unfortunately all these was out of my depth. We did have our Pizza finance guy @dadspardan appearing at the right time though 😜.
Here's a LINK to the LEOFINANCE post introducing pHIVE to bridge Hive to Polygon. A most ambitious attempt which will only help to expose HIVE to the wider public out there.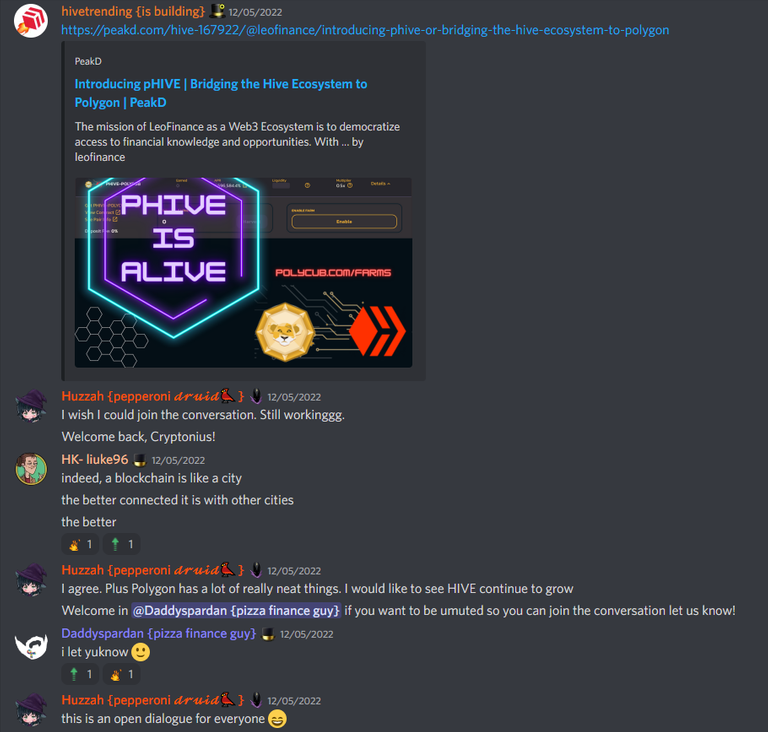 ---
I was rather lost regarding discussion about Lightning nodes. So I'll just leave the LINK to the Lightning Node discussion here for any interested people to decipher 😅.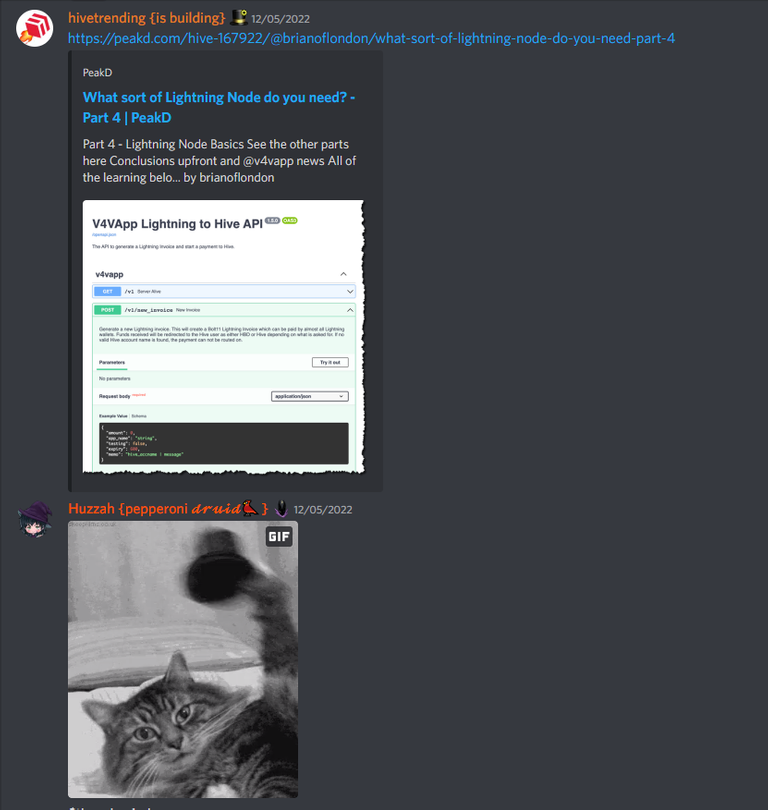 ---
Twitter has their NFT profiles and HIVE has it's very own DLUX Verified NFT profile picture too! Check out this LINK to read up more about this intiative.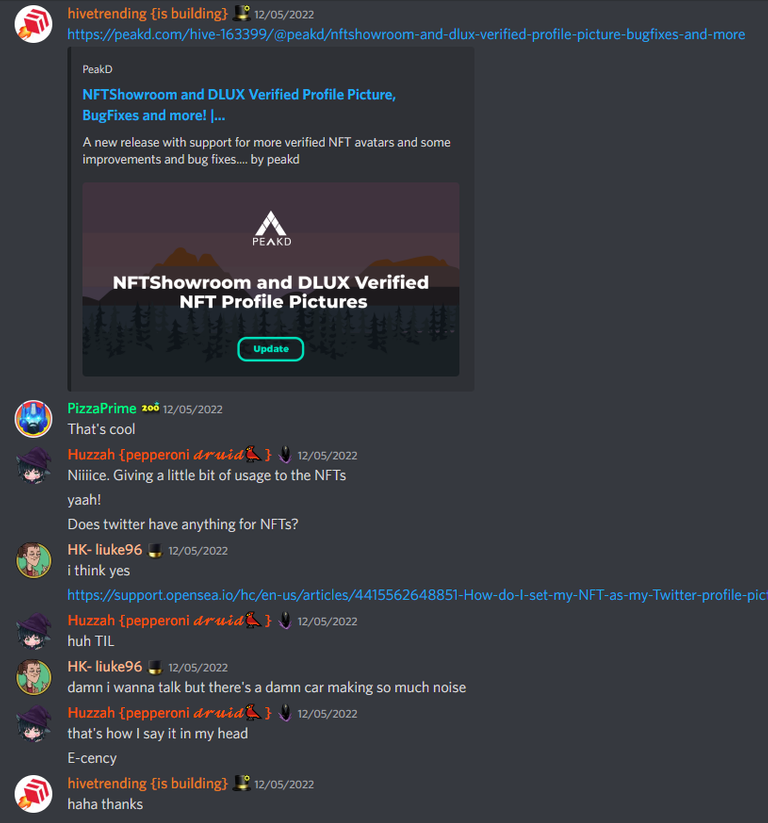 ---
Some discussion on our favourite frontends. Looks like @thaddeusprime and @nane-qts are both Ecency users. Personall I still prefer peakd. 😄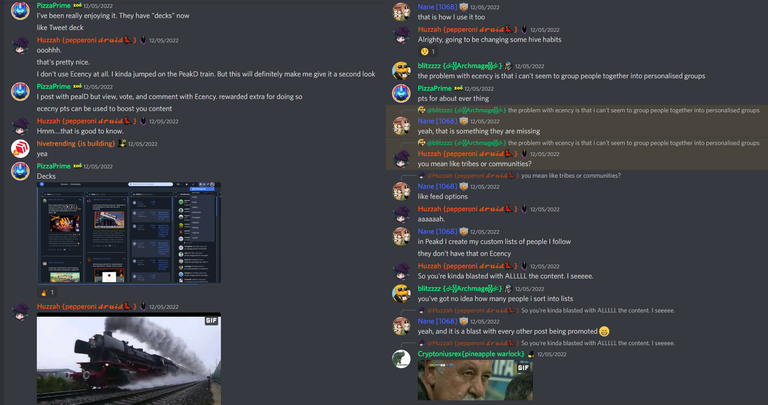 ---
For those who're unfamiliar, Hive has it own version of Youtube in the form of 3Speak! Here's the LINK to the post about being a 3Speak Node operator.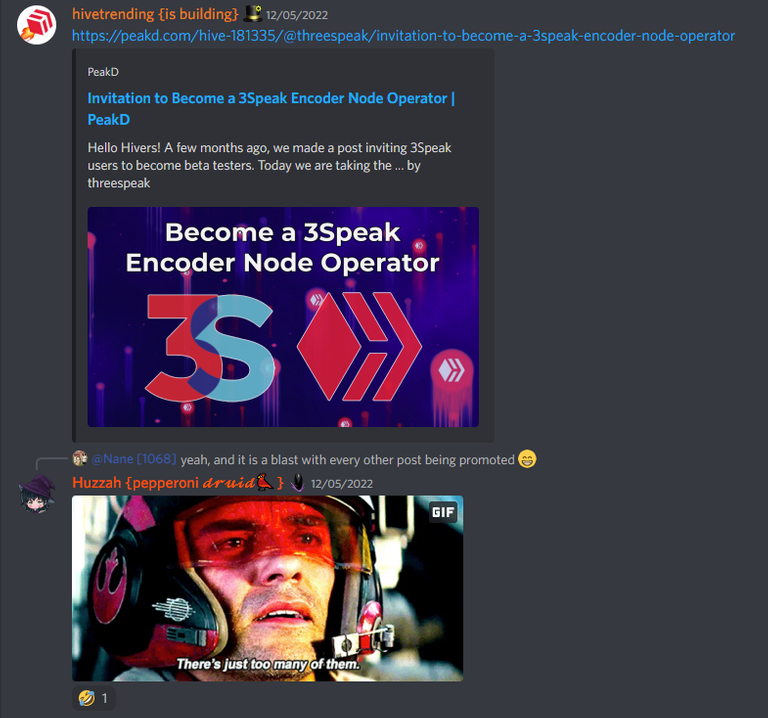 ---
Of course no discussion about HIVE is complete without talking about the games too! Other than Hash Kings which was discussed earlier on, here're the other gaming topics which came up.
We've got discussion about the highly anticipated Ragnarok.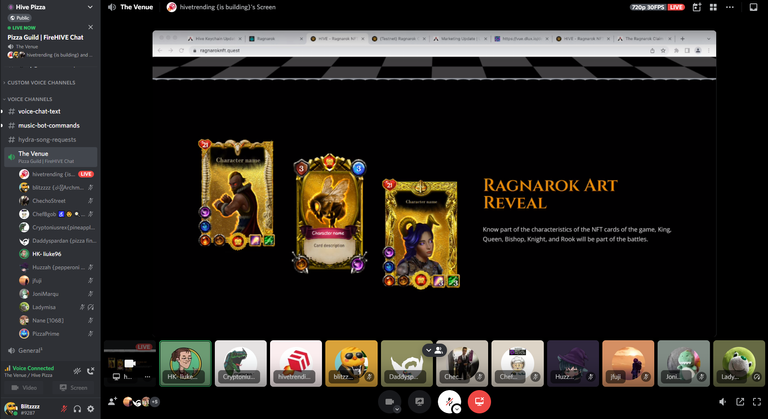 Some speculation about the abilities of the Legendary airdrop Chaos Legion Summoners in Splinterlands.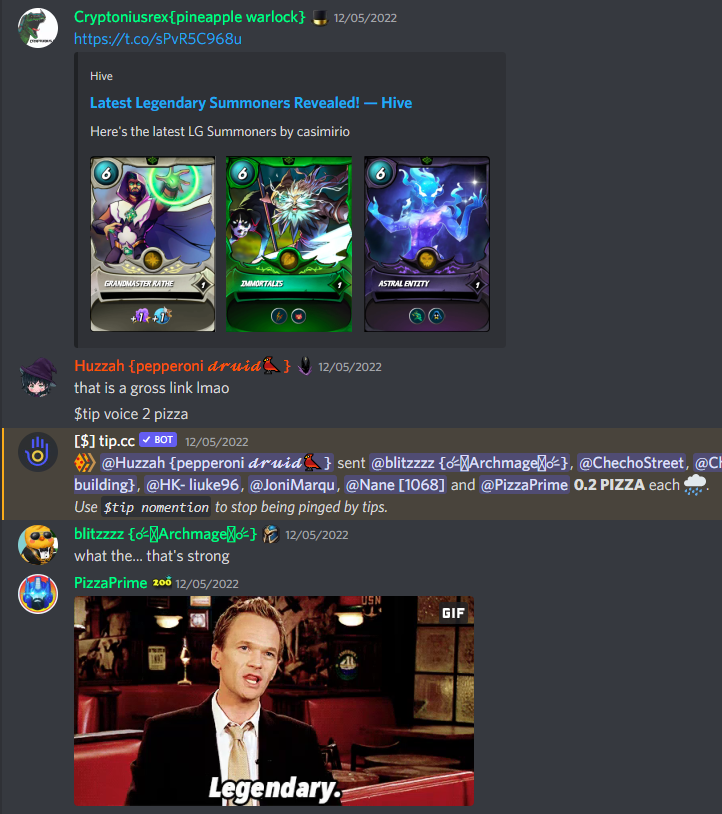 And some discussion about an under the radar game being developed on HIVE which almost no one has ever heard about. It was Liuke who brought it to our attention. Feel free to check out more about @crossworlds at their website https://crossworlds.co/. They are attempting to build an MMORPG, something that hasn't been done on HIVE yet.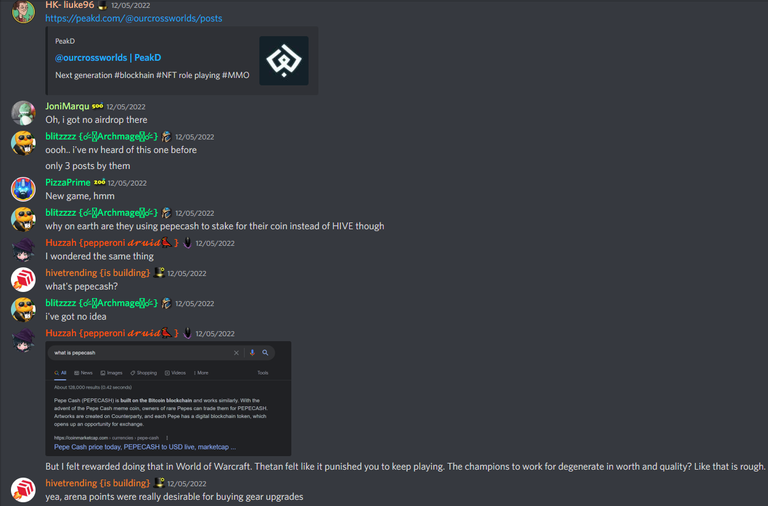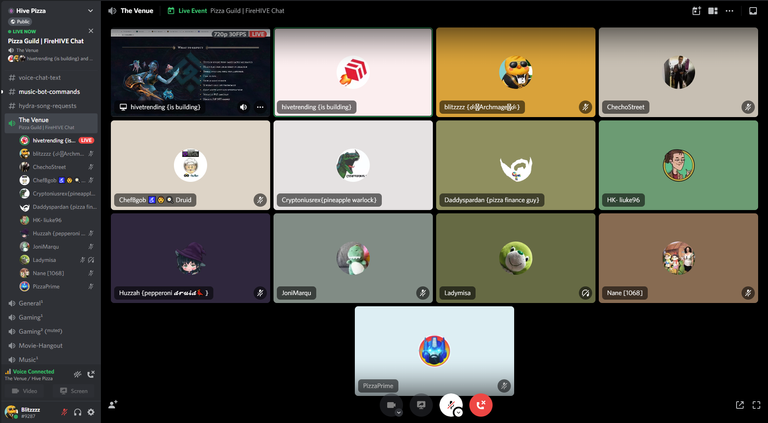 ---

🎭All Good Things Must Come to an End🎭

With that, we've round up our first ever FireHive chat. It was quite informative for sure. There were quite a lot of things I had no idea were even going on. Just goes to show HIVE is much bigger than just what I interact with.
@theacks and @ravenmus1c joining us only when it was all over 🤣.
Who was it playing with that ECHO ECHO ECHO ECHO on the mic at the end? 😜 Was it you @dadspardan?
Many thanks to @hivetrending for hosting and @cryptoniusrex (who was almost like a co-host) and of course @huzzah for facilitating everything. Sorry @nane-qts I did not take *MINUTES& 😝. Too much discussion was going on. Hopefully the next show is recorded as planned.
Of course, a big thanks to everyone who showed up too whether you added to the conversation or just sat back in the background to listen in. 😊 @chechostreet @jonimarqu @chefbgob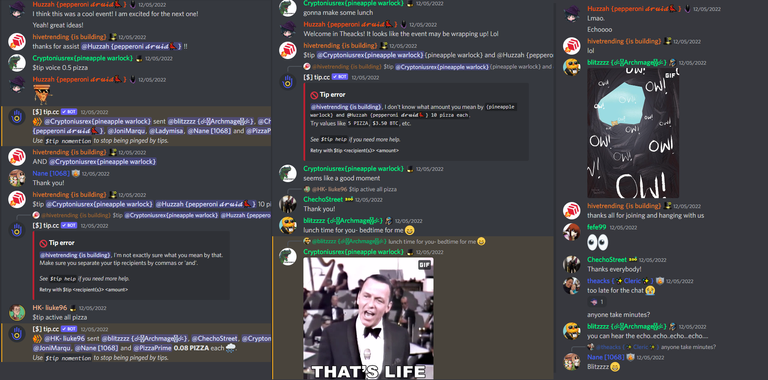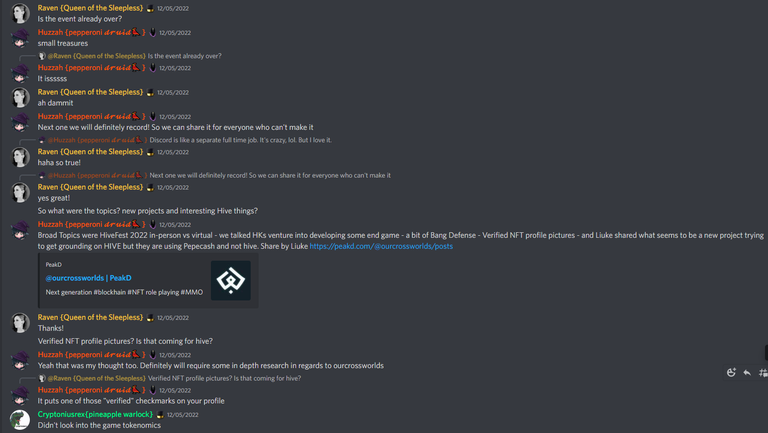 That's it for this episode of my PIZZA news. These are momentous times in PIZZA with a lot of plans forthcoming this year. In fact, I'd say that work on PIZZA is going at a breakneck pace! So don't miss out and come join PIZZA early to reap the benefits. I truly believe this is a multi-bagger project with amazing potential! 🍕🍕🍕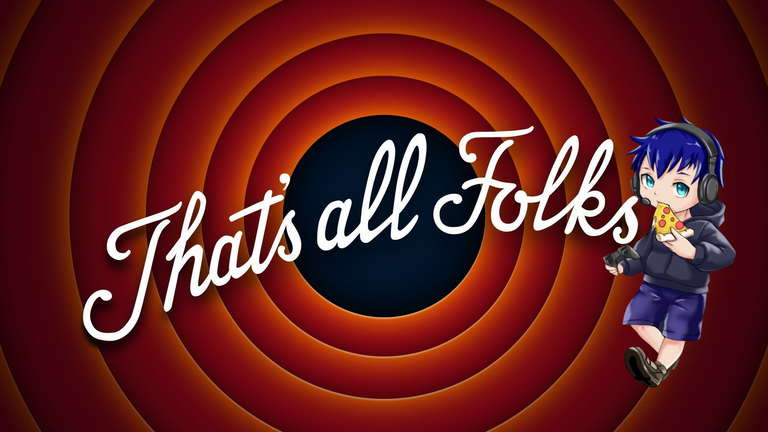 ✨✨✨This Week's Events✨✨✨


Over at PIZZA DISCORD, there are always loads of planned Events lined up (and even impromptu ones). The events listed here are localized to my Time Zone GMT +8. For the absolute latest updates, please check in the Pizza Discord.

---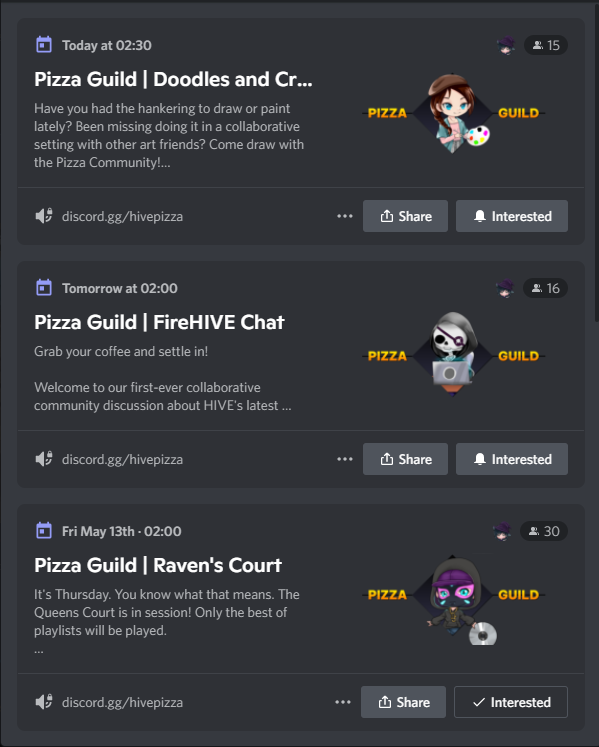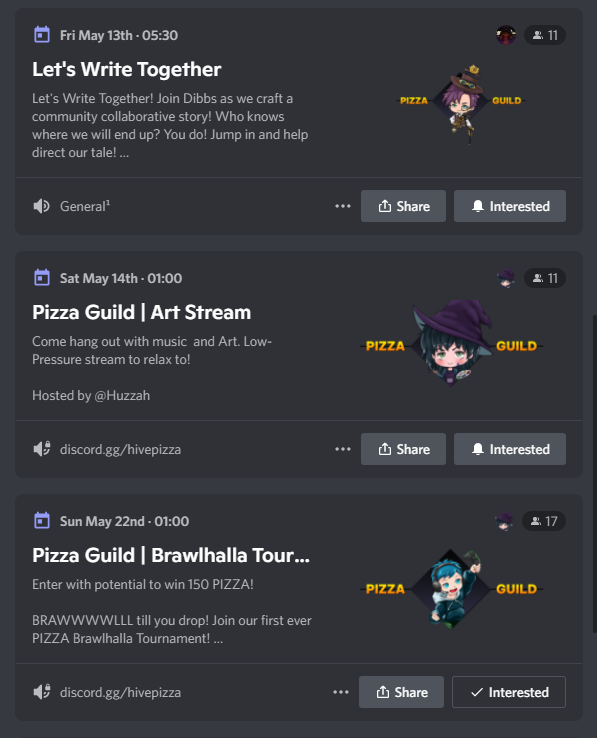 ---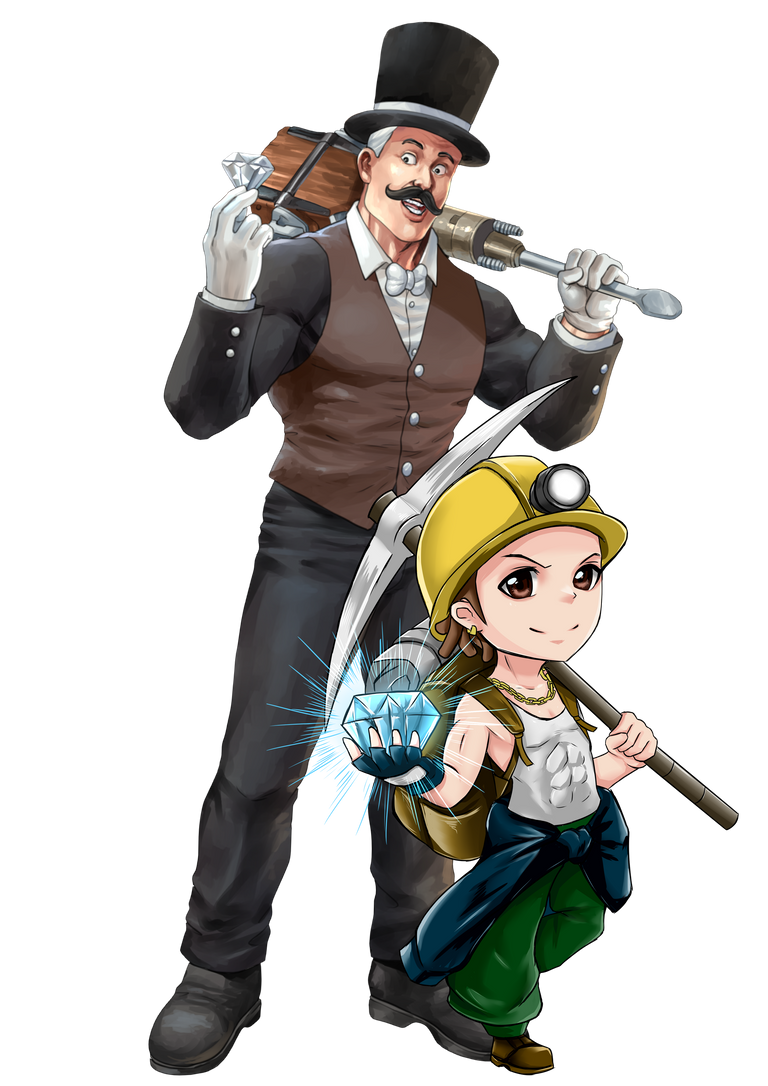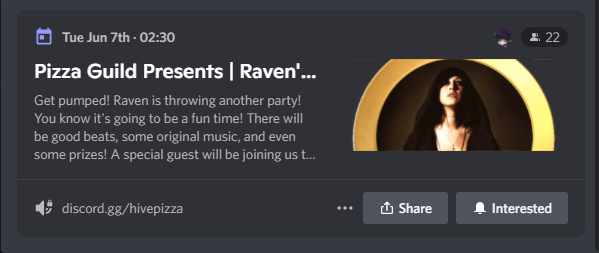 ---

🎁🎁🎁This Week's Contests & Giveaways🎁🎁🎁


A lot of FREE prizes up for grabs at the moment too! Don't miss out! 🎁🎁🎁💰💰💰 What are you waiting for? It's all here in the PIZZA DISCORD.
🤑💰🍕Added Bonus of PIZZA Token🤑💰🍕
-I will use my staked 🍕PIZZA🍕 to share a slice of 🍕PIZZA🍕 with anyone in the comments who also FOLLOWS & REBLOGS my post in the interests of spreading the Word of Pizza 🤣🤣🤣
-Just let me know if you've done that so I can double check and ensure I set aside some Resource Credits to reply back on your comments 👍
-Any fellow 🍕PIZZA🍕 connoisseurs who !PIZZA me will also receive 🍕PIZZA🍕 back from me. 😊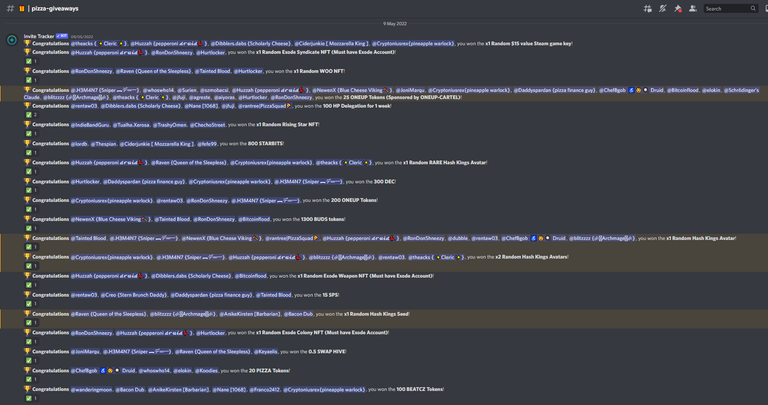 PIZZA is an active gaming and creative arts crypto community on the HIVE blockchain. Popular games on HIVE like SPLINTERLANDS, RISING STAR, EXODE, HASHKINGS, WOO, BANG!DEFENSE have their own PIZZA communities here.



Don't miss out more events that are always being organised. Join the PIZZA DISCORD. Even if you aren't interested in the 💰🍕🎁GIVEAWAYS & AIRDROPS💰🍕🎁, there is a vibrant and friendly community there awaiting you.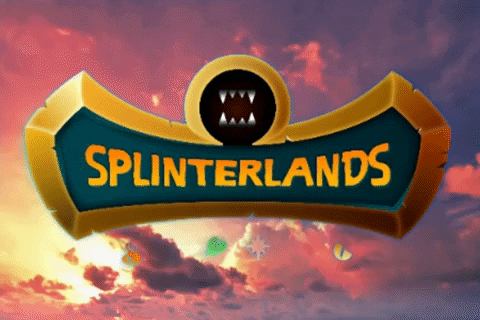 Here's to wishing everyone all the best for the upcoming week 🎉🍀.
To any new players who wish to explore the world of Splinterlands, do feel free to sign up with my REFERRAL LINK 😊.


---
---