SPK Token Launch & Call to Action 🔉 "How I Powered Up my LARYNX and Delegated to PIZZA to earn SPK Tokens" 🤑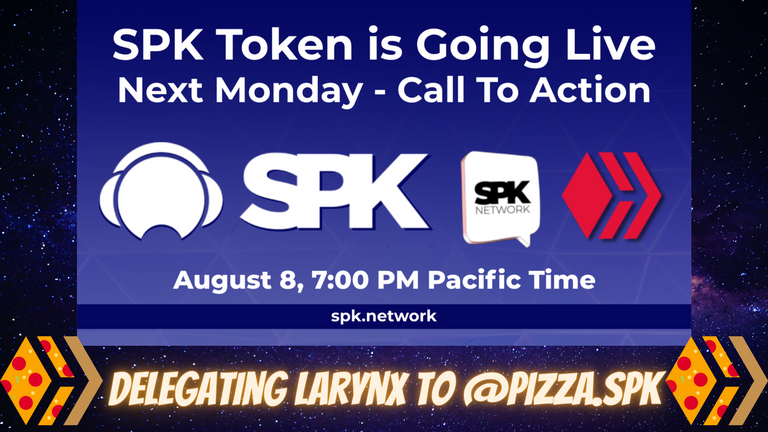 I'm sure many of you will have seen quite a number of posts recently regarding the SPK Token this past week. But first, remember way back in January this year where there was a double snapshot for a 1 to 1 airdrop of LARYNX and RAGNAROK tokens based on how much HIVE each person had?
Well, the LARYNX tokens were actually mining tokens for @SpkNetwork (you can read this LINK for more details about LARYNX), and this past Monday 8th August, was where the project has moved on to the next stage.
"LARYNX power can be delegated to SPKCC node operators who run the network infrastructure. Delegators and nodes are incentivized to participate in governance; both will share some SPK token rewards."
Yup, you heard it right, you can mine EVEN MORE tokens (the SPK Token) if you just powerup your LARYNX (which I hope you've diligently claimed every month before it expired) and DELEGATE it to one of the nodes. 🤑🤑🤑
In my case, I have decided to delegate all of mine to @pizza.spk. As my regular readers would have been aware, I have been a very happy member of the PIZZA family ever since I found my way onto HIVE, but my feelings aside, here's what the HIVEPIZZA team (@hivetrending @thebeardflex) has to say on why we should delegate to them.

"Since the first opportunity, the HivePizza team has helped test and provide feedback for the SPKCC node software. We review code changes and consistently monitor and participate in node operator discussions. Our goal is to be on top of things at all times and help the network run as smoothly as possible.
Hive Pizza team also saw and filled needs for additional tools. We created the SPKCCMonitor to help anyone and everyone monitor the SPKCC network and nodes. This tool has gone through multiple iterations as the feedback has been shared with us. We will continue maintaining and improving SPKCCMonitor.
To our discord bot, PizzaBot, we added helpful commands for checking LARYNX balance and SPKCC node status. PizzaBot runs in 58 unique Discord servers, making these functions accessible to thousands of users.
In general, the Hive Pizza team is bullish about all things Hive. We are a community-driven team that supports many active Hive projects. We're doing our part to spread the word on a daily basis and jumping in wherever we see opportunities to help."

So, as you can see, other than earning some SPK Tokens for yourself, delegating to @pizza.spk contributes to a team who loves HIVE and have contributed a fair deal to it's growth too! 🍕❤️
---
Here's a Quick Guide on how I powered up my LARYNX and delegated it to @pizza.spk

Chose Power Up in the submenu

After LARYNXPower balance updates, click Delegate

Choose pizza.spk in the list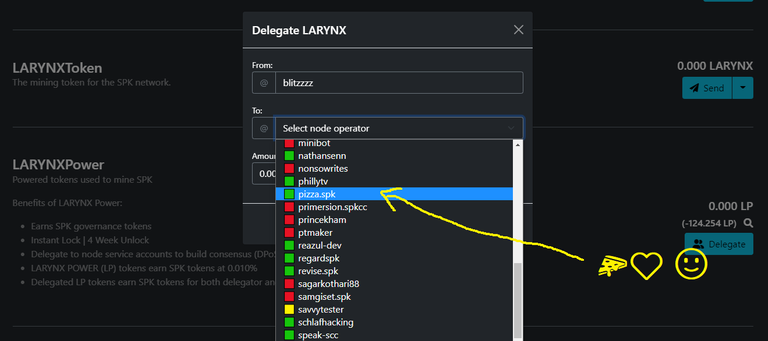 Just these few simple steps, and I will soon earn a small bit of SPK Tokens 🤑, all the while also contributing to the development (somewhat) of HIVE in general.
As this post is simply about me powering up my LARYNX and delegating it, I've been rather light on the details regarding the entire SPK project. I will leave any readers who're interested in delving into the details with the SPK Network Light Paper: https://peakd.com/hive/@spknetwork/spk-network-light-paper. I'm sure reading this will give far more information than I can do so in just a short post 😜.
---

PIZZA is an active gaming and creative arts crypto community on the HIVE blockchain. Popular games on HIVE like SPLINTERLANDS, RISING STAR, EXODE, HASHKINGS, WOO, BANG!DEFENSE have their own PIZZA communities here.
---

Don't miss out more events that are always being organised. Join the PIZZA DISCORD. Even if you aren't interested in the 💰🍕🎁GIVEAWAYS & AIRDROPS💰🍕🎁, there is a vibrant and friendly community there awaiting you.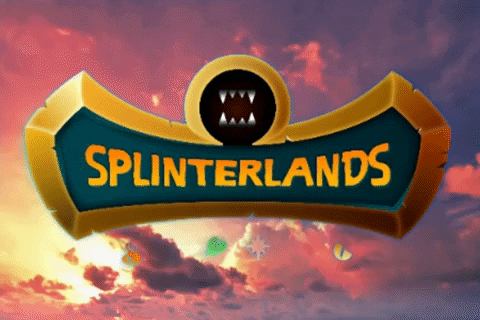 Here's to wishing everyone all the best for the upcoming week 🎉🍀.
To any new players who wish to explore the world of Splinterlands, do feel free to sign up with my REFERRAL LINK😊.

---
---