🍕🍕🍕 Trivia & Gartic with PIZZA 🤔💭❌😵‍💫🤯 "B isn't always the answer"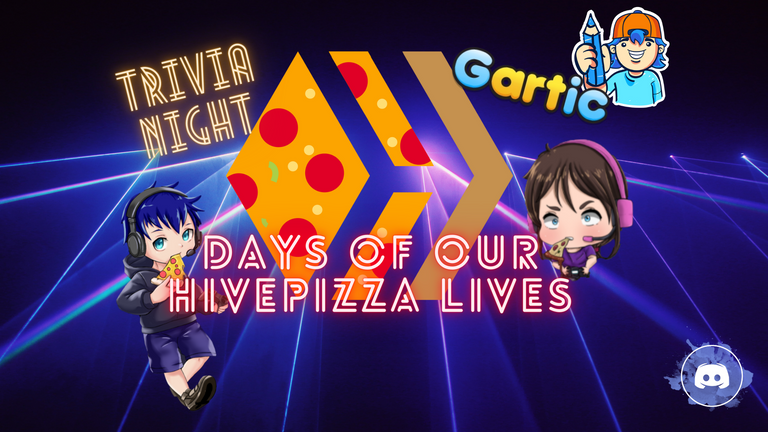 I can officially say that there are no ALMOST no more significant backlogs in my coverage of PIZZA Events! Hooray! 🥳🍕🥳🍕🥳🍕
That being said, here's the event which kickstarts the entire weekend for us over at PIZZA. Presenting everyone's favourite Trivia Night, followed by Community Games (which is usually Gartic).
For people who might be stumbling onto this for the first time, our events are a great time to generally have fun bonding over community activities with plenty of Pizza Tokens being given out to all participants too! 🍕🍕🍕🤑🤑🤑
---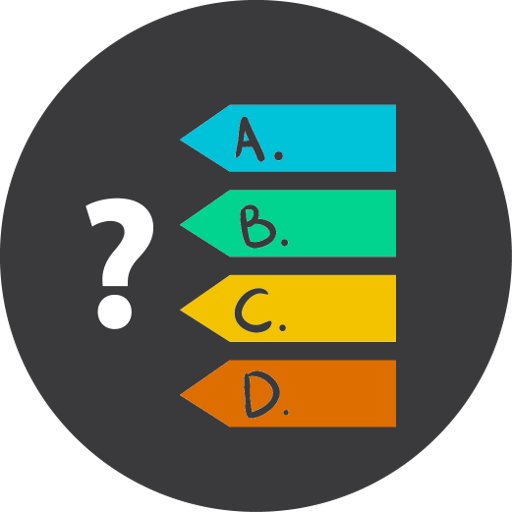 ---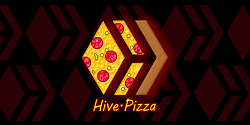 CLICK THIS LINK TO JOIN PIZZA DISCORD!!!
Never fear! Catch up on what you've missed with my brief (and hopefully entertaining) updates on the ins and outs of the PIZZA DISCORD🎉🥳🎊
As a BIG FAN of 🍕PIZZA🍕, I always suggest joining PIZZA DISCORD if you need a quick pickmeup. 👍 It's a friendly and helpful community with regular EVENTS, AIRDROPS of various crypto tokens, discussions of several GAMES on HIVE (Splinterlands, Rising Star, HashKings, Exode, WOO, BangDefense ...), MUSIC, ART, and even bits of FINANCE ... well I think you get the idea 😄


💭🤔💡Trivia Night💭🤔💡

@huzzah the Herald with her "Trivia Event is starting" announcements 📯🔊📢. Of course she is also our long suffering Hostess too - running the entire event all on her own! 😱🤯 She deserves many cheers of HUZZAHS 🍻🍻🍻.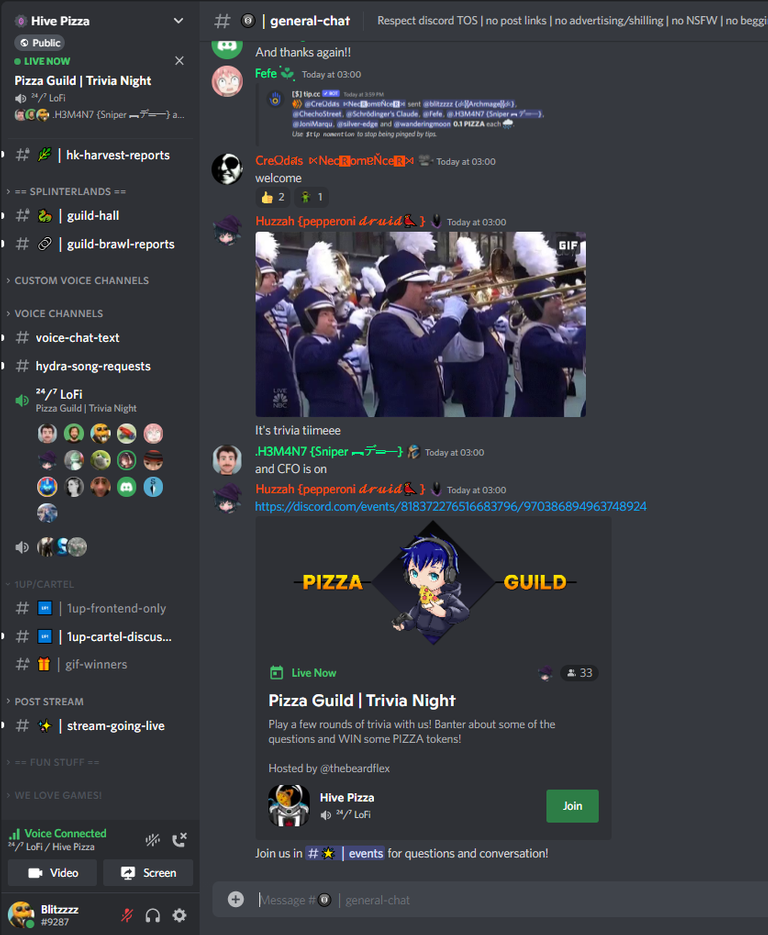 ---
It was already really crowded today before the event even started. Much of the credit for that goes to @creodas who ran his Pirate Radio curating a playlist of tunes for us beforehand 👍🏻😁.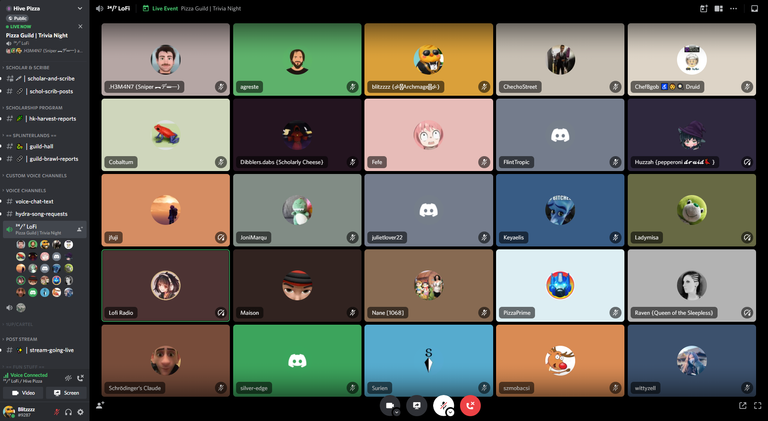 ---
Heading to the Events channel shows us the usual clamor from our eager participants. Lots of GIFs and chatter! 😜
@jfuji @definethedollar @therizzo @agreste @cobaltum @surien @h3m4n7 @theacks @jonimarqu @silver-edge @wittyzell @fefe99 @ravenmus1c @anikekirsten
Much dedication from Claude. Clearly Trivia is more important that your students 😜.
H3m4n is (like me) from the future. So while all you folks are celebrating your Friday Nights, it's already Sunday morning for us!
A tad bit ambitious with your pizza projections Fefe 🤑🤑🤑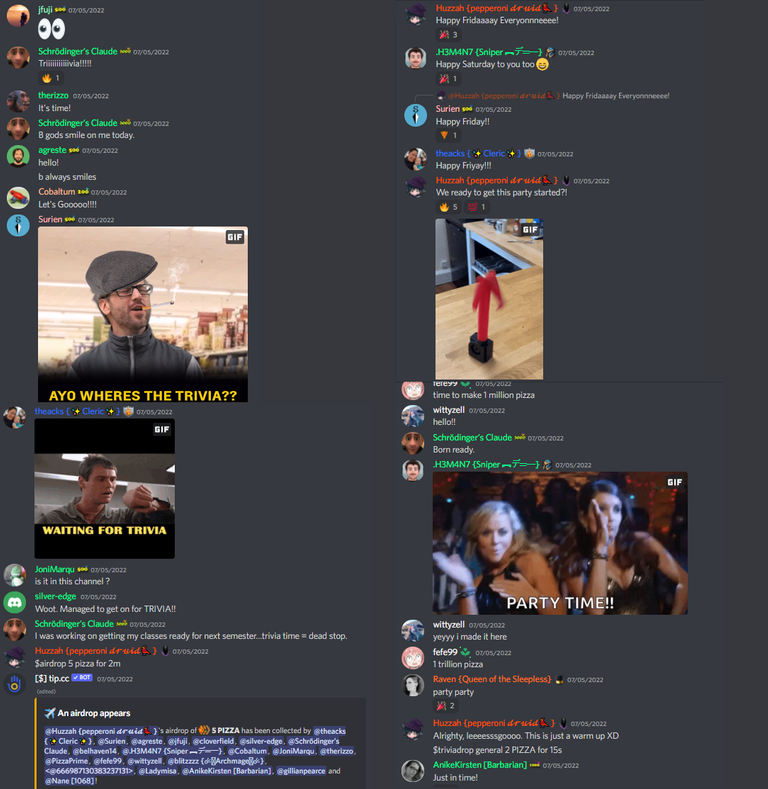 ---
First question of the night sets the tone for B - everyone's favourite choice for Trivia!
This however would prove to be rather fleeting as the B answers were few and far between today. 😱🤯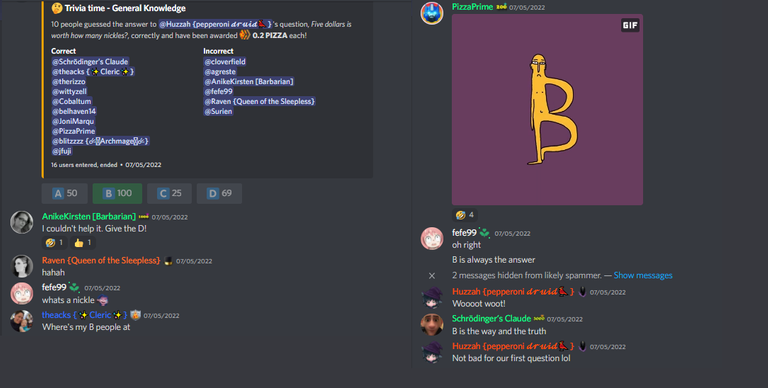 ---
The Femur is the largest bone in our body. Anike however seems to display a fair bit of knowledge on bones and how to inflict pain 😱😱😱. Jfugi is indeed right in saying we should stay on Anike's good side 😜.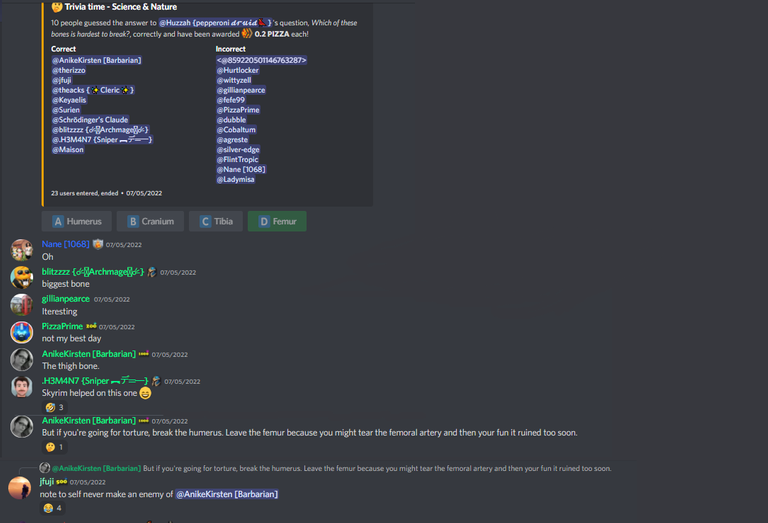 ---
We finally had our (only) SOLO victor for the night! Congrats to Wittyzell!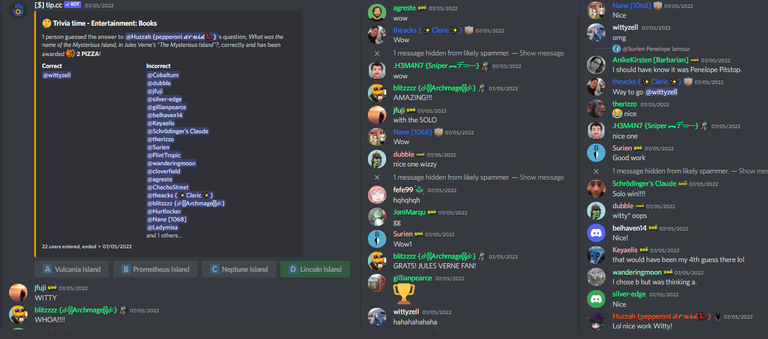 ---
As we headed towards the end of Trivia night, Lightning round kicked in! ⚡⚡⚡
And with that, a chance for a perfect score with the Mythology category which produced a ZEUS question! One that has been repeated for months on end too! 😜
Surely this is our perfect 💯% question right here...
And YES NO!!! @keyaelis @dubble @ravenmus1c How could you guys have possibly gotten this wrong. 😭😭😭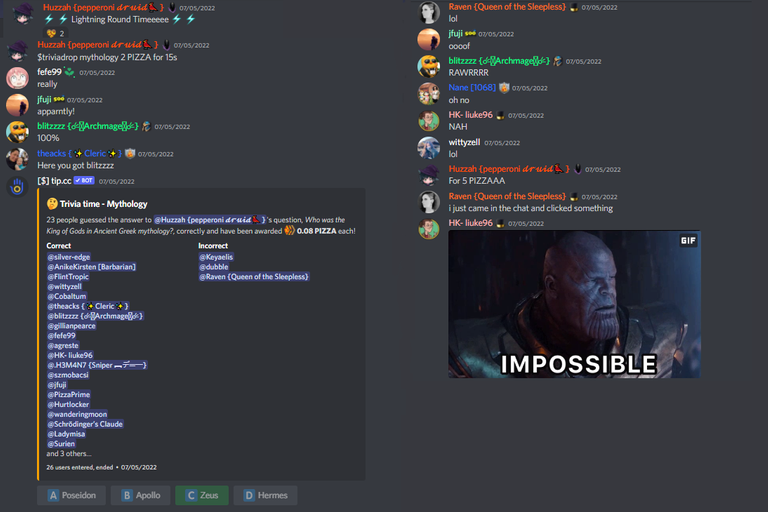 ---
We still had space for (dis)honor of the only solo incorrect answer for the night. "Congrats" @thaddeusprime 🤣
The fastest animal in the world... is the Cheetah my friend!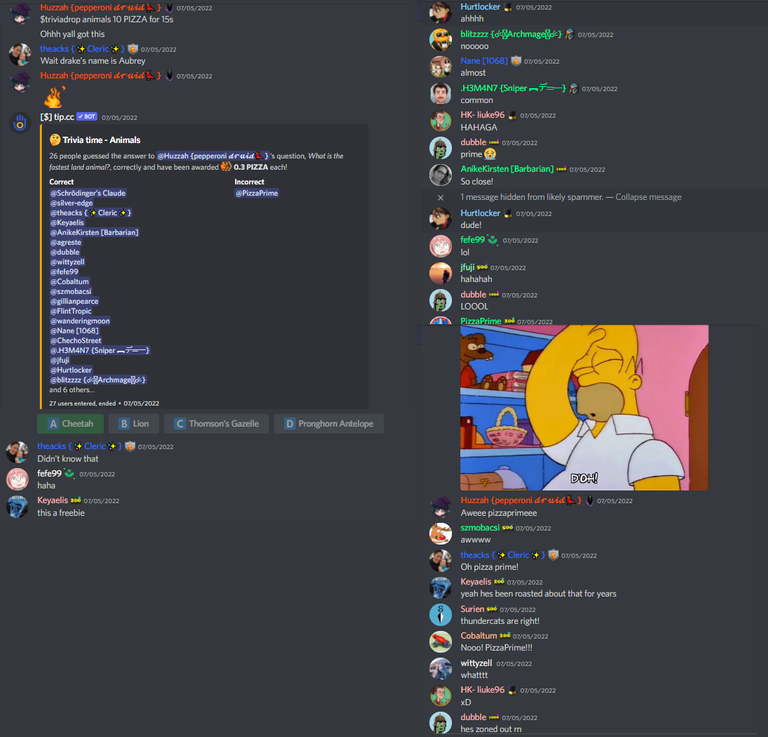 ---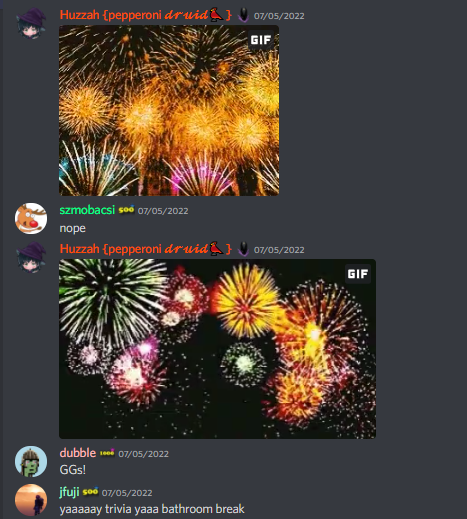 (were you really holding it all in just so you wouldn't miss a single question @jfuji) 😅
After an hour of really fun Trivia with lots of juicy Pizza tokens dropped to all participants, the next event lined up is ....
GARTIC!
---

✏️🖼️💭Games Night GARTIC✏️🖼️💭

On to the next event PIZZA Community Game Night. And the community game for today is... drumroll 🥁🥁🥁... GARTIC!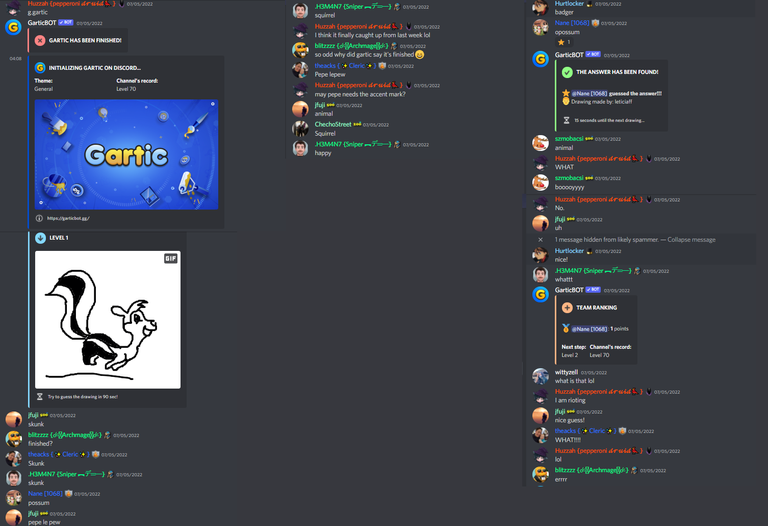 After last week's Gartic bot dying nonstop on us, we decided to give it another try. Other than a few odd messages from the bot, everything went smoothly this time round.
We were nearly felled by the opening question though. How on earth is that picture an opossum?
---
It ended up being a pretty good round, with us hitting level 61 before this seemingly obvious picture of a person playing basketball felled us. 😭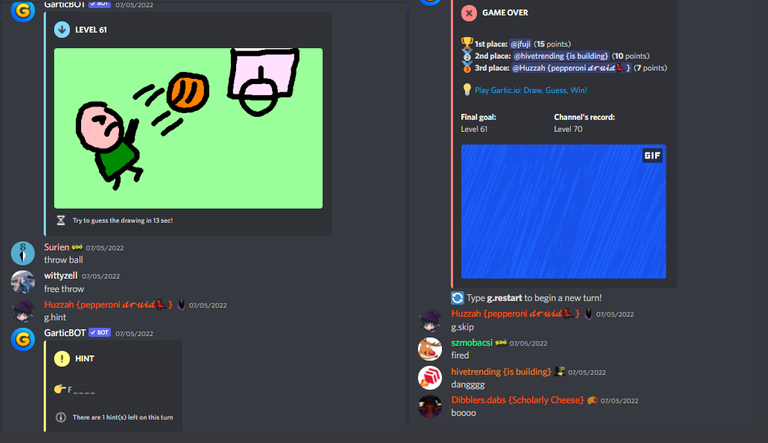 ---
Restarting turned out to be a fail with the first question itself proving to be a stumbling block. It was decided that the game be abandoned and restarted again to make a stab at a decent run 😜.

---
Another good attempt until this Not a Cheese picture left us dumbfounded again. Unfortunately, no records were broken tonight even though we came really close.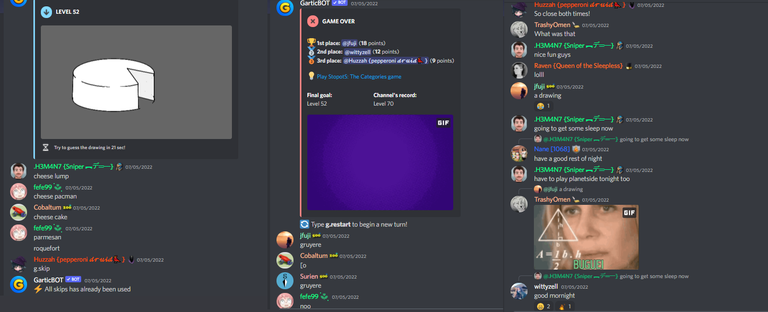 🎭All Good Things Must Come to an End🎭

Once again, Many Thanks to @huzzah and of course, everyone who took the time off to join us all in the community events. It is everyone having fun together that makes these events a success!
We've come to the end of our weekly Friday Night events. It's always a packed full house. Not interested in Trivia? Well, you can always hang out in the music channel just to listen to the tracks on PIZZA radio 😜. Or join in the conversation with the large number of people chatting all at once.
If you've missed this week, don't worry as there's always more happening in PIZZA, just hop on in and hang out with us. There're definitely more things happening throughout the entire weekend.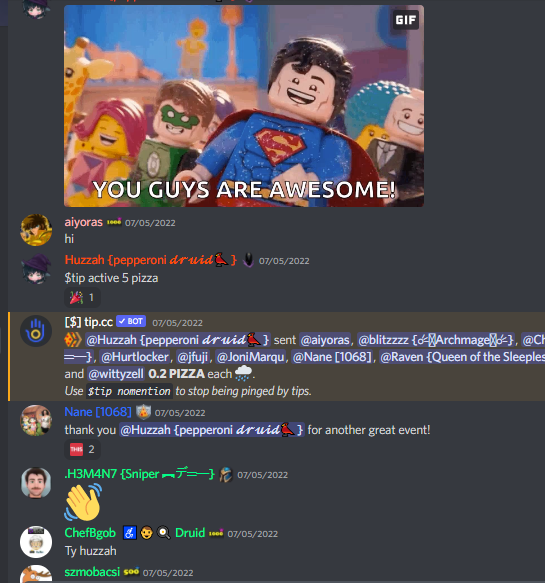 That's it for this episode of my PIZZA news. These are momentous times in PIZZA with a lot of plans forthcoming this year. In fact, I'd say that work on PIZZA is going at a breakneck pace! So don't miss out and come join PIZZA early to reap the benefits. I truly believe this is a multi-bagger project with amazing potential! 🍕🍕🍕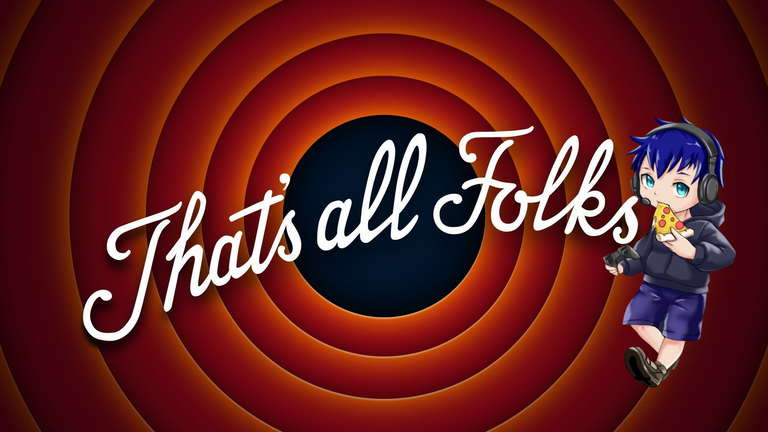 ✨✨✨This Week's Events✨✨✨


Over at PIZZA DISCORD, there are always loads of planned Events lined up (and even impromptu ones). The events listed here are localized to my Time Zone GMT +8. For the absolute latest updates, please check in the Pizza Discord.

---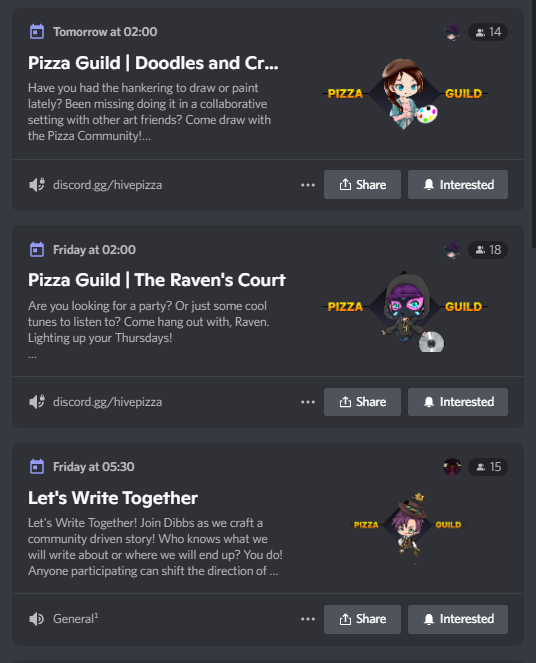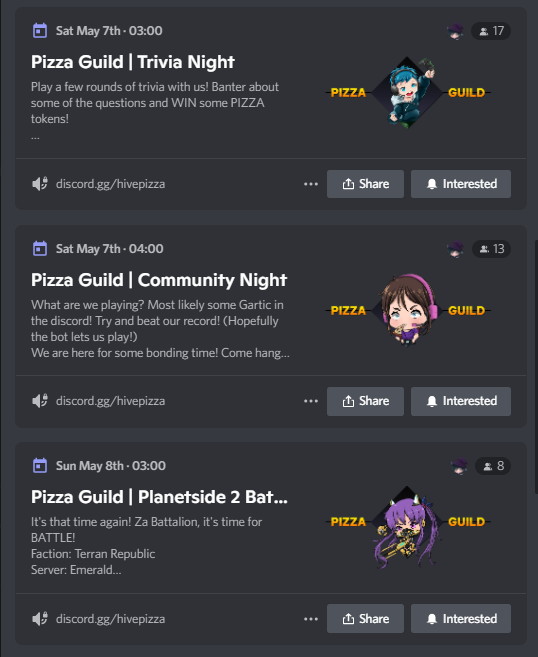 ---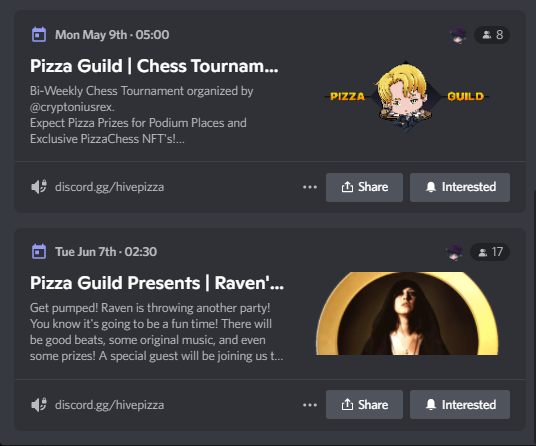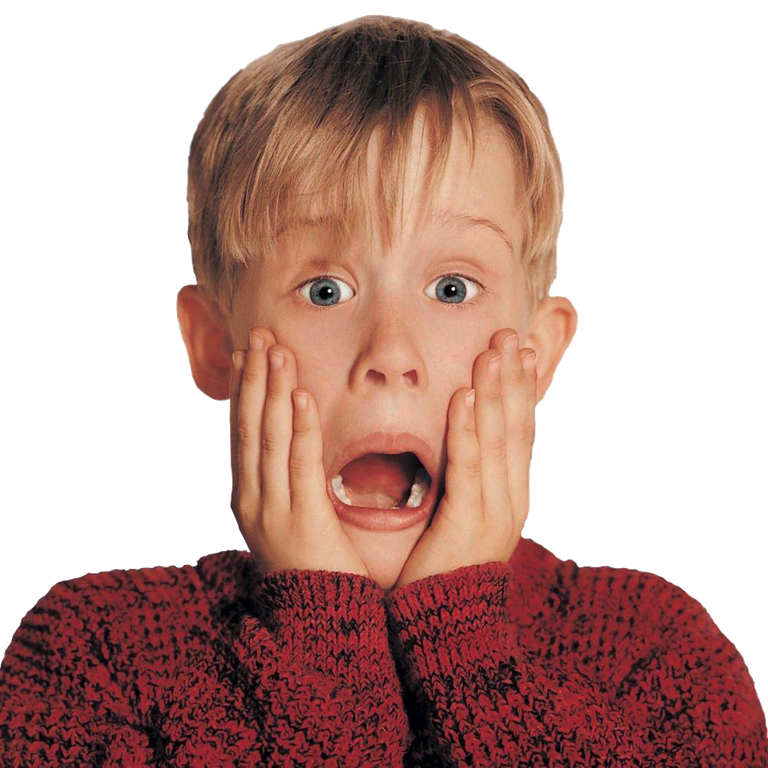 ---

🎁🎁🎁This Week's Contests & Giveaways🎁🎁🎁


A lot of FREE prizes up for grabs at the moment too! Don't miss out! 🎁🎁🎁💰💰💰 What are you waiting for? It's all here in the PIZZA DISCORD.
🤑💰🍕Added Bonus of PIZZA Token🤑💰🍕
-I will use my staked 🍕PIZZA🍕 to share a slice of 🍕PIZZA🍕 with anyone in the comments who also FOLLOWS & REBLOGS my post in the interests of spreading the Word of Pizza 🤣🤣🤣
-Just let me know if you've done that so I can double check and ensure I set aside some Resource Credits to reply back on your comments 👍
-Any fellow 🍕PIZZA🍕 connoisseurs who !PIZZA me will also receive 🍕PIZZA🍕 back from me. 😊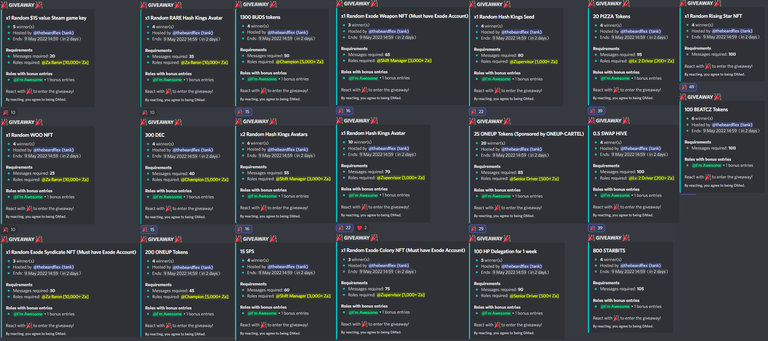 PIZZA is an active gaming and creative arts crypto community on the HIVE blockchain. Popular games on HIVE like SPLINTERLANDS, RISING STAR, EXODE, HASHKINGS, WOO, BANG!DEFENSE have their own PIZZA communities here.



Don't miss out more events that are always being organised. Join the PIZZA DISCORD. Even if you aren't interested in the 💰🍕🎁GIVEAWAYS & AIRDROPS💰🍕🎁, there is a vibrant and friendly community there awaiting you.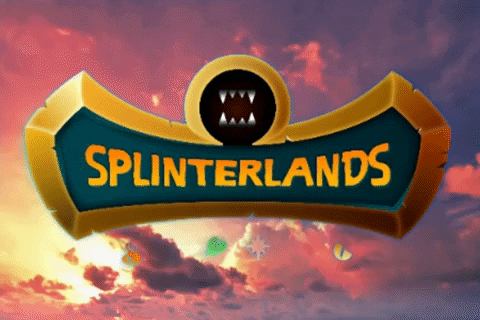 Here's to wishing everyone all the best for the upcoming week 🎉🍀.
To any new players who wish to explore the world of Splinterlands, do feel free to sign up with my REFERRAL LINK 😊.


---
---