🍕🍕🍕 Trivia & Gartic with PIZZA 🤔💭❌😵‍💫🤯 - Cycling and Swimming during Trivia??? 🚴🏻🏊🏻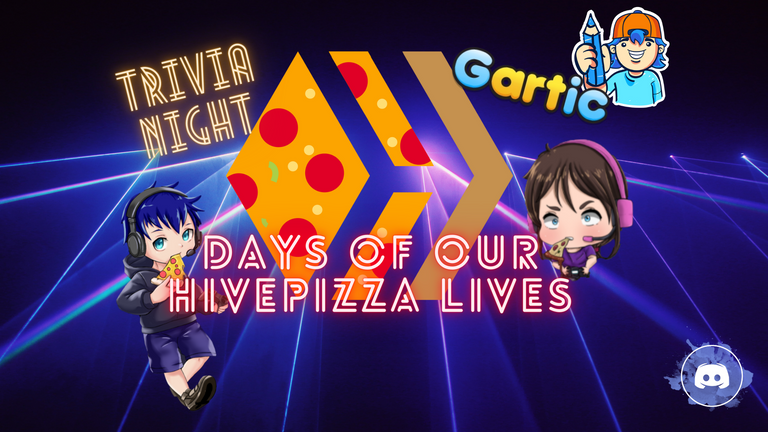 This is going to be a really delayed recap of our weekly PIZZA Trivia/Gartic event 😰😅. I've been away on a vacation as most of you regulars know, but I'm finally back! 😁 And not a moment too soon, considering the NEXT Trivia event is in a matter of hours! So for any new readers who've just come across this post, COME JOIN US!!! 🍕🍕🍕 You won't regret it, I promise 😜.
Anyway, back to a recap of our most anticipated (usually) event for the week - TRIVIA/GARTIC Nights! 🥳
---
For people who might be stumbling onto this for the first time, our events are a great time to generally have fun bonding over community activities with plenty of Pizza Tokens being given out to all participants too! 🍕🍕🍕🤑🤑🤑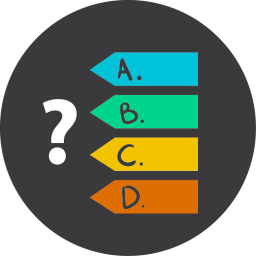 ---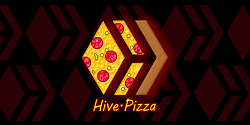 CLICK THIS LINK TO JOIN PIZZA DISCORD!!!
Never fear! Catch up on what you've missed with my brief (and hopefully entertaining) updates on the ins and outs of the PIZZA DISCORD🎉🥳🎊
As a BIG FAN of 🍕PIZZA🍕, I always suggest joining PIZZA DISCORD if you need a quick pickmeup. 👍 It's a friendly and helpful community with regular EVENTS, AIRDROPS of various crypto tokens, discussions of several GAMES on HIVE (Splinterlands, Rising Star, HashKings, Exode, WOO, BangDefense ...), MUSIC, ART, and even bits of FINANCE ... well I think you get the idea 😄

---

💭🤔💡Trivia Night💭🤔💡

---
We've got our Herald @huzzah , sounding the opening of the gates to the Events Kingdom 📯🔊.
But it's not going to be Huzzah hosting today. @thebeardflex has kidnapped our hostess off on some trip!!! 😜 @nane-qts to the rescue!
@bitcoinflood 😜 you don't need to be good in Trivia. Just go for the magic letter B!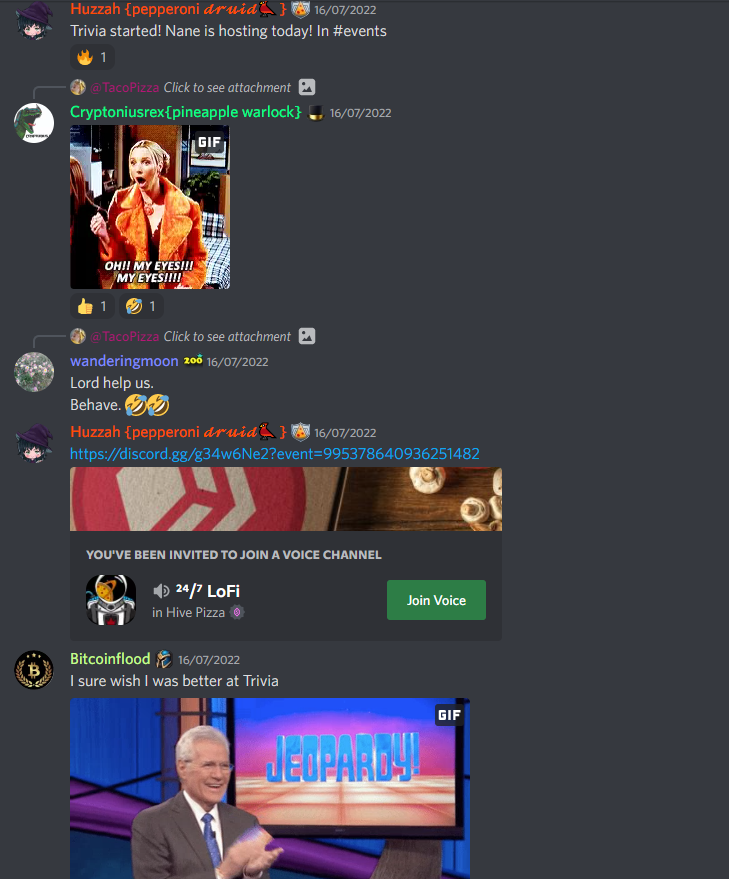 ---
@definethedollar is first in the channel. You got the Trivia event correct this time round 😉 after having confused Raven's event for Trivia previously.
Its interesting how you people can multitask while Trivia-ing 😜. @gillianpearce watching the Tour de France 🚴🏻, @wittyzell swimming? 🏊🏻🤯
Nope @hoosie, Witty's in Japan, not North Korea 🤣, although those 2 countries are pretty close.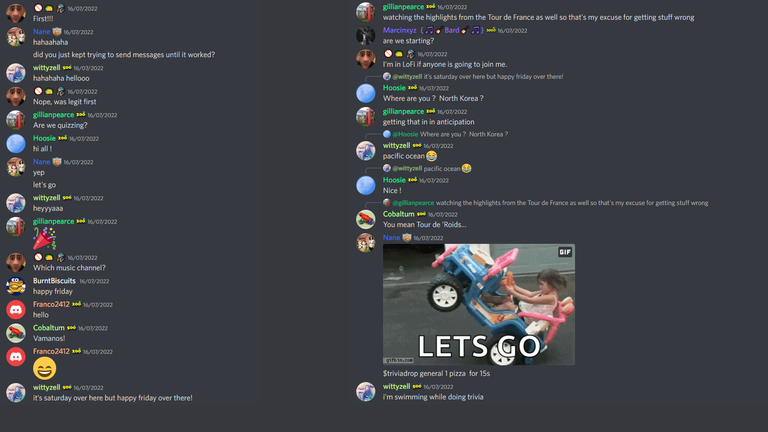 ---
And Nane flags off Trivia night!!! 🏁🏁🏁
Well, first question seemed to catch everyone off guard. With just 6 participants? 🤣 Everyone's busy with some sporting activity?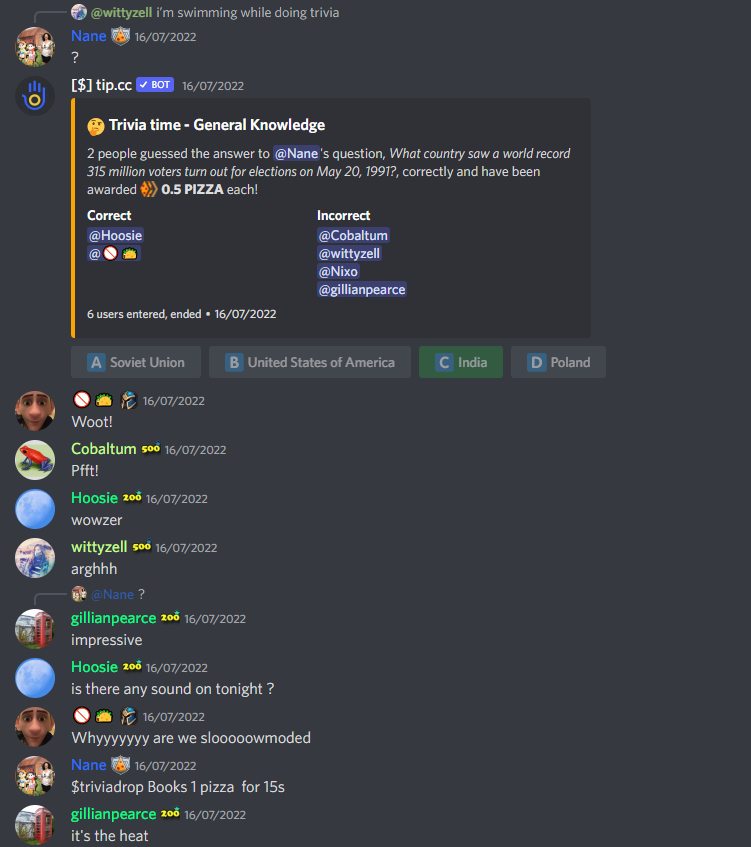 ---
Heh. @wittyzell @wanderingmoon You guys noticed I wasn't around 😜. Where's Blitzzzz? Yes, I'm on vacation. Unfortunately, I had one drink too many while on vacation and was pretty much knocked out 🍷😵. I actually REALLY intended to join in Trivia. I think my laptop was switched on and my discord status might have been online too.
Yes @chechostreet on vacation again unfortunately 😭. Contrary to popular belief, I don't like vacations. I prefer to sit in the comfort of my own home without having to go through the hassle of waiting at the airports.
@marcinxyz I wish crypto rewards/interests/airdrops could fund anything at all in my life 🤣. Right now, it doesn't even cover the amount of coffee I drink daily.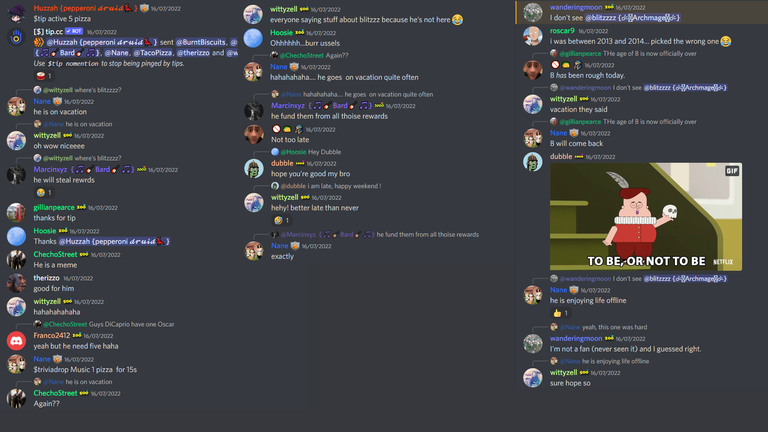 ---
Gillian seemed really pumped up for a 100% feat in Trivia. Unfortunately, the ONLY 100% of anything for the night was probably not what she intended 🤣. A perfect 100% "everyone is wrong" disaster.
Looks like nobody knows anything about Godzilla and his enemies. This was a repeat question btw, many many many months ago. I remember one of my Trivia posts talking about this exact same Godzilla and Anguirus question 😜.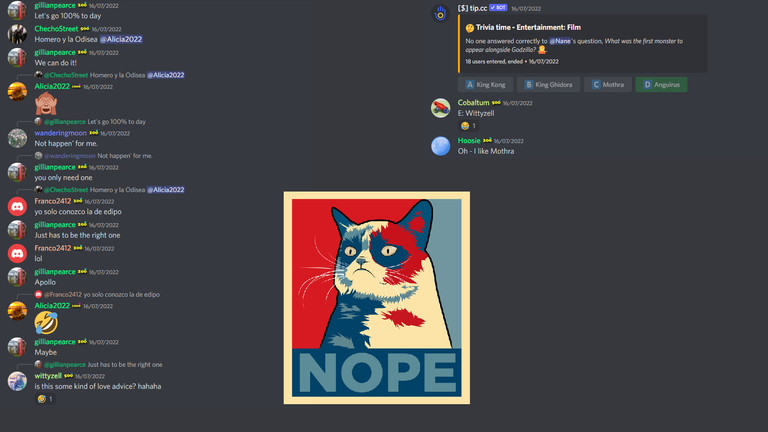 ---

✏️🖼️💭Games Night GARTIC✏️🖼️💭

---
On to the next event PIZZA Community Game Night. And the community game for today is... drumroll 🥁🥁🥁... GARTIC!
---
Hehe. @cobaltum, your fascination with @jfuji has hurt @donigarten's feelings. 💔💔💔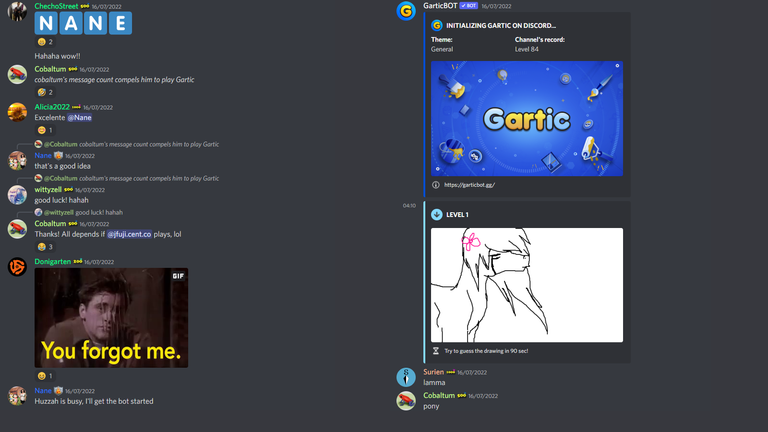 ---
The first attempt didn't go that well. Just 4 questions in and it's Game Over. ❌❌❌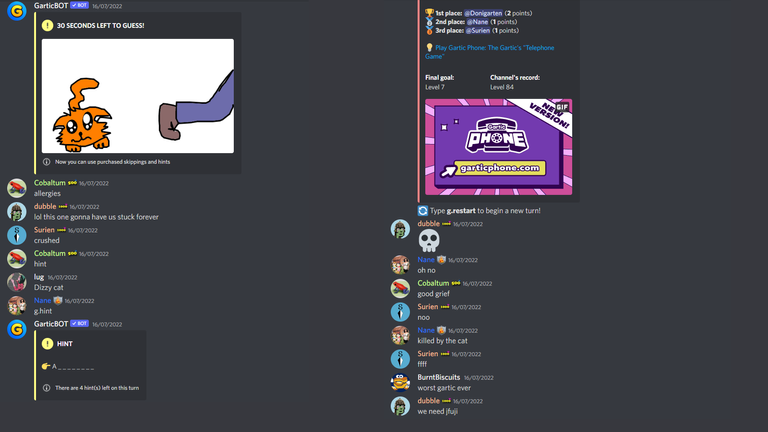 ---
Jfuji finally makes an appearance. But not for long. Looks like he won't be joining us because his lightning fingers doesn't work on mobile ⚡📱.
A better 2nd attempt but it still falls far short of our Gartic record.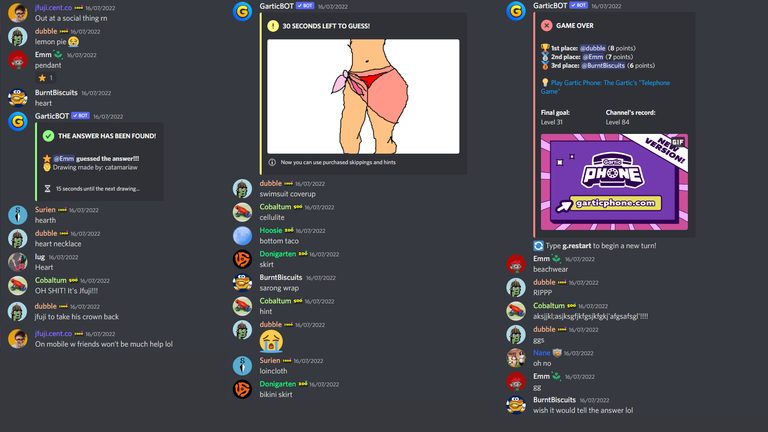 ---
2 more defeats and that's it for this week's Gartic attempts. The record will have to wait another day before it is surpassed.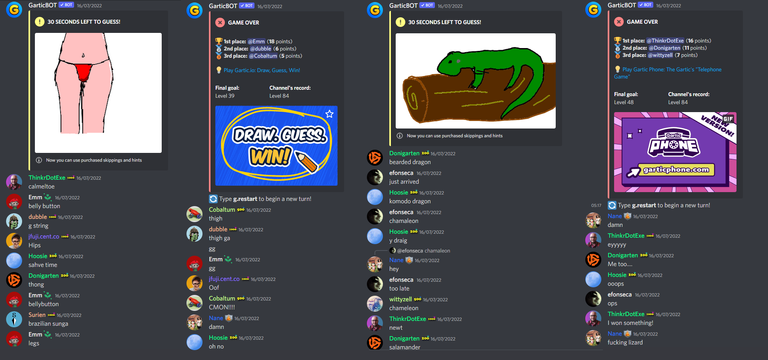 With that, we've come to the end of this week's Community Games "Trivia/Gartic" Night. A Big Thank You to Nane who was a more than able stand-in for Huzzah 🥳👍🏻 and congrats to those of you who lasted all the way till the end.
---

🎭All Good Things Must Come to an End🎭

---
Once again, Many Thanks to @nane-qts for hosting the events, and of course, everyone who took the time off to join us. It is everyone having fun together that makes these events a success!
We've come to the end of our weekly Friday Night events. It's always a packed full house. Not interested in Trivia? Well, you can always hang out in the music channel just to listen to the tracks on PIZZA radio 😜. Or join in the conversation with the large number of people chatting all at once.
If you've missed this week, don't worry as there's always more happening in PIZZA, just hop on in and hang out with us. There're definitely more things happening throughout the entire weekend.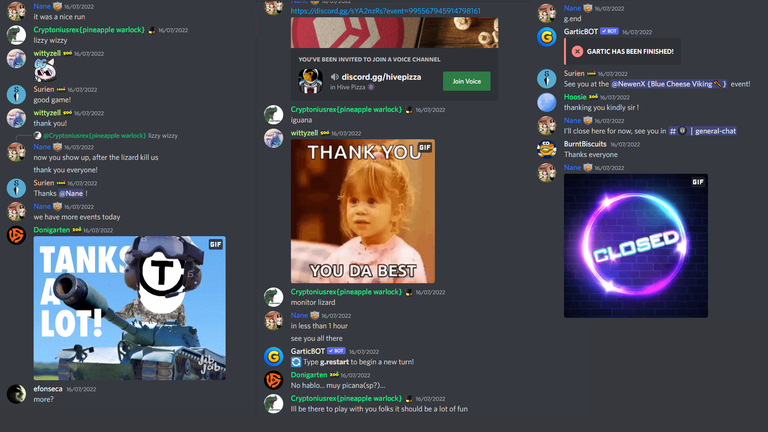 That's it for this episode of my PIZZA news. These are momentous times in PIZZA with a lot of plans forthcoming this year. In fact, I'd say that work on PIZZA is going at a breakneck pace! So don't miss out and come join PIZZA early to reap the benefits. I truly believe this is a multi-bagger project with amazing potential! 🍕🍕🍕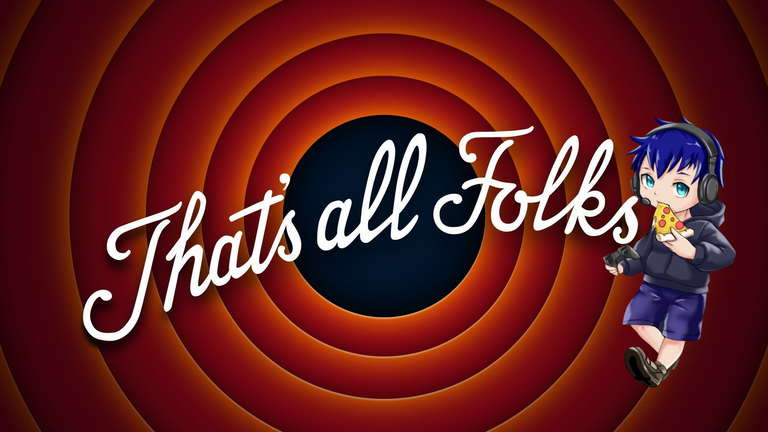 ---

✨✨✨This Week's Events✨✨✨


Over at PIZZA DISCORD, there are always loads of planned Events lined up (and even impromptu ones). The events listed here are localized to my Time Zone GMT +8. For the absolute latest updates, please check in the Pizza Discord.

---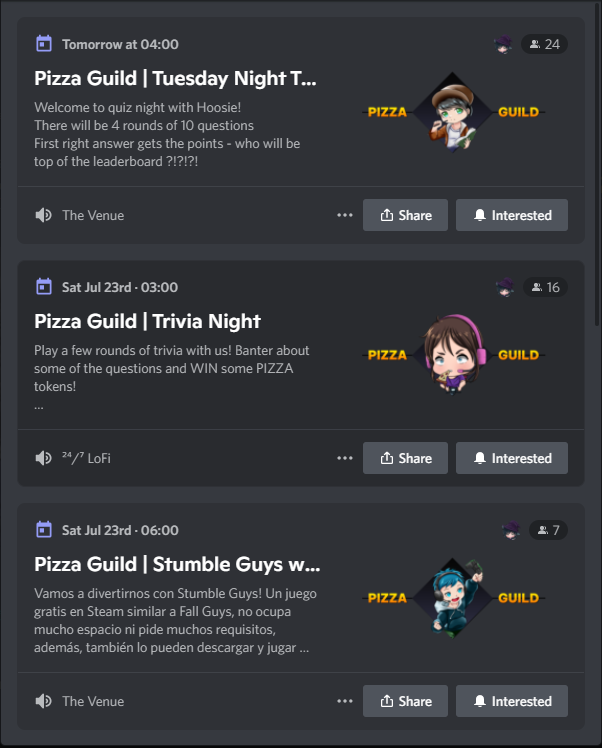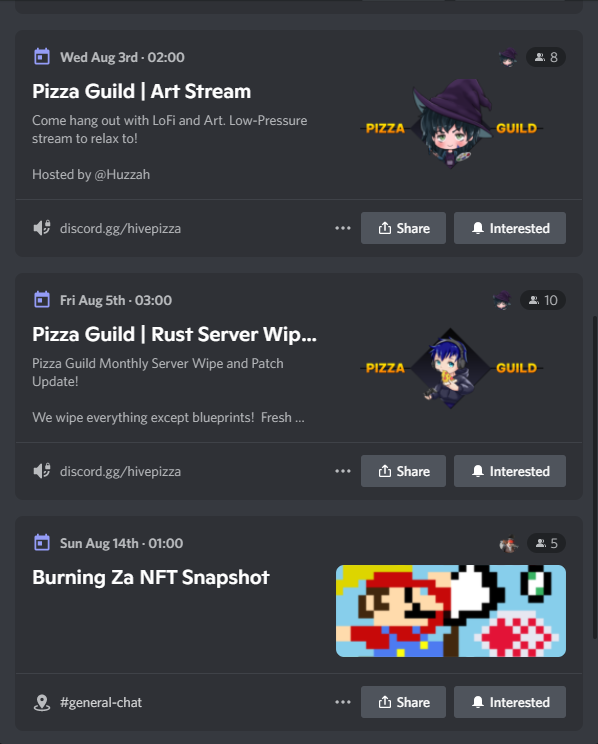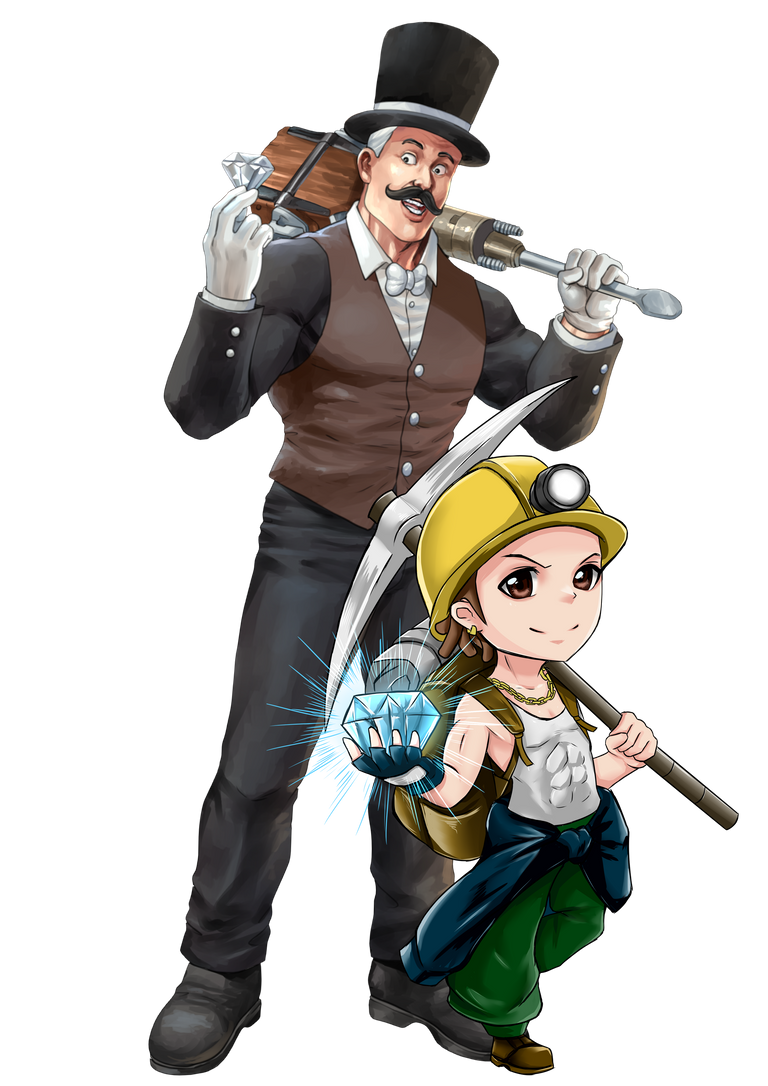 ---

🎁🎁🎁This Week's Contests & Giveaways🎁🎁🎁


A lot of FREE prizes up for grabs at the moment too! Don't miss out! 🎁🎁🎁💰💰💰 What are you waiting for? It's all here in the PIZZA DISCORD.
🤑💰🍕Added Bonus of PIZZA Token🤑💰🍕
-I will use my staked 🍕PIZZA🍕 to share a slice of 🍕PIZZA🍕 with anyone in the comments who also FOLLOWS & REBLOGS my post in the interests of spreading the Word of Pizza.
-Just let me know if you've done that so I can easily keep track. 👍
-Any fellow 🍕PIZZA🍕 connoisseurs who !PIZZA me will also receive 🍕PIZZA🍕 back from me. 😊

---
🍕🍕🍕🎁🎁🎁💰💰💰 PIZZA has weekly giveaways of NFTs from Rising Star, Exode, Hash Kings, WOO, not to mention several different types tokens, including PIZZA itself of course, and Oneup, DEC, Starbits, Buds, Utopis, AND several Steam game keys with values of up to $60!!! There's seriously so many prizes up for grabs EVERY WEEK that I can't keep listing it all down 😜 so go check out our Discord channel under #pizza-giveaways 🍕🍕🍕🎁🎁🎁💰💰💰

---

PIZZA is an active gaming and creative arts crypto community on the HIVE blockchain. Popular games on HIVE like SPLINTERLANDS, RISING STAR, EXODE, HASHKINGS, WOO, BANG!DEFENSE have their own PIZZA communities here.



Don't miss out more events that are always being organised. Join the PIZZA DISCORD. Even if you aren't interested in the 💰🍕🎁GIVEAWAYS & AIRDROPS💰🍕🎁, there is a vibrant and friendly community there awaiting you.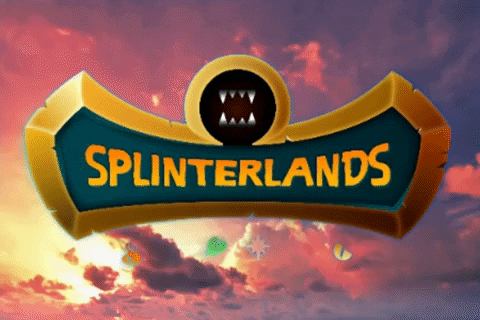 Here's to wishing everyone all the best for the upcoming week 🎉🍀.
To any new players who wish to explore the world of Splinterlands, do feel free to sign up with my REFERRAL LINK 😊.


---
---