🍕🍕🍕 Trivia & Gartic with PIZZA 🤔💭❌😵‍💫🤯 - Nerding out on Lovecraft and Tolkien lore. 📚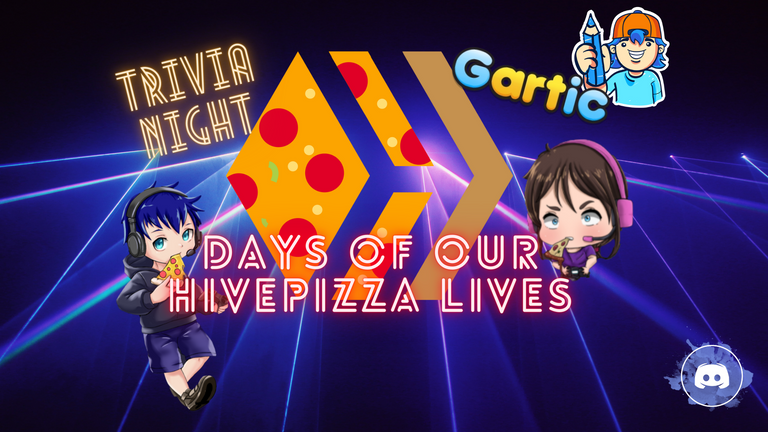 A Big HELLO to PIZZA fans! We're into the middle of the week now. The last few days saw yet another extraordinary HIVE pump from the Korean exchanges again (which probably earned quite a few of us a nice bit of spare change) 😜. For the uninitiated, PIZZA is a varied community and there is also a section on Finances if you're so inclined to join in the chat over there 🤑.
That being said, here's a quick recap on everyone's favourite event of the week (or last week to be more precise), Trivia/Gartic Community Games Night!
---
For people who might be stumbling onto this for the first time, our events are a great time to generally have fun bonding over community activities with plenty of Pizza Tokens being given out to all participants too! 🍕🍕🍕🤑🤑🤑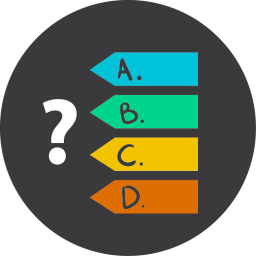 ---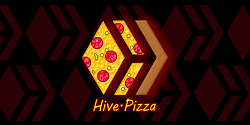 CLICK THIS LINK TO JOIN PIZZA DISCORD!!!
Never fear! Catch up on what you've missed with my brief (and hopefully entertaining) updates on the ins and outs of the PIZZA DISCORD🎉🥳🎊
As a BIG FAN of 🍕PIZZA🍕, I always suggest joining PIZZA DISCORD if you need a quick pickmeup. 👍 It's a friendly and helpful community with regular EVENTS, AIRDROPS of various crypto tokens, discussions of several GAMES on HIVE (Splinterlands, Rising Star, HashKings, Exode, WOO, BangDefense ...), MUSIC, ART, and even bits of FINANCE ... well I think you get the idea 😄

---

💭🤔💡Trivia Night💭🤔💡

---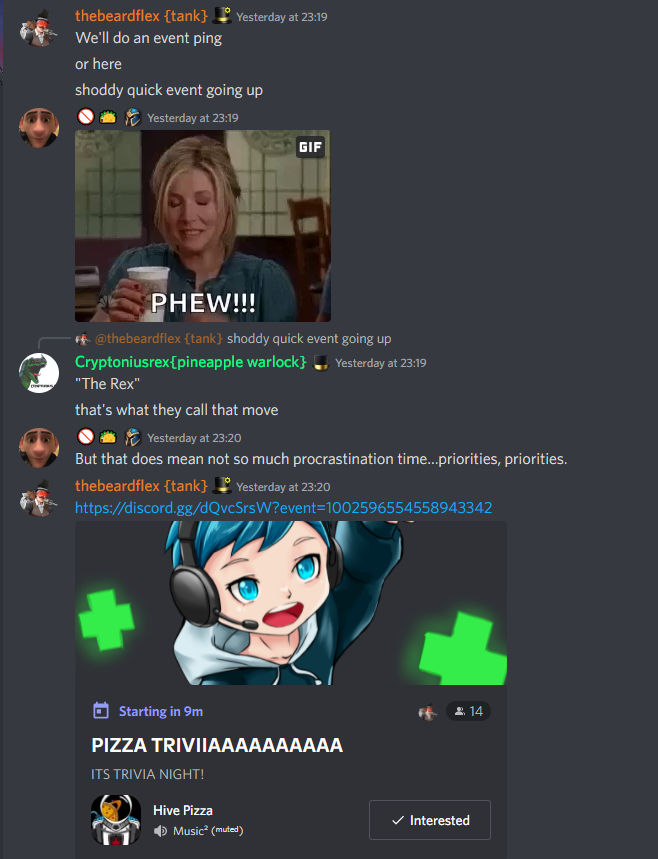 I think most of us are so used to the regular weekly events happening right on schedule that we don't even take note of the timetable of listed events.
I myself didn't realise Trivia wasn't listed for the week, but not to worry as @thebeardflex was simply too busy and forgot about it.
Something that's easily rectified right away 😁.
---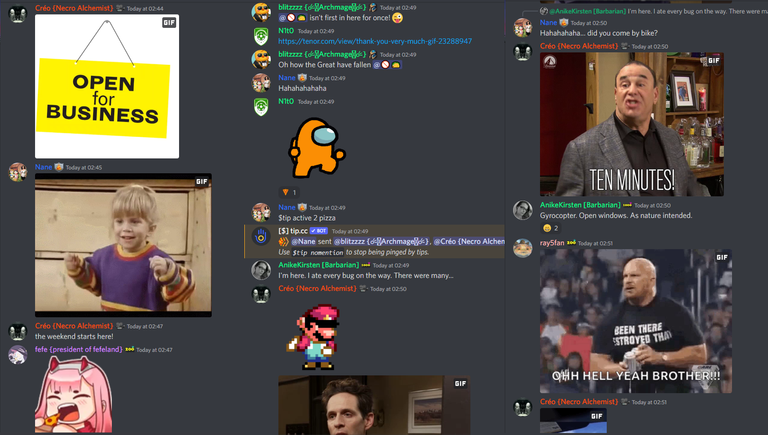 @creodas opened the doorway to the Events channel and, for once, @definethedollar wasn't the first in at all. In fact, he wasn't even one of the earliest few! Tsk. You disappoint me 😜.
@anikekirsten showed a lot of dedication rushing for Trivia. So much so that her belly was filled with bugs who smashed themselves into her speeding gyrocopter 🐛🚁💨, or so she claims 🤣.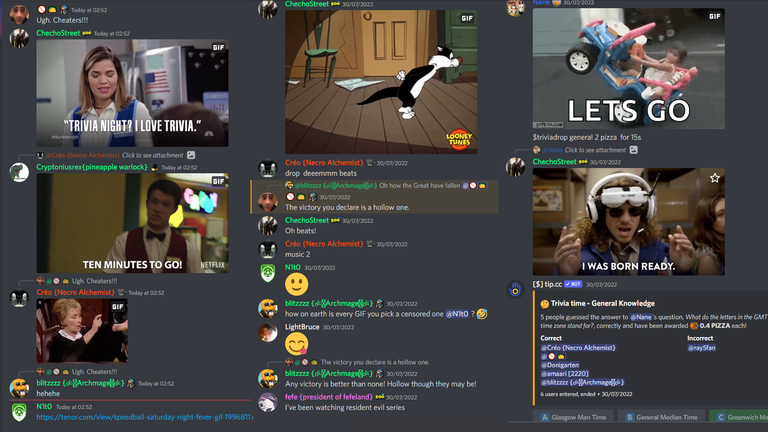 I've got no idea how every single GIF posted by @n1t0 ended up being censored. Was everything you chose really that NSFW? 🤯
@nane-qts was our hostess for the night, and the very first Trivia question fired off rewarded us with... a SOLO incorrect answer!
CONGRATULATIONS @ray5fan 😈.
---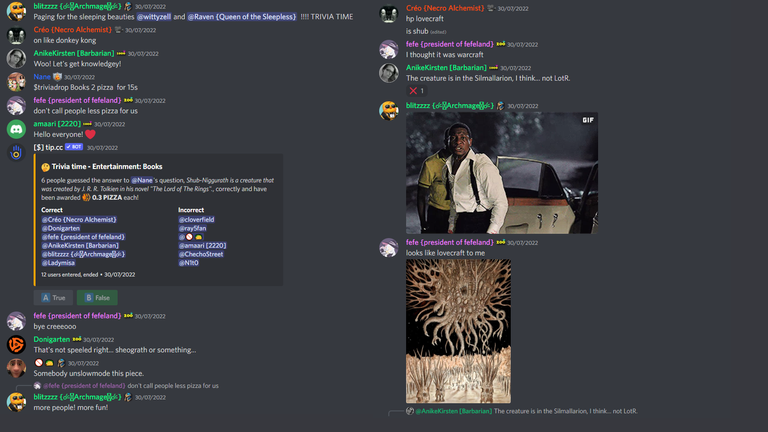 A customary ping for @wittyzell and @ravenmus1c was sent out by yours truly. The pattern of both of them either being present or absent together continues 🧐.
A seemingly innocuous Trivia quiz about Sub-Niggurath (from Lovecraft) and Lord of the Rings (Tolkien), would soon come to dominate the entire night's Trivia 😜.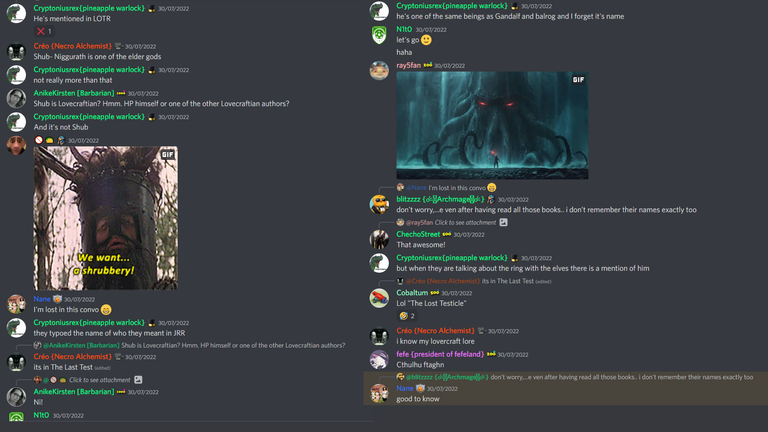 It sparked a REALLY LONG discussion of all things Lovecraft and Tolkien among @cryptoniusrex @creodas and @anikekirsten 🤣.
Well, the rest of us may have added in a little bit here and there, but they were the main culprits!
---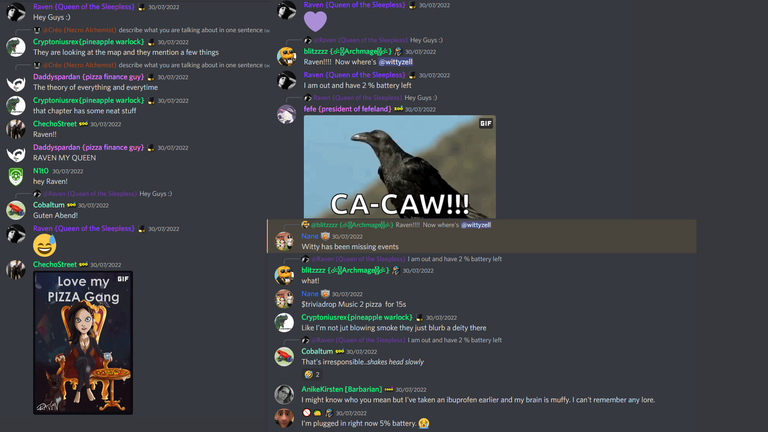 Raven popped in to say Hi. Then left us again with her excuse of being stranded out in the middle of nowhere with just 2% battery remaining.
You know, that's like the classic point in all horror movies where everything goes downhill from then on right? 😈
---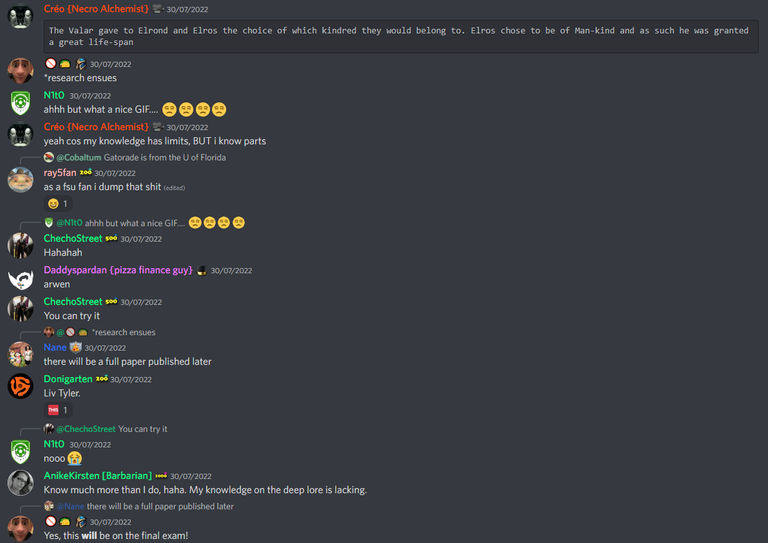 Remember what I said about Lovecraft and Tolkien? The discussion had gotten so in depth that Nane proposed publishing a paper on it by now 🤣.
definethedollar, being the teacher that he is, would go one step further and even put it on the final exams 😜.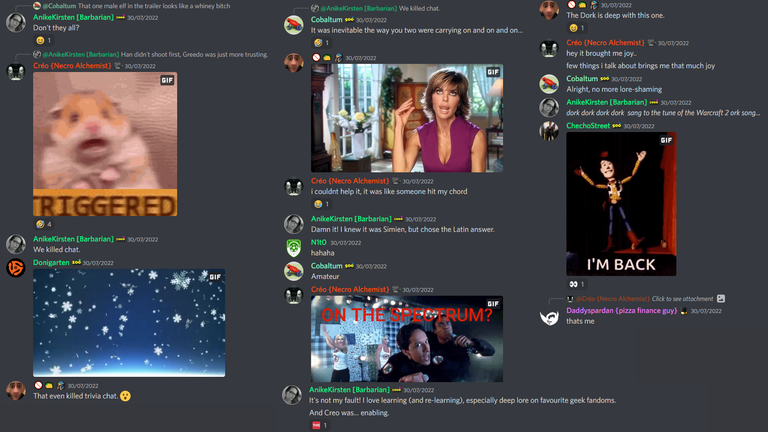 Well, more than 30 minutes into the event, and the talk of Elves and Elder Gods was still going strong! Too strong in fact, until all other chat died. "It was inevitable" as @cobaltum said. 🤣
(But we were all just saying it in jest 😜 please continue nerding out on lore, it really made for a good read! 😄)
---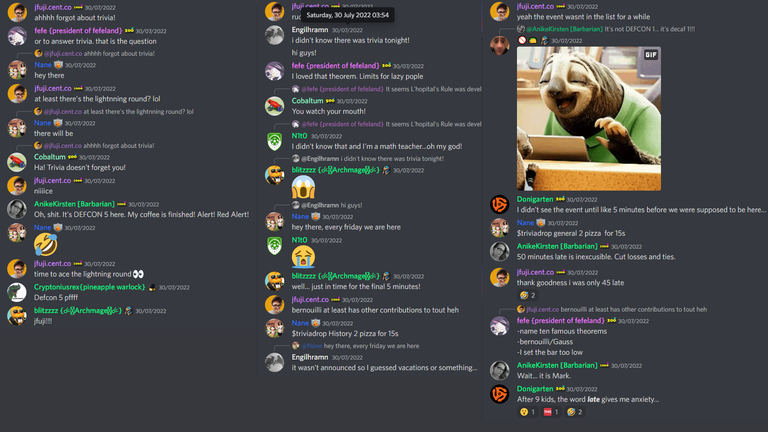 We welcomed our latecomers @jfuji and @engilhramn. Their lateness knows no bounds 😜 at 15 minutes and 5 minutes to the end of Trivia respectively. At least they would be just on time for Gartic?
We'll let them both off today though, with all the confusion about whether there was going to be any event since the event timetable wasn't updated till the very last minute.
---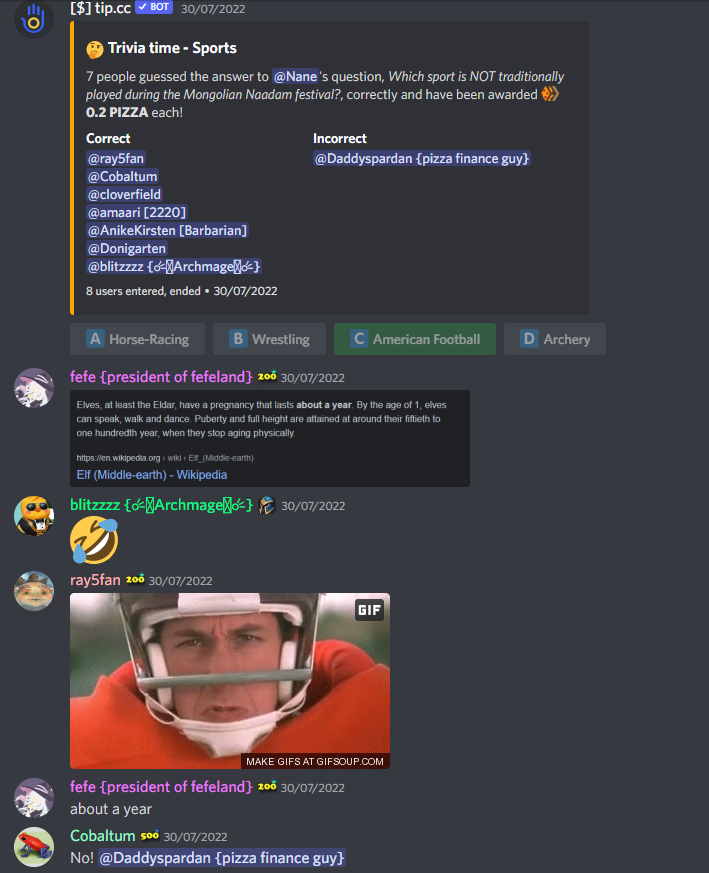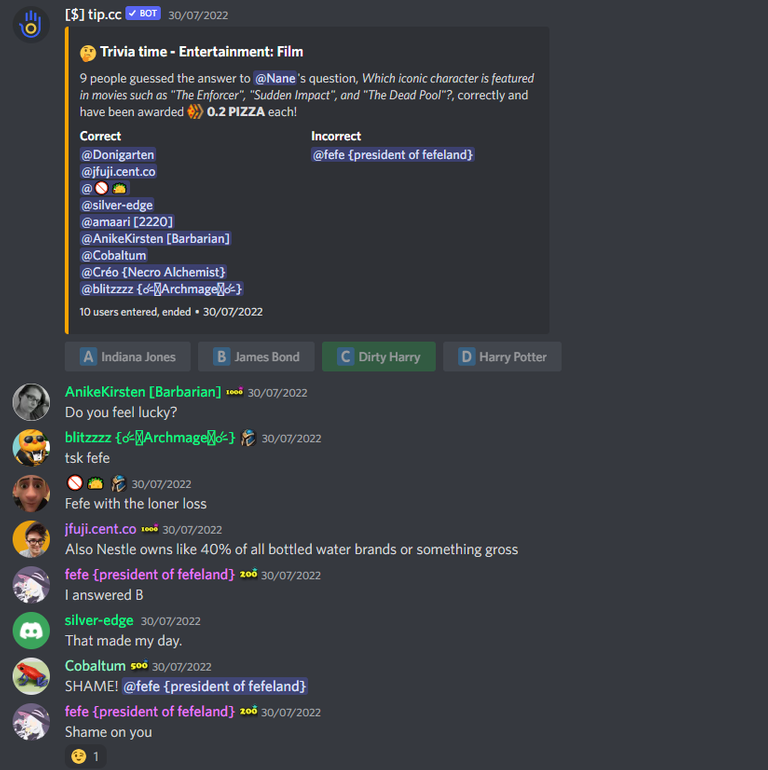 ---
Well, this round of Trivia was definitely memorable with it's refresher course of those classics which I read when I was young. 📚📚📚
To round it off, @dadspardan and @fefe99 joined in our Hall of Fame Shame for being the 2 others who got a solo incorrect answer to make a total of 3 for the night. Unfortunately, there were no Solo Winners or 100% correct answers this time round.
I'll just blame it on the Elves and Elder Gods 😝.
Let's move on to Gartic now.
---

✏️🖼️💭Games Night GARTIC✏️🖼️💭

---
On to the next event PIZZA Community Game Night. And the community game for today is... drumroll 🥁🥁🥁... GARTIC!
---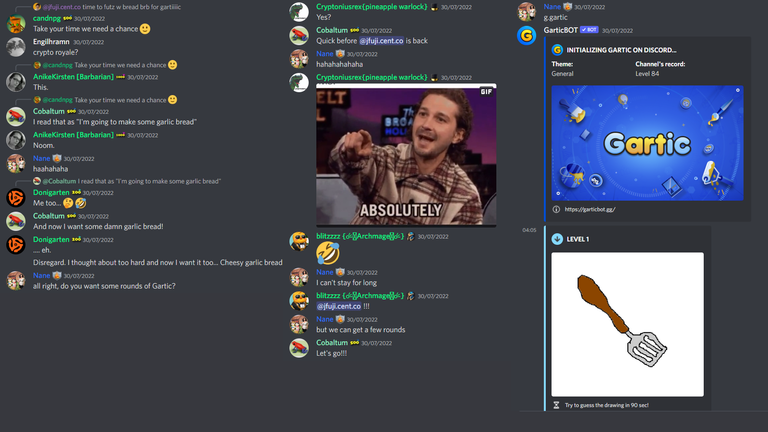 As always, Jfuji's prodigious ability in Gartic is infamous among us in PIZZA. @candnpg and @cobaltum are willing to do anything to get a headstart on him 😜.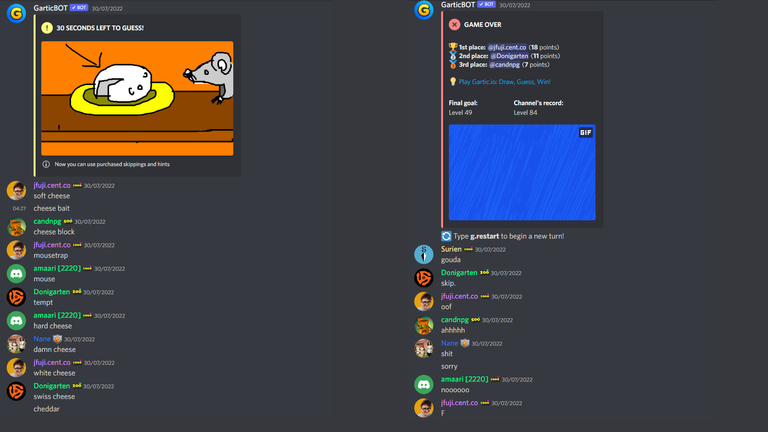 The first attempt was rather decent, albeit with no records broken. Jfuji finished ahead of the pack even though he had given everyone a headstart earlier on 🤣. @donigarten did give him a run for his money though.
The 2nd (and final) round was an utter failure though 🤣, ending after ONE correct guess. Even in defeat, Jfuji was victorious, with this solo score of his. 😱 I guess that's why he's PIZZA's Master of Gartic. 🏆
We had to call it a day slightly earlier than usual as Nane had an appointment coming up.
With that, we've come to the end of this week's Community Games "Trivia/Gartic" Night. A Big Thank You to Nane who was a more than able stand-in for Huzzah 🥳👍🏻 and congrats to those of you who lasted all the way till the end.
---

🎭All Good Things Must Come to an End🎭

---
Once again, Many Thanks to @nane-qts for hosting the events, and of course, everyone who took the time off to join us. It is everyone having fun together that makes these events a success!
We've come to the end of our weekly Friday Night events. It's always a packed full house. Not interested in Trivia? Well, you can always hang out in the music channel just to listen to the tracks on PIZZA radio 😜. Or join in the conversation with the large number of people chatting all at once.
If you've missed this week, don't worry as there's always more happening in PIZZA, just hop on in and hang out with us. There're definitely more things happening throughout the entire weekend.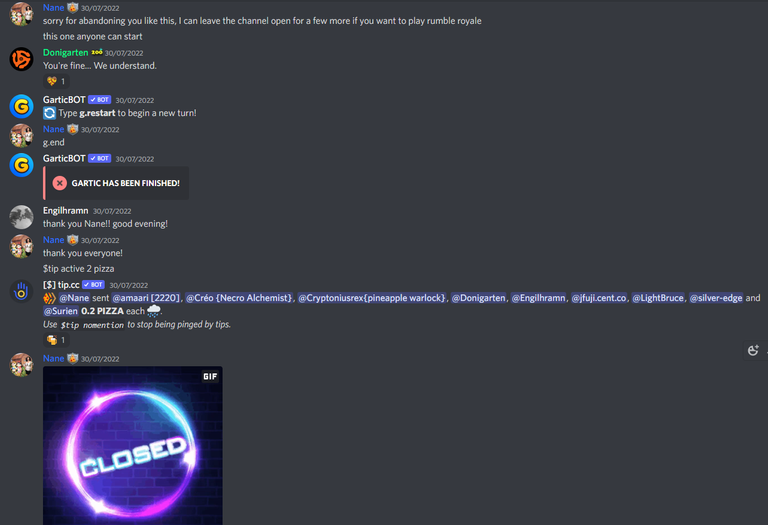 That's it for this episode of my PIZZA news. These are momentous times in PIZZA with a lot of plans forthcoming this year. In fact, I'd say that work on PIZZA is going at a breakneck pace! So don't miss out and come join PIZZA early to reap the benefits. I truly believe this is a multi-bagger project with amazing potential! 🍕🍕🍕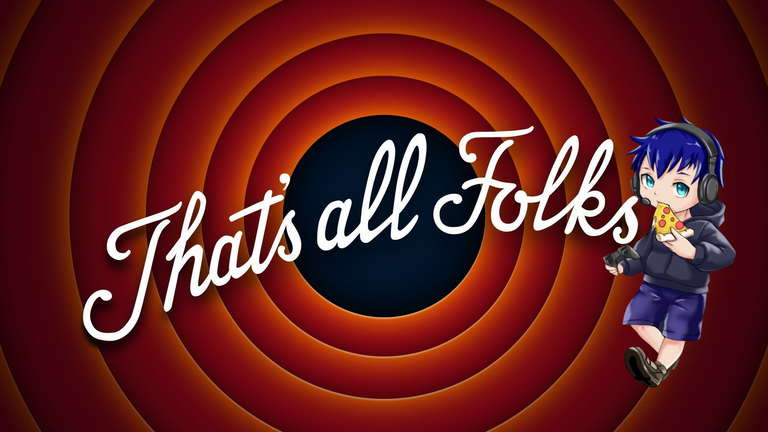 ---

✨✨✨This Week's Events✨✨✨


Over at PIZZA DISCORD, there are always loads of planned Events lined up (and even impromptu ones). The events listed here are localized to my Time Zone GMT +8. For the absolute latest updates, please check in the Pizza Discord.

---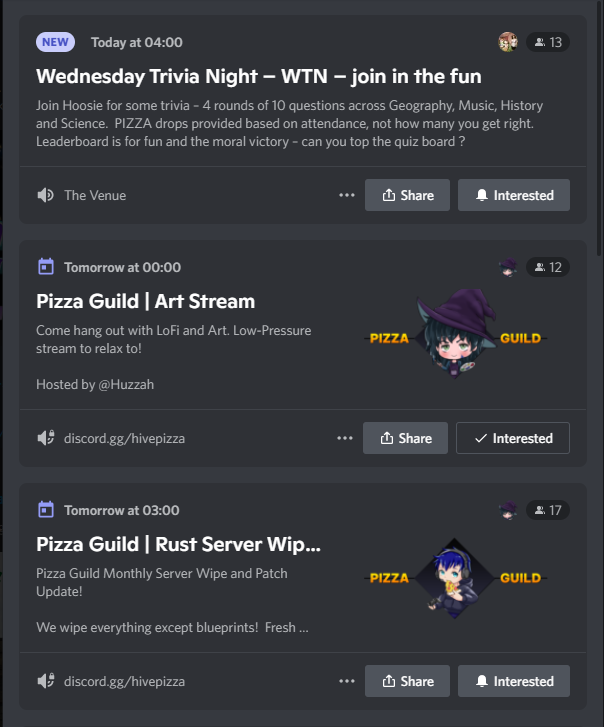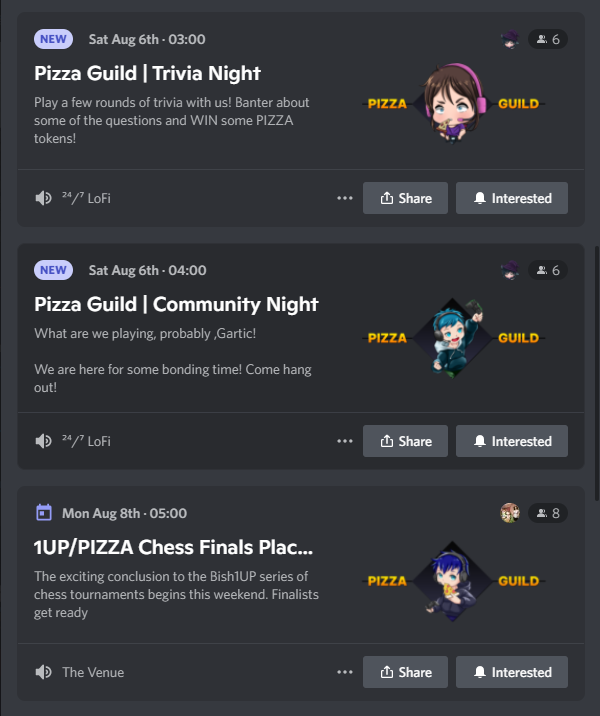 ---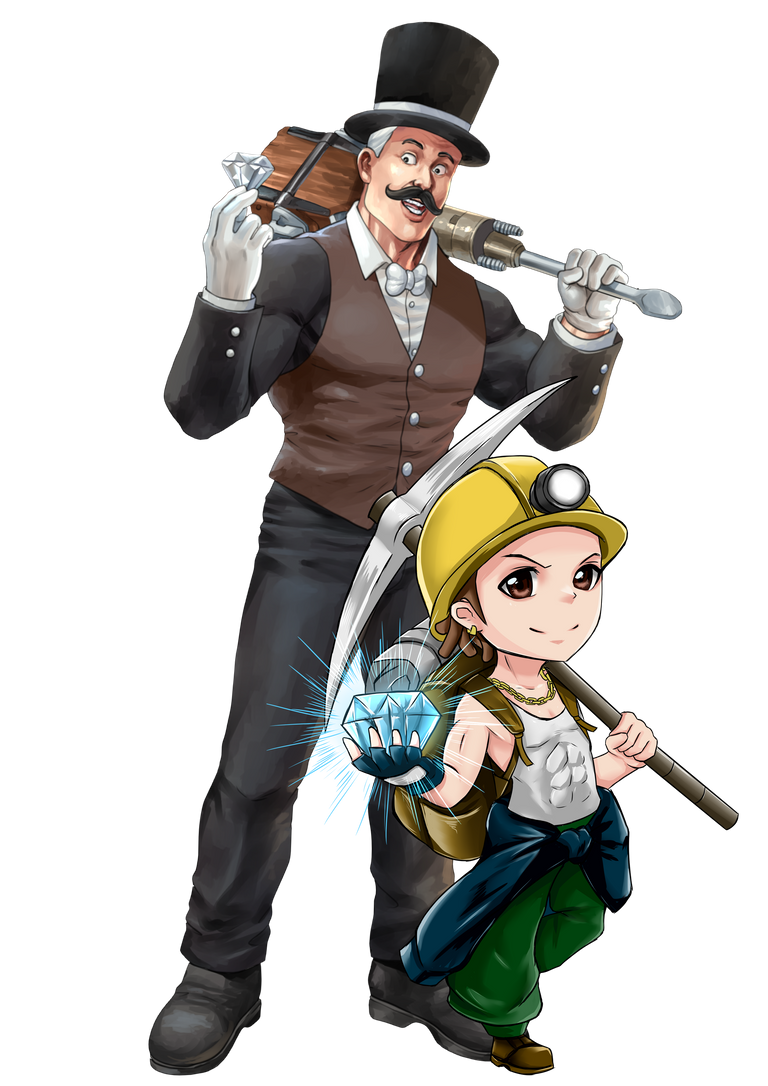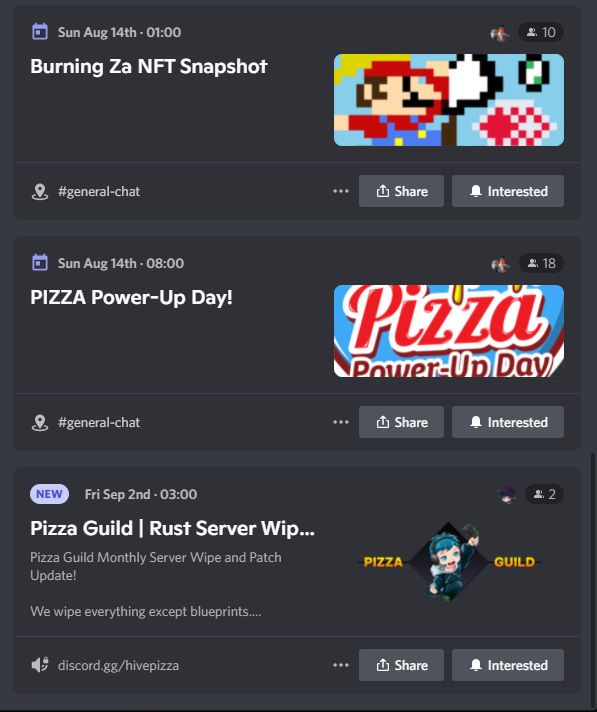 ---

🎁🎁🎁WEEKLY Contests & Giveaways🎁🎁🎁


A lot of FREE prizes up for grabs at the moment too! Don't miss out! 🎁🎁🎁💰💰💰 What are you waiting for? It's all here in the PIZZA DISCORD.
🤑💰🍕Added Bonus of PIZZA Token🤑💰🍕
-I will use my staked 🍕PIZZA🍕 to share a slice of 🍕PIZZA🍕 with anyone in the comments who also FOLLOWS & REBLOGS my post in the interests of spreading the Word of Pizza.
-Just let me know if you've done that so I can easily keep track. 👍
-Any fellow 🍕PIZZA🍕 connoisseurs who !PIZZA me will also receive 🍕PIZZA🍕 back from me. 😊
🍕🎁💰 PIZZA has weekly giveaways of NFTs from Rising Star, Exode, Hash Kings, WOO, not to mention several different types tokens, including PIZZA itself of course, and Oneup, DEC, Starbits, Buds, Utopis, AND several Steam game keys with values of up to $60!!! There's seriously so many prizes up for grabs EVERY WEEK that I can't keep listing it all down 😜 so go check out our Discord channel under #pizza-giveaways 🍕🎁💰

---

PIZZA is an active gaming and creative arts crypto community on the HIVE blockchain. Popular games on HIVE like SPLINTERLANDS, RISING STAR, EXODE, HASHKINGS, WOO, BANG!DEFENSE have their own PIZZA communities here.



Don't miss out more events that are always being organised. Join the PIZZA DISCORD. Even if you aren't interested in the 💰🍕🎁GIVEAWAYS & AIRDROPS💰🍕🎁, there is a vibrant and friendly community there awaiting you.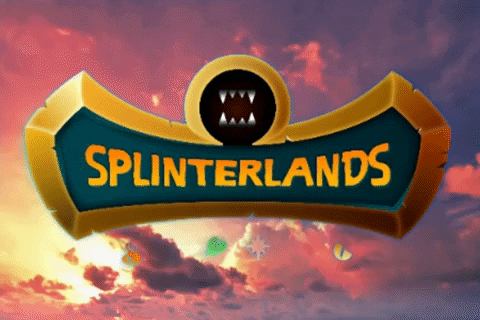 Here's to wishing everyone all the best for the upcoming week 🎉🍀.
To any new players who wish to explore the world of Splinterlands, do feel free to sign up with my REFERRAL LINK 😊.


---
---