🍕🍕🍕 Trivia & Gartic with PIZZA 🤔💭❌😵‍💫🤯 - Playing Settlers of Catan tied up with ropes???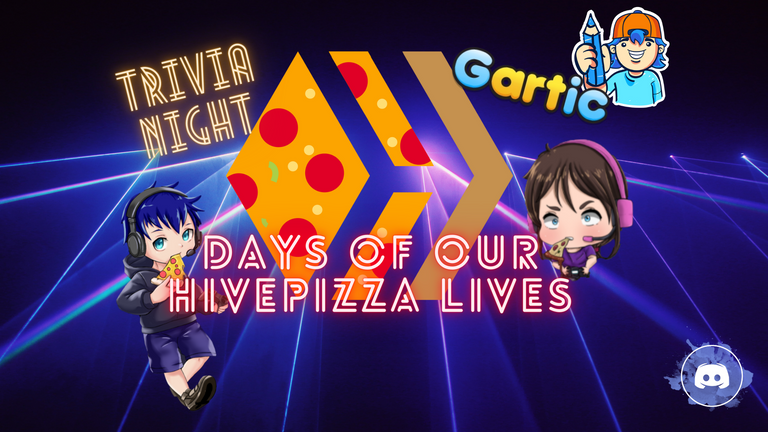 Hello PIZZA Fam! It's already the middle of the week and time for a quick recap of our main event during the past weekend 😁. Of course, I'm referring to everyone's favourite event of the week (or last week to be more precise), Trivia/Gartic Community Games Night! 🍕🍕🍕
Community Games Night has probably been the longest running PIZZA event ever since I joined, and I'm really surprised at the consistency at which we've managed to keep it going. 👍🏻🥳
Speaking of which, there is a NEW EVENT after every Trivia/Gartic Community Night catering to the Spanish language speaking PIZZA community. It has been ongoing for the past 2-3 weeks now, and is hosted by none other than @newenx. Do join in too if that interests you! 😊
---
For people who might be stumbling onto this for the first time, our events are a great time to generally have fun bonding over community activities with plenty of Pizza Tokens being given out to all participants too! 🍕🍕🍕🤑🤑🤑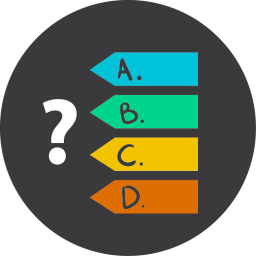 ---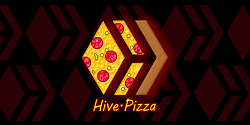 CLICK THIS LINK TO JOIN PIZZA DISCORD!!!
Never fear! Catch up on what you've missed with my brief (and hopefully entertaining) updates on the ins and outs of the PIZZA DISCORD🎉🥳🎊
As a BIG FAN of 🍕PIZZA🍕, I always suggest joining PIZZA DISCORD if you need a quick pickmeup. 👍 It's a friendly and helpful community with regular EVENTS, AIRDROPS of various crypto tokens, discussions of several GAMES on HIVE (Splinterlands, Rising Star, HashKings, Exode, WOO, BangDefense ...), MUSIC, ART, and even bits of FINANCE ... well I think you get the idea 😄

---

💭🤔💡Trivia Night💭🤔💡

---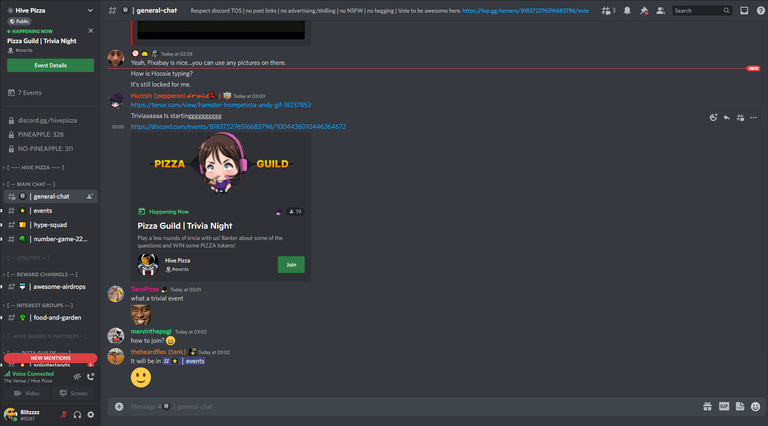 @huzzah was finally back as our Event announcer and hostess! 📯🔊 Welcome Back from wherever it was @thebeardflex kidnapped you off to for the past few weeks 😜.
---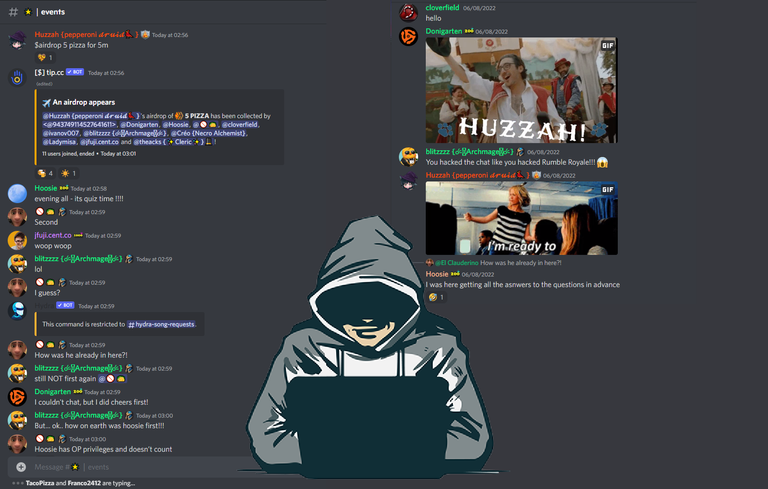 As the Events channel opened, @definethedollar correctly noted that somehow, @hoosie managed to sneak in before anyone else to claim "FIRST"! (Which also means you lost out again Claude 🤣😜)
How are you doing this Hoosie?! First it was winning Rumble Royale nonstop, and now it's entering into the chat channels before they're even opened! 🤔 That's most suspicious indeed, 😜
---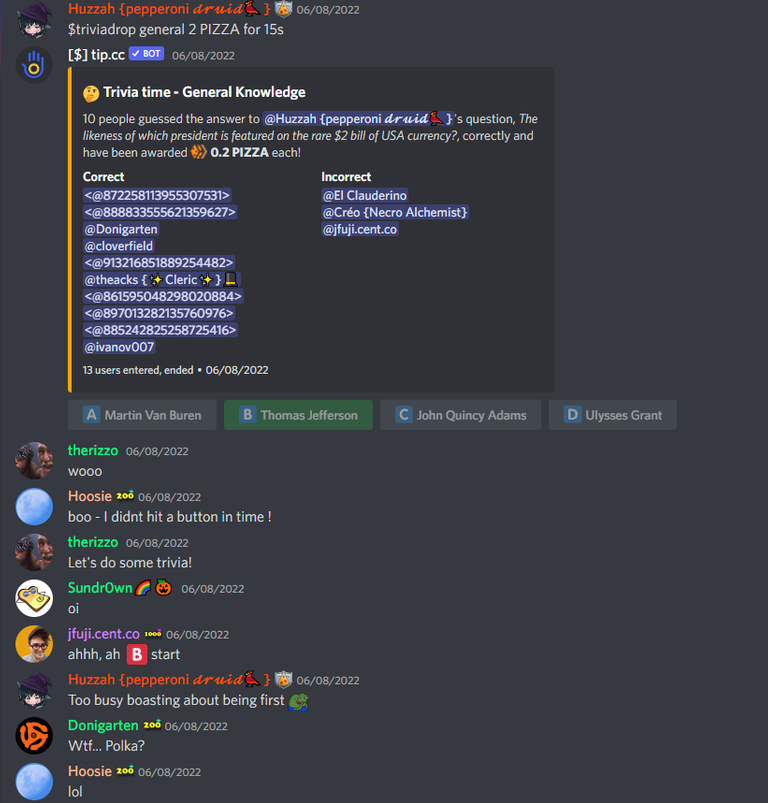 Well, unfortunately, all the pre Trivia preparation plans cooked up by Hoosie still didn't help in answering the first Trivia quiz of the night 🤣.
The best laid plans are all for naught - if you don't even manage to click on any of the answers!
---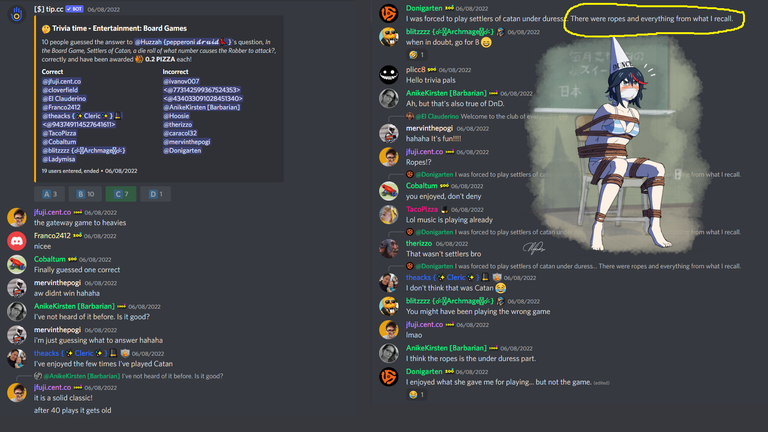 A routine Settlers of Catan question brought up some really unexpected revelations. Nope, it's not about @anikekirsten not hearing about this game before 😉, although as @jfuji said, it is a pretty good one as boardgames go.
BUT...
@donigarten, I REALLY think you might have been playing the wrong game. 😉 I'm almost 100% positive that Settlers of Catan does not involve ropes and bondage of any kind throughout the base game and ALL it's expansions. @therizzo and @theacks can verify that too.
Oh well, at least you enjoyed it, just as @cobaltum expected 🤣.
---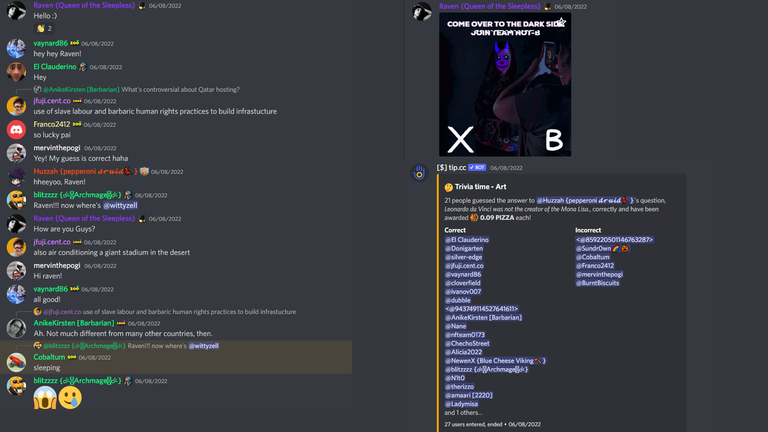 @ravenmus1c finally appeared this week, and she wasn't stuck in the middle of nowhere with a near dead phone this time round. @wittyzell however, broke with tradition and didn't show up at all this week! 😱 So much for the correlation between Raven and Witty's attendances. Even towards the end of Trivia, scanning through all the participants did not show Witty amongst any of them. 😭
On a note, Raven has come up with a horrific "join the anti-B league" GIF.
---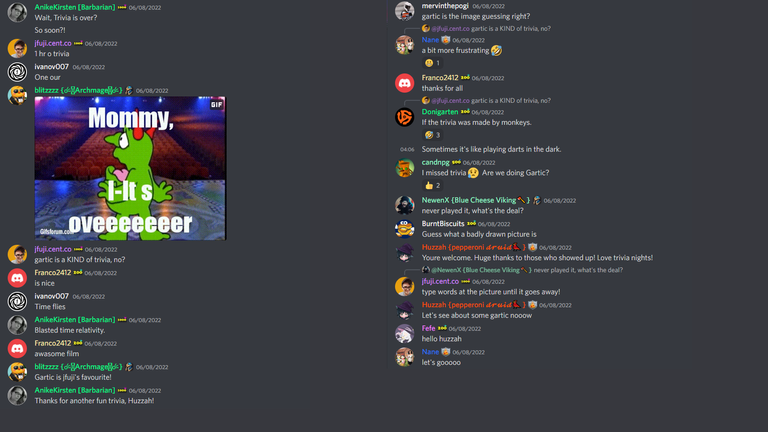 Time does indeed fly past when we're having fun, as evidenced by quite a few of us getting caught by surprise to know that Trivia had come to an end.
@mervinthepogi, oh my sweet summer child, Gartic "JUST" an image guessing game eh? 😈 Wait till you experience the curveballs and craptacular drawings being thrown at you.
A few latecomers have arrived just in time for Gartic, or did they specially plan to only play Gartic? @fefe99 @candnpg 😏 If that's so, it looks like you've got a big target on your back Jfuji. 🎯
---

✏️🖼️💭Games Night GARTIC✏️🖼️💭

---
On to the next event PIZZA Community Game Night. And the community game for today is... drumroll 🥁🥁🥁... GARTIC!
---
Time to kick off "guess words for stupid pics" as Raven so eloquently put it. 🤣
A very obvious Chicken to help everyone off to an easy start. 🐔🐔🐔
---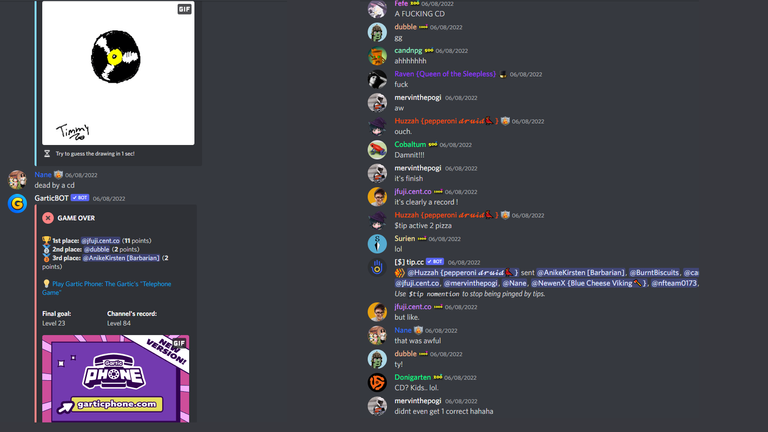 And the first round ends with a rather quick defeat.
@mervinthepogi looks like he's got his baptism of fire 🔥. All those Gartic pros (especially Jfuji) firing off their answers with lightning quick fingers! Fortunately, Gartic is a team game and individual scores don't count for much here 🤣.
---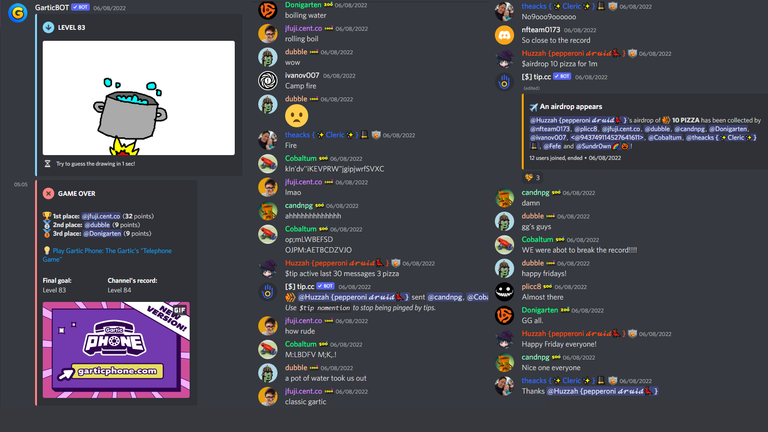 The restart proved to be much better. In fact, we were just ONE question away from drawing level with the current record! 😱 That magical level 84 was just tantalizingly beyond everyone's reach however. 🤣 A deceptively simple picture of a "boiling pot of water under a fire" felled the great PIZZA guild.
It was a good run though, I'm sure you guys will break past that record sooner rather that later.
With that, we've come to the end of this week's Community Games "Trivia/Gartic" Night. A Big Thank You to Huzzah 🥳👍🏻 and congrats to those of you who lasted all the way till the end.
---

🎭All Good Things Must Come to an End🎭

---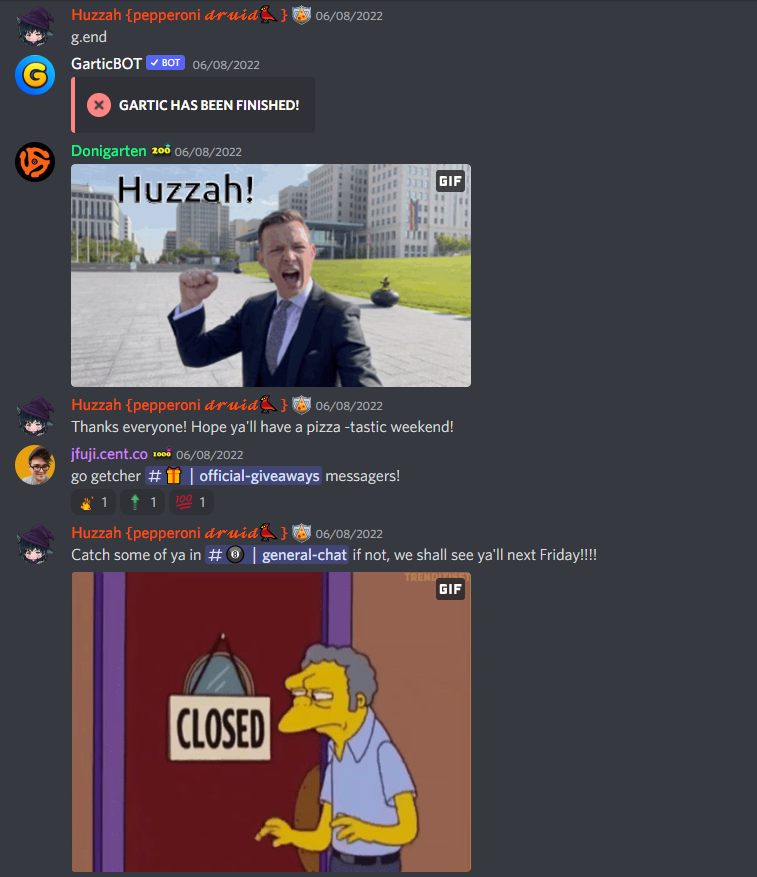 Once again, Many Thanks to @huzzah for hosting the events, and of course, everyone who took the time off to join us. It is everyone having fun together that makes these events a success!
We've come to the end of our weekly Friday Night events. It's always a packed full house. Not interested in Trivia? Well, you can always hang out in the music channel just to listen to the tracks on PIZZA radio 😜. Or join in the conversation with the large number of people chatting all at once.
If you've missed this week, don't worry as there's always more happening in PIZZA, just hop on in and hang out with us. There're definitely more things happening throughout the entire weekend.
---
That's it for this episode of my PIZZA news. These are momentous times in PIZZA with a lot of plans forthcoming this year. In fact, I'd say that work on PIZZA is going at a breakneck pace! So don't miss out and come join PIZZA early to reap the benefits. I truly believe this is a multi-bagger project with amazing potential! 🍕🍕🍕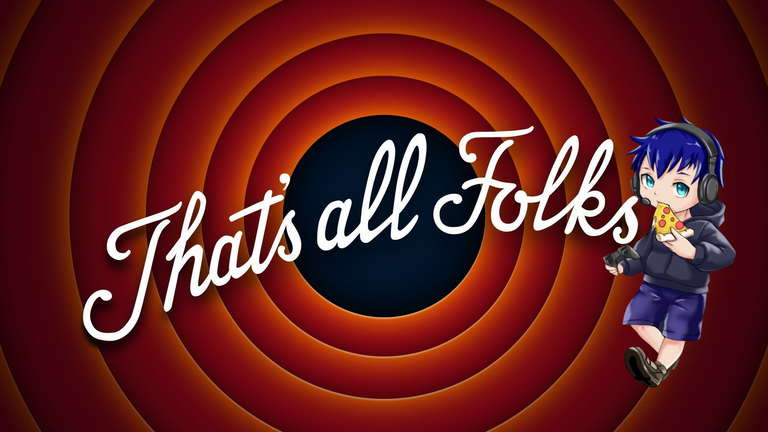 ---

✨✨✨This Week's Events✨✨✨


Over at PIZZA DISCORD, there are always loads of planned Events lined up (and even impromptu ones). The events listed here are localized to my Time Zone GMT +8. For the absolute latest updates, please check in the Pizza Discord.

---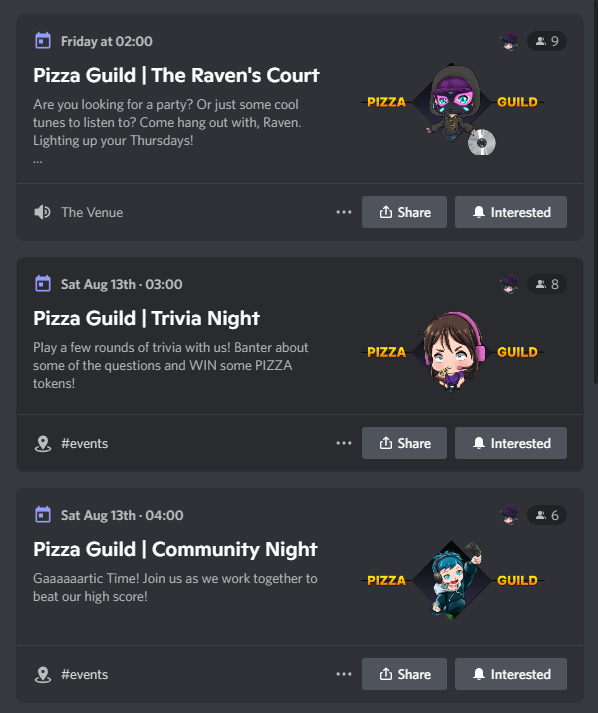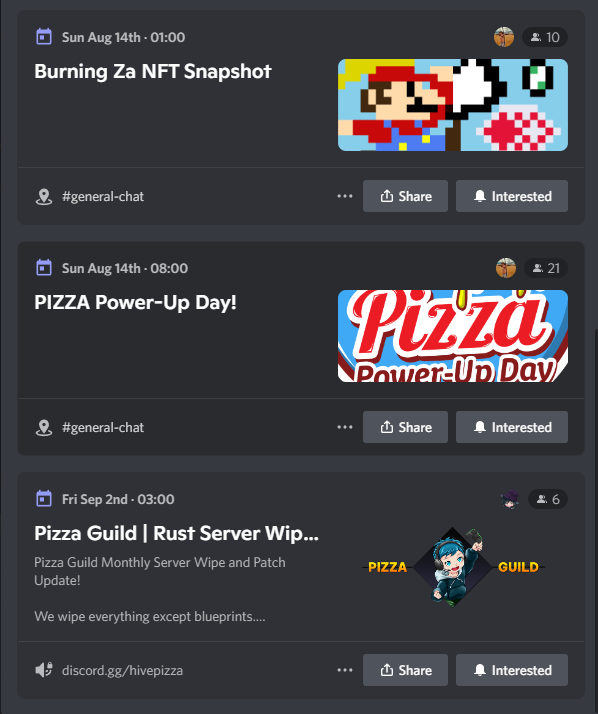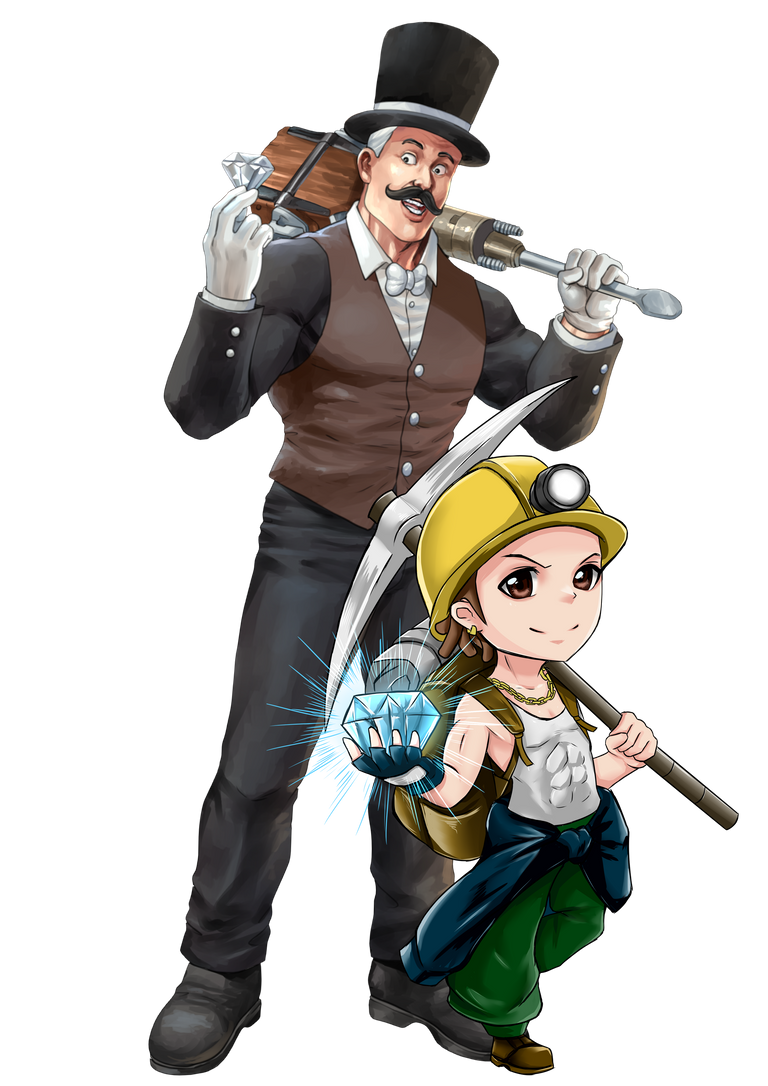 ---

🎁🎁🎁Contests & Giveaways🎁🎁🎁


A lot of FREE prizes up for grabs at the moment too! Don't miss out! 🎁🎁🎁💰💰💰 What are you waiting for? It's all here in the PIZZA DISCORD.
🤑💰🍕Added Bonus of PIZZA Token🤑💰🍕
-I will use my staked 🍕PIZZA🍕 to share a slice of 🍕PIZZA🍕 with anyone in the comments who also FOLLOWS & REBLOGS my post in the interests of spreading the Word of Pizza.
-Just let me know if you've done that so I can easily keep track. 👍
-Any fellow 🍕PIZZA🍕 connoisseurs who !PIZZA me will also receive 🍕PIZZA🍕 back from me. 😊
🍕🎁💰 PIZZA has weekly giveaways of NFTs from Rising Star, Exode, Hash Kings, WOO, not to mention several different types tokens, including PIZZA itself of course, and Oneup, DEC, Starbits, Buds, Utopis, AND several Steam game keys with values of up to $60!!! There's seriously so many prizes up for grabs EVERY WEEK that I can't keep listing it all down 😜 so go check out our Discord channel under #pizza-giveaways 🍕🎁💰

---

PIZZA is an active gaming and creative arts crypto community on the HIVE blockchain. Popular games on HIVE like SPLINTERLANDS, RISING STAR, EXODE, HASHKINGS, WOO, BANG!DEFENSE have their own PIZZA communities here.
---

Don't miss out more events that are always being organised. Join the PIZZA DISCORD. Even if you aren't interested in the 💰🍕🎁GIVEAWAYS & AIRDROPS💰🍕🎁, there is a vibrant and friendly community there awaiting you.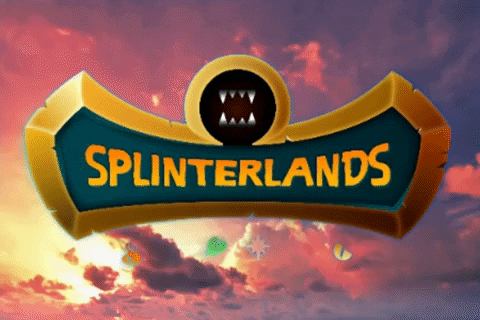 Here's to wishing everyone all the best for the upcoming week 🎉🍀.
To any new players who wish to explore the world of Splinterlands, do feel free to sign up with my REFERRAL LINK😊.

---
---