🍕🍕🍕 Trivia & Gartic with PIZZA 🤔💭❌😵‍💫🤯 - The Raven Queen's wrath is upon Claude for that which shall not be named!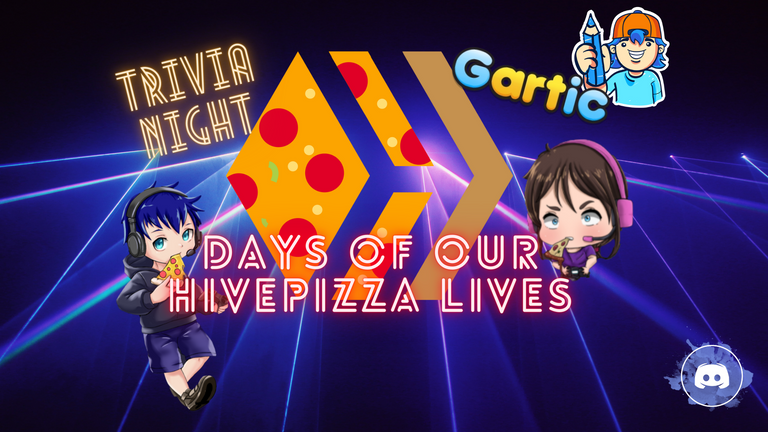 Seems like I'm swamped with work again this week. But never fear, I'm still trying my best to give my recaps for every significant event held in PIZZA! Here's last week's Trivia and Gartic Event recap. And for any new readers who're interested, do take note that the NEXT weekly Trivia will be tomorrow! 😜 So there's time for you to join in!
---
For people who might be stumbling onto this for the first time, our events are a great time to generally have fun bonding over community activities with plenty of Pizza Tokens being given out to all participants too! 🍕🍕🍕🤑🤑🤑
---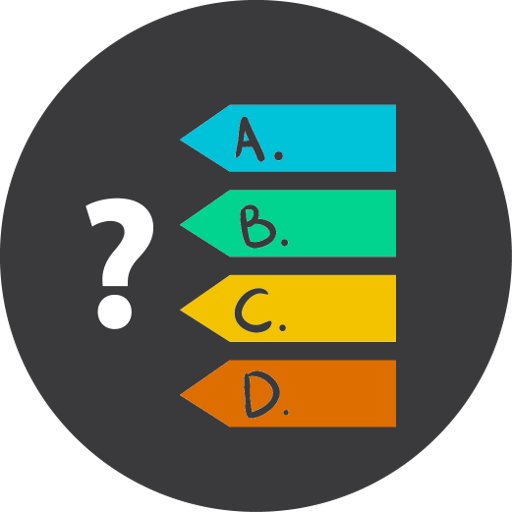 ---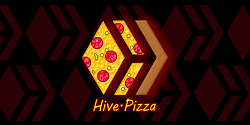 CLICK THIS LINK TO JOIN PIZZA DISCORD!!!
Never fear! Catch up on what you've missed with my brief (and hopefully entertaining) updates on the ins and outs of the PIZZA DISCORD🎉🥳🎊
As a BIG FAN of 🍕PIZZA🍕, I always suggest joining PIZZA DISCORD if you need a quick pickmeup. 👍 It's a friendly and helpful community with regular EVENTS, AIRDROPS of various crypto tokens, discussions of several GAMES on HIVE (Splinterlands, Rising Star, HashKings, Exode, WOO, BangDefense ...), MUSIC, ART, and even bits of FINANCE ... well I think you get the idea 😄


💭🤔💡Trivia Night💭🤔💡

---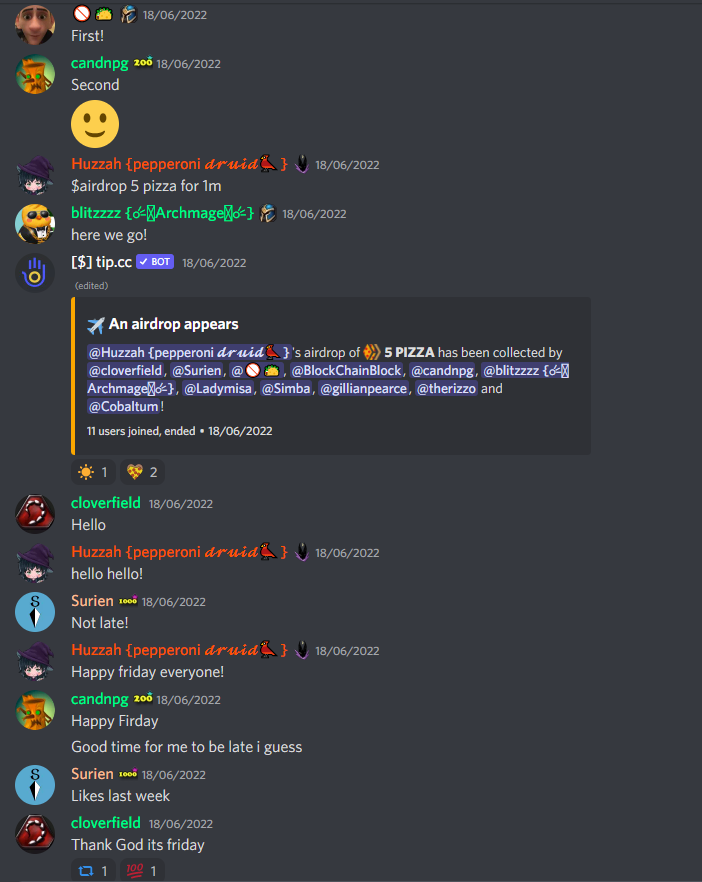 As always, our trusty and reliable @huzzah the Herald sounds the call 📯🔊 and opens the doors to the Events channel.
And @definethedollar is at the head of the queue! followed closely by @candnpg 😉. Always good to rush in to grab that initial "early bird" PIZZA airdrop 🍕🤑.
Oddly enough though, there isn't the usual deluge of GIFs that are such a common pre-event ritual 🤔. In fact, there were barely ANY at all! 😱 A most odd occurrence indeed.
---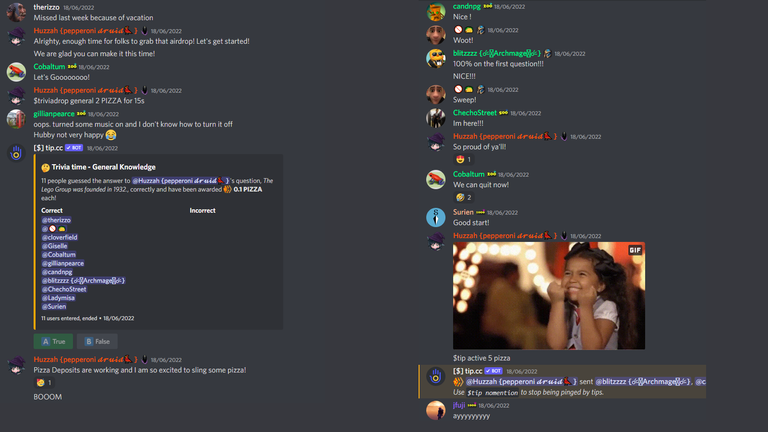 First Question of the night and we achieved a 100% correct answer! 💯👍🏻🥳 An amazing start to Trivia!
@therizzo Welcome back from your hiatus! 😁
---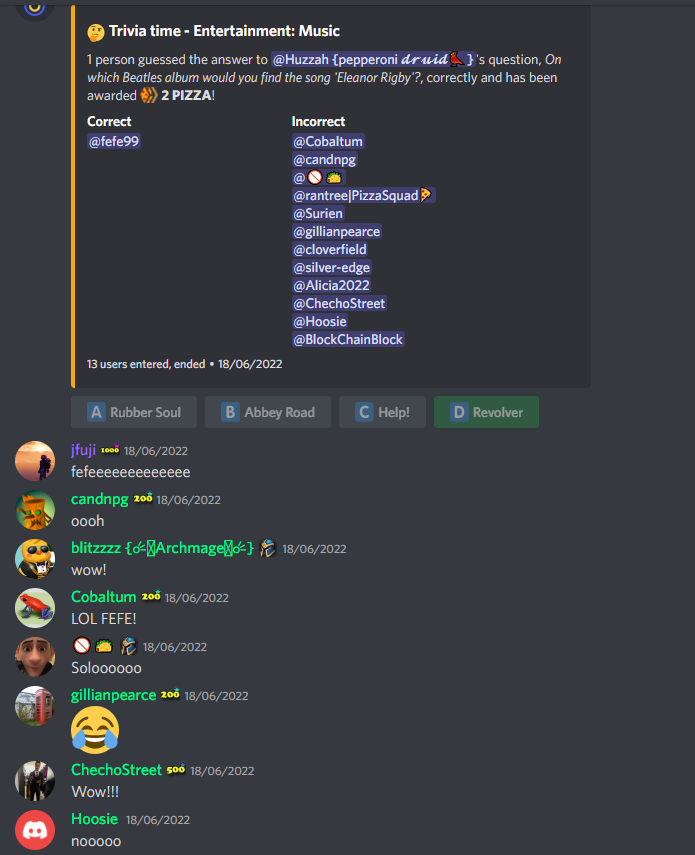 Congrats to @fefe99. This would be the ONLY solo correct/incorrect answer for the whole event. 😨
---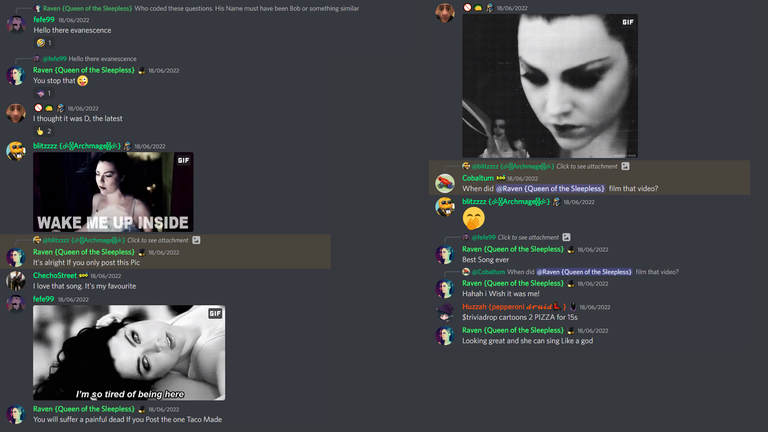 At some point during Trivia, @fefe99 started calling @ravenmus1c Evanescence 😜. Turns out Raven does like her, so does @chechostreet too 😉. I think most of us regulars in PIZZA can see some similarities... right @cobaltum? 😉
But ooooh... a threat from our Raven Queen regarding a certain picture created by @taco-pizza
---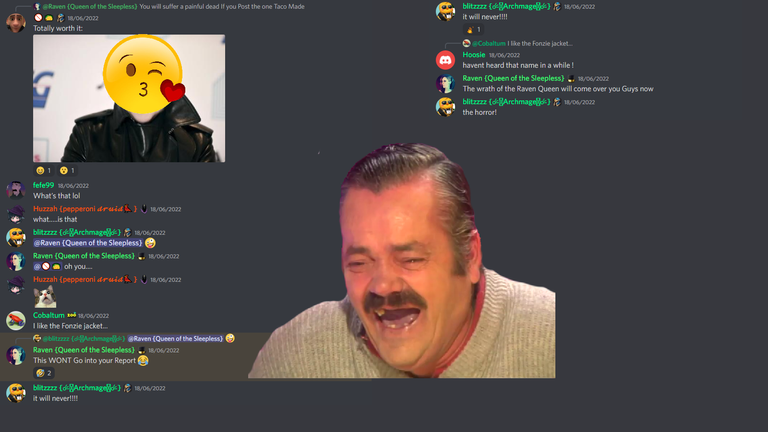 Someone was bound to dig it out after Raven said that. 🤣 Congrats Claude, you have earned the Queen's wrath!
And ok Raven, I did say I wouldn't post it, so here we are with a censored version 😝. Suffice to say, going by the reactions from fefe and Huzzah, that creation by Taco was an abomination. 🧟‍♂️🧟‍♂️🧟‍♂️
---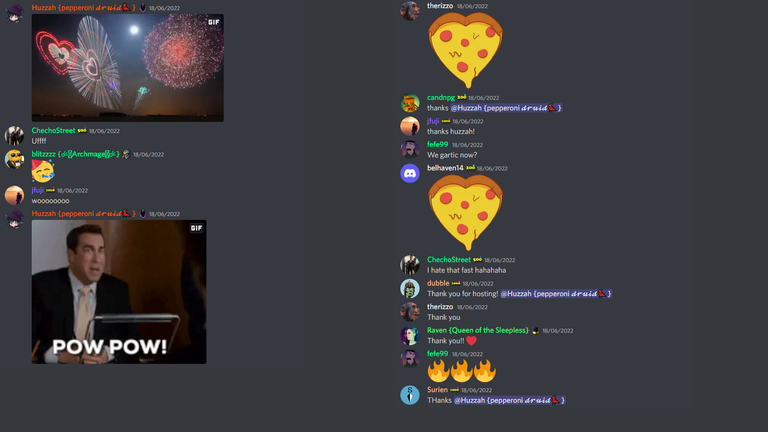 Well, before we knew it, the allotted hour for Trivia had come and gone. The usual thanks and appreciation for Huzzah is offered from us grateful participants.
---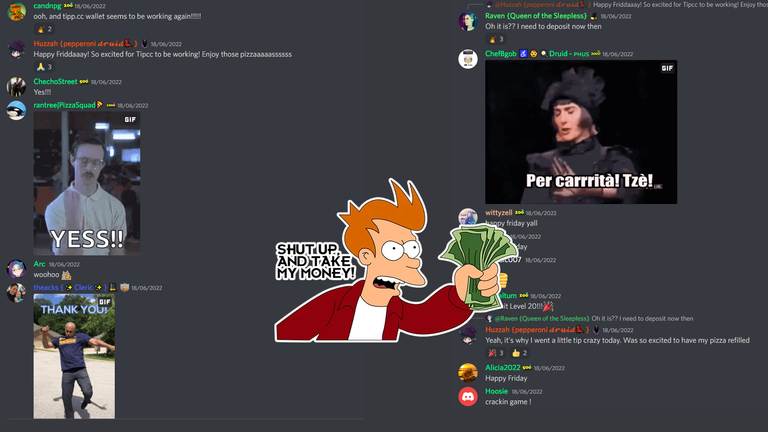 And if anyone noticed too, Huzzah was dropping PIZZA left, right, and center, all night long! Turns out tip.cc FINALLY fixed the issues we were having with PIZZA not being able to be deposited into our Discord wallets. So here's Huzzah feeling extra happy and generous! 🍕💸🤑
---

✏️🖼️💭Games Night GARTIC✏️🖼️💭

---
On to the next event PIZZA Community Game Night. And the community game for today is... drumroll 🥁🥁🥁... GARTIC!
---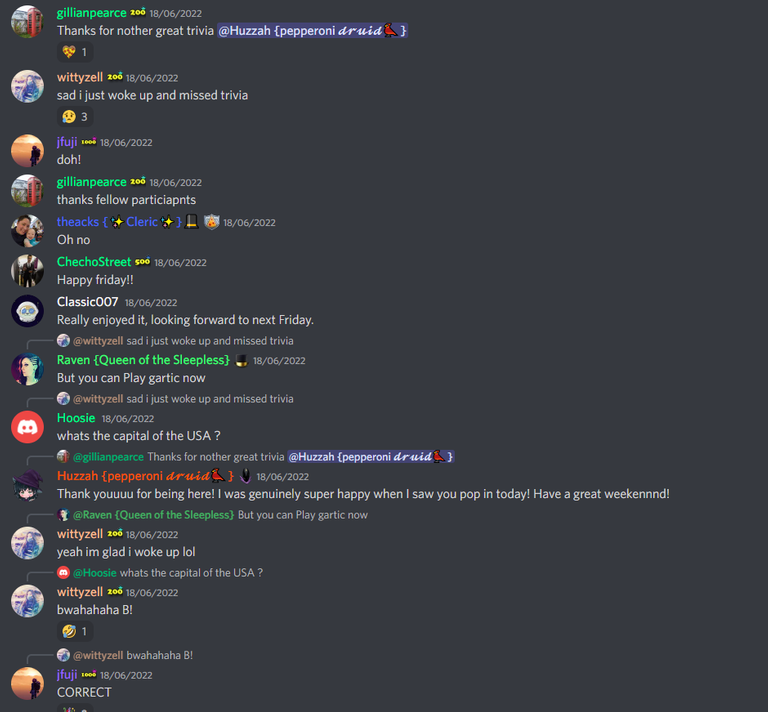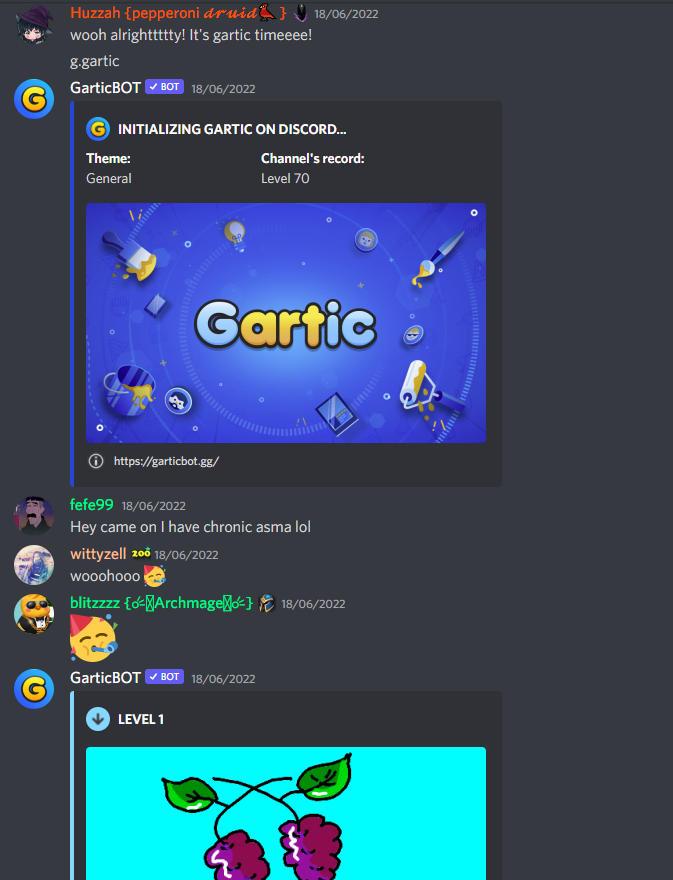 Before we start Gartic though, let us welcome our Sleeping Beauty @wittyzell 😜, who slept throughout Trivia! Well, BETTER LATE THAN NEVER 🤣, at least you made it for Gartic!
---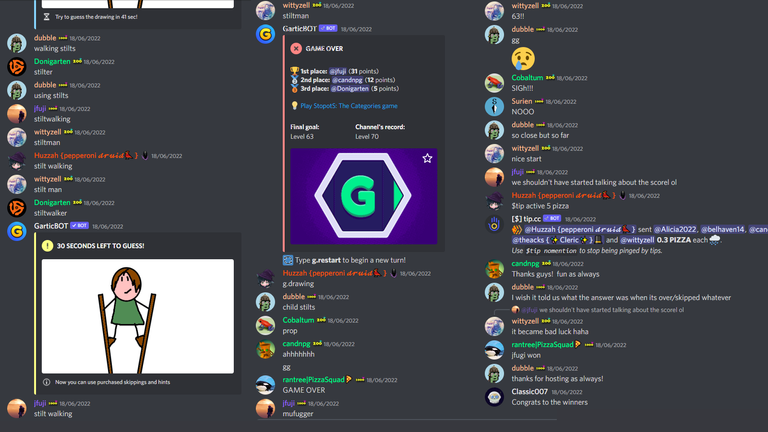 After the previous week's absolutely feeble attempts at the Gartic scoreboard, this was a massive improvement. An entire hour's of Gartic in just one sitting. We did not break the record, but managed to achieve a really good score regardless. 🥳🥳🥳
And of course, everyone will be kept in the dark as to the true answer behind this mysterious drawing of a person on stilts.
Good job to everyone who managed to last till the end of the event (I didn't 😅).
@alicia2022 @belhaven14 @candnpg @cobaltum @cryptoniusrex @donigarten @dubble @hoosie @jfuji @gwajnberg @surien @theacks @wittyzell (and Huzzah too of course 😊)
There seemed to be a much greater number of Gartic participants for this day too!
---

🎭All Good Things Must Come to an End🎭

---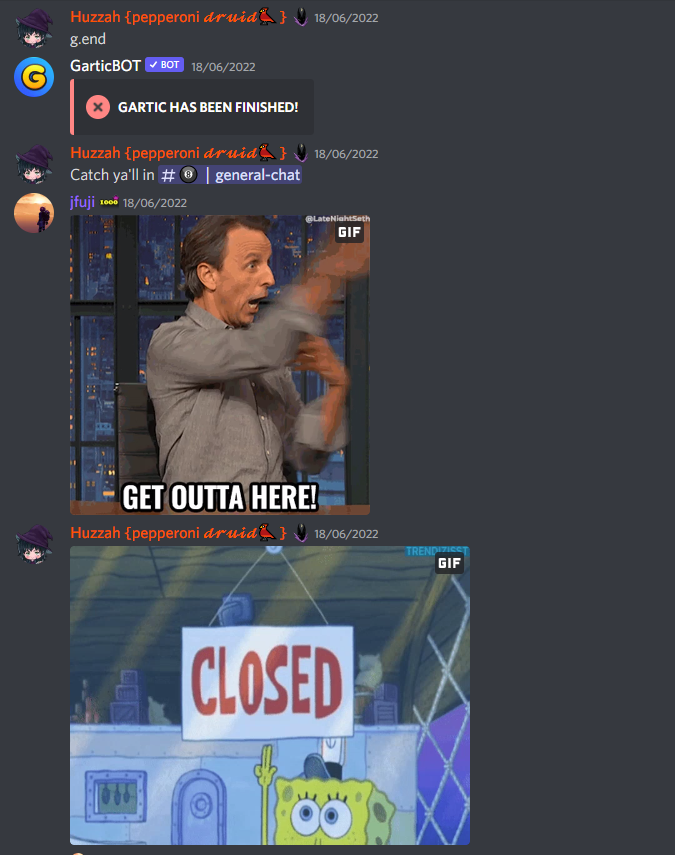 Once again, Many Thanks to @huzzah for hosting the events, and of course, everyone who took the time off to join us. It is everyone having fun together that makes these events a success!
We've come to the end of our weekly Friday Night events. It's always a packed full house. Not interested in Trivia? Well, you can always hang out in the music channel just to listen to the tracks on PIZZA radio 😜. Or join in the conversation with the large number of people chatting all at once.
If you've missed this week, don't worry as there's always more happening in PIZZA, just hop on in and hang out with us. There're definitely more things happening throughout the entire weekend.
That's it for this episode of my PIZZA news. These are momentous times in PIZZA with a lot of plans forthcoming this year. In fact, I'd say that work on PIZZA is going at a breakneck pace! So don't miss out and come join PIZZA early to reap the benefits. I truly believe this is a multi-bagger project with amazing potential! 🍕🍕🍕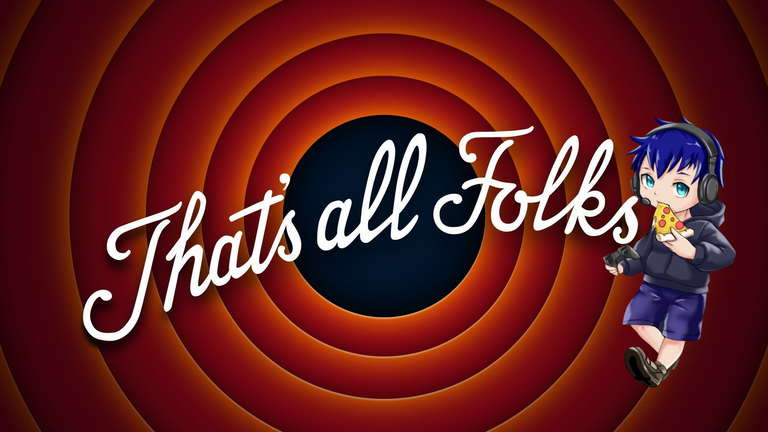 ---

✨✨✨This Week's Events✨✨✨


Over at PIZZA DISCORD, there are always loads of planned Events lined up (and even impromptu ones). The events listed here are localized to my Time Zone GMT +8. For the absolute latest updates, please check in the Pizza Discord.

---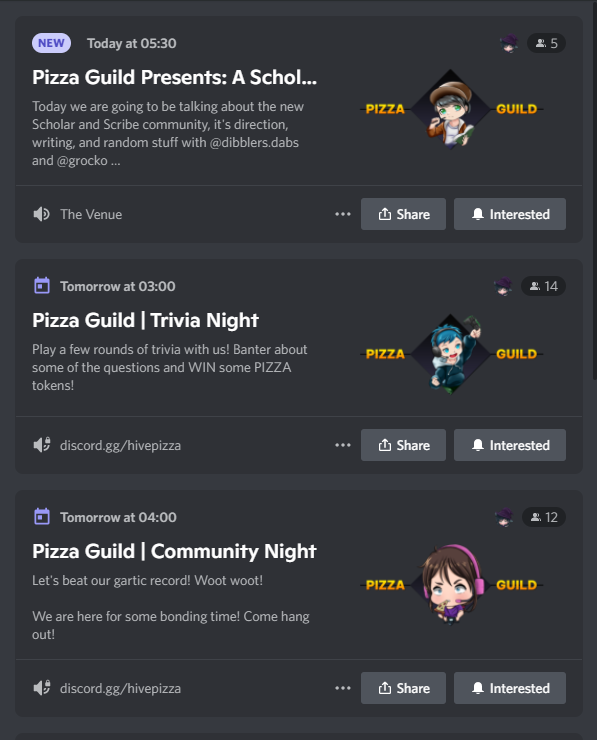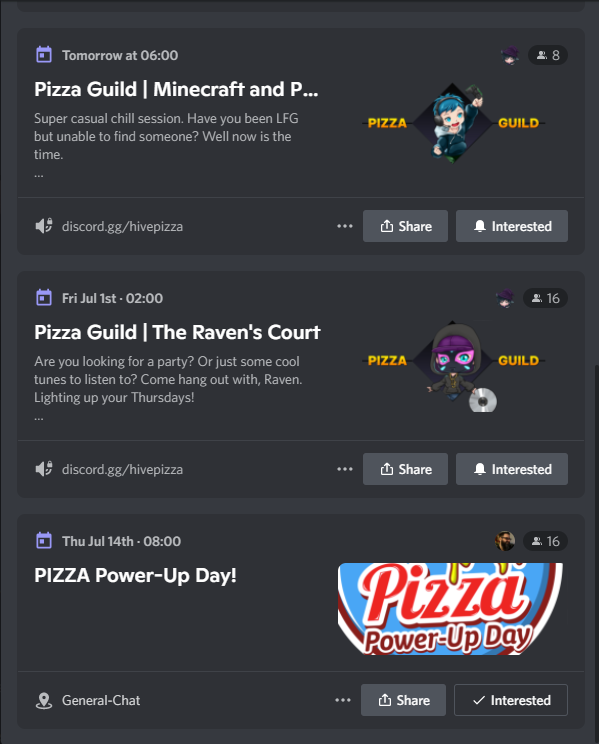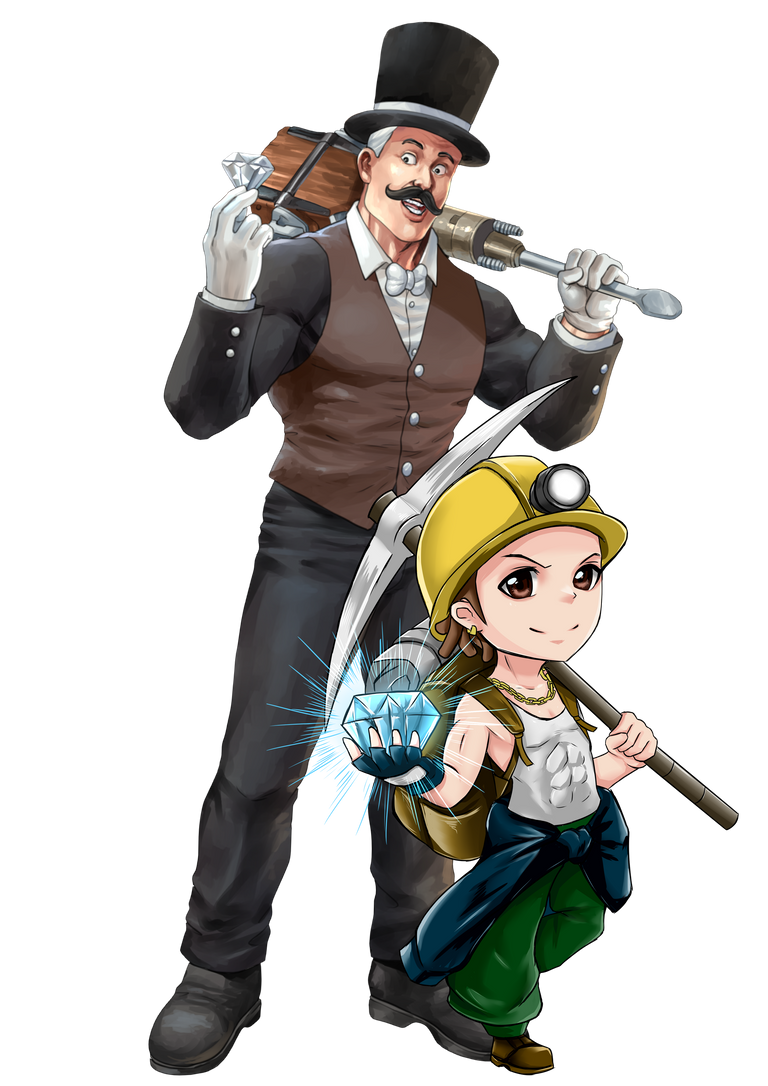 ---

🎁🎁🎁This Week's Contests & Giveaways🎁🎁🎁


A lot of FREE prizes up for grabs at the moment too! Don't miss out! 🎁🎁🎁💰💰💰 What are you waiting for? It's all here in the PIZZA DISCORD.
🤑💰🍕Added Bonus of PIZZA Token🤑💰🍕
-I will use my staked 🍕PIZZA🍕 to share a slice of 🍕PIZZA🍕 with anyone in the comments who also FOLLOWS & REBLOGS my post in the interests of spreading the Word of Pizza 🤣🤣🤣
-Just let me know if you've done that so I can double check and ensure I set aside some Resource Credits to reply back on your comments 👍
-Any fellow 🍕PIZZA🍕 connoisseurs who !PIZZA me will also receive 🍕PIZZA🍕 back from me. 😊

---
🍕🍕🍕🎁🎁🎁💰💰💰 PIZZA has weekly giveaways of NFTs from Rising Star, Exode, Hash Kings, WOO, not to mention several different types tokens, including PIZZA itself of course, and Oneup, DEC, Starbits, Buds, Utopis, AND several Steam game keys with values of up to $60!!! There's seriously so many prizes up for grabs EVERY WEEK that I can't keep listing it all down 😜 so go check out our Discord channel under #pizza-giveaways 🍕🍕🍕🎁🎁🎁💰💰💰

---

PIZZA is an active gaming and creative arts crypto community on the HIVE blockchain. Popular games on HIVE like SPLINTERLANDS, RISING STAR, EXODE, HASHKINGS, WOO, BANG!DEFENSE have their own PIZZA communities here.



Don't miss out more events that are always being organised. Join the PIZZA DISCORD. Even if you aren't interested in the 💰🍕🎁GIVEAWAYS & AIRDROPS💰🍕🎁, there is a vibrant and friendly community there awaiting you.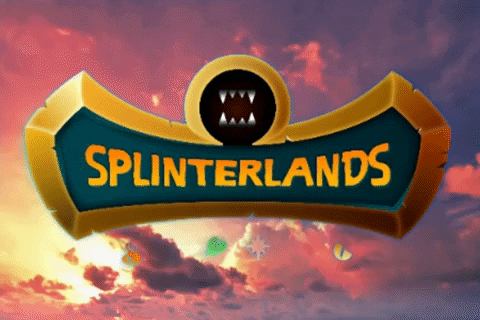 Here's to wishing everyone all the best for the upcoming week 🎉🍀.
To any new players who wish to explore the world of Splinterlands, do feel free to sign up with my REFERRAL LINK 😊.


---
---