UpDate; HIVE CAMP 2023 am Bodensee
Noch wenige Tage bis das HIVE CAMP 2023, am Bodensee seine Tore öffnet. Schritt für Schritt wird aus einer Vision ein reales Camp.
Ich habe mich mit einigen von euch die letzten Tage Austauschen dürfen und habe somit einiges mitbekommen was für das #hc2023 schon alles in Vorbereitung ist. Meine Vorfreude wächst fast Stündlich und bin sehr gespannt auf die nächste Woche.
Da ich von einigen angefragt wurde gibt es,
heute 20:30 eine Fragestunde auf Discord,
mehr dazu weiter unten!
Für die Spontanen unter Euch, es gibt noch NFT TICKET's!
Sende einfach 72 oder 42 HBD an @hc2023 und du bekommst dein NFT direkt in deine Wallet. Mehr zum Ticket verkauf findest du in diesem Post; Die TICKET's für das HIVE CAMP 2023 sind da!.
---
---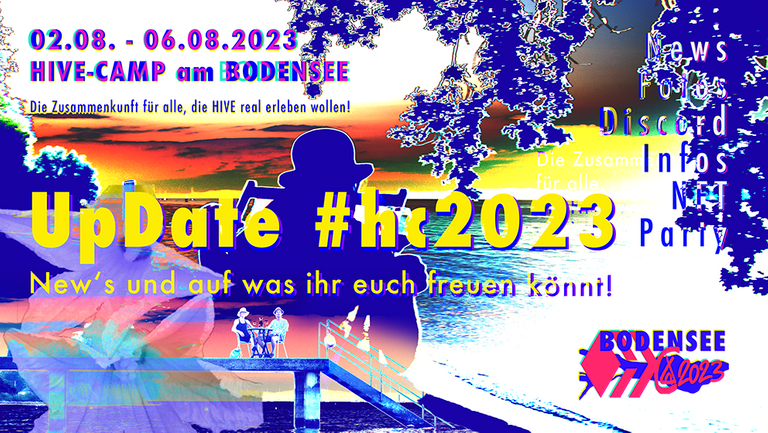 ---
---
Road to HIVE CAMP 2023
oder wie man sich das Camp auch finanzieren kann!
Nützt eure Chance und Postet eure Vorbereitungsarbeiten, Pack-Aktioinen, Anreise Reportage und lasst uns an eurer Vorfreude teil haben. Alle Posts die über die HIVE BODENSEE Community publiziert werden bekommen einen von @blue.rabbit und dem @engine-stamm(tisch) Curationstrail einen 100% UpVote.
Tut es @bechibenner gleich, der mit diesem sehr inspirierenden Post "the road to HIVE CAMP" eröffnet hat. So haben auch die Leute denen es nicht möglich ist, selbst dabei zu sein, auch ein bisschen Bodensee für zu Hause. Damit auch alle Beiträge an einem Ort sind und ihr auch gesehen und gevotet werden könnt veröffentlicht einfach eure Post's im Bezug zum #hc2023 und verwendet auch diesen Tag.
Solche "Road to HIVE CAMP" Post's werden erfahrungsgemäss sehr geschätzt und sind nebenbei eine gute Möglichkeit euer Camp Budget etwas auf zu polieren oder sogar schon fast ganz zu finanzieren.
Ich habe mir mal den Spass gemacht, die produzierten HIVE des fleissigsten Blogger des hc2021 zusammen zu rechnen.
Dabei konnte der erfolgreichste ACC, zu meinem eigenen Erstaunen,
sagenhafte 832.51 HIVE mit seinen hc2021 Post's generieren.
Da soll mal noch jemand sagen, dass es nicht lohnenswert ist, ein par Tage HIVE Urlab am Bodensee zu verbringen!
---
---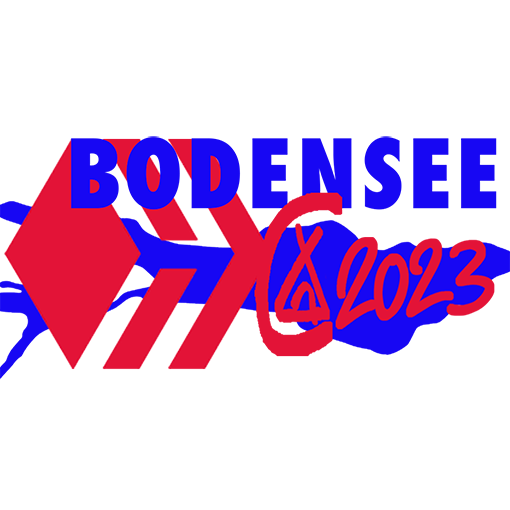 ---
---
Fragestunde heute 20:30 auf Discord im "CAMP RADIO"!
Der Hive.bodensee Discord hat ein für die Zusammenkunft am Bodensee ein hc2023 UpDate bekommen. Daher bitte entschuldigt wenn noch nicht alles so funktioniert wie es sollte. Heute Abend 20:30 die erste "CAMP RADIO" Sendung oder einfach gesagt; ihr könnt Fragen zum hc2023 stellen, dass in einem dafür eingerichteten Voice Kanal auf Discord.
Mal schauen zu was das "CAMP RADIO" sonst noch taugt!
---
NFT TICKET sind erstellt
und hören kann man sie auch!
Für die die sie noch nicht gehört haben, das hc2023_72_NFT_TICKET und das hc2023_42_NFT_TICKET. Ich habe mir lange den Kopf zerbrochen wo oder mit welchem Token ich die NFT TICKET's minten soll, den an Möglichkeiten mit mehr oder weniger Optionen fehlt es definitiv nicht. Regelmässige Zuhörer vom engine-stamm haben ja die eine oder andere Überlegung miterlebt. Schlussendlich glaube ich, dass der MEME OUTPOST für diese Situation die richtige Umgebung bietet und zu guter letzt auch die kostengünstigste Lösung darstellte. Natürlich kann man lange unter den verschiedenen Optionen abwägen aber für mich ist https://www.hiveme.me/nfts/ ein nützlicher rabbit hole!
Wenn du ein par MEME hast, gibt es ein hc2023_72_NFT_TICKET mit Sonderrabat im Markt zu finden!
---
---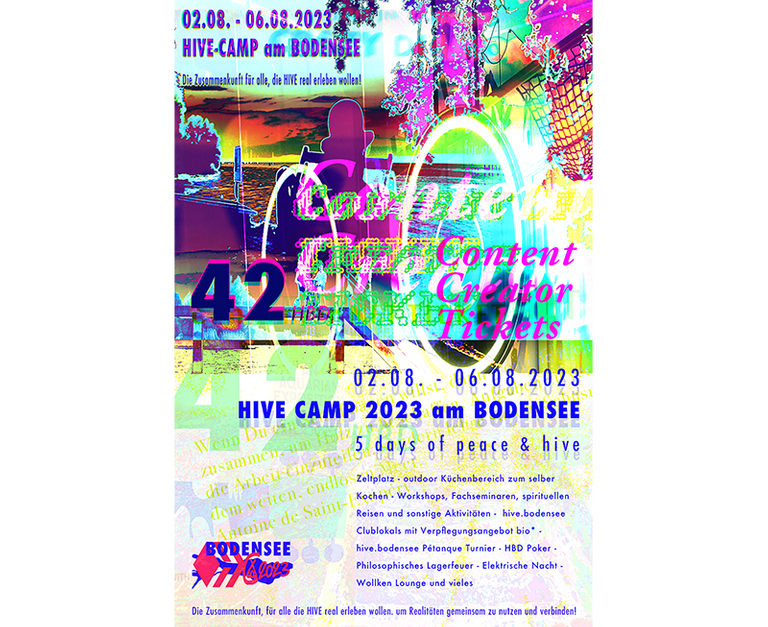 ---
---
Entertainment am Bodensee!
öffentliches CraftInk real Kartenturnier - https://playcraftink.com/

Poker Turnier
Pétanque Turnier und Party am Samstag
für die unterkühlten Camper, den Whirlpool zum aufwärmen
Bar mit einem einfachen aber dafür regional, qualitativen und preiswerten Angebot für kleinen und grossen Hunger
---
---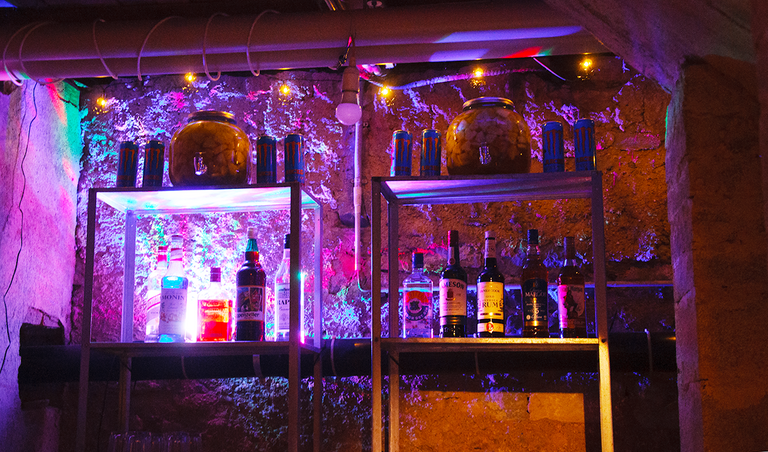 ---
---
Viel wurde die letzte Zeit gearbeitet!
Am DJ Pult rumgeflext, es wurde betoniert und installiert.
---
---
---
---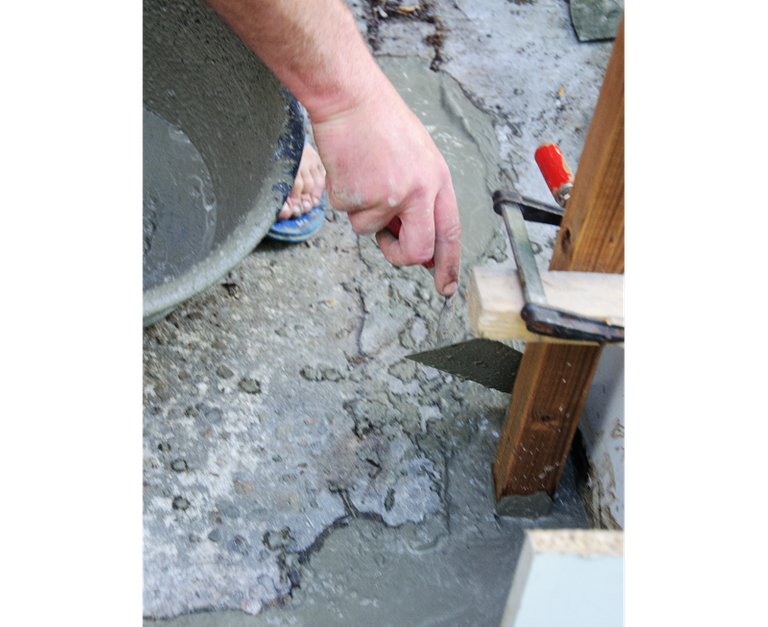 ---
---
Es kamen Pakete an, für die Freuden der Camp Gäste!
Was sich alles in den ominösen Kisten befand, werdet ihr in einem andern Post erfahren müssen. Den der blaue Hase geht nun weiterarbeiten.
---
---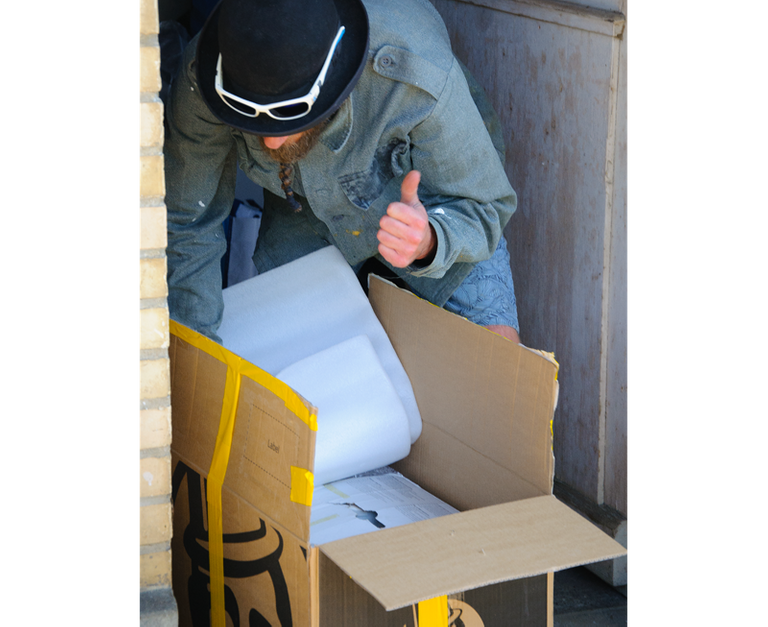 ---
---
Bis heute Abend am "CAMP RADIO", am Bodensee oder irgend wo!
free fall in the rabbit.hole
blue.rabbit
---
---

---
---
Das HIVE CAMP'23 ist ein Projekt von hive.bodensee.
Die kommenden hive.bodensee Events 2023:
| hive.bodensee Events 2023 | wann | wo |
| --- | --- | --- |
| #bodensee-stamm(tisch) / #bodenseemeetup | jeden 1. FREITAG im Monat | offline hive.bodensee Vereinslokal |
| #engine-stamm(tisch) | jeden 3. MONTAG im Monat | virtuell hive.bodensee DISCORD |
| Bodense HIVE-CAMP #hc23 | 2.8. - 6.8.2023 | am wunderschönen BODENSEE (Wichtig; Badehose nicht vergessen!) |
---
---
@blue.rabbit freut sich, euch am 19-06-2023 zum nächsten virtuellen #engine-stamm(tisch), für die grosse Preisverleihung und HIVE4LIVE NFT Überreichung, auf Discord wieder begrüssen zu dürfen!
---
---
---
HIVE.BODENSEE Discord-Server für Fragen rund um die hive.bodensse Community, die Events und weitere Dienstleistungen.
---

---
#hivebodensee ist die HIVE-Community für HIVE Fragen und Unterstützung im Bodensee-Raum und Veranstalterin von #engine-stamm(tisch), #bodensee-stamm(tisch) und HIVECAMP-Bodensee #hc2021
---
Wenn du zukünftig den in offiziellen Posts, erwähnt und informiert werden möchtest, dann schreib in die Kommentare!
Interesse hive.bodensee

wenn du unserem Curations Trail beitreten möchtest, dann folge diesem Hive.vote Trail.
(genauere Infos on Discord)
Die Mitglieder von @HIVE.BODENSEE: @blue.rabbit @leosoph @kizumo @captain.future @b4phom3t @sailor24 @blicklicht @holdonla @chleba @hnedoocko @sboard @crypt0punk @fanieka Interessenten: @mima2606 @reiseamateur @tibfox @kvinna @hive-eu @eikejanssen @craftink HC21: @altonos, @blue.rabbit @bubblegif @carolinlein @klausklaus @mary-me @r0nny @satren @schamangerbert @schlees @schnitte @solarwarrior @t-nil
---
Concepts, ideas, madness and design and not to forget all IMAGE RIGHTS used in this post originate solely and "non fungible" from the rabbit.hole of the blue rabbit and therefore all RIGHTS of this content belong to BLU3.R4BBIT. This content was created by a real human!
---
Konzept, Ideen, Wahnsinn und Design und nicht zu vergessen sämtliche BILDRECHTE, die in diesem Beitrag verwendet wurden, entstammen einzig und "non fungible" dem Rabbit.hole des blauen Hasen und somit sind sämtliche Rechte dieses Inhalt's bei BLU3.R4BBIT. Dieser Inhalt wurde von einem echten Mensch erstellt!
---

---
---