SE Charts: CTP, CTPM
CTP token is the native coin of the https://www.CTPtalk.com tribe. It's business time. The business of affiliate marketers in particular and online businesses in general.
Since this is about online marketing @jongolson probably has put some thought in a clicky headline for the annoouncement post: $#&% Not Another Tribe!!!! Introducing ClickTrackProfit & The CTP Token
CTP Miner - CTPM
Unstake cooldown: 14 days.
---
Check yourself before you wreck yourself
---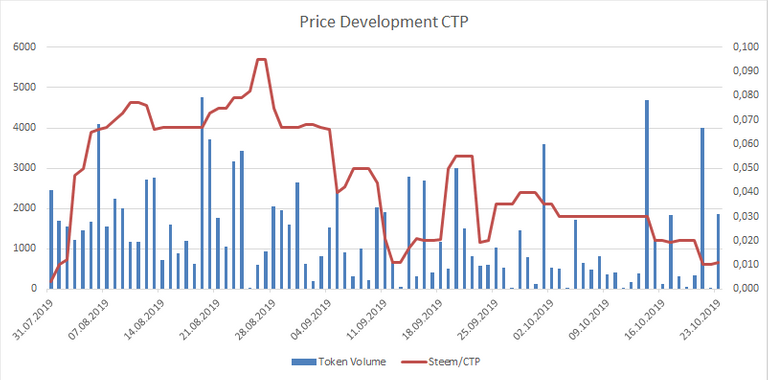 Left Y-Axis: Token Volume; Right Y-Axis: Steem/CTP
Time frame: 31.07.2019 until 23.10.2019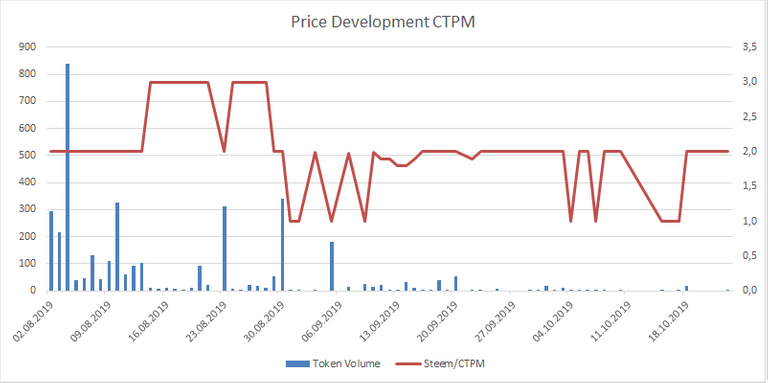 Left Y-Axis: Token Volume; Right Y-Axis: Steem/CTPM
Time frame: 02.08.2019 until 23.10.2019
Price data is represented by daily lows in order to be conservative. Some tokens display a huge spread or sometimes don't trade at all. The daily low represents a bid where a transaction could happen.
---
Earlier posts in the series - ordered from newest to oldest:
SE Charts: WEED, WEEDM, WEEDMM
SE Charts: DEC - Dark Energy Crystals
---
If you want to make some charts on your own:
Charting Ressources for SE Tokens
---
Disclaimer 1: Author owns no CTP and no CTPM at the time of writing.
Disclaimer 2: These charts do not constitute investment advice. Because why in the world would you take investment advice from a random account on the internet? What is wrong with you? Don't do that!
---
---