Psyber-X meets Scholar and Scribe! Contest for LVL...so much fun...
I stumbled across a group here on Hive. Their name is Scholar and Scribe! I reached out to @dibblers.dabs and we agreed that there could be a fun contest with our S&S folks! So let's give away some LVL!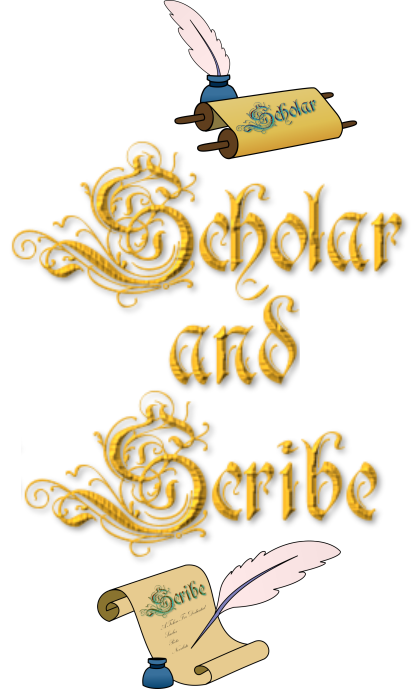 Here's how it's going to work...and it will take some time for me to find out who the winners are...but bear with me...you will help me with this process.
The Contest:
Background
I did not like to read or write as a child; however, there were some books that did entertain me and I'm sure they entertained you, too. They really did set me on some fun adventures. They were the "Choose Your Own Adventure" books (Amazon affiliate link). Now it's time we chose our adventure!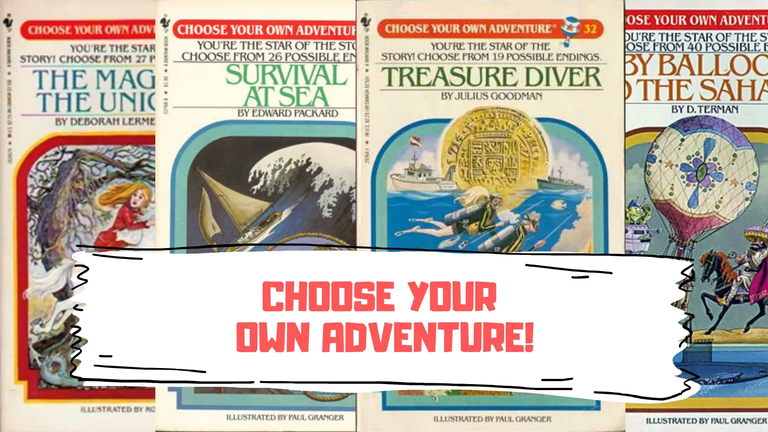 source
The Theme
@psyberx is a new game that will be coming out near the end of the year and is going to be a AAA game...(This means the same quality as Call of Duty, Fornite, Halo, etc) and it will be a first person shooter game attached to the Hive blockchain...which means it is also a Play to Earn game. Exciting, right!!!
So here's the deal. In Psyber-X, there is the main city called Zeelis. There are a few characters whose names have not been revealed except for here: https://peakd.com/psyberx/@psyberx/the-psyber-x-origin-story written by yours truly and @killerwot. Your job is to throw a party in Zeelis. Keep in mind, Zeelis is not a safe place to be, let alone to trapse through the town to get !Pizza, !Wine, !Beer, or even $Weed (This is not sponsored or approved by any of those calls I just wrote...but what else would you have at a party?) Here's a video to give you some visuals:

Rules:
You can only write 2 paragraphs total on your post.
Someone else must take your paragraphs, cut/paste them into their post and continue the story with 2 more paragraphs.
Someone else must take all paragraphs from a story and continue it with 2 more paragraphs, and so on....
At the end of your paragraphs, you must call out your Hive name...that's how I'll know who to send the prizes to...(example will be given below)
When you ** Title Your Post ** start the name of the post with the number of writers who have contributed to the story including yourself
Whoever gets the most writers to write the story out wins. Because there is a character limit to Hive's posts, I recommend you be careful about how long your paragraphs are...I'd say no less than 3 sentences.
You are not allowed more than one author on the same post or you are disqualified!
You must use the following tags regardless of the frontend you use: #scholarandscribe #psyberx #psyberx-cya
(by the way, cya stands for "choose your adventure" ;)
Prizes:
Every author on the post with the most authors will get 5,000 LVL. That means if you can squeeze in 100 different authors on a post, each writing 2 paragraphs minimum and maximum, I will be giving away 500K LVL. If you can only get 20 people to make the longest post, that's 100K LVL total being divided amongst the 20 authors...The LVL is being provided by @psyberx as a marketing campaign. Void where prohibited :)
---
Example:
Title: 4 PsyberX Party-Choose Your Adventure
(see how 4 is at the beginning? That means 4 authors have already written in this post...the bigger the number, the higher the possibility you could win...duh! It also helps me find the post with the most authors the fastest)
Body:
I was playing @psyberx and my tummy started to growl. I knew I ran out of !Pizza, but I still had some !beer. Games aren't as much fun alone, so I decided I needed to throw a party! I think it would be cool to have a !wine and cheese party! I better call my friend, @liftslikealady to come over with all her friends.
After calling @liftslikealady, I just knew it wouldn't be a party without @dibblers.dabs so I called him, too. The only problem is...Zeelis at this time of day is not an easy city to navigate. I'm going to have to borrow @psyberx's armored vehicle, for sure...
Paragraph 1 with 3 sentences minimum (no max)
Paragraph 2 with 3 sentences minimum (no max)
Paragraph 1 with 3 sentences minimum (no max)
Paragraph 2 with 3 sentences minimum (no max)
Paragraph 1 written by you
Paragraph 2 written by you
The next paragraph would be written by anyone who wants to take the story to the next part of the adventure. Notice my paragraphs were only 3 sentences long...that's the minimum. Notice I used '-' then my name to get the bullet point? It sets my name apart so I know who to give the 5,000 LVL to when you're on the longest story. With this example, there are 4 authors total at this point. The next author would highlight and copy all the paragraphs currently written, paste them into their new post, then add their own 2 paragraphs, and their title would now be "5 PsyberX Party-Choose Your Adventure" using the tags mentioned above, which are #scholarandscribe #psyberx #psyberx-cya.
Tip
If you don't know how to do the markdown on a post, use this trick:
Take the URL like this https://peakd.com/onboarding/@psyberx/hive-onboarding-and-other-psyber-x-updates
erase the 'peakd.com' part of it and replace it with 'hiveblockexplorer.com' with everything after it...then hit <Enter>. This will show you how the author did their mark down and it makes it easy for you to cut/paste and keep the same formatting... like this: https://hiveblockexplorer.com/@psyberx/hive-onboarding-and-other-psyber-x-updates
You're welcome...
---
Again, this contest has not been sponsored by anyone, except @psyberx is providing the LVL for the winners. Even then, I will be sending the LVL out from my @bobthebuilder account. If you want to use a call out, like !Beer or !Alive, I think that's fun! However...just make sure you're in line with their community's rules. Let's keep this fun and let's throw a party in Zeelis!
Party Contest is over and the party starts at 4:20pm PST on April 20, 2022. It just seems like that is a good time to start a party...I don't know why. hehehe
I'm looking forward to seeing what my friends from #thealliance !PGM and THGaming come up with. I'm a hodler of Cartel, CTPSB, and PIMP and I'm sure they could all have some choice moments as well!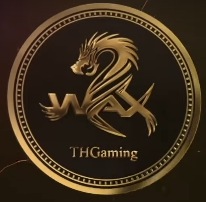 (sources...
PGM
,
THGaming
, and
PIMP
)
---
Disclaimer...I'm only one person. If I can't find your post easily, it's because you didn't follow the rules by using the right tags. If you don't number your title or use the #psyber-cya tag...you ain't gonna win...Also, if something ain't clear, I have the right to go back in and edit this post to try and clear things up...if you don't like the rules...don't play.
---
---