Friday Finance 3/24/2023: It's not all bad...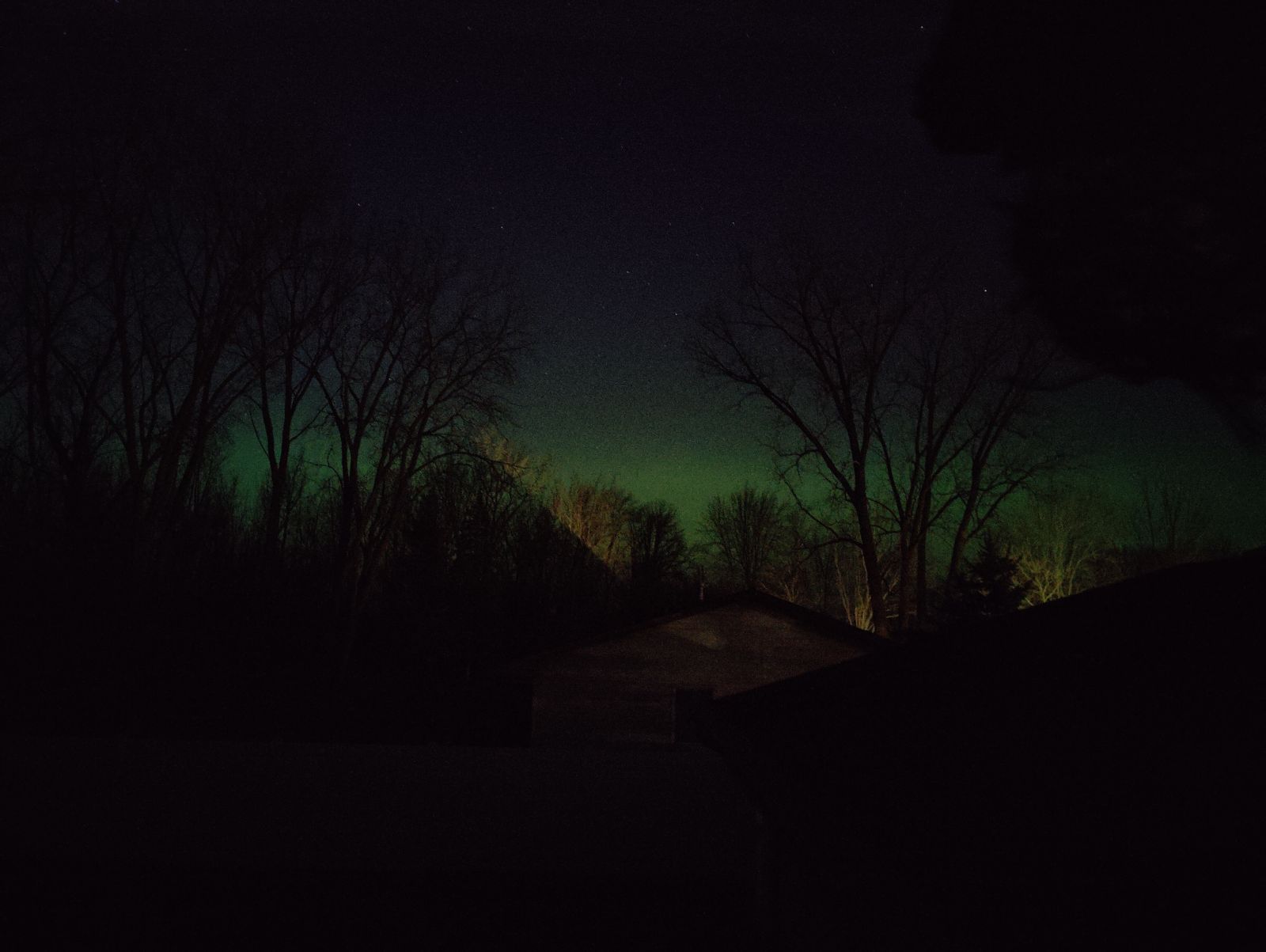 ---
I was laying in bed last night watching the end of the Michigan State/Kansas State game when my phone alert suddenly started to blow up. A while ago I installed an app that would alert you when the conditions were right for viewing of the Aurora Borealis.
Turns out a category two magnetic storm or something like that was smashing into the Earth last night and the lights were out in full force. If you live in my neck of the woods or anywhere North of there, it's a good chance you could have seen the lights last night.
I have seen some pictures from other sources and it looks like if we had been able to get away from our neighborhood, the show was pretty amazing. @mrsbozz was already fast asleep and I didn't have the heart to wake her up. From our house they weren't quite visible to the naked eye yet. Only with the long exposure of a camera could you see them.
It would have been cool to take a drive to get a better view, but we had work the next morning. It sucks being a responsible adult sometimes.
I say all of this to point out that even though the markets are kind of crap, the banks are failing, and the global economy is a dumpster fire, there are still some really beautiful and amazing things out there.

---
It is time again for another Finance Friday/Friday Finance. This is a series I started where I talk about random bits of financial stuff that I have seen, gathered, or experienced during the week. I hope as a reader you find it informational, entertaining, or both. I also hope it can generate some good discussion and edify the Leo community.
Coinbase
You know it wouldn't be a proper Friday Finance post if I didn't mention something about Coinbase. I've gotten a fair number of emails from them the past week or so. They sent me one the other day letting me know that they are changing the way rewards work for holding/staking Algorand.
They also sent out another email letting me know that staking rewards for a handful of other tokens were going to start being handled a different way. Needless to say, this paired with the news that the SEC is filing charges against Coinbase is kind of a bummer.
I had a small amount of tokens that were sitting on my Coinbase account from my regular monthly buys that take place on the 20th of every month. I logged in last night and moved those to a custodial wallet. I think it is going to be curious to see if my monthly buys even take place in April.
I think a lot of people in the US are starting to get a little nervous about how they are going to get into or out of crypto should it become necessary. I really would have thought five years in that the days of meeting someone on a message board an doing a cash deal in a back alley were behind us.
Apparently not.
As for me, I don't have any pressing needs that require money, so I am good just keeping my existing crypto in a custodial wallet and waiting for the government and regulators to pull their heads out of their asses.
Splinterlands
Our favorite play to earn game dropped some new surprises on us this past week. It all started with a whitepaper and culminated with the VRUZ drop for people staking at least 1000 SPS.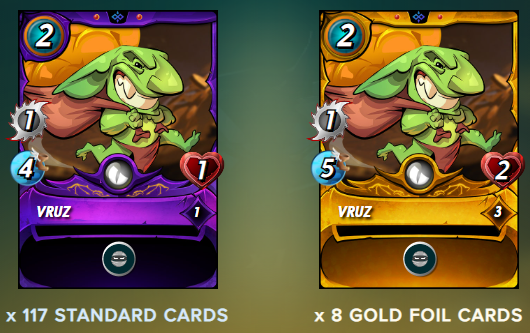 ---
I was lucky enough to get 117 regular foil and 8 gold foil cards. It wasn't even close to enough for me to max level either of them, but I have a couple mid level cards I can play and the rest I combined into lower level cards that I can rent out.
I think what is most important about this is the fact that they are giving some utility to those of us who have been staking for a long time. I think far too often we hold tokens simply to earn that same token which continues to decrease in value. Although the price still isn't great, giving us this bonus is pretty cool.
The tower game beta dropped, did anyone mess around with that yet? I don't own enough packs to play. Just curious.
Finally, we got some more news on lands which is pretty cool. Especially since we have been waiting on this for so long. The team is still several months to a year behind on their original roadmap. I know a lot of big investors in the game who are getting a little antsy. Hopefully this land update placates them for a bit.
Hive Engine Tokens
Finally, I wanted to briefly cover a few tokens that I have been picking up lately on Hive Engine. @spinvest just dropped a new token called XV. The basic idea is you pay 1 Hive and you get 1 XV token. The great minds behind SPI then take those collective funds and buy 15 of the top tokens by market cap. After two years when we should be in the midst of the bull run they covert the starting funds and any profits back into Hive and set up a buy back for token holders.
As of right now the increase in the token is close to 10% but it is still only selling for 1 Hive a piece. We aren't even in the bull market yet! Imagine what it will do when we are. Sure, you could just buy some of the top 15 tokens yourself, but this just feels more fun. Plus, I'm a sucker for a good Hive-Engine token.
Likewise, I have been stacking the LGN token brought to you buy @brofund and @stickupboys. It's a pretty cool token that right now is just paying out monthly Hive rewards, but is supposed to have a ton of different use cases down the road. It's holding value really well according to my portfolio and I definitely think it is worth a look.
You even get a special title in the Bro Discord chat if you hold 2000 or more of them.
That's all I have for this week. I might be on the road next week, so I can't promise a post. Then again, I might surprise you!
---
---

---
All pictures/screenshots taken by myself or @mrsbozz unless otherwise sourced
Posted Using LeoFinance Beta
---
---