No Longer a Minecraft Noob
---
After being laughed at and called a "noob" by a nine year old girl, I knew it was time to kick my butt into gear and try to "get gud" at Minecraft. Much to my wife's chagrin having thought her days of being a video game widow were behind her when I quit playing WoW.
Now that I have a laptop at home that can run the game and run it rather decently, I have found myself spending evenings busting rocks and trying to search for those elusive minerals.
As you can see from the picture above, I have finally moved past some of the early stages of the game and I can now craft iron, gold, and even diamond items.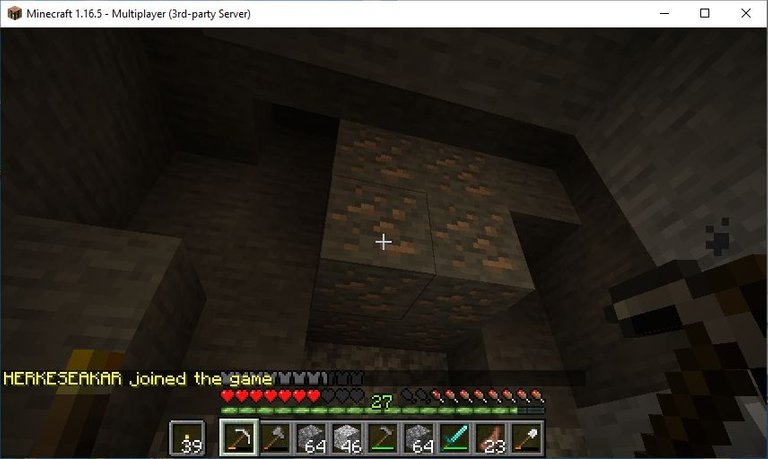 ---
For a while there it was pretty hard to come by iron and I kept finding myself needing to revert back to stone tools until I could dig some more up. Now that I have started exploring the lower levels of the world, I find that it is much more accessible and the only times I need to use stone tools is when I forget to keep some iron in my inventory.
Playing on the Uplift World server has been rather enjoyable. It would be cool if there were more than five or so people at a time poking around the world, but I am guessing that will change as they open the game to more players. As it sits right now, I think it is still a close alpha or beta or something like that.
I believe only people who own land can play the game and wander around right now. With that in mind, I was a little shocked when I received my first payment from Uplift World the other day. It was around 40 WAX. In the grand scheme of things $13 USD isn't really that much, but can you imagine how much that might increase once more people are walking across the four lands I own and exploring them?! The future could be really exciting if public interest grows.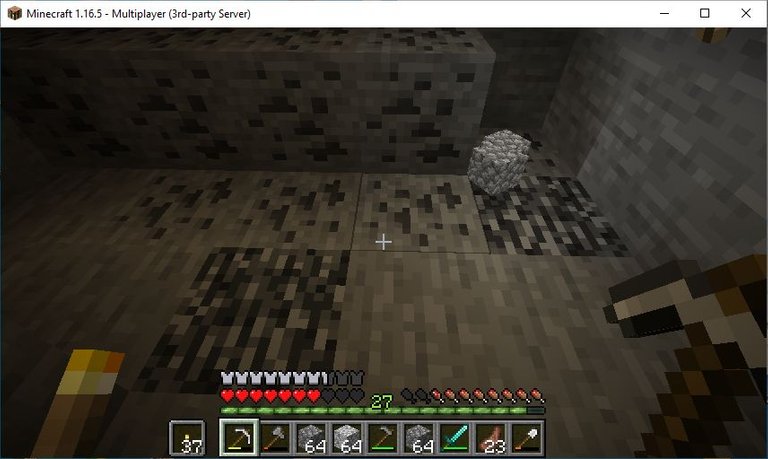 ---
Coal has become pretty common for me to find as well. I think I am sitting on tons of the stuff which is good because I need it for crafting and such. Just this morning I ran across these blocks and I am not sure what they are. I wasn't able to bust them up even with a diamond pick axe. I tried an iron shovel as well and they just wouldn't budge. Anyone have any ideas on these two blocks?
I was excited the other day when I found my first diamond stash and mined it. I quickly built a diamond pick axe and since I was really close to some water and lava I in turn mined some obsidian. I ran up to the top world and placed my blocks so I could build a nether portal only to find out you can't make your own nether portals on the UW server. Bummer... I was really looking forward to exploring the nether.
I guess I will just need to do some exploring off my lands and find one of the naturally occurring portals. I have heard they exist, but I have never seen one.
The one thing that probably drives me the most crazy is the fact that you can only build or destroy on your land. I know, I know... It really only makes sense that is the case, but it is so frustrating when you are staring at an iron or diamond deposit and there is nothing you can do about it because it is just one square past your property line.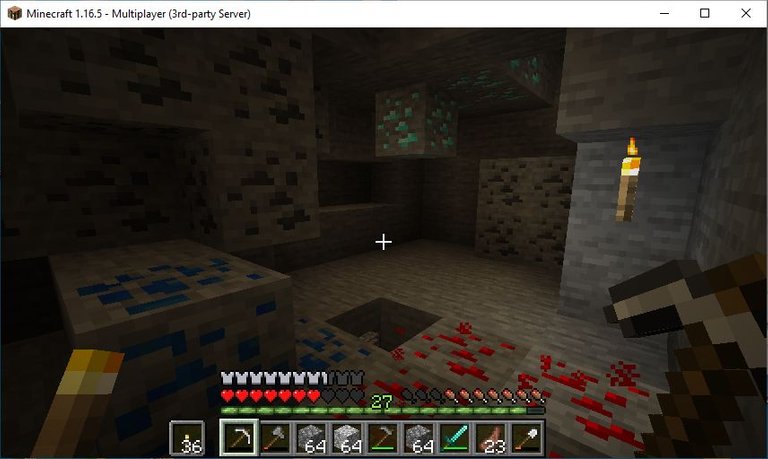 ---
Thankfully, sights like this are starting to become much more common on my land. Look at all of that gemmy goodness. Diamonds, Coal, those red things, those blue things, sorry I can't remember all the names right now. I even snagged some of my first emeralds this morning I think. I didn't check my inventory really closely, I just kept whacking away at the stones.
I will admit, I am getting close to the point where I need to focus some more time and attention on building rather than destroying. I have a couple of houses spread across my four lands and they are all pretty lame. I need to build some really cool stuff that will draw people to my lands.
I have been spending the majority of my time between two of my lands. The other one is in the middle of the desert but it had a prebuilt temple on it and I found a treasure room along with a trap and some TNT at the lowest level of the temple. Sorry, no pics.
My fourth land is in the middle of the ocean and I am not really sure at this point what I am going to do about that.
I tried to start a farm, but it is on my other land so I really need to get back over there and see what is going on with that.
If you had told me even six months ago that I would be playing Minecraft I would have probably laughed at you. Now, I find myself actually enjoying it. I actually wish I could find some people that are playing the Java version so I could invite them to build on my lands. I think if you could access the lands in Bedrock instead of Java and you didn't have to roll back to the 1.16.5 version it might be easier to get people to bite.
I have been trying to get my dad to buy the game and take a turn at it, but I am not sure he will be able to get past the 8-bit graphics. Right now he seems content playing "Microsoft Flight Sim" and "No Man's Sky".
---
---