Rising Star a Day After Playing
After a day of playing Rising Star, I thought I would go ahead and give a few thoughts and feedback I have on the game while I am still early into this game.
What I Like
Free - You can grind and progress in the game without putting a penny into it;
Easy - It is easy to hop right into this game;
Mobile - Ability to play on mobile devices;
What I Dislike
Energy - The energy bar does not update in real time and requires me to reload the page to see its progression;
Fan Growth - I wish there was more of an organic fan growth instead of just relying on cards and drunks to boost your fans;
Mobile - While it is an overall plus that you can play on mobile devices, if I let my screen lock or if I tab out, the game will no longer recognize my account and makes me re-login via the QR code.
These are just minor issues so far and I believe they will be fixed in the near-future. I have only played the game via Brave browser (desktop and mobile versions) and cannot confirm if it only does this for Brave or not.
Here are my stats at the time of writing this.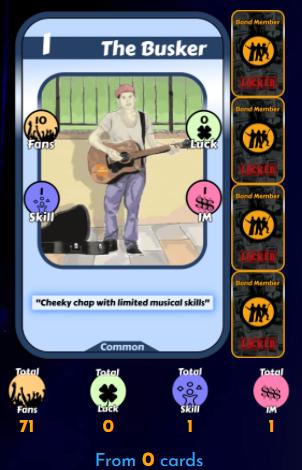 61 of the fans are drunks. So once they "sober up" they will be gone. I see the benefit of this but I feel as if someone, irl anyway, would organically gain fans as well. I could be missing something and might not be gaining fans due to me not having any luck on the game.
As of right now, I do not plan on putting anything into this game, but that may change in the future. Does anyone have any tips or suggestions to get started? Is it worth it to buy energy boosters?
Posted Using LeoFinance Beta
---
---