Three Tune Tuesday - Dusty, Forgotten Records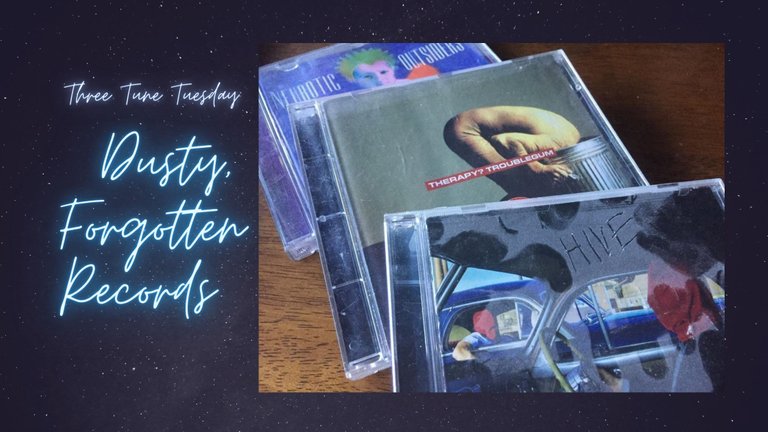 It's been quite a while since my previous #TTT post but one thing remains the same - it is still quite difficult for me to come up with a topic that will even loosely bind the tunes together.
This time it's my dusty record shelf! I was kinda numbly staring at it and all those CDs I haven't been listening to for ages. To find some inspiration I started to pick them up and was immediately sent down memory lane to reminiscence the times I bought them.
By the way, if you are unfamiliar with #threetunetuesday, this quote from @ablaze will perhaps clarify things:
Every Tuesday I'm going to share 3 songs that I like to listen to and I invite your feedback in the comments below. Better still, why not have a blast of your own Three Tune Tuesday and mention me in the post and I'll come and find the post and upvote it. If you could also use #threetunetuesday tag that would be great, as that is what I use when sifting through all the entries every Wednesday. It'll be a sweet way for us all to discover new music. You'll also be in with a chance of winning the prize - more on that later.
Now that's said and done it's time to take a look at my dusty record shelf.
---
The Mars Volta - The Widow
The dustiest of them all. I had completely forgotten this band. Some time at the beginning of 2000 I was having my progressive rock phase and was constantly looking out for new bands to listen to.
I had a couple of albums from the band called At The Drive-In and later on, learned that some of those guys had formed a new group, The Mars Volta. To be honest, I remember I found their album Frances The Mute quite hard to get into. I guess it was too artistic and experimental but I wanted to be the progressive guy so I just forced myself to do it.
I remember reading 5/5 reviews of the album and everybody telling me how genius it was. Still, I didn't find those things in it except The Widow which I guess was made to be their hit single.
---
Therapy? - Screamager
I can't believe I still own this album! This sure brings back some memories.
My mother and brother were on a skiing trip in Austria and they brought this to me. Therepy? videos were playing on MTV quite often back then even though it never was up there with Guns 'N' Roses and Nirvana.
After all these years I actually listened to the whole album and must say that it's still good. Got to love that 90s rock sound!
I had some difficulties picking just one song but eventually ended up with Screamager - a short, straightforward hard rock tune.
---
Neurotic Outsiders - Jerk
Now, this is an interesting gem. If I remember correctly, Neurotic Outsiders was formed with the purpose of some kinda rehab for these four guys.
True or not, Neurotic Outsiders had quite a line-up: Steve Jones (Sex Pistols) on vocals and on guitar, Duff McKagan (Guns 'N' Roses) also on guitar, Matt Sorum (Guns 'N' Roses) on drums, and Johnny Taylor (Duran Duran) on bass.
I always thought that this was the kind of music all these fellows wanted to make but the lead guys in their bands wouldn't allow that. I just had to listen to the album and just like with Therapy? I actually found it surprisingly good.
There are even a couple of pretty damn good slower songs but the one I chose for this post is Jerk - an uncompromising, straightforward punk-rock song that perhaps best describes this project.
There you have it. I got my record shelf cleaned, found some long-lost favorites, and got to share them with you!
Thanks for reading!
---
Credits:
Thumbnail image made with Canva
---
---