ATOM/USDT Against The Bear Market And Possible New All Time Highs
ATOM/USDT a bright spot in bear country
Cosmos is a winner today and that's with the bears rampaging out there. Three weeks ago, a corrective phase was overcome here and the volatility left nice traces in the process. The candles on the 12 hour chart are really strong and clearly different from the boring moves in the correction.
Meanwhile, we are back at the all-time high, this is at $45.50. Maybe we will manage to keep up this momentum for a while, the $50 is not far away.
On the smaller time units, the EMA 34 is a leading indicator, it acts more or less like a switch with a start-stop function. Whenever the price exceeds this indicator, then one could enter a position. If the price exceeds this indicator again, then one should perhaps draw consequences. There are also other methods to detect a trend change, one of them is chart patterns. The so-called M pattern is also a trend change formation and this is observed by many market participants. In Cosmos we can observe all this and this is what distinguishes a good chart.
PG on monthly chart and no end in sight
A long time ago I also analyzed this token once and things have changed well since then. The trigger at $6.50 was just missed on the downside, that potential was probably not yet exhausted. Unfortunately, there is a lack of further signals in the chart but this can still come and would make far larger targets interesting. Until now, the old highs must first be overcome and this please by weekly closing price.
Translated with www.DeepL.com/Translator (free version)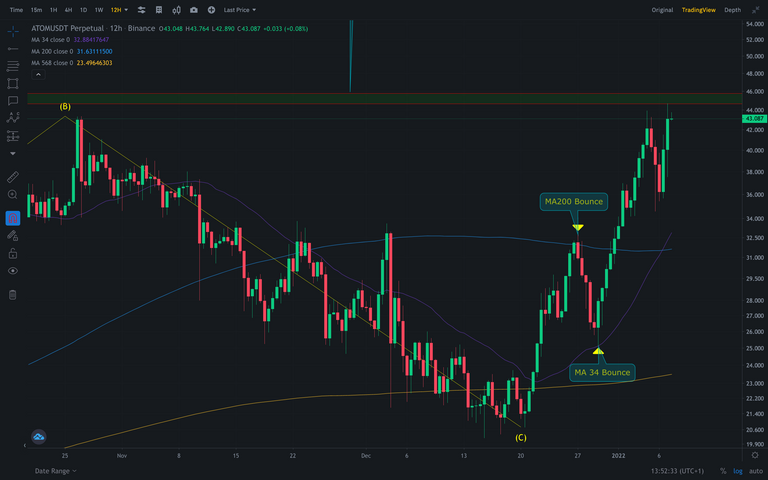 ATOM/USDT ein Lichtblick im Bärenland
Cosmos ist ein Gewinner am heutigen Tag und das bei den Bären die da draußen randalieren. Vor drei Wochen wurde hier eine Korrekturphase überwunden und die Volatilität hat dabei schöne Spuren hinterlassen. Die Kerzen auf dem 12 Stunden Chart sind wirklich stark und unterscheiden sich eindeutig von den langweiligen Bewegungen in der Korrektur.
Mittlerweile sind wir wieder am Allzeithoch angekommen, dies befindet sich bei 45.50$. Vielleicht schaffen wir es ja noch eine Weile diese Dynamik durchzuhalten, die 50 $ sind ja nicht mehr weit entfernt.
Auf den kleineren Zeiteinheiten ist der EMA 34 ein leitender Indikator, er wirkt quasi wie ein Schalter mit Start-Stopp-Funktion. Immer wenn der Preis diesen Indikator überschreitet, dann könnte man eine Position eingehen. Überschreitet der Preis erneut diesen Indikator, dann sollte man vielleicht Konsequenzen ziehen. Es gibt auch andere Methoden um einen Trendwechsel zu erkennen, eine davon sind Chartmuster. Das sogenannte M Pattern ist auch eine Trendwende Formation und dieses wird von vielen Marktteilnehmern beachtet. Im Cosmos können wir all dieses beobachten und das zeichnet einen guten Chart aus.
PG auf Monatschart und kein Ende in Sicht
Vor langer Zeit habe ich auch mal diesen Token analysiert und es hat sich seitdem gut etwas verändert. Der Trigger bei 6,50 $ wurde knapp verfehlt auf der Unterseite, dass Potential war wohl noch nicht ausgeschöpft. Es fehlt leider an weiteren Signalen im Chart aber dies kann ja noch kommen und würde weit größere Ziele interessant machen. Bis jetzt müssen erstmal die alten Höchststände überwunden werden und dies bitte per Wochenschlusskurs.
Source/Quelle Charts: (Guidants/Godmode Trader) & JFD Broker & Binance
Für mehr Informationen rund ums Trading empfehle ich meinen
Discord Channel: https://discord.gg/j5A3CUq
Twitter: https://mobile.twitter.com/TraderOut
Risikohinweis:
Dieser Post stellt keine Anlageberatung oder sonstige Empfehlung dar.
Die dargestellten Analysen, Techniken und Methoden dienen ausschließlich Informationszwecken
und stellen weder eine individuelle Anlageempfehlung noch ein Angebot zum Kauf oder Verkauf
von Finanzinstrumenten dar, sondern spiegeln lediglich die Meinung des Referenten wider.
Eine Haftung ist ausgeschlossen.
Legal Disclaimer:
I am not a financial advisor
nor is any content in this article presented
as financial advice. Never invest more
than what you can afford to lose.
This post is my personal opinion,
do your own research before making any investment decisions.
If you make any trades after reading this post,
it is completely in your responsibility.
Posted Using LeoFinance Beta
---
---