China and the Bitcoin // H1 PG Party in the falling knife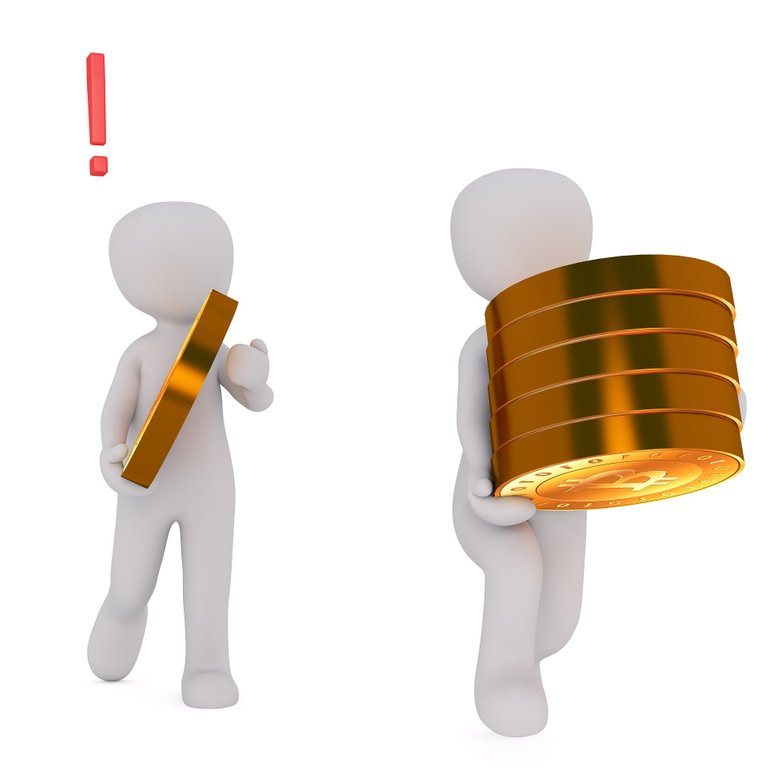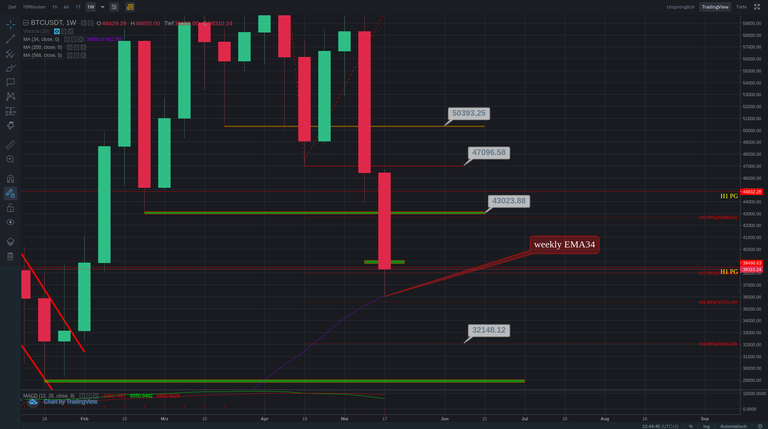 China vs Bitcoin // H1 PG Party
Da hat die chinesische Regierung heute mal wieder den Märkten einen Schrecken verpasst. Da die eigene digitale Währung gepusht werden soll, muss die Alternative unattraktiv gemacht werden.
Das wäre ja alles nicht so schlimm aber die großen Kryptofarmen sind nunmal in China beheimatet. Meine Watchlist ist sehr rot heute und das fast überall.
Einige private Token wie (Ripple/Musk) oder (Steem/Sun) trotzen dennoch dem allgemeinen Fall und steigen. Der Bitcoin allerdings fällt wie ein Stein und das mit Signalen.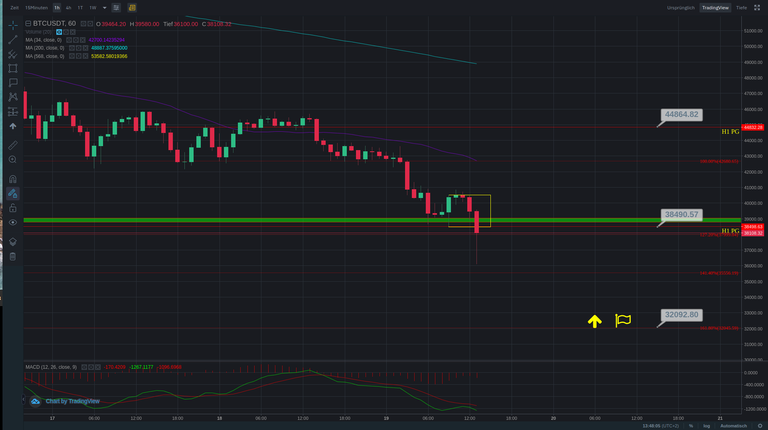 H1 Party und kein Ende zu sehen
Auf dieser Zeiteinheit wurde jetzt eine weitere PG gebildet und die wurde bereits auf der Unterseite verlassen.
In meiner letzten Analyse habe ich ja schon einige Ziele auf der Unterseite bestimmt. Das nächste wichtige Ziel wäre die 161% Ausdehnung der Fib Expansion.
Unglaublich was der Markt wieder an Volatilität bereitstellt, in einer Minutenkerze sind manchmal über 1000$ Bewegungen möglich.
Es handelt sich mal wieder um einen Ausnahmezustand und dies ist immer ein Blick oder einen Trade wert.
Alles weitere wie immer in den Kommentaren.
China vs Bitcoin // H1 PG Party
Once again the Chinese government has given the markets a scare today. Since its own digital currency is to be pushed, the alternative must be made unattractive.
This would not be so bad, but the big crypto farms are located in China. My watchlist is very red today and almost everywhere.
Some private tokens like (Ripple/Musk) or (Steem/Sun) nevertheless defy the general fall and rise. Bitcoin, however, is falling like a stone and that with signals.
H1 party and no end in sight
Another PG has now been formed on this time unit and has already been exited on the downside.
In my last analysis, I have already determined some targets on the underside. The next important target would be the 161% extension of the Fib expansion.
Incredibly what the market provides again in volatility, in a minute candle sometimes over 1000$ movements are possible.
It is once again a state of exception and this is always worth a look or trade.
Everything else as always in the comments.
Translated with www.DeepL.com/Translator (free version)
Source/Quelle Charts: (Guidants/Godmode Trader) & JFD Broker & Binance
Für mehr Informationen rund ums Trading empfehle ich meinen
Discord Channel: https://discord.gg/j5A3CUq
Twitter: https://mobile.twitter.com/TraderOut
Gehandelt werden meist KO-Scheine, Futures und Aktien, günstige Broker habe ich hier mal verlinkt.
Werbung wegen Markennennung.
Deutscher Broker für Aktien und Derivate.
Trade Republic: https://ref.trade.re/vwxxl228
Marktplatz für Kryptowährungen mit Spot, Future und Optionsmarkt.
Binance: https://www.binance.cc/en/register?ref=QB18DEMH
Risikohinweis:
Dieser Post stellt keine Anlageberatung oder sonstige Empfehlung dar.
Die dargestellten Analysen, Techniken und Methoden dienen ausschließlich Informationszwecken
und stellen weder eine individuelle Anlageempfehlung noch ein Angebot zum Kauf oder Verkauf
von Finanzinstrumenten dar, sondern spiegeln lediglich die Meinung des Referenten wider.
Eine Haftung ist ausgeschlossen.
Legal Disclaimer:
I am not a financial advisor
nor is any content in this article presented
as financial advice. Never invest more
than what you can afford to lose.
This post is my personal opinion,
do your own research before making any investment decisions.
If you make any trades after reading this post,
it is completely in your responsibility.
I am not responsible for any of your losses.
By reading this post you acknowledge and accept that.
Posted Using LeoFinance Beta
---
---